Tokyo is one of the modern cities in the world with good food, cool people from around the world, and many more!
First, Here is the video From Expedia below… Check it out now!  (https://www.youtube.com/watch?v=cS-hFKC_RKI&t=173s)
After watching the video, you already know that Tokyo is such a full of joy.
I will introduce "Tokyo Sky Tree" specifically.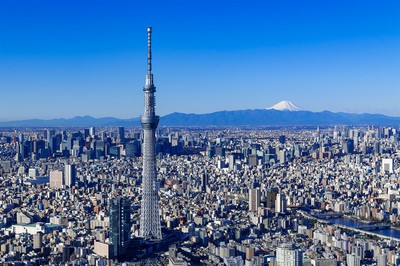 "Tokyo Sky Tree" by Walker is licensed under CC BY-NC 2.0
Tokyo Sky Tree is the tallest tower in the world with a height of 634m certified by Guinness World Records. You can overlook the Kanto region from the Tembo Deck, which is 350 meters above the ground, and on sunny days you can see Mt. Fuji farther away. From the Tenbo Corridor 450m above the ground, you can enjoy a vast view overlooking the entire Kanto area.
At night, you can enjoy special lighting as well as beautifully lit in pale blue "Iki", Edo purple "Ya", and Tachibana-based "Nobori".
This is the official website you can find out more about "Tokyo Sky Tree"  https://www.tokyo-solamachi.jp/enjoy/spot/tokyo-skytree.html
I personally recommend to visit there in the evenings as you see see the lightning and also the night view from the top. I still remember in 2016 when I visited there for the first time, I could see the beautiful view of Tokyo with the lights of buildings at night!!!! There is a professional cameraman as well if you would like to get perfect pictures with the awesome view.