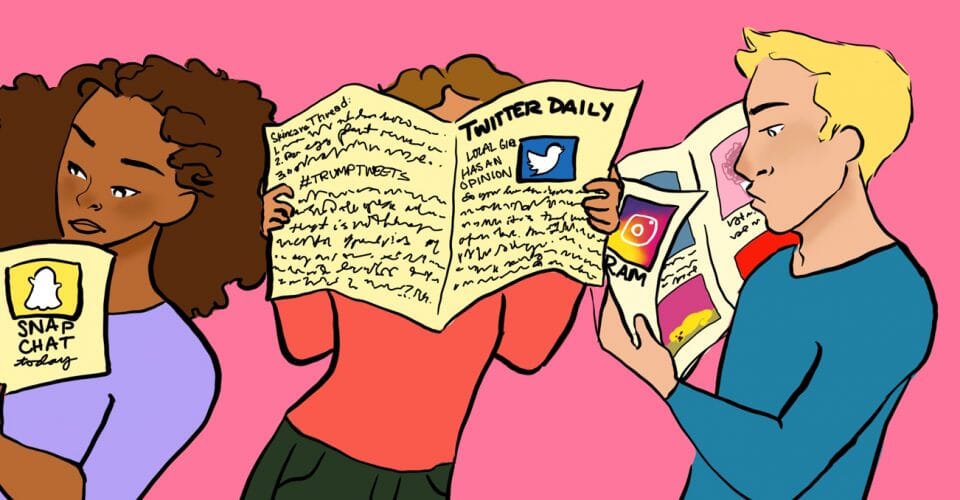 Stop Using Social Media as a News Source. Pepperdine-graphic. All Rights Reserved.
Social News Sharing
Introduction
In the present times, information sharing social media has become quite popular.  It takes a short time for information to spread through social media. Thus, social media utilization is a phenomenon that has caught up with the world, especially during the 21st century. Nobody wants to be left behind in social media usage during these times, be it business or organizations. Social media has been leveraged to bring maximum benefits to many users, leading to social news sharing. In this paper, the definition of social news sharing is discussed, including a historical overview of the term and its relation to communication and information management.  Small businesses have benefited from the use of social media with economic and social gains. Businesses that use social media engagement with their audience save costs and engage in various marketing forms of their products.
Most importantly, this is a tool to connect the customers to a business or know better about a company when they converge. Besides, the educational sector benefits significantly from social news sharing. Dissemination of knowledge through social news sharing is done through social media. Interactive learning becomes easy when tutors utilize social news sharing. The benefits of social media show its power to lead to growth in small businesses.
Explanation/Brief History of Social Media
The term sharing implies different things to many other people. As a result, it is generally not incredibly helpful for scientific analyses of social media actions. News sharing is precise as it focuses on the activities of distributing specific kinds of content. When used in social media content, news sharing implies a general social media activity that encompasses talking about one's feelings, posting anecdotes, or personal pictures (Kümpel et al., 2015, p. 2). News sharing can be defined as the practice of offering a specific set of individuals access to news content via social media platforms by recommending or posting it.
The genesis of the Innovation
It may seem that sharing information through sites like Facebook is a trend, but this is the product of many centuries of social media development. The earliest method of communication was lettered in 550 B.C.  Letters were followed by telegraph in 1792, pneumatic post in 1865, telephone in 1890, and the radio in 1891. According to a Washington Post article, social media started when people learned to communicate through telegram chats and other communication forms before the internet.
During the 20th century, rapid technological change created supercomputers in the 1940s. CompuServe is the earliest form of the internet in the 1960s. People and businesses quickly adopted these technologies to interact through virtual newsletters and emails. This paves the way for an expansion of the internet. In the 1980s, internet relay chats became popular, and the first social media came into existence in 1997. Six Degrees was among the first social media sites to allow users to connect with friends and families.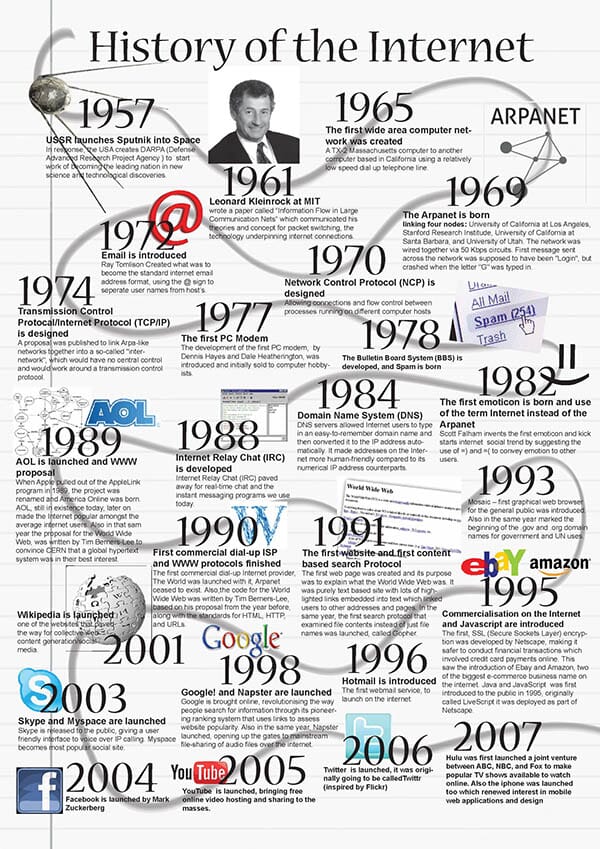 Infographic history of the internet. Balance. All Rights Reserved.
At the turn of the new century, the invention of social media and blogging was explored in popularity. Sites like LinkedIn, MySpace, and Flickr facilitated content sharing. Small companies started to grow hundreds of millions of followers on Twitter, Facebook, and other social media platforms. It reached a point where if a person didn't use social media, they were considered old. Finally, businesses would bow to the pressure and adopt social media aggressively. In 2006 and 2010, respectively, social media platforms like Facebook allowed ads. However, this was just a tip in the iceberg as companies began social news sharing to cultivate an engaged and active social media presence.
Small businesses benefit most from social media
When social media began sharing and creating content, the biggest beneficiaries have been businesses. This is the reason non-existent companies have come from nowhere and taken the world by storm through viral marketing(Bhattacharya et al., 2019p. 2; Jin & Ryu, 2019, p. 1). The Pew Research Institute identified 97% of companies with a Facebook page. In the same study, 82% of art organizations stated that social media is used mainly for engagement. Companies use social media to reach a wider audience, and news sharing through social media eases communication as people get the messages instantly.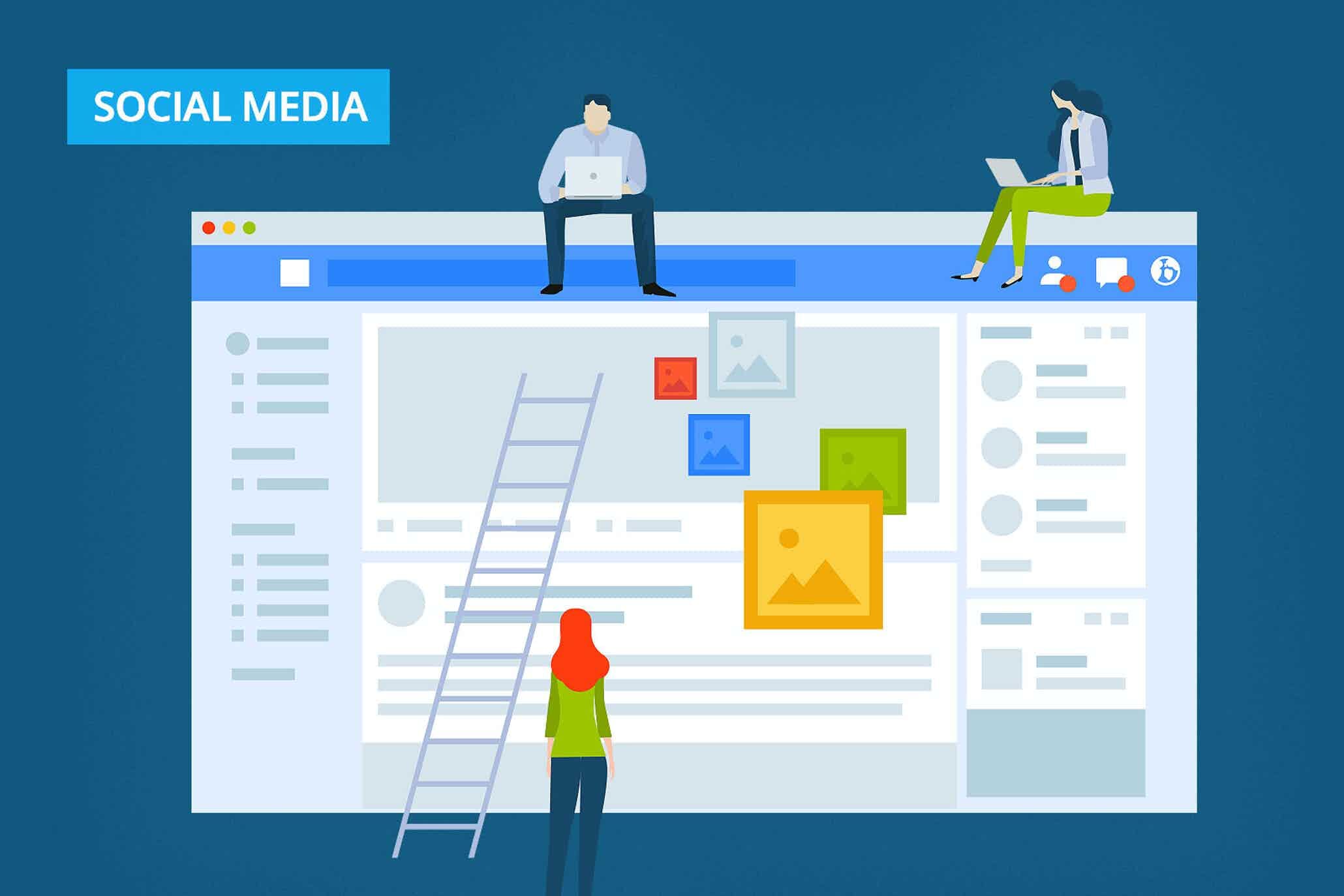 Companies use social media to reach followers. Digital Marketing Institute. All Rights Reserved.
Economic benefit
Engagement in social media news sharing is to strengthen the brand experience for companies. The platforms are utilized by existing small businesses to become more attractive to employees and customers. Nearly 95% of small businesses increased their social media marketing in 2019. Companies use social media to build a good reputation by sharing a couple of words on their social media pages that showcase their business space. It makes perfect sense for small businesses to accrue economic benefits from social media as it is cost-effective. CMO report projects a double social media market by 2030.
An example is Casper, a small business that has significantly benefited from social media news sharing. The small business harnessed Twitter, Facebook, and Instagram to build a strong brand. Besides, it made use of platforms like IGTV, Spotify, and YouTube to telecast their channel. Casper shared various episodes on the major social media platforms to enhance their profiles. The result was increased cross-promote content, following on other platforms and buzz about their sleep channel.
Social benefits
Social news sharing is viewed as a way to showcase to the public that a company is friendly to the customers. It shows that people can communicate about a company, share ideas, and interact with the employees. An example is the Museum of Ice Cream that uses social news sharing to make real connections with customers. Through the Instagram page, the company has been encouraging followers to share their stories so that other people can be part of it. More than 72 millionfans participated in the hashtag #museumoficecream. As a brand, Museum of Ice cream has successfully appealed to the offline-online customers by sharing content.
Impact on the Education Sector
Aside from the business world, social news sharing is used in the education sector to improve communication. Özçakir et al. (2015, p. 3) argue that many educational institutions use social media sites to communicate with the students concerning the opening dates, important events, and administration news.  These days, if students are looking for reliable information, they confirm it from the institution's leading social media pages (Carpenter and Harvey, 2020, p. 4). Simultaneously, social media is used to seek clarification and offer feedback in the comment sections. Posts made by the educational institutions are informative, which implies that they help the users locate insightful information.
Besides, educational learning and materials are embedded through social media. The blackboard and student portals that contain course material are linked through social media sites. The significance of linking course materials on the platforms is to make it easy for them to access it conveniently. Many tutors use Facebook groups, email, and social media to engage with the students. An example is the Facebook groups where classes are taught, and essential material is shared (Faizi & El Fkihi, 2018, p. 182). Platforms like YouTube are utilized to explain concepts to the students where a tutor uploads a video on YouTube. The advantage of social media is that the students can access it at any time. Some tutors are reachable through social media to help students. Also, social news sharing helps students learn from each other. They get time to network with other like-minded students to improve an understanding of specific concepts.
It is easy to embed information as links on social media make communication in classrooms easy, and every student gets the chance to learn. Tutors utilize social media for their popularity and affordability (Jebba & Umaru, 2019, p. 735).  It is all about convenience, and none of the technology does this well than social media. Social media supports multimedia from videos, films, pictures, articles, course material, and books that the students can utilize to learn more. An advantage of social news sharing is that it prepares the students to be interactive so that when they move to the corporate world, they become more productive.
Conclusion
Information sharing dates back to 550 B.C. when all human beings could pass letters from one destination to another. Unknowingly, these developments paved the way for the advantage of more sophisticated technology that enhanced the way people communicate. As businesses are profit-oriented, many soon discovered the potential of social news sharing. Many companies have utilized social media in the recent past due to the many benefits that are accrued. Even in the future, these businesses are going to realize the potential of social media entirely. The services are improving brand name and identity. For the 21st century business, the brand is everything, so it must talk on social media platforms.
References
Bhattacharya, S., Gaurav, K., & Ghosh, S. (2019). Viral marketing on social networks: An epidemiological perspective. Physica A: Statistical Mechanics and its Applications, 525, 478-490. https://doi.org/10.1016/j.physa.2019.03.008
Carpenter, J. P., & Harvey, S. (2020). Chapter 8: Research Ruminations and New Frontiers for Social Media Use for Professional Development and Learning in Physical Education and Sport Pedagogy. Journal of Teaching in Physical Education, 39(4), 491–499. https://doi-org.ezproxy.auctr.edu/10.1123/jtpe.2020-0006
Faizi, R., & El Fkihi, S. (2018). Investigating the Role of Social Networks in Enhancing Students' Learning Experience: Facebook as a Case Study. International Association for Development of the Information Society.
Hassan, M. I. A., & Kommers, P. (2018). A review on effect of social media on education in Sudan. International Journal of Educational Technology and Learning, 3(1), 30-34. DOI: 10.20448/2003.31.30.34
Jebba, A. M., & Umaru, N. N. (2019). The Role of Social Media in Reshaping the Academic Activities of Vocational and Technical Education Lecturers in Nigeria. International Journal of Evaluation and Research in Education, 8(4), 735–741.
Jin, S. V., & Ryu, E. (2019). Celebrity fashion brand endorsement in Facebook viral marketing and social commerce. Journal of Fashion Marketing and Management: An International Journal.https://doi.org/10.1108/JFMM-01-2018-0001
Kümpel, A. S., Karnowski, V., & Keyling, T. (2015). News sharing in social media: A review of current research on news sharing users, content, and networks. Social media+ society, 1(2), 2056305115610141.https://doi.org/10.1177%2F2056305115610141
Özçakir, F., Fatih, M., & Özçakir, Ş. The Use of Social Media In Education: A Review Of Recent Research.http://dx.doi.org/10.3390/educsci8040194