The invention of the internet changes human's daily life, with the development of the internet, more internet innovation was made and bring a significant change in political economic and social terms. One of the internet innovations is social news sharing, with the development of social media platforms, the strong social media platforms own and control the main business in this area, they can benefit from social news sharing by getting advertising expense, but it brings the exploitation of users, which damaged user's benefit. In the social term's effects, news sharing can benefits politician since the user's opinion can be influenced by news and sharing habit. But the news sharing can damage the Online civic culture, because there was a mass of "fake news" spread by news sharing. To sum up, social news sharing can bring huge effects on political-economic, and social terms, it benefits the social media platform and politician. But damage the online civic culture, and utilize media user as free labor.
————————————————————————————————————————————————————–
Messaging apps emerge as growing force in news sharing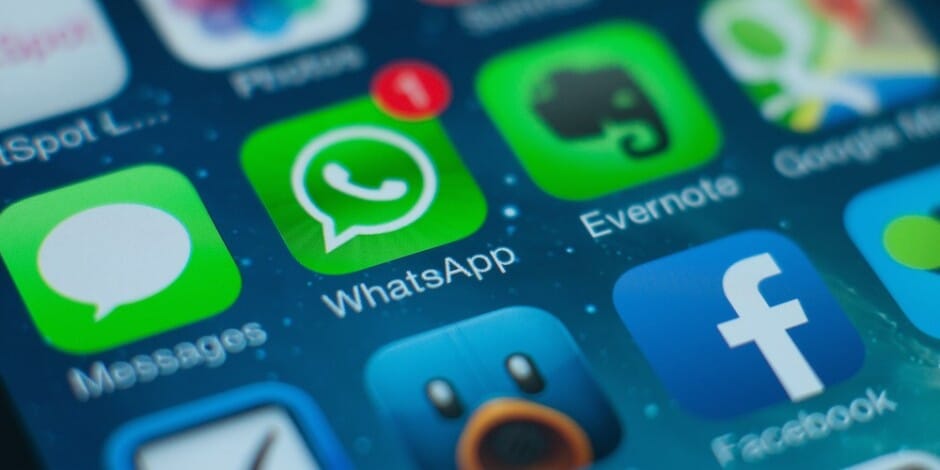 Moreover, social news sharing's transformative effects can benefits politicians since the user's behavior can be conjectural and influence by the news sharing. From Assoc said in the article, users do not always make rational choice on internet when they read and sharing news, user like to previous habits to choose media what they familiar with.(Assoc,2019) This point of view shows user was easy to be influence by familiar media, and politician can utilize social media to control and change user's political view. Which means politician can use news sharing to get more vote from users, that was the great benefit the politician can have. On the other hand, social news sharing will damage the online civic culture by the spread of "Fake news". The article introduces a different kind of distribution of "Fake News", the first type was the action deliberately designed to spread false news. (Chadwick, A., & Vaccari, C,2019) It will abet conflict and ignorance, some users believe in those fake news, then prompt language violence on media platforms when they accidentally sharing fake news. It was hard for media platforms to manage every user's behavior, that was the reason why the "Fake news" can always exist in social media platforms and cause negative effects on online civic culture.
 The percentage of media user saw inaccurate news shows the "Fake News" was a serious problem on social media platform.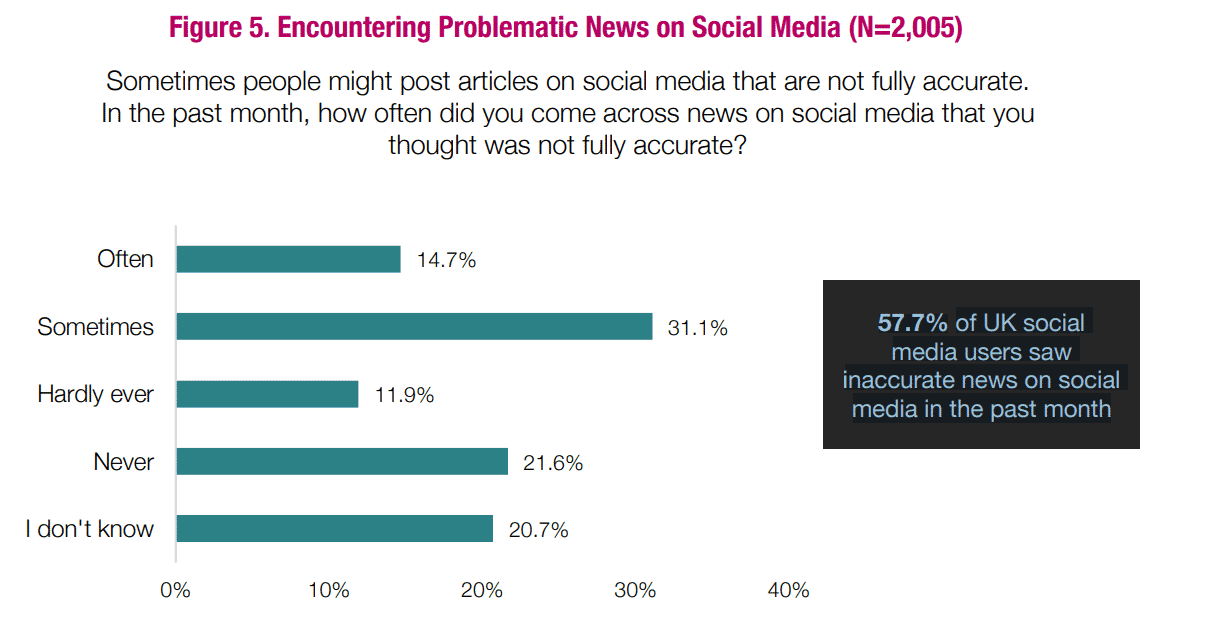 The internet innovation of social news sharing can affect people's point of view on news, it helps people communicate different thoughts on the internet, but also can lead to the problem of cyber-violence. As noted in the previous paragraph, the misinformation spread on the internet and foment ignorance, hate speech of online media platform, take the example of "The 10 most-viewed fake-news stories on Facebook in 2019 were just revealed in a new report". From those popular "Fake news" we can know that most of the news was about the political area, which means media users were most interested in political news and pay attention to it. That inaccurate news will attract many users to share and discuss online, the exaggerated news will be caused quarrel online between users who have a different point of view on politics. It can bring a negative social media platform environment, some users believe in "Fake news" and react to it, Moreover, my personal experience also proves the problem that Fake news sharing brought to users. I have joined a heated discussion when I sharing news about the equality of men and women. Some users use language violence when they discuss it with me. This was the problem that news sharing brings to me, the media platform cannot control every user's behavior, during the process of news sharing and comments, you may get cyberbullying. The good influence was social news sharing support users to see a wide world, we can receive the news all around the world and communicate with different country users. It can avoid people were trained to think only in one way.
 The 10 most-viewed fake-news stories on Facebook in 2019 were just revealed in a new report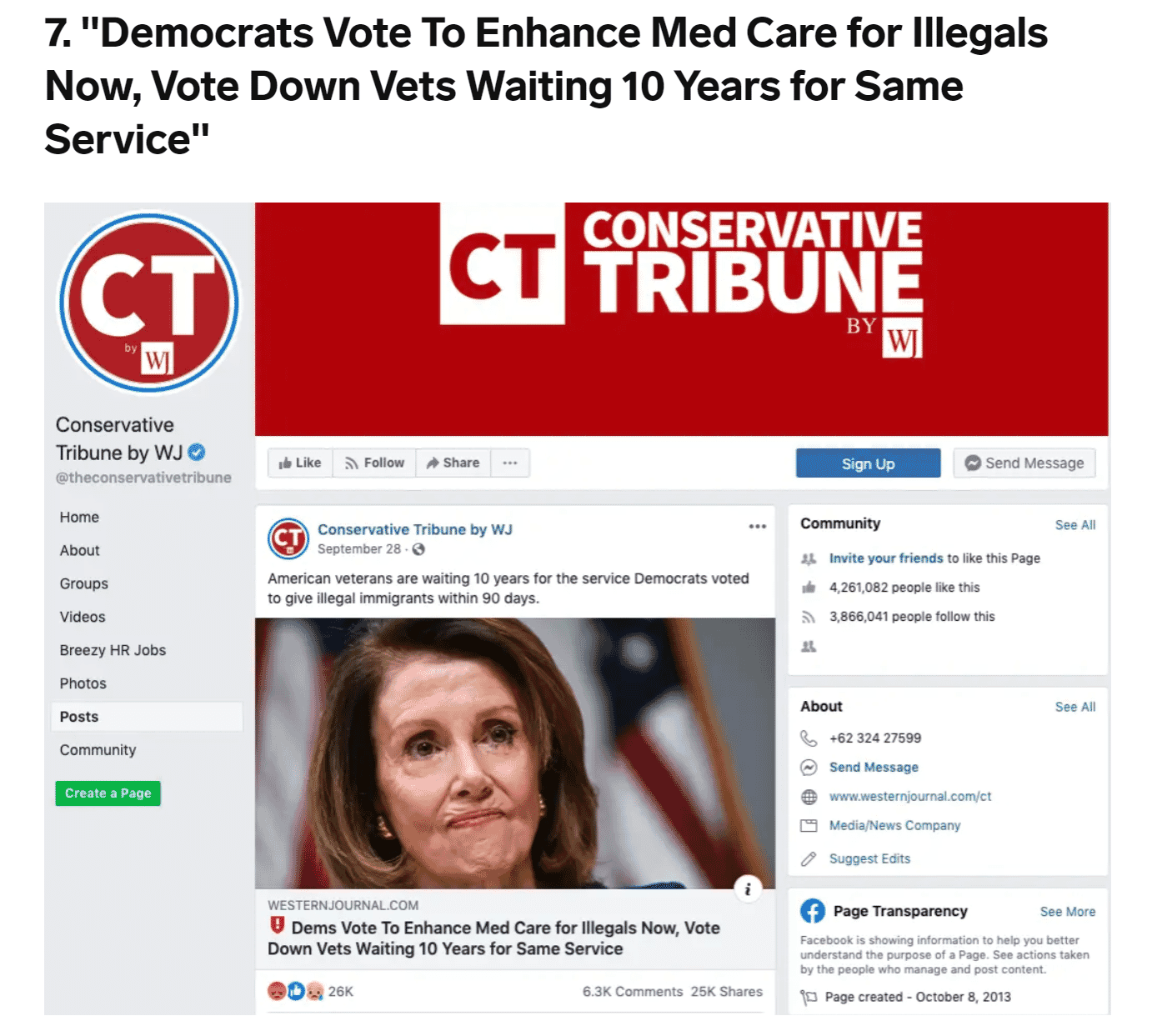 In conclusion, the development of the Internet leads to the innovation of social news sharing. Social news sharing brought transformative effects to political economic and social terms. The media platform can benefit from social news sharing by utilizing the user's free labor to receive more commercial cooperation and get profit from an advertisement. The users cannot get benefits since they were working for no income. But, on the other hand, politician can benefit from speculate user's idea and influence user's political idea through news sharing. The online civic culture will be damaged by the Fake news sharing, which means they cannot get benefits from the transformative effects. Social news sharing can bring both positive and negative changes for ordinary internet users. The positive change was people have enough freedom to sharing news online and can receive the news around the world very fast on the internet. But since the platform's management and control model was not perfect, users can easily feel cyber-bullying during the process of news sharing.
References:
Assoc; Jesús; Raquel. (2019) INFLUENCE OF THE 'NEWS FINDS ME' PERCEPTION ON NEWS SHARING AND NEWS CONSUMPTION ON SOCIAL MEDIA.
Chadwick, A., & Vaccari, C.(2019) News sharing on UK social media: misinformation, disinformation, and correction.
Martin, Fiona, and Tim Dwyer. Sharing News Online: Commendary Cultures and Social Media News Ecologies. Cham: Springer International Publishing, 2019. Web.
https://www.businessinsider.com/most-viewed-fake-news-stories-shared-on-facebook-2019-2019-11
The 10 most-viewed fake-news stories on Facebook in 2019 were just revealed in a new report
https://www.businessinsider.com/upworthy-how-to-create-a-fast-growing-media-company-2012-11
How To Create The Fastest Growing Media Company In The World
https://www.businessinsider.com/facebook-earnings-q3-2020-revenue-eps-profit-analysis-2020-10
Facebook exceeds Q3 revenue expectations, but stock falls slightly due to expected headwinds
https://www.youtube.com/watch?v=jbRNAcCh_yY
Sharing Information on Social Media – Behind the News
https://www.thedrum.com/news/2017/06/22/messaging-apps-emerge-growing-force-news-sharing
Messaging apps emerge as growing force in news sharing