Introduction:
Copyright Creative Commons has been brought significant effects to the media community, and the way of transformative changes has made benefits to many fields. The goal of this essay is to examine the comprehensive distribution range in which the position and function of Creative Commons. Firstly, explains the general genesis of Creative Commons while defining CC licenses of its structure. Secondly, determine its role of innovation and giving examples through various fields such as political, economic, social, and cultural. Thirdly, expressing a point of view from the personal experience of Creative Commons. In conclusion, analyze the valuation of its functions

"Invest in Sharing" by jonathan mcintosh is licensed under CC BY-SA 2.0
---
Genesis of Creative Commons
The initial concept of copyright trace back to the late sixth century in Ireland by King Diarmait Mac Cerbhaill. Then gradually formed with the first fully-fledged copyright law in 1709 due to the monopoly of printing houses. Subsequently, the enlightenment of Creative Commons begun in 1998. (Geere, 2011)United States Congress has approved a copyright legislation called "Sonny Bono Copyright Term Extension Act" (CTEA or "Mickey Mouse Protection Acts"). After that, this legislation extended the term of copyright for works in the United States, included works that have already copyrighted but add extra 20 years duration. However, the problem is that although these Acts are taken to protect companies that establish businesses under copyright protection, on the other side, it caused a problem for those businesses who make use of the public domain. Eric Eldred is one of the people has affected by this Act. He argued that CTEA is unconstitutional and challenged this legislation with his lawyer – Lawrence Lessig to the court named it Copyrights Commons, well known as Eldred v. Ashcroft. Nonetheless, they failed.(Geere, 2011) Despite they lost the court case, but fortunately, their hard works contributed a decisive precedent in this field.

Larry Lessig giving #ccsummit2011 keynote". DTKindler Photo. CC BY 2.0 Unported
In 2001, Lawrence Lessig was deeply inspired by Eric Eldred's idea, Creatives Commons Organization was officially established by him. In the second year, Creative Commons license was published free. (Creative Commons Certificate, n.d.) CC license focuses on balance the pressure between the capability of the author to sharing digital works and copyright regulation. It created a system to provide an area where various works (included music, film, pictures, etc.) can be freely available on the internet, established a community with numerous information that encourages creators sharing works easily online while with free and public licenses in their database, but still keep creators copyright. To sum up, Creative Commons license made a shift in this filed by retaining the aim of Copyright but default "all rights reserved". It abandoned the restrictions and shortcomings from Copyrights, such as the terms of using and sharing online, while constructed the 6 types of licenses more precisely and accurately. The biggest strength of CC license well reflects on its operation pattern, which is maintains sharing flexible online in a worldwide range instead of only offline or United States, this became the most critical point to accelerated development in media. It build up with three layers of public copyright licenses which are Legal code, Humanreadable, and Machine-readable. Therefore, the advantages of Creative Commons achieves its value in both information management and communications media also popularize globally.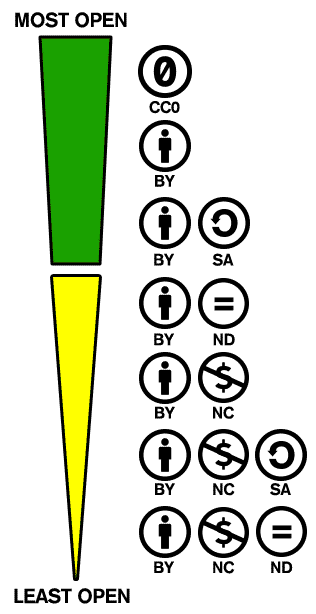 "File:Ordering of Creative Commons licenses from most to least permissive.png" by creativecommons.org is licensed under CC BY-SA 4.0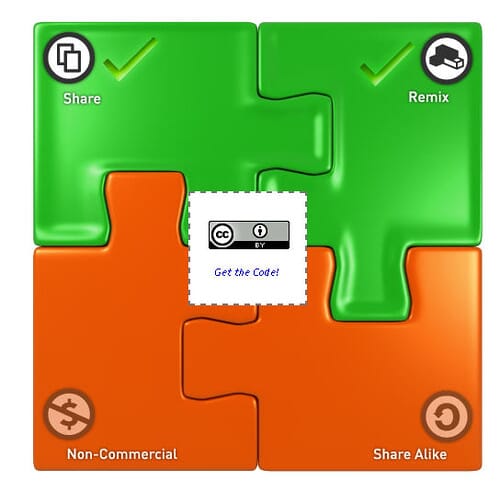 "Explanation of Creative Common License"
How Creative Commons performed in different fields?
Political
Australia became one of the countries that widely use CC licenses in various fields especially political uses. There are three of the largest sources websites in Australia which are the Australian Bureau of Statistics, Geoscience Australia, and data.gov.au, these websites are available by default under a CC Attribution license, all census data from Australia could be provided and access openly. Australian government using CC licenses to sharing information with public, encouraging citizen participation, and increase the transparency of government resources and services. CC licenses are used in Australian Parliament central web portal houses and it will be published in a version of BY-NC-ND Version 3.0 Australian license. Besides, the vital papers from the Australian Federal Government, such as bills, committee reports are all on the list. Notably, the Hansard transcript of Parliamentary Sittings listed in. To sum up, the government is the group most benefit from CC license due to the government greatly increased the work efficiency of recording huge data set and can easily sharing information in public.
Social and Cultural
From my point of view, social and culture are mutually influenced. Based on Geoscience Australia's "geospatial data, it shows social problems could be solved or beneficial from the use of CC license, for instance, the Brisbane flood in Australia. Essentially, it can be a practical example that has referential value for similar social problems in different areas. According to the research of occupations of CC Licensors the user primarily comes from four groups of people, computer professionals (28.6%), students (18.2%), artists (13.6%), and educators (9.3%). More generally, these basic findings are consistent with research showing how CC license functioning in a diverse group of people in society and culture. CC license provides a sharing community, for this reason, CC licensors could be enriched both culture and society, it broadens the diversity of disparate cultural backgrounds and promotes development worldwide.
Economics
Undoubtedly, because of the diversified uses of CC licenses in wide areas, the evolution of economic growth can not be ignored. The various fields involved various users such as artists, photographers, and YouTuber. To illustrate, Youtube as the pioneer of Social media launches Creative Commons Support for CC BY and a CC library, and there are Four Million CC-Licensed Videos uploaded to YouTube for users to edit and remix. It is well known that Youtube has a revenue mechanism that comes from the click rate. That is to say, social media like Youtube applied CC license to offers a platform where videos and audios can be made. In this way, a large number of youtube users will create double-digit works through edit and remix. Therefore, Youtube and Youtuber both benefit from these videos to achieve economic growth.
Effects of other aspects
From my perspective, as a student CC license is an important component in resources and plays a key role in education. The previous research of users' numbers showing CC license owns a large group of students. This group is in a great reference request. Previous studies in this area of research have reported CC licenses have long been used in education since 2008, approximately above half a billion CC-licensed works available online for both teachers and students using, sharing, editing. The majority of these resources have been approved and licensed by educational organizations, schools. Most importantly, it empowers students to explore the creative potential of open resources. However, it played a big role during the COVID-19, reflecting its value by sharing online to the restriction of the social environment, while assisting online education as a whole. Comparatively speaking, CC license is a relatively new object to me and certainly needs more efforts to understand its directions on referencing. Moreover, the pictures from Creative Commons are very limited.
Conclusion
In conclusion, these results indicate that CC license played a crucial role throughout media. Every license from Creative Commons is designed to protect licensors' rights, allow users to use, copy, and distribute but preserving the copyright. Also, licenses are provided with globally valid copyrights and credited licensors properly. In terms of these functions, the rights and interests of licensors in Creative Commons are well protected.
Reference
About The Licenses – Creative Commons. Retrieved 1 November 2020, from https://creativecommons.org/licenses/?lang=en
Bollier, D., & Cooperativism, P. (2017). Why Use Creative Commons Licenses? | P2P Foundation. Retrieved 1 November 2020, from https://blog.p2pfoundation.net/why-use-creative-commons-licenses/2017/08/11
CreativeCommons. (2020). 1.1 The Story of Creative Commons | Creative Commons Certificate for Educators and Librarians. Retrieved 30 October 2020, from https://certificates.creativecommons.org/cccertedu/chapter/1-1-the-story-of-creative-commons/
Foong, C. (2011). ccAustralia research helped during flood crisis. Retrieved 1 November 2020, from https://creativecommons.org.au/blog/2011/02/ccaustralia-research-helped-during-flood-crisis/
Four Million CC-Licensed Videos Uploaded to YouTube – Creative Commons. (2012). Retrieved 1 November 2020, from https://creativecommons.org/2012/07/25/four-million-cc-licensed-videos-uploaded-to-youtube/
Geere, D. (2011). The history of Creative Commons. Retrieved 1 November 2020, from https://www.wired.co.uk/article/history-of-creative-commons
Government – Creative Commons. Retrieved 1 November 2020, from https://creativecommons.org/Government/
Journal of Computer-Mediated Communication, Volume 13, Issue 1, 1 October 2007, Pages 187–209, https://doi.org/10.1111/j.1083-6101.2007.00392.x
Library Home: OER Background: Creative Commons (CC) – Licensing and OER: Timeline. Retrieved 1 November 2020, from https://library.fvtc.edu/CreativeCommons/Timeline
Park, J. (2016). What Is Creative Commons and Why Does It Matter? | Common Sense Education. Retrieved 1 November 2020, from https://www.commonsense.org/education/articles/what-is-creative-commons-and-why-does-it-matter
Pooling Ideas. (n.d.). What is Creative Commons? Retrieved 30 July 2020, from Creative commons website: https://creativecommons.org.au/learn/fact-sheets/
Solon, O. (2011). Creative Commons 101: An introduction to CC licences. Retrieved 1 November 2020, from https://www.wired.co.uk/article/creative-commons-101