The advancement of the Internet makes static photos have a place in contemporary media culture, and Instagram is one of them. It is a social networking service owned by Facebook that focuses on providing online photo and video sharing. Instagram now has more than 1 billion active users a month. (Clement, 2020) Since its birth ten years ago, Instagram has become a hot social media dominated by young people. Its success is inseparable from its unique social and business model. This essay explores Instagram's history and its competitive position in the current industry. In addition, this paper will analyze the unique business model of Instagram and its transformative impact on the political, economic and social levels. The essay ends with a discussion of the regulatory challenges that Instagram has triggered and how these challenges can be addressed.
The Story of Instagram
---
Instagram is an application that can edit and share pictures taken by users at any time in a fast, excellent and fun way. It provides a variety of cool and attractive features, such as filters, geotags, hashtags and live video streaming. Before Instagram became one of the world's most popular social app, it was based on a photo-sharing app called Burbn. After seeing the potential of building applications that combine Hipstamatic and Facebook and other social media platforms, Kevin Systro and Mike Kriege took advantage of the launch of the iPhone 4 and the rise of mobile photography became mainstream, releasing their first ios version in October 2010. (Laestadius, 2016) Instagram attracted more than 25,000 users on the first day of launch. (Blystone, 2020) In 2012, Facebook bought Instagram for $1 billion and turned it into a partner because it was worried about the impact Instagram would have on some of its businesses. (Benjamin, 2012) By 2020, Instagram had more than 854 million registered users. (Clement, 2020) As one of the most promising innovative media platforms gathers a large number of bloggers in different fields such as cuisine, beauty makeup, life and travel. It uses images to promote relationships between users and efficiently searches for users by filtering account names, geotags and hashtags. The platform also recommends similar accounts so that users can better find the content of interest.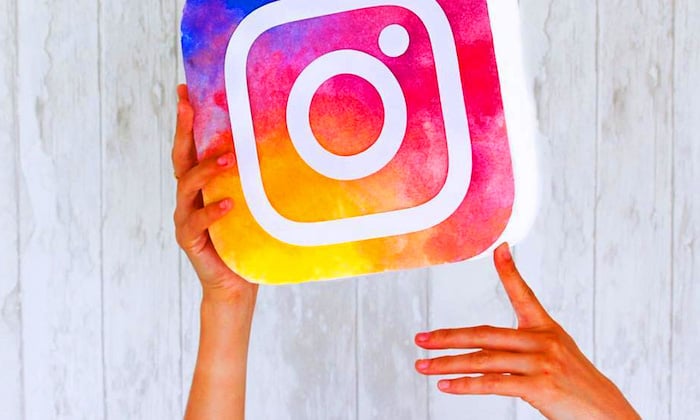 Image of Instagram, #by Neil Patel, all rights reserved.
The Competitiveness of Instagram
---
In the social media industry, Instagram, as a unique platform with pictures as the main form of expression, is very competitive in the industry. Snapchat and Pinterest also have photo-sharing functions similar to Instagram, and each of these three platforms earns its own place in the industry. The 24-hour Stories feature Instagram launched in 2016 is similar to Snapchat's "burn after reading" feature. The addition of this new element also puts Instagram in direct competition with Snapchat. Besides, as apps that both love to use hashtags, the difference between Instagram and Twitter is that Twitter hashtags are mainly used for classification, while every Instagram post involves a conscious decision about aesthetics, or to build a community of uniqueness and detail that is not required on most other social platforms. (Laestadius, 2016)
The Ecosystem of Instagram
Instagram Brings a New Business Model
---
Instagram, as a new burgeoning market place for human society, already introduced a new online business model. First of all, for the Instagram platform itself, as an innovative medium in the advertising market, has become an important choice for advertisers. (Abidin, 2014) It helps advertisers to accurately target users by using a large amount of user behaviour data collected. For advertisers, maximizing the coverage of marketing information is one of the main goals of promoting products and services. The global user base of Instagram is about 854 million in 2020 and is still growing (Clement, 2020), which can translate into a potentially broad audience because it targets everyone with a smartphone. Instagram serves as a perfect visualization tool that allows companies to showcase products in posts or stories, not only to increase brand awareness but also to increase offline sales and website visits, thus bringing products closer to potential customers and thus increasing revenue. According to Clement(2020), Instagram's revenue from social network advertising in the US totalled $945 million in 2019. In addition, in a survey of global marketing professionals, it was found that 29% of respondents believed that photo ads on Instagram were considered the most effective advertising form. About 8% of respondents said that the carousel ads on Instagram are effective. (Guttmann, 2020)
Moreover, online celebrity promotion on Instagram is also a new type of marketing model that is very popular today, which is called influence marketing. Most of these influencers focus on a particular area, such as fashion, food, beauty to deeply "dig" users, so they are readily accepted by the public, which coincides with the characteristics of precision marketing. Instagram celebrities create content with product characteristics and use eye-catching hashtags for promotion so that brands reach their target audience easily through celebrities. These ads earn much trust from followers because influencers' advice is seen as more reliable. As a result, advertisers have an opportunity to target their preferred audience more precisely and increase the likelihood of future purchases. Therefore, Instagram has become a sales booster for various brands, and its increasingly flexible advertising capabilities are increasingly influencing its users.
This video introduces what celebrity influence marketing is and how it affects users' consumption decisions.
Source: Glambassador, Youtube
The Transformative Effects of Instagram
---
Instagram's influence in politics is reflected in the way politicians manage and shape their image and increase their influence through online image management. (Lalancette, Raynauld & Payne, 2017) Due to the explosive growth of social media, politicians have more power than ever to communicate directly with voters. Heads of government frequently use social media to attract attention through influential images or videos, which seems to have become a new norm. (Lalancette, Raynauld & Payne, 2017) Instagram is not merely used to share the personal lives of politicians, but the result of carefully planned policies. Politicians use personal content strategically to highlight certain aspects of their roles and ideologies. For example, post photos of themself with their children to give the impression that they are good parents. (Sampietro & Sánchez-Castillo, 2020) Or through the mention of sports, emphasizing their youth and athletic ability, and conveying their male image. For example, Canadian Prime Minister Justin Trudeau is considered the first prime minister of Canada's Instagram era. His Instagram posts aim to showcase his expertise, skills, achievements and talents positively, and to make his job as prime minister seem serious, energetic and enjoyable. (Lalancette, Raynauld & Payne, 2017) Nearly half of Trudeau's Instagram photos are patriotic, especially the Canadian flag, which helps to consolidate his position and reputation as prime minister.
Its social influence is reflected in the fact that it has dramatically changed the way people use photography to socialise, in order to gain likes and gain attention and recognition from strangers. It enables the individual to express herself or himself fearlessly and creatively and to present a perfect life in a visually oriented manner. For teenagers, if used correctly, Instagram will be a way to connect with friends, family and the world while maintaining security and privacy. (Collier, 2019) However, the application may be dangerous to some extent. Influenced by bloggers who have perfect and desirable lifestyles, teenagers often choose to present themselves through pictures and hashtags and construct their preferred identities or characteristics. (Jiang & Ngien, 2020) Although it can share a more diverse aesthetic, some have accused these filtered, edited images of representing unrealistic expectations of beauty. The actual emotions may be blocked by heart-shaped likes. In addition, Instagram has brought mobilised activism. Many activists use Instagram as a storytelling tool, inspiring others to get involved through the spread of posts. It also gives influencers direct access to their followers to deliver messages of support. For example, many celebrities in fashion or entertainment used Instagram to show their support for #BlackLivesMatter.
This is a post by celebrity Justin Bieber that supports #BlackLivesMatter, which has received a lot of likes and comments.
Source: Justin Bieber, Instagram
Instagram has changed the culture of consumption and promoted the economic growth of tourism. Perhaps the most commercial influence of Instagram is that it has created a brand-new consumption occasion centred around life milestones and brought about the "experience economy." It has become the cornerstone of the cultural influence of many industries, such as tourism, entertainment and food. Instagram encourages users to post pictures of food and landscapes and beautify them with filters to satisfy their visual experience. It turns out that visual effects can influence consumption decisions. According to Salpini(2017), 75% of users said that Instagram influenced their purchase decisions. Instagram now dominates the travel planning process, and this transformative force has brought about changes in the way users travel. For example, users decide where to go hiking or choose the most "Instagram" vacation destinations based on their friends' Instagram stories. Airbnb Experiences even caters to the Instagram influence, offering users with opportunities to book photoshoots and #vacation. The guide takes users to the most prosperous attractions, captures photos in iconic locations, and even edits the photos, and provides a variety of options for them to choose from. Besides, cafe and restaurant owners have found that photo-sharing of diners is one of their most powerful marketing tools, so they are paying more attention to the appearance of the food and the decor of their stores to ensure that it conforms to Instagram's aesthetic. Users might be able to browse through tons of beautiful Instagram photos to decide what to eat in a restaurant. Therefore, followers indirectly experience the lives of influencers and influence their consumption decisions by subscribing to their Instagram, which promotes Instagram's influential marketing, mainly in the field of tourism.
The video shows how Instagram has boosted travel around the world with the help of geotags.
Regulatory Challenges Triggered by Instagram
---
The emergence of social networks has profoundly changed the way marketing information is used to promote products and promote, shape and innovate new consumer needs. (Goanta & Ranchordás, 2020) Influencers have also become an essential role in shaping user trust and consumption. Their ability to create and sustain social media trends has been monetized by selling advertising space. (Abidin, 2014) In this process, they exchange their cultural capital for commercial benefits. However, the monetization of influence raises many legal and ethical questions. For example, influencers promote suspicious businesses without due diligence on products or services. (Goanta & Ranchordás, 2020) In addition, influencers employ appropriate creative strategies to cover up the commercialization of their posts in order to maintain the interest and trust of their followers. (Abidin, 2014) And circumvent the fuzzy algorithm of the platform to take advantage of their advantages and optimize their content scope. (Goanta & Ranchordás, 2020)However, the authors of business blogs tend to be ordinary people who are considered more accessible and trustworthy than mainstream celebrities. (Abidin, 2014) As a result, followers are facing increasing risks, becoming victims of commercial interests, because they sometimes cannot tell whether shared posts are genuine endorsements. Therefore, consumers need to know whether the product or service is sponsored by advertisers so as not to be misled. Influencers need to comply with Instagram's standard terms and applicable legal obligations. For the Instagram platform, it should not only include relevant legislation into its standard clause(Goanta & Ranchordás, 2020) but also enforce its own rules to restrain irregular and unethical influence marketing.
In general, Instagram influences politics, economy and society in a variety of ways, and changes the way users communicate, discover and engage with different elements. It has led users to socialize with pictures as the main form of expression and changes users' consumption habits. However, influencers continue to increase their influence by publishing content that caters to the general public and use their influence to promote their own political or commercial interests. Therefore, this new online business model should be regulated and constrained. However, how to strengthen the supervision still needs more discussion and research.
References:
Abidin, C. (2014) '#In$tagLam: Instagram as a repository of taste, a brimming marketplace, a war of eyeballs', in M. Berry and M. Schleser (eds), Mobile Media Making in an Age of Smartphones. New York: Palgrave MacMillian. pp.119–128.
Benjamin, K. (2012). Instagram. Marketing, 23. http://search.proquest.com/docview/1017546369/
Blystone, D. (2020). The Story of Instagram: The Rise of the # 1 Photo-Sharing Application. Retrieved 17 November 2020, from https://www.investopedia.com/articles/investing/102615/story-instagram-rise-1-photo0sharing-app.asp#:~:text=Instagram%20is%20a%20photo%20and,app%20was%20launched%20on%20Oct.
Clement, J. (2020). Instagram- Statistics & Facts. Retrieved 17 November 2020, from https://www.statista.com/topics/1882/instagram/
Collier, M. (2019). Facebook, Twitter, and Instagram for seniors. (Third edition.). for Dummies.
Goanta, C., & Ranchordás, S. (2020). The regulation of social media influencers: an introduction. The Regulation of Social Media Influencers. Cheltenham, UK: Edward Elgar Publishing. doi: https://doi-org.ezproxy2.library.usyd.edu.au/10.4337/9781788978286

Goanta, C., & Ranchordás, S. (2020).Making influencers honest: the role of social media platforms in regulating disclosures. The Regulation of Social Media Influencers. Cheltenham, UK: Edward Elgar Publishing. doi: https://doi-org.ezproxy2.library.usyd.edu.au/10.4337/9781788978286

Guttmann, A. (2020). Most effective Instagram ad formats worldwide 2019. Retrieved 17 November 2020, from https://www.statista.com/statistics/1102756/effective-instagram-ad-formats-world/
Jiang, S., & Ngien, A. (2020). The Effects of Instagram Use, Social Comparison, and Self-Esteem on Social Anxiety: A Survey Study in Singapore. Social Media + Society. https://doi.org/10.1177/2056305120912488
Laestadius, L. (2016). Instagram. In L. Sloan & A. Quan-Haase The SAGE Handbook of social media research methods (pp. 573-592). 55 City Road, London: SAGE Publications Ltd doi: 10.4135/9781473983847.n34
Lalancette, M., Raynauld, V., & Payne, G. (2019). The Power of Political Image: Justin Trudeau, Instagram, and Celebrity Politics. American Behavioral Scientist, 63(7), 888–924. https://doi.org/10.1177/0002764217744838
Perzonseowebbyra. (2020). instagram app login splash screen logo on iphone. Creative Common. Retrieved 18 November 2020, from https://search.creativecommons.org/photos/fae893f6-6bd1-4560-b821-7dd3ca3e0bf7
Salpini, C. (2017). Study: Instagram influences almost 75% of user purchase decisions. Retrieved 18 November 2020, from https://www.retaildive.com/news/study-instagram-influences-almost-75-of-user-purchase-decisions/503336/
Sampietro, A., & Sánchez-Castillo, S. (2020). Building a political image on instagram: A study of the personal profile of santiago abascal (vox) in 2018. Communication & Society, 33(1), 169-184. doi:http://dx.doi.org.ezproxy2.library.usyd.edu.au/10.15581/003.33.1.169-184
The 'Instagram Effect' Is Driving Too Many Tourists To Some Destinations. (2019). Retrieved 18 November 2020, from https://www.youtube.com/watch?v=YVqR0Jfjsj8