With the continuous development of Internet technology, the Internet as a medium has accelerated the spread of information technology. As the world's largest social networking company based on the personal information of real users, Facebook is mainly engaged in social media and network technology services. It is a new social media for online communication created by Zuckerberg, a new business model. Since the advent of Facebook now, data shows data show that Facebook has more than one billion users (Christian, 2015). Facebook has changed the nature of human communication on a global scale.
---
How Facebook was established?
Facebook is social media that offers social networking service. Facebook was founded in 2004 by Mark Zuckerberg, Eduardo Saverin, Dustin Moskovitz and Chris Hughes, all of them from Harvard University students. The company's headquarters are located in Menlo Park, California. Facebook's early name was Facemash. Although Facemash was shut down two days later because the main developer Zuckerberg violated university policies when acquiring service resources, its success prompted Zuckerberg to register Facebook in January 2004 (Mark, 2019).
This is the main founder of Facebook, Mark Zuckerberg
"Mark Zuckerberg" by Wired Photostream is licensed under CC BY-NC 2.0
Facebook was officially launched in February 2004.
By June 2004, 250,000 students from 34 schools had entered Facebook.
Until 2008, Facebook surpassed Myspace to become the most visited social media site.
In February 2012, Facebook applied to become a listed company. From its founding, Facebook step by step to success, has become one of the social media giants (Mark, 2019).
The social network movie tells the history of Facebook's entrepreneurship. This clip is about Zuckerberg's inspiration for creating Facebook.

"The Social Network (2010)- Facebook Creating Scene" , #by illuminaTV World. All rights reserved.
---
Ownership and Business Model
Zuckerberg owns the most shares in Facebook, and he is the owner. As a service provider, Facebook provides a platform to share knowledge for users. Users get the right to own some data, meanwhile, these data are also obtained by Facebook. On Facebook, users sign up for free and Facebook attracts a large number of users in this way. Therefore, users voluntarily provide their personal information, such as gender, birthday, etc., and even private issues such as personal identity (Lee, 2012). On May 24, 2007, the new Facebook platform was unveiled in San Francisco during the f8 event. This is a new development platform that allows companies and engineers to integrate with the Facebook website and gain access to millions of users. The ability of third-party developers to create social applications brings a degree of wisdom that helps attract users. Then, Facebook launched its fledgling mobile platform, and the size of the community expanded rapidly, attracting 50 million active users. In November, Facebook Ads was born (Weintraub, 2011).
Facebook based on advertising to make profits
With its large number of users, it attracts advertising investors to launch advertising on the Facebook platform. The beginning of the entire business model lies in the advertising of advertisers, and the payment of related advertising costs to Facebook is also the main source of income for Facebook. Facebook promotes product sales by placing advertiser's ads. Ads will be placed on each user's homepage. Most of the money Facebook makes come from advertising by advertisers, and more advertisers can use user information to sell goods. But Facebook's profit method invisibly violates the rights of users. For example, in February 2010, Facebookers sued Facebook for privacy settings caused by theft of personal information. The one who filed the lawsuit claim that these settings are misleading and lead to inadvertent sharing of personal data, which is then used for commercial purposes (Weintraub, 2011). Although users bring traffic to Facebook, they do not directly bring profits to the company, but the large amount of information they have on Facebook has commercial value, and they provide individual's data has the value of advertising, attracting advertisers to place ads on Facebook's platform, so that Facebook can use this to generate revenue.
---
Cooperation and Competition
Facebook is the world's largest social media platform. Since 2005, Facebook has swallowed about 50 companies, including Instagram, WhatsApp, and Oculus VR-the most notable exception, as Facebook plans to use them globally and mobile dominance in the field (Elyse, 2014). The rise of social media and network technology has led to the emergence of increasingly new platforms, such as Twitter, Google, YouTube (owned by Google), TikTok, etc., all occupy a place in the global media industry, and are in a competitive relationship with Facebook. In just a few years, the social media landscape has matured significantly. Facebook's competitors started out with limited features, but grew as users' demand grew. As each company's developers shifted from a stable platform to developing new, exciting and more immersive features, this one thing becomes obvious. As competition fades, social media follows a pattern similar to that of many other software businesses over the years (Treadaway & Smith, 2012).
This flowchart directly shows that the companies owned by Facebook and Facebook's competitors
---
Transformative Influence
During the development of Facebook, it has become a social media used by hundreds of millions of users. It has had a transformative impact throughout history. News exposure on Facebook has a greater social experience: while specific newspaper articles or news broadcast items may become the subject of interpersonal conversations from time to time, on Facebook, there is more likely to direct responses or interactions after news recommendations. At the same time, Facebook has changed the way the public communicate and socialize. It can cultivate interpersonal relationships to meet their own needs for belonging. On the one hand, Facebook can therefore become an active tool for social monitoring, and its use can even increase people's "curiosity" about social networks. Facebook users want to learn more about their social networks, their behaviors, interests and opinions, because this information is very useful for maintaining or even strengthening relationships. Just like posted personal profile information, status updates and holiday pictures, friends' news recommendations can also be actively used in this form of digital social monitoring. By reading the recommended articles, users can learn more about their friends' insights and interests(Kaiser, Keller, & Kleinen-von Königslöw).

The power of Facebook lies in the method of disseminating information from users. It provides a wide range of transformative options for extensive information exchange between users. Facebook's usefulness in social monitoring also has its drawbacks. Facebook users know that their actions are also monitored by their social networks. When chatting on Facebook, the fear of isolation and rejection increases the perceived social pressure of responding to messages. Similarly, users may feel social pressure to follow news recommendations. Even without direct social control, appearing on Facebook creates a sense of coexistence. This feeling of being observed on Facebook may inspire users to follow the advice of close friends and read articles just to maintain the relationship, not because they are interested in his (her) views and interests, pecific circumstances (ie social supervision), therefore, can be suggested that both social supervision and social pressure should mediate the influence of tie strength

(Kaiser et al.)

.
As stakeholders participate in online social interactions and expand their coverage of new products, services and markets to exploit new sources of income, Facebook has become increasingly important for the socio-economic development of countries around the world.The rapid development of social network technology has changed the way the public communicated and created social capital and economic wealth. The global community is using new ways and opportunities to use network intelligence to expand its social interaction, information and knowledge resources, games and entertainment, and business and markets. Therefore, Facebook has transformed from the media to a more strategic tool for wealth creation and social capital development. Empirical evidence shows that Facebook has produced positive spillover effects in many developed countries, and these effects have promoted company development and user social capital. Discovering and using Facebook features helps users to form impressions, build personal identity, share information, entertain and relax, and participate in civic and political activities (Liew, Vaithilingam, & Nair, 2014). Under Facebook's huge business empire, it has brought huge economic benefits. For example, it has generated a value of 227 billion U.S. dollars to the global economy and created 4.5 million jobs (Deutsche, 2015). 
In terms of politics, Facebook is an important social media tool for political communication to help political parties, leaders/candidates to convey information to voters and influence their voting decisions. The survey results show that Facebook has great potential in terms of delivering political information and positions of political parties, leaders/candidates to a wide range of voters. In addition, the frequency of voters reading, watching or listening to the Facebook messages and posts of political parties and leaders/candidates have increased. Therefore, the extent to which their decisions are affected by these messages and posts has also increased. Facebook has affected the voting results of voters. Based on these findings, it can be concluded that in political campaigns, Facebook has become a very significant political communication tool that influences voters' voting decisions (Sevilay & Hikmet, 2015). For instance, The U.S. election and Brexit were affected by user data stolen from Facebook, which was used to target voters in the U.S. and U.K. Thus, Facebook has serious privacy issues (Software World, 2018). 
This video describes how Facebook manipulated people about the 2016 election in the United States
"How did Facebook impact the 2016 presidential election?", by# CBS News. All rights reserved.
Many social network users are aware of these privacy risks, and privacy issues are considered to be the main reason why users abandon their social network accounts, also they lack confidence in online social network providers. In view of the conflicting goals between users to maintain their privacy when using online social networks and the conflicts between the goals that online social networks allow businesses to achieve, it is vital to better understand this balanced behavior of privacy and impression management (Proudfoot, Wilson, Valacich, & Byrd, 2018). Therefore, Facebook tries to model itself as more privacy-friendly. Now, Facebook hopes that its mandatory education on improving privacy will be useful to policy advocates and regulators. Additionally, California will start implementing a new state privacy law in 2020, which may reinvigorate the privacy debate in the United State (Cat, 2020).
Trump spreads false news on Facebook, but Facebook has a reminder symbol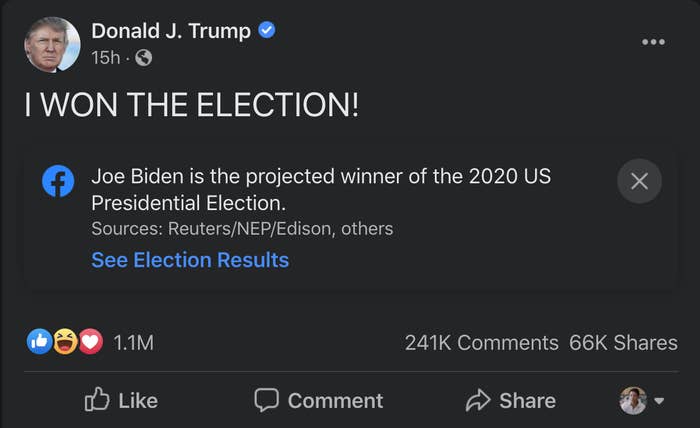 "Facebook Screenshot" , by# BuzzFeed News. All rights reserved.
Besides, the attractiveness of Facebook information and it has potential influence on political life. Because Facebook put forward the concept of market/individual curiosity merged utopia network and the concept of network communityism or collectivism. Specifically, the practical experience of information and communication technology inspires these utopian challenges. For the digital media consumed by the public, perhaps no other online application can generate such a high degree of loyalty, and has the transformative change in personal habits as the same as Facebook. Facebook has a dystopian network: information overload, selective prejudice, slack, digital division, and decline in empathy/friendship (Marichal, 2012). The world is being digitized and controlled by users. Facebook collects a person's data and social interaction to promote the information they want to convey, and users subtly follow these hints. Thus, Facebook changes social and political life because it guides the public to socialize and make decisions. It may drown the user in the information (Marichal, 2012).
---
In conclusion, Facebook has completely changed the way the public socialize in the Internet age. Facebook has completely changed the way the public socialize in the Internet age. Mark Zuckerberg is using his own social networking site Facebook to subvert the traditional mode of the Internet and promote the profound transformation and transformation of contemporary human life. Due to the continuous expansion of network information, the experience of anonymous interaction has brought various negative effects to the network space. Equality and anonymity make the Internet an unregulated world. Facebook creates demand and does not promote anonymity. It introduces a real-name system, although this brings about the problem of privacy leakage. But Facebook still develop a new path for the Internet, not only changing the Internet model, but also changing the human Internet experience. Western culture has the dominant advantage in the communication on Facebook, and world culture is very likely to make the culture of various countries tend to be integrated to Western culture. However, meanwhile, Facebook has brought cultural integration and interaction, realized cross-cultural communication, and promoted the common prosperity of global social information.
---
Bibliography
CBS News (2017). How did Facebook impact the 2016 presidential election? Youtube. Retrieved from: https://www.youtube.com/watch?v=tlyb0BASsEs&t=9s
Craig, S. & Ryan, M. (2020). Facebook Knows That Adding Labels To Trump's False Claims Does Little To Stop Their Spread. BuzzFeed News. Retrieved from: https://www.buzzfeednews.com/article/craigsilverman/facebook-labels-trump-lies-do-not-stop-spread
Cat, Z. (2020).The Technology 202: Facebook says current privacy laws are. 'insufficient'. TheWashingtonPost. Retrieved from: https://www.washingtonpost.com/news/powerpost/paloma/the-technology-202/2020/07/15/the-technology-202-facebook-says-current-privacy-laws-are-insufficient/5f0df16c88e0fa7b44f74492/
Christian, J. (2015). How Facebook is changing our social lives? World Economic Forum. Retrieved from: https://www.weforum.org/agenda/2015/10/how-facebook-is-changing-our-social-lives/
Deutsche, W. (2015). Facebook boasts global economic impact.Deutsche Welle. Retrieved from: https://www.dw.com/en/facebook-boasts-global-economic-impact/a-18202093
Elyse, B. (2014). What does Facebook own? Here's the companies it has acquired. and the reason why. Pocket-lint. Retrieved from: https://www.pocket-lint.com/apps/news/facebook/128617-what-does-facebook-own-here-s-the-companies-it-has-acquired-and-the-reasons-why
Facebook Regulation & Users' Digital Awareness Are Necessary to Stop Private. Data.Theft and Political Manipulations. (2018, March). Software World, 49(2), 16+. https://link.gale.com/apps/doc/A534838116/ITOF?u=usyd&sid=ITOF&xid=86235776
illuminaTV World. (2017). The Social Networking(2010) – Facebook Creating Scene. Youtube. Retrieved from:https://www.youtube.com/watch?v=aMuBngVO6QE&t=123s
Mark, H. (2019). Facebook. Encyclopædia Britannica. Retrieved from: https://www.britannica.com/topic/Facebook
Kaiser, J., Keller, T. R., & Kleinen-von Königslöw, K. Incidental News Exposure on Facebook as a Social Experience: The Influence of Recommender and Media Cues on News Selection. Communication Research, 0(0), 0093650218803529. doi:10.1177/0093650218803529
Lee, N. (2012). Facebook Nation : Total Information Awareness. New York, NY, UNITED STATES: Springer New York.
Liew, E. J. Y., Vaithilingam, S., & Nair, M. (2014). Facebook and socio-economic benefits in the developing world. Behaviour & Information Technology, 33(4), 345-360. doi:10.1080/0144929X.2013.810775
Marichal, J. (2012). Facebook Democracy : The Architecture of Disclosure and the Threat to Public Life. Abingdon, UNITED KINGDOM: Taylor & Francis Group.
Master OSM. (2011). Facebook. CreativeCommons. Retrieved from: https://search.creativecommons.org/photos/282827ab-44a9-4acd-acd0-9d1b93dbd5da
Proudfoot, J. G., Wilson, D., Valacich, J. S., & Byrd, M. D. (2018). Saving face on Facebook: privacy concerns, social benefits, and impression management. Behaviour & Information Technology, 37(1), 16-37. doi:10.1080/0144929X.2017.1389988
Sevilay, A., & Hikmet, S. (2015). The Importance of Facebook As a Political. Communication Tool to Influence Voting Decisions: The Case of TRNC 2013 Early Parliamentary Elections / BIR SIYASAL İLETIŞIM ARACI OLARAK FACEBOOK'UN SEÇMENLERIN OY VERME KARARI ÜZERINDEKI ETKILERI: KKTC 2013 MILLETVEKILLIĞI ERKEN GENEL SEÇIMLERI ÖRNEĞI. Retrieved from: https://doaj.org/article/4ac90afd9d9542d99d9ce0e7a588058e
Treadaway, C., & Smith, M. (2012). Facebook Marketing : An Hour a Day. Indianapolis, UNITED STATES: John Wiley & Sons, Incorporated.
Weintraub, M. (2011). Killer Facebook Ads : Master Cutting-Edge Facebook Advertising Techniques. Indianapolis, UNITED STATES: John Wiley & Sons, Incorporated.
Wired Photostream. (n.d.). Mark Zuckerberg. CreativeCommons. Retrieved from:https://search.creativecommons.org/photos/f6482b10-5bee-403a-a697-e6449a615e1a