Airtasker is an Australian based online company that provides a marketplace for users to outsource everyday tasks. It is a community based platform that aims to connect people who want to earn money and are able to perform tasks that other users need completed. The vision of the business is to help others get more done and to cut out the middle-man to reduce costs.
Through critical analysis of the sharing economy, the transformative aspects created on the internet through this platform can be recognised. The first section will provide information on the company, its historical development and business model. A discussion of its economic, political and cultural situation within the internet ecosystem will be followed by regulatory debates surrounding it. Throughout this discussion, an analysis on its internet transformations will be examined with reference to its situation in the internet ecosystem.
So What is Airtasker?
Founded in 2012 by Australian's Tim Fung and Jonathon Lui, Airtasker is an outsourcing internet platform connecting users based on tasks that need to be completed. Those who are looking to outsource are called posters and describe the task they need done, then indicate their budget. Taskers are the users who are able to complete the task and will bid to complete it. The range of tasks uploaded on Airtasker ranges from household things like gardening and cleaning to tasks for businesses like admin, promotional work and IT support.
At the time of writing, there are over 1.6 million users signed up to the platform, with over $215 million worth of jobs created since its beginning. The idea for this company came from Fung whilst having trouble assembling IKEA furniture. He took the idea to investors whom he and Lui had developed a rapport with whilst working for Amaysim (where they raised $30 million together to get the company off the ground) managing to gain enough funding to build the website and start the marketplace.
Airtasker takes a service fee from every task completed through the marketplace to re-invest in covering costs such as secure payment systems and fraud protection insurance. The service fee is based on a tier pricing structure whereby the more you earn over Airtasker the less service fee you are charged. In saying this, there is no fee to post a task on the marketplace. Airtasker also now offers an opt in income protection insurance and third-party liability insurance for personal injury or property damage whilst performing tasks.
The centrepiece of this company's Business model is their website and mobile app interface. This is the hub of their online marketplace and where the job posters will advertise the task they wish to hire a tasker to complete, listing details and rate of pay. This short video shows how easy it is to list and bid for a task on Airtasker.
There is no set hourly or daily rate by Airtasker, they do however offer a guide for how much the type of task will usually cost. However, this is not enforced (Minter, 2017) and workers interested can either offer to perform the task at that price or bid lower. Essentially, workers gain a competitive advantage by undercutting a Poster's offered rate. This model is similar to that of a labour hire agency, with the only restrictions being on tasks that are illegal such as escort services or outsourcing school/uni work (Minter, 2017).
From it's beginning in 2012, Airtasker has seen incredible growth within what is now called the 'gig economy'. In February 2013 the company acquired one of their rivals Taskbox , whose co-founders joined the Airtasker team as advisors to help the business grow further. Not long after that acquisition, Airtasker bought another outsourcing website Occasional Butler. Both of these acquisitions were for undisclosed fees.
Currently, Airtasker is the largest online marketplace within the gig economy in Australa . It is still a privately owned company who have 13 investors which have a minority holding of the company. Airtasker has formed many partnerships over the years including: IKEA, The Good Guys, Commonwealth Bank, Australia Post and eBay. Whilst it's main competition in the Australian market are Upwork, Fiverr, Skyword and Freelancer.com.
Airtasker now operates in the United Kingdom and Ireland, raising over $94 million in equity and is set to launch its operations in New Zealand and Singapore. This comes from the rise in the gig economy marketplace as a response to the effects of the COVID-19 pandemic. It is forecast that more people than ever will need to utilise their skills to earn money in the current economy as unemployment rates rise.
Airtasker's Internet Ecosystem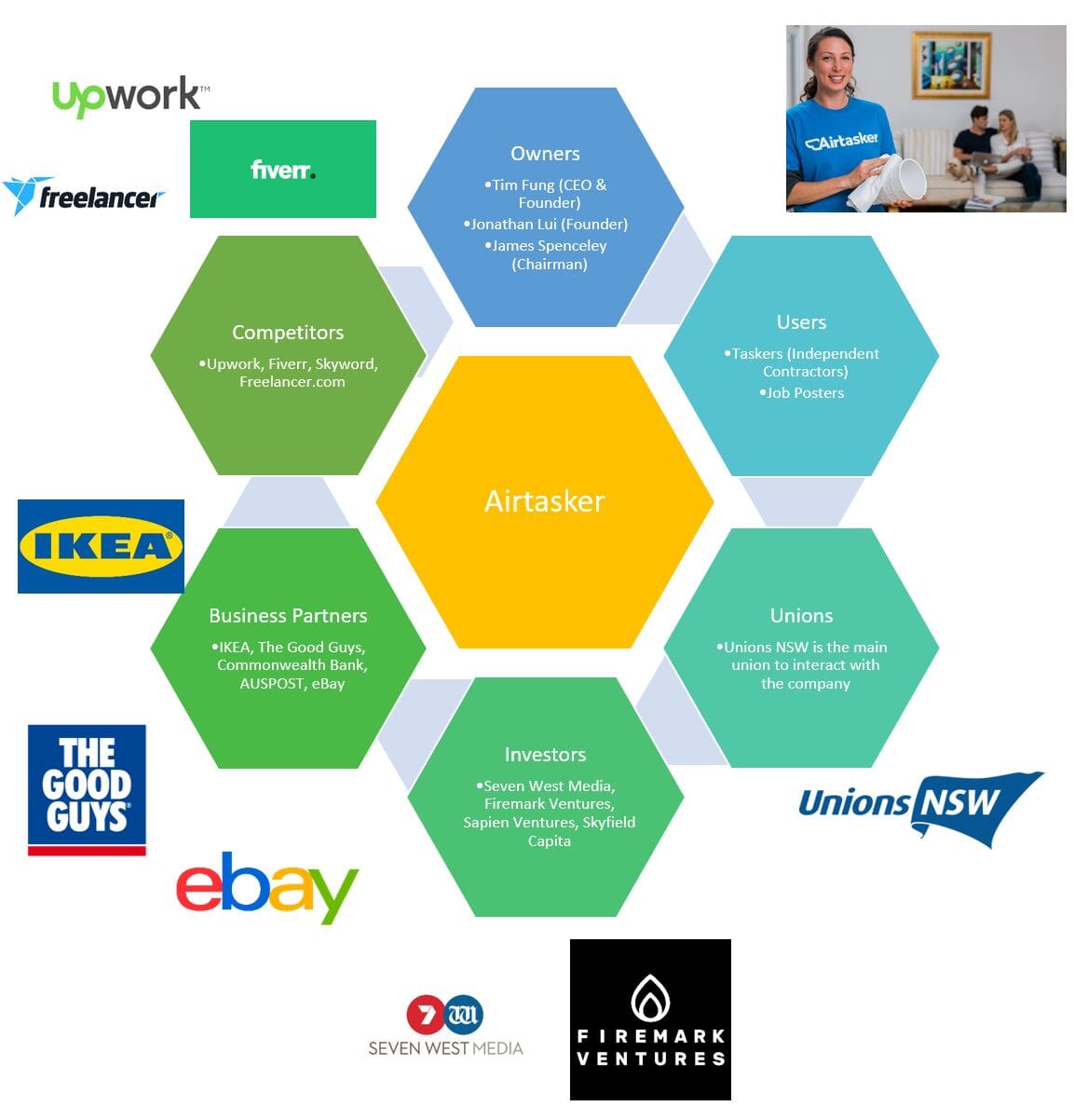 How has Airtasker impacted the economic, political and cultural ecosystem of the internet?
The Economic impacts…

Since 2012, Airtasker has cemented itself within the Sharing and Gig economy in Australia and has a high volume of the market navigate through its online marketplace (Warren, 2016). The Sharing economy is characterised by software platforms acting as an intermediary between private buyers and sellers that allow them to share their existing resources (Allen, 2015). So, the companies in this economy own the software and algorithms that assist pairing potential buyers and sellers on a private market and solely operate in the internet ecosystem. This economy presents ways for customers to evade the high costs associated with heavily regulated industries controlled by the government and simply pay another individual for a specific task, no matter the scale.
Similarly, the Gig economy is a labour market whereby jobs are available on a temporary or freelance basis rather than a full-time option, to promote self-employment of skilled people in short term commitments (Ma & Yang, 2018). The Gig economy arose out of the fear created from the 2008 Global financial crisis, employer's inability to hire full-time employees for their requirements and the fact that people often look for multiple jobs to afford the lifestyle they want (Ma & Yang, 2018).
The penetration of the internet into everyday life has facilitated a rise in people partaking in the Gig economy , and Airtasker has only aided in this facilitation as it's presence as an online marketplace of gig's offers users a centralised and easy to use platform to partake in paid contract gig's. This is an example of the transformative power of the Airtasker platform; it has transformed internet users opportunities to earn income by offering a plethora of activities that can be completed by many instead of a select few chosen by a rigorous recruitment process for traditional employment that is often highly selective and time consuming
The impacts on work culture…
Airtasker's presence in the sharing economy has also affected other parts of the economy as the work culture it boasts is very attractive to the younger demographic. Taskers are able to coordinate with posters when they will complete the task to suit their own needs rather than the needs of a business. The work that a tasker completes is also chosen by them, so they can more often than not do tasks they enjoy and have the skillset for.
Young people currently have the highest rate of unemployment in Australia at 14.5%, so Airtasker's flexibility and constant stream of job opportunities only adds to their appeal, which continues their impact on employment culture in Australia. A study actually found that freelance work and the freedoms to travel and study whilst working as a tasker made it more appealing than traditional full-time employment (Ma & Yang, 2018).
The Political impacts …
One of the most profound transformative impacts that has stemmed from the growth of Airtasker in the Internet ecosystem is the regulatory debates and changes it has facilitated. These discourses were overdue in order to match the changing nature of the economy, shifting from a traditional workforce towards a gig economy. Deloitte Access Economics' 2016 report estimated that revenue earnt in NSW increased by 68% in 2016 from 2015 to $2.6 billion from $1.6 billion.
Yet it was the growth in Airtasker that triggered negotiation with Unions NSW to develop regulation that protects taskers like they would be if they were employed traditionally. Platforms within the Gig economy are able to bypass responsibilities to the people they bring employment to and the costs associated with employment, whilst traditional labour standards are also undermined (Minter, 2017).
The way platforms like Airtasker do this is by the classification of workers as independent contractors. Taskers choose their own hours and rates, meaning they are not classed as employees and aren't covered by employment legislation. Additionally, as Airtasker is an online marketplace the activities of the taskers who use their site is determined by commercial not employment law. Unions NSW took issue with these things as it left workers who used the platform with no protection under minimum labour standards (Minter, 2017).
This video offers a concise explanation on general concerns surrounding the gig economy and the Unions NSW and Airtasker negotiation, giving both sides of the debate.
After discourse between Unions NSW, Airtasker and the Fair Work Commission, there were four major features to emerge from the negotiation that took into consideration the risks of the gig economy on workers.  Minimum rates of pay was a huge milestone, formerly Airtasker only provided recommended hourly rates of pay which were below average award minimum once their service fees were deducted. They have since committed to a minimum wage rise of 45% to $21.25 for small and simple tasks (Warren, 2016).
Workers are now given the option of being covered by affordable and flexible insurance. The issue of safety has also been dealt with, as task specific safety guidelines have been developed to ensure workers safety whilst on the job. Lastly, a dispute settlement system is in the works which is being overseen by the Fair Work Commission for disputes that may arise between posters and taskers.
It is clear that the Airtasker has transformed the way we engage with the gig economy and facilitated a significant increase in the gig and sharing economies. Through its successful, easy to use online and mobile interface, it has also been an example of a successful type of online business model
Image Attributions:
Airtasker users image from BandT.
Upwork Logo from Betterteam.
Fiverr Logo from Fiverr.
Freelancer Logo from Freelancer.com
IKEA Logo from Dezeen
The Good Guys Logo from The Good Guys.
Seven West Media Logo from Media.info
Firemark Ventures Logo from Crunchbase
Unions NSW Logo from Ethical Jobs
References
"About Us | Airtasker". 2020. Airtasker. https://www.airtasker.com/about/.
"Airtasker Alternatives & Competitors". 2020. G2.Com. https://www.g2.com/products/airtasker/competitors/alternatives.
"Airtasker Insurance | Public Liability Insurance Quotes". 2020. Public Liability Insurance. https://publicliabilityinsurance.com.au/airtasker-insurance/.
"Labour Force, Australia, September 2020". 2020. Australian Bureau Of Statistics. https://www.abs.gov.au/statistics/labour/employment-and-unemployment/labour-force-australia/sep-2020.
"What Is The Service Fee?". 2020. Airtasker Help Centre. https://support.airtasker.com/hc/en-au/articles/200294499-What-is-the-service-fee-.
"What Is Tiered Pricing?". 2020. Airtasker Help Centre. https://support.airtasker.com/hc/en-au/articles/360022973151-What-is-tiered-pricing-.
Airtasker. 2017. How Airtasker Works. Video. https://www.youtube.com/watch?v=vRObPjevAUU.
Allen, Darcy. "The Sharing Economy." Institute of Public Affairs Review: A Quarterly Review of Politics and Public Affairs, The 67, no. 3 (2015): 24.
Flanagan, Frances. "Theorising the Gig Economy and Home-Based Service Work." Journal of Industrial Relations 61, no. 1 (2019): 57-78.
Forsyth, Anthony. "Playing Catch-up but Falling Short: Regulating Work in the Gig Economy in Australia." King's Law Journal 31, no. 2 (2020/05/03 2020): 287-300.
Francis, Hannah. 2014. "Airtasker Buys Jobs Outsourcing Platform Occasional Butler". Theaustralian.Com.Au. https://www.theaustralian.com.au/business/business-spectator/news-story/airtasker-buys-jobs-outsourcing-platform-occasional-butler/97114e89033921387c443629d971c493.
Heller, Nathan. 2017. "Is The Gig Economy Working?". The New Yorker. https://www.newyorker.com/magazine/2017/05/15/is-the-gig-economy-working.
John, Nicholas A. "Sharing Economies." Chap. 4 In The Age of Sharing, 58-77. Chicester, UNITED KINGDOM: Polity Press, 2016.
Junor, Anne. 2019. "Is Airtasker Leading The Way In Gig Labour Standards? – UNSW Businessthink". Businessthink.Unsw.Edu.Au. https://www.businessthink.unsw.edu.au/articles/Is-airtasker-leading-the-way-in-gig-labour-standards#:~:text=With%20more%20than%201.2%20million,do%20them%20for%20a%20fee.
Ma, Xiaojie, and Shaohua Yang. "Airtasker and the Australian Freelance Workers: The Reflections on the Gig Economy." International Journal of Advanced and Applied Sciences 5, no. 7 (2018): 35-45.
Manning, James. 2012. "Aussie Start-Up In $1.5M Funding Win Just Two Months After Launch". The Sydney Morning Herald. https://www.smh.com.au/technology/aussie-startup-in-15m-funding-win-just-two-months-after-launch-20120418-1x6vx.html.
Martin, Fiona, and Tim Dwyer. Sharing News Online: Commendary Cultures and Social Media News Ecologies. Cham: Springer International Publishing, 2019. doi:10.1007/978-3-030-17906-9.
Minter, Kate. "Negotiating Labour Standards in the Gig Economy: Airtasker and Unions New South Wales." The Economic and Labour Relations Review 28, no. 3 (2017): 438-54.
Polites, Harrison. 2013. "Airtasker Acquires Local Rival Taskbox". Theaustralian.Com.Au. https://www.theaustralian.com.au/business/business-spectator/news-story/48f07f5d16109d91d3a10c3ae6ba818c.
Riley, Joellen. "Brand New 'Sharing'or Plain Old 'Sweating'? A Proposal for Regulating the New 'Gig Economy'." NEW DIRECTIONS  (2017): 59.
Stanford, Jim. "The Resurgence of Gig Work: Historical and Theoretical Perspectives." The Economic and Labour Relations Review 28, no. 3 (2017): 382-401.
The Feed SBS. 2017. Gig Economy: How Fair Is It? – The Feed. Image. https://www.youtube.com/watch?v=p14v4FbKhrg.
Warren, Kendall. "Rise of Gig Economy Threatens Vulnerable Workers." Newsmonth 36, no. 7 (2016): 5
Waters, Cara. 2020. "Airtasker Uses COVID Boost To Launch Into New Zealand And Singapore". The Sydney Morning Herald. https://www.smh.com.au/business/small-business/airtasker-uses-covid-boost-to-launch-into-new-zealand-and-singapore-20201012-p56485.html.
Yoo, Tony. 2017. "How Airtasker Grew To 1.7 Million Users Through Partnerships With Ebay, IKEA, The Good Guys, Australia Post And Commbank". Business Insider Australia. https://www.businessinsider.com.au/how-airtasker-grew-to-1-7-million-users-through-partnerships-with-ebay-ikea-the-good-guys-australia-post-and-commbank-2017-10.