Since the beginning of history, communication has been one of the most significant fragments of human civilization. Individuals communicate to share ideas, to stay connected with each other, and to function efficiently. With the unconventional development of technology, individuals are now being able to communicate sufficiently without having to meet physically. Social media has become an important part of human communication with its transformative impact on several critical aspects of life. Social media is also highly crucial in contemporary life as it is a unique space, that allows a giant number of voices, opinions, and ideologies to be shared around. However, according to Abbate (2017), social media is an invisible infrastructure that not only strongly stimulates ease of use, but also the difficulty that is related to social and political accountability. The analysis of social media's functions such as news feed, ad placement, and search engines revealed that it could also a place where social bias is strongly being promoted and developing (Gillespie, 2014; Havalais, 2008). I have chosen to analyze Instagram, perceived as one of the social media platforms that contain the most influential with its transformative value in how individuals function around social and political related issues.
Instagram, a social media application launched in 2010 by Kevin Systrom, has become a viral trend amongst internet enthusiasts with its function of photo, video-sharing, and high spreadability (Blystone, 2020). Instagram did not have its current name as it was first indicated as Burbn (Garber, 2014). The name Burbn was born, inspired by his interest in whiskeys and bourbons. Systrom was able to raise $500,000 in two weeks from Baseline Ventures and Andreesen Horowitz to further develop Burbn by starting to form a team of people that would aid the development of the application (Blystone, 2020). According to Garber (2014), it merely took a few months for Systrom to complete the application development, with its surprising ability that allows users to post pictures, check-in, and even plan future check-ins. However, it was brought to Systrom's attention accompanying with his programmer, Mike Krieger, that individuals were neglecting the check-in features of Burbn, and highly focused on the photo-sharing features of the app instead. This could be explained as at the time of Burbn launching, location-based applications that support check-ins have already become very popular, however, what could be perceived as unique and significant was its photo-sharing feature. Systrom and Krieger analyzed the Hipstamatic app and realized the reason why it was popular, it was due to its interesting features applicable for photographs with a range of different filters. However, it was rapidly recognized by them that Hipstamastic largely lacked the significant feature that is crucial to building a complete social media platform – sharing (Blystone, 2020). According to John (2018), sharing is a word that has the power to influence both the reflection and reproduction of contemporary society's significant aspects. Sharing is also considered to contain values in a communicative sense where it is used to diffuse and characterize individuals' imperative communication practices (Carbaugh et al., 2006). Therefore, Systrom and Krieger's main focus was to create a smooth combination between photographs feature of Hipstamatic and the sharing ability of a social media platform like Facebook. Burbn's features were reduced to photo, commenting and "liking" and the app had its current name out of the combination of "instant" and "telegram" due to its ability to capture and post photos rapidly. While it was continuously improved, the main focus of Instagram is to stay simple and minimal that allows users to easily participate (Blystone, 2020). On the first day of launching, the application gained 25,000 users and then rapidly had its first million users in merely three months (izood, 2020). Instagram was purchased by Facebook for $1 billion with the special condition is that Instagram management would continue to be independent. What is considered valuable is the organic ability of Instagram to gain users in a short period of time without any form of advertisements, Instagram has proven its potential and unique position in the market among several other social media platform applications. Instagram is a photo and video sharing app, hence its competitors would be platforms that share similar feature traits: LinkedIn, TikTok, Pinterest, Snapchat and Twitter (Craft, 2020). Instagram mainly partners with ad companies that aid business management on the Instagram community, for instance, CitizenNet and Kenshoo as partners in action (Instagram, 2016). Instagram suppliers are digital electronic brands, such as Apple and Samsung that provide the download process through Google Play and App Store, they also provide setting and function of Instagram application on users' devices with iOS and Android operating systems. Instagram is regulated by social media regulators such as the Federal Communications Commission, Data Protection Commission, General Data Protection Regulation, and Federal Trade Commission. According to the statistics provided by Omnicore (2020), 72% of teenagers in the world population use Instagram and the most significant user model are young females, aged 25 to 34.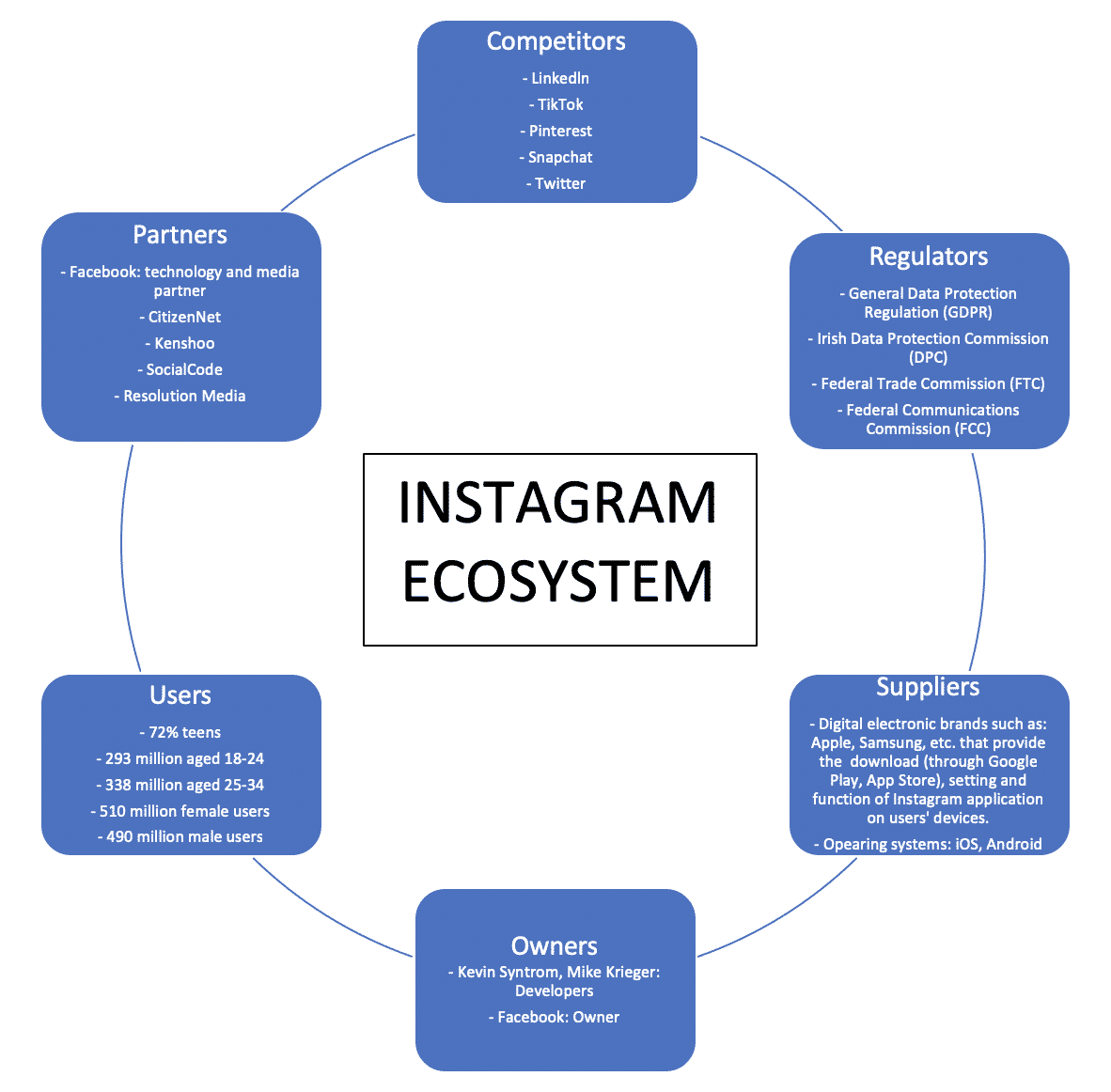 The first ever photograph to be published on Instagram is the photo of a stray dog in Mexico, posted by the founder – Kevin Systrom. Instagram. All rights reserved.
Instagram gained its popularity through the ability that allows users to edit photos with the focus on their very personal twists alongside its unique combination with the social media platform's sharing functions (Evans, 2018). According to Evans (2018), the application's continuous growth was promoted with the introduction of new features that effectively attracted new users and moderate the way individuals use Instagram. The introduction of Instagram Stories has placed Instagram's popularity to a new level where it presents a feature that allows users to share and view the video, photo content in a 24-hour period before they got deleted. Instagram's Stories could be referred to as relatively identical to Snapchat's viral feature of sharing content temporarily. Jemina Gibbons as a social media consultant in London has stated that Instagram has a unique ability to successfully filter the most valuable features from other platforms while still being able to preserve the core products which in turn, lead to the rapid increase of the number of active users (Evans, 2018).
Instagram's Rise to 1 Billion. Statista. All rights reserved.
The importance of social media platforms in politics is also highly significant and is rapidly becoming one of the most influential and essential tools for politicians to remain covered under the public eye. Lalancette and Raynauld (2017) highlight the key importance of online image management in politics and its fundamental link to leadership impact in the digital area. The vitality of images in influencing how the public perceives particular characters should be carefully examined and controlled as it upholds the evaluating values. In elections, particularly, individuals are seeking specific personal qualities of politicians, namely honesty, trustworthiness, and knowledgeability (Lalancette and Raynauld, 2017). Therefore, the management of images, specifically on social media platforms would strongly influence the formation of public impressions. Additionally, it has become popular among politicians to utilize social media platforms as a tool to capture the public's attention through publishing videos and photos which are full of impact. Therefore, a successful platform such as Instagram has the ability to diffuse quality public approach in specific, personalized campaigns. The 45th President of the United States – Donald Trump, during the recent election, has been utilizing Instagram as one of the key spaces to share videos of influential speeches and also impactful photographs with high relevance to the current updates.
Donald Trump's political use of Instagram. Instagram. All rights reserved.
One of the reasons that Instagram could be perceived as one of the most effective political tools is its distinctive filter that enables politicians to change the color, create a contrast to present different feelings toward specific events in posts (Parmelle and Roman, 2019). To be specific, during the 2020 US Election, Donald Trump's posted a video of Joe Biden in black and white intensely shows opponent.
Trump's black and white post of Biden. Instagram. All rights reserved.
According to Alhabash and Ma (2017), Instagram with 400 million active users has become the second-largest social media platform, only behind Facebook. Research has shown that in the previous US election in 2016, all candidates in general and primaries election have actively utilized the platform as an important tool to diffuse their message calling upon voters (Duffy, 2016; Sander, 2015). Instagram is also known to be highly interactive as posts could request users to take active actions, for instance, voting on Instagram story. Individuals could also actively tag politicians on their Instagram posts, which enable the chances of the posts being seen by politicians themselves. According to Parmelle and Roman (2019), Instagram like button is also being perceived as meaningful in promoting the popularity of politician's posts. Visual communication, therefore, has the ability to create, shape, and form public opinion due to the reason that images and videos tend to have a higher capability to facilitate attention and thus, could be used to effectively changing political behavior (Brader, 2005; Graber, 1996).
Additionally, Instagram is also an open space for individuals to generate earnings through a variety of areas, mainly advertising and self-branding. Recently, there has been an increasing number of social media influencers on Instagram who attracted a large number of followers due to their highly regular, interactive, and brand-related posts. Brand names have recognized the significant impact of social media influencers in their customer's buying patterns as they tend to purchase what has been endorsed by celebrities. According to Abidin (2016), Instagram hashtags, for instance, #OOTDs (Outfit of The Day) have been gaining coverage with the encouragement of brands and Instagram influencers. This indicates that everyday users are gradually beginning to be strongly influenced by Instagram influencers as their commercial practices have gained popularity among the user community (Abidin, 2016). To be specific, according to Casalo et al. (2020), Instagram has been most used by opinion leaders (or influencers) in the fashion industry. Everyday users usually get access to influencers' Instagram accounts as the main source for fashion inspiration and a space to seek fashion-related advice. Due to its sense of immediacy with Hashtags and Stories features, Instagram has become the platform that is being used by most influencers with a significant increase in interaction and coverage. (Buryan, 2016). As social media is a sharing space that encourages the consumer to exchange and discuss information about new trends, styles and generate suggestions, Instagram as a social communication tool highly supports fashion trends diffusion (Goldsmith and Clark, 2008). However, besides the arising popularity of Instagram influencers, studies have shown that influencers who own a higher number of flowers are gaining more job opportunities as brands usually considered them to be more likable (Veirman et al., 2016). This could promote exclusion as only influencers with a large number of followers are being recognized for their work and effort and therefore, negatively impact influencers' likeability.
Instagram while being one of the most impactful social media platforms, still remains certain controversial in regard to their terms of service. According to McCullagh (2012), the update of its terms of service in December 2012 has granted Instagram the right to trade their users' photos to third party companies with neither notification nor sufficient payment for content utilization and there is no option for users to opt-out, other than deleting their account. In particular, Instagram would allow advertisers from the ad network of its parent company – Facebook to collect and utilize user's shared data and information on Instagram. For instance, collecting shared data about restaurants, fashion brands, favorite places in order to improve the advertising generation in order to target these users more sufficiently (Wortham and Bilton, 2012). This further indicates that users could be featured in an advertisement without any notification, since it has been indicated as Instagram's rights to do so according to the new terms of service. Furthermore, underage users' accounts would not be excluded from the new terms as it noted that these accounts have been created under parental guidance, permission, and management, hence, images, photos, and usernames might also be used in advertisements (Wortham and Bilton, 2012). Additionally, the terms signified that some specific advertisements would not necessarily have to be labeled and identified as ads, which might completely remove users' advertising acknowledgment.
Instagram with its significant transformative impact has been continuously influencing several aspects of society. It is not merely a space for effective communication but is indicated as a unique information-sharing vehicle that would be delivering meanings to each individual in very distinctive ways. However, Instagram, like any other internet infrastructure, while being comprehensive and powerful, still remains flaw in terms, regulation, and management, and therefore, it is in need of continuous development and improvement in order to serve internet enthusiasts in the most seamless ways.
References
Abbate, J. (2017). What and where is the internet? (Re)defining internet histories. Internet Histories, 1(1-2), 8-14.
Halavais, A. (2008). Search engine society. Cambridge, MA: Polity Press.
Gillesspie, T. (2014). The relevance of algorithms. In T. Gillespie, P. Boczkowski, & K. Foot (Eds.). Media technologies (pp. 167-194). Cambridge, MA: MIT Press
Blystone, D. (2020). The Story of Instagram: The Rise of the #1 Photo-Sharing Application. Investopedia. Retrieved from https://www.investopedia.com/articles/investing/102615/story-instagram-rise-1-photo0sharing-app.asp#terms-of-service-controversy
Garber, M. (2014). Instagram Was First Called 'Burbn' – Yes, after the drink. The Atlantic. Retrieved from https://www.theatlantic.com/technology/archive/2014/07/instagram-used-to-be-called-brbn/373815/
John, N. A. (2018). Sharing Economies. In The age of sharing (pp. 69-97). Polity.
Carbaugh, D., Berry, M. and Nurmikari-Berry, M. (2006). Coding personhood through cultural terms and practices: silence and quietude as a Finnish 'natural way of being'. Journal of Language and Social Psychology, 25(3), 203-20.
Izood (2020). The History of Instagram. Retrieved from https://instazood.com/blog/the-history-of-instagram/
Evans, G. (2018). Instagram: The dog that launched a social media giant. BBC News. Retrieved from https://www.bbc.com/news/technology-45640386
Systrom, K. [@kevin]. Posts [Instagram profile]. Instagram. Retrieved from https://www.instagram.com/p/C/?utm_source=ig_web_copy_link
Lalancette, M., Raynauld, V. (2017). The Power of Political Image: Justin Trudeau, Instagram, and Celebrity Politics. https://doi.org/10.1177/0002764217744838
Trump, D. [@realdonaldtrump]. Posts [Instagram profile]. Instagram. Retrieved from https://www.instagram.com/realdonaldtrump/?hl=en
Alhabash, S., & Ma, M. (2017). A tale of four platforms: Motivations and uses of Facebook, Twitter, Instagram, and Snapchat among college students. Social Media + Society, 3(91), 1–13.
Duffy, G. (2016). Election 2016: How are the candidates using Instagram? NewsWhip. Retrieved from https://www.newswhip.com/2016/01/election-2016-how-are-the-candidates-using-instagram/
Sander, S. (2015). Instagram: The new political war room? NPR. Retrieved from http://www.npr.org/sections/itsallpolitics/ 2015/09/03/436923997/instagram-the-newpolitical-war-room
Parmelle, J. H. & Roman, N. (2019). Insta-Politicos: Motivations for Following Political Leaders on Instagram. Social Media + Society. Retrieved from https://journals.sagepub.com/doi/pdf/10.1177/2056305119837662
Brader, T. (2005). Striking a responsive chord: How political ads motivate and persuade voters by appealing to emotions. American Journal of Political Science, 49, 388–405.
Graber, D. (1996). Say it with pictures. Annals of the American Academy of Political and Social Science, 546, 85–96.
Abidin, C. (2016). Visibility labour: Engaging with Influencers' fashion brands and #OOTD advertorial campaigns on Instagram. Media International Australia. https://doi.org/10.1177%2F1329878X16665177
Casalo, L. V., Flavian, C., Ibanez-Sanchez, S. (2020). Influencers on Instagram: Antecedents and consequences of opinion leadership. Journal of Business Research. https://doi.org/10.1016/j.jbusres.2018.07.005
Buryan, M. (2016). Why Fashion Brands Are Thriving on Instagram. Socialbakers. Retrieved from https://www.socialbakers.com/blog/2626-why-fashion-brands-are-thriving-on-instagram
Goldsmith, R. E., Clark, R. A. (2008). An analysis of factors affecting fashion opinion leadership and fashion opinion seeking. Journal of Fashion Marketing and Management, 12(3), 308-322.
Veirman, M. D., Cauberghe, V., Hudders, L. (2016). Marketing through Instagram influencers: the impact of number of followers and product divergence on brand attitude. International Journal of Advertising: The Review of Marketing Communications. https://doi.org/10.1080/02650487.2017.1348035
McCullagh, D. (2012). Instagram says it now has the right to sell your photos. CNET. Retrieved from https://www.cnet.com/news/instagram-says-it-now-has-the-right-to-sell-your-photos/
Wortham, J. & Bilton, N. (2012). What Instagram's New Terms of Service Mean for You. Bits. Retrieved from https://bits.blogs.nytimes.com/2012/12/17/what-instagrams-new-terms-of-service-mean-for-you/
Craft. (2020). Instagram competitors. Retrieved from https://craft.co/instagram/competitors
Instagram. (2016). Instagram Partners: Helping Business Grow. Retrieved from  https://business.instagram.com/blog/instagram-partners-helping-businesses-grow
Omnicore. (2020). Instagram by the Numbers: Stats, Demographics & Fun Facts. Retrieved from https://www.omnicoreagency.com/instagram-statistics/
Richter, F. (2018). Instagram's Rise to 1 Billion [image]. Statista. Retrieved from https://www.statista.com/chart/9157/instagram-monthly-active-users/