From 2020, 'TikTok' as a common topic been widely discussed in the world, as a video based social media app, it is providing a unique view which update the user reorganization to video based media, up to now there is more than 500 million user around the world, the critical thinking of its transformative effects should include multi dimension analyses on the understanding of internet, economic, social and cultural.
This article will discuss the role it is playing in the world and it will follow by its background analyse, its transformative effective, its business model, its place in social ecology and its transformative effect.
---
What is TikTok?
Video based social media networking allowed user post video to the society and get fast response to those videos(winter 2015), 'TikTok' as a kind of video based social media which focus on mobile using, its application working on the video edition and sharing to the whole society, it supporting user share best of 15 seconds video with sounds edited such as music or user defined sounds, and normally follow by the topic around daily life(Bresnick 2019), up to 2019, 'TikTok' has formed its own society and ecosystem(Li 2019), and been top 1 app in app store and google store of multi countries.
---
Background And Origin
The origin of 'TikTok' starting by three different application, the earliest application Musical.ly which developed by LuYu Yang and Alex Zhu, as the earliest short video sharing media been widely used and being top 50 application in app store for long time, media like Facebook, Instagram allowed users to share its 15 seconds shore video from Musical.ly(Simsek.et.al., 2018). In 2016, Chinese company ByteDance were interesting with the prototype of short video sharing media which similar with Musical.ly, their product 'Douyin' been pushed into marketing, in one year, the application have more than 100 million from china and Thailand, this success pushing the company targeting the international market(Kaye 2020), in 2018, ByteDance acquired Musical.ly and merge with their own product 'tiktok' which is the international version of Byte Dance, in the last two years to 2020, 'TikTok' gaining a great success in the international marketing(Bresnick 2019).
China's Bytedance scrubs https://t.co/hjStvaIDEv brand in favor of TikTok https://t.co/wYHVAi7i9J pic.twitter.com/EEyIHVXrRQ

— Reuters (@Reuters) August 2, 2018
The background research should focus on the multi-dimension field, include political, economic and culture.
In the view of political, content moderation is a significant phrase over the whole internet environment(Gillespie 2018), from the born of TikTok, the application keeping be highly moderated by the government of each country, for example, from last 12 month, TikTok been moderated by American government since they believe TikTok may bring potential danger to their country based on it specific political moderation(James 2020). In addition, another example showing that TikTok is now collecting the privacy of users. In July of 2020,  Secretary of State Mike Pompeo state that "your private information in the hands of the Chinese Communist Party."
In the view of economic, like most of video sharing media, TikTok has its unique way to impact the economic environment, according to the interview of vergecast(2020), Verge editor-in-chief Nilay Patel talks with Taylor Lorenz who is the reporter of The New York Times around the economic impact of TikTok, the application like Facebook and Instagram pay the people on their media, YouTube also pays the YouTubers on a different way, but as a tiktoker, they did not get any payment from TikTok, the unique ecosystem of TikTok relay on the advertisement and product selling, which means there was a new industry been created based on TikTok(Tang 2019).
In the aspect of culture, TikTok as an emerging cultural of popular culture, it accelerated conflict and integration of cultural from a different country, and based on this process, it is producing emerging culture which leading by TikTok(Zuo & Wang 2019), as an example Kennedy(2020) state that during the period of COVID 19, bedroom culture has become an emerging culture which leading by TikTok, the bedroom culture refers to the style that video record the dance or other types of art work in the bedroom environment.
---
Ownership & Business model
Ownership
The ownership of TikTok is Byte Dance which from China, since the company is not a listed company, its ownership of shares in byte dance is not reveled, by researching its structure, the different types of share allowed the company hold most of the voting and also can attract overseas investment such as A-B shares(Rydqvist 1996), within the year 2020, plenty of information on the internet showing that TikTok were preparing to sold to oracle and Walmart as a new company TikTok global include their business and key algorithm(Heldavidson 2020), however, according to CGTN which supporting by the Chinese government on September 2020, TikTok will not sell any of their business, so the business of TikTok keeping control under its parents company Byte Dance.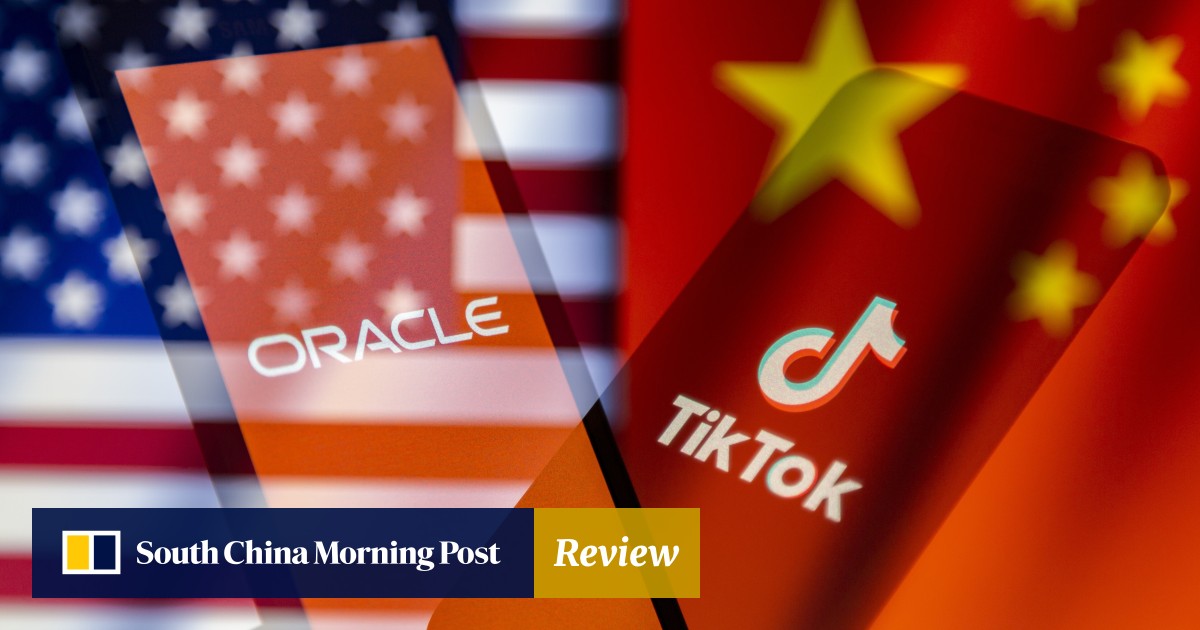 Business model
Tiktok have its unique business model, to analyse how the process work, it has to split into tree phrase, the first phrase focus on discuss its unique advantage which rely on algorithm, the second phrase focus on exploring the whole industry which created based on TikTok, the last phrase is to analysing how the company benefit from it.
First, according to Weimann(2020), the algorithm helps TikTok planning intelligence content to each single user, which means the algorithm will collect the interesting video of each user, and push the similar video in a specific ratio, even though those kinds of algorithm will enlarge some negative information which can impact user, but with the moderation co-work, it would be the unique advantage of TikTok.
Second, according to Haenlein and his team(2020), TikTok deeply impacts influencer marketing, since there are multi-methods that TikTok can working with to advertising a product such as an advertisement, video of user test and shopping link, there is a new industry which created based on TikTok, which means there is specific eco-system that rely on TikTok.
Third, a business model is showing the method that a company can make benefit(Amit & Zott 2012), based on the algorithm and its eco-system, tiktoker who want benefited from TikTok have to gain lots of views, the application supply a method that tiktoker can pay for more views, in addition, the application can also make benefit by advisement and other types of third party interest(Mhalla, Jiang & Nasiri 2020).
---
Social Ecology
Social ecology in this article refers to the whole ecology system that TikTok involved, as a video based social media application, its eco-system widely involved with different entities, following will analysing its stakeholder in each part of eco-system.
Competitor
The competitor of TikTok is mainly focus on Instagram and Facebook, from 2018, Facebook pushed the application Lasso which be define as a similar product of TikTok(Manish 2020), and from 2019, since Instagram has a similar video post function, a new button under the menu bar which is short video been applicated to the updated version, the new function called Instagram reels(Instagram 2020).
Partner
The partner of TikTok widely involved in different field and industry, it can be analysing with political cooperation, economic cooperation and culture cooperation, the political cooperation mainly focusses on government of each country, the official account of government under TikTok can be an example of this, in the field of economic, it involved plenty of industry include product and service supplier such as the follow picture showing and other hashtag challenge(Tara 2020), in the aspect culture, they also working with plenty of media material platform and individual user.
Regulator
The regulator analyses are mainly focus on the government of each different country since there is different legal provisions, an example shows the case US government was planning to ban TikTok since they believe TikTok bring negative impact to their country(Aljazeera 2020).
Donald Trump confirms the government is considering banning TikTok due to national security concerns:

"We're looking at TikTok, we're thinking about making a decision."

— Pop Crave (@PopCrave) July 29, 2020
User
The user of TikTok refers to the individual who own an account with TikTok and watch video from it.
Third Party Customer
The third-party customer is defined here as the individual or organization who are planning to post a video or advertisement, the different to user is that tiktok can directly earn benefit from them.​
---
Relationship Diagram
---
Transformative Effect
To exploring the transformative effect that TikTok bring, it will focus on the changes on the way people related socially and politically, the creative business model and culture changes.
First, the application TikTok change the way people relate socially and politically, in the aspect of socially, different with traditional application, TikTok have its own society which focus on sharing individuals daily life, the unique sharing culture widely spread, an example could be the sharing the video of travel(Du.et.al., 2020), in additional, it also supply an new view in politically, as Basch and his team(2020) state that with an example of COVID 19, TikTok is a effective method that government can public some important health messages.
TikTok and Its Role in COVID-19 Information Propagation
—https://t.co/uvRseuNQbA

— Gac Ciencia Forense (@GacetaCienForen) November 5, 2020
Second, in the field of business model, different with traditional application like YouTube, TikTok does not directly make payment to tiktoker, the TikTok rely on developing new industry which based on its application to gaining benefit, the newly eco-system start by production and service supplier as its top layer phrase, the second layer made by popular tiktoker who are interesting with selling product or services, the first two layer could be integrated since there is company created for TikTok, the last phrase made by individual user who supporting the viewing counts of video(Haenlein.et.al.,2020), up to now, there are plenty of company have their TikTok department(Pamela 2020) and also there are specific types of advertisement company created for TikTok.
Last, the culture changes that TikTok bring are widely impact with peoples' daily life, as showing before in the background with culture, the TikTok is not leading an emerging culture, for example, it was leading a bedroom culture during COVID 19 which means the sharing of bedroom dancing and other types of work.
---
Summary
In conclusion, TikTok is now widely changing the world in multi-dimension view, in the aspect of political, it bringing some newly moderation issues which manly focus on the moderation to AI based content, in the aspect of economic, it bringing a new type of industry based on its application and also a new business model to it, in the aspect of culture, it also leading an emerging culture to the current world, to the social to have its own society and have a strong relationship with human daily life, sharing culture is the example of it. Using TikTok it providing an interesting method that to exploring new product and service, learning and understand new knowledge and provide a significant different way to participate business advertisement, in addition, it also being a different way that people can relax and enjoy the culture from a different country.
---
Reference:
Amit, R., & Zott, C. (2012). Creating value through business model innovation. 2012.
Basch, C. H., Hillyer, G. C., & Jaime, C. (2020). COVID-19 on TikTok: harnessing an emerging social media platform to convey important public health messages. International journal of adolescent medicine and health, 1(ahead-of-print).
Bresnick, E. (2019). Intensified Play: Cinematic study of TikTok mobile app. Research Gate, available at: www. researchgate. net/publication/335570557_Intensified_Play_
Cinematic_study_of_TikTok_mobile_app (accessed 5 January 2020).
Bump, P. (2020). How 7 Brands are Using TikTok. Retrieved 19 November 2020, from https://blog.hubspot.com/marketing/brands-on-tiktok
Davidson, H. (2020). TikTok: why it is being sold and who will own it. Retrieved 19 November 2020, from https://www.theguardian.com/technology/2020/sep/22/tiktok-sale-the-reasons-behind-it-and-the-new-deal
Du, X., Liechty, T., Santos, C. A., & Park, J. (2020). 'I want to record and share my wonderful journey': Chinese Millennials' production and sharing of short-form travel videos on TikTok or Douyin. Current Issues in Tourism, 1-13.
Gillespie, T. (2018). Custodians of the Internet: Platforms, content moderation, and the hidden decisions that shape social media. Yale University Press.
Haenlein, M., Anadol, E., Farnsworth, T., Hugo, H., Hunichen, J., & Welte, D. (2020).
Navigating the New Era of Influencer Marketing: How to be Successful on Instagram, TikTok, & Co. California Management Review, 63(1), 5-25.
Hale, J. (2020). TikTok Moderation Guidelines Show Users Were Punished For Political Content, Being "Ugly" Or "Slummy" – Tubefilter. Retrieved 5 November 2020, from https://www.tubefilter.com/2020/03/16/tiktok-moderation-guidelines-china-political-content-ugly-slummy/
Introducing Instagram Reels. (2020). Retrieved 19 November 2020, from https://about.instagram.com/blog/announcements/introducing-instagram-reels-announcement#:~:text=When%20you%20share%20reels%20featuring,followers%20can%20see%20your%20reel.
Johnson, T. (2020). 8 Exceptional TikTok Ad Examples to Gain Inspiration for Your Next Campaign. Retrieved 19 November 2020, from https://tinuiti.com/blog/paid-social/tiktok-examples-of-ads/
Kaye, D. B. V., Chen, X., & Zeng, J. (2020). The co-evolution of two Chinese mobile short video apps: Parallel platformization of Douyin and TikTok. Mobile Media & Communication, 2050157920952120.
Li, J., Chen, L., Yi, J., Mao, J., & Liao, J. (2019). Ecosystem-specific advantages in international digital commerce. Journal of International Business Studies, 50(9), 1448-1463.
Marino, A. (2020). How a TikTok ban would affect the influencer economy. Retrieved 1 November 2020, from https://www.theverge.com/2020/8/11/21363323/tiktok-ban-taylor-lorenz-new-interview-york-times-vergecast
Mhalla, M., Jiang, Y., & Nasiri, A. (2020). Video-Sharing Apps Business Models: TikTok Case Study. International Journal of Innovation and Technology Management.
Rydqvist, K. (1996). Takeover bids and the relative prices of shares that differ in their voting rights. Journal of Banking & Finance, 20(8), 1407-1425.
Şimşek, B., Abidin, C., & Brown, M. L. (2018). musical. ly and Microcelebrity Among Girls. In Microcelebrity Around the Globe. Emerald Publishing Limited.
Singh, M. (2020). TechCrunch is now a part of Verizon Media. Retrieved 19 November 2020, from https://techcrunch.com/2020/07/01/lasso-facebook-tiktok-shut-down/?guccounter=1&guce_referrer=aHR0cHM6Ly93d3cuZ29vZ2xlLmNvbS8&guce_referrer_sig=AQAAAEFYadS-4AwkprEE2zbFljFI4JJPT7_gTeHv4yQJHAQ4afCE4mLvCpE1d7EePsaF8GZoneCp6YW6gsNeplostn6DOIc7izI3g0my6W4cZzoabpYfkR6rNnE3OaredcUmWvimqRjtWX6Dc5dRnxvfUs-qLP0zFrApNChOOeNPBWpI
Tang, D. (2019). The New Situation of Marketing in the Self-Media Era-Taking Tik Tok as an Example.
Weimann, G., & Masri, N. (2020). Research note: Spreading hate on TikTok. Studies in Conflict & Terrorism, 1-14.
Winter, A. (2015). U.S. Patent Application No. 14/274,059.
Zuo, H., & Wang, T. (2019). Analysis of Tik Tok User Behavior from the Perspective of Popular Culture. Frontiers in Art Research, 1(3).