Introduction
Twitch is arguably the world's leading live streaming platform for gamers on the web. This platform hosts pro-gaming competitions with audience sizes ranging from thousands of individuals to small live streams with a few viewers (Johnson & Woodcock, 2018). Twitch's platform broadcasts to more than 15 million exclusive visitors daily, exhibiting its transformative impact on the internet and contribution to the "sharing economy" (Gehl, 2017). Moreover, the platform has also altered how people interact with content and content providers, changing how individuals establish relationships with public figures online. Twitch provides a platform that enables one to watch other individuals play video games and allows one to broadcast their gameplays globally. People can watch Twitch on the web or stream devices, such as Roku and Chromecast, Amazon Fire TV, game consoles, and PlayStation and Android devices (Johnson & Woodcock, 2017). Twitch has redefined free broadcasting, enabling its users to advance their streaming profession by supporting them through partnership programs (Willens, 2020). Furthermore, Twitch offers users a chance to actively engage with their fans in real-time servers, forging community-based friendship based on shared interests (Nawal, 2020). This essay analyzes Twitch's transformations, focusing on its business model, different actors in the game-streaming ecology, and how the platform has transformed user experience.
Twitch's History
Justin Kan and Emmett Shear created a live-streaming platform known as Justin.tv in 2007 (Johnson & Woodcock, 2018). Although this platform had several content categories, it is the gaming category that grew extremely fast. In 2011, this platform split its content and renamed the site's gaming category to Twitch. Since then, Twitch has continued to dominate the gaming industry, especially concerning e-sports broadcasting (Zhang & Liu, 2020). Details regarding "Twitch Plays Pokemon," a channel launched on February 12, 2014, on Twitch, circulated widely online, and gamers worldwide started logging on to the Pokemon Red using commands together. Within five days after the launch, the site recorded more than 6.5 million visits, with an average of sixty to seventy thousand simultaneous views per game. Other channels in the platform also grew immensely, and currently, Twitch hosts over 55 million video game streamers monthly. Justin Kan sold Twitch to Amazon on August 25, 2014, for $970 million, barely three years after its formation (Johnson & Woodcock, 2018). The platform, which is now one of Amazon's subsidiaries, with Emmett Shear as its CEO, also owns Doubler Helix and Reflexive Entertainment Games.
In 2016, Twitch developed the cheering technique, allowing users to buy bits to donate to their favorite streamers. Later, the company created Twitch Prime, giving Amazon Prime members exclusive Twitch benefits, including owning extra emotes and subscribing to one streamer monthly (Zhang & Liu, 2020). Twitch has had tremendous success since its launch, and by February 2020, the platform had 15 million viewers accessing the site daily, with the help of its 27,000 partner-channels and 3 million monthly broadcasters. Moreover, Twitch has dramatically changed how content creators relate to its viewers because of its community-oriented nature. The platform currently operates as Amazon's subsidiary, earning revenues through partner programs, subscriptions, and advertising (Nawal, 2018).

Source: https://twitchtracker.com/statistics
Twitch's Business Model
Earning an estimated $500 million in annual revenues, Twitch has managed to carve out plenty of income streams since its establishment. Twitch operates on a freemium model, which permits users to own accounts, watch streamers, and broadcast at no cost, enabling the platform to attract and retain users. However, Twitch earns money by charging its users monthly subscription fees for premium services, running video ads, offering its digital currency usable only in the platform (cheer Bits), and selling merchandise. The company's subscription model has three tiers, coming in at $24.99, $9.99, and $4.99 monthly. Moreover, the site generates additional revenue through its "Turbo" membership program, which allows members to access advertisement-free streaming (Nawal, 2018). The company then shares a percentage of the revenue with content creators.
A unique feature of Twitch is that Twitchers, or content creators, can directly interact with their viewers. The demographic of Twitch mainly composes of young adults and teenagers who have minimal spending power, and the freemium model allows the platform to acquire a large subscriber base and maximize income from sporadic purchases, donations, and referrals (Winseck, 2017).  Users can subscribe to channels, donate money to twitchers and chat with them during live streamings, and enjoy basic services free of charge. By ensuring that those who have no money still access services, Twitch effectively emphasizes streaming as "cultural activity" among users (König & Rasch, 2014, p. 22), which creates the potential to earn revenue from this group in the future. However, those who want to utilize additional features have to pay for them. Established within the Amazon ecosystem, Twitch has played a critical role in creating extra opportunities for sales through Twitch-branded items.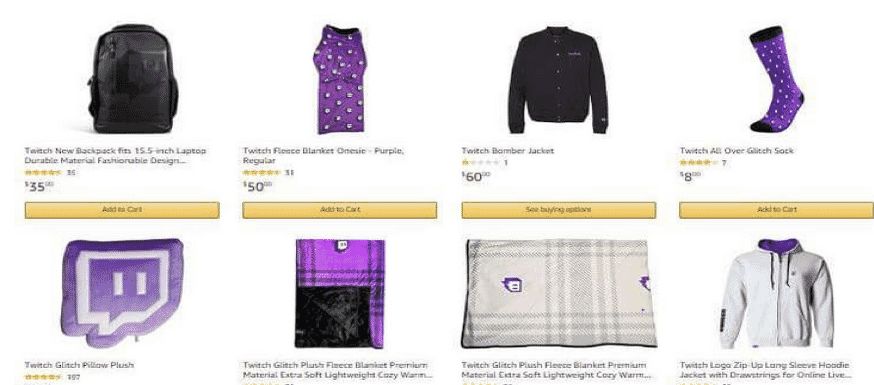 Image: Twitch-branded merchandise via the Amazon store
Stakeholders and Competitors
A business's ecology consists of all individuals, organizations, and structures that the business interacts with during goods and service delivery, either through cooperation or competition. Various actors contributing to Twitch's ecology include:
Owner
Amazon purchased Twitch in 2014 for $970 million and currently owns the platform.
Users
Other critical players contributing to this site's existence are crowd-sourced users and continue to offer their contents for Twitch to host. Users include content creators, live streamers, and viewers, and moderators.
Competitors
Competitors refer to actors who offer services or goods similar to what a business provides, thereby giving alternatives to its products. Many actors provide similar services to Twitch's, resulting in competition for viewership. These competitors include Periscope, YouTube Live, Vimeo Livestream, Mixer, Facebook Live, and streamGo. That said, Twitch continues to dominate the live stream gaming market, with its connection to Amazon Prime multiple site-features keeping Twitch attractive to streamers.
Partners
Partners are players who involve in supporting and advertising Twitch alongside its content creators. They include GameSport, Blizzard, Machinima, Bethesda, Warner Bros, Ubisoft, Comic-Con, IGN, and Ubisoft. Google, whose search engine has become "synonymous for many everyday users with "the Internet" itself" (Noble, 2018, p.34), has also popularized Twitch hence is a partner.
Platforms
Platforms include players supporting Twitch's activities and provide the means of delivering content to the world. They include desktop computers, Android iPhone/Apple iOS, Android, Xbox One, NVIDIA SHIELD, Fire TV, Chromecast, and PlayStation.
Advertisers
These are companies that market their products on Twitch. They primarily include game developers, who pay the company based on their advertisement viewerships and clicks. Advertisers generate revenue for the company and its allied streamers.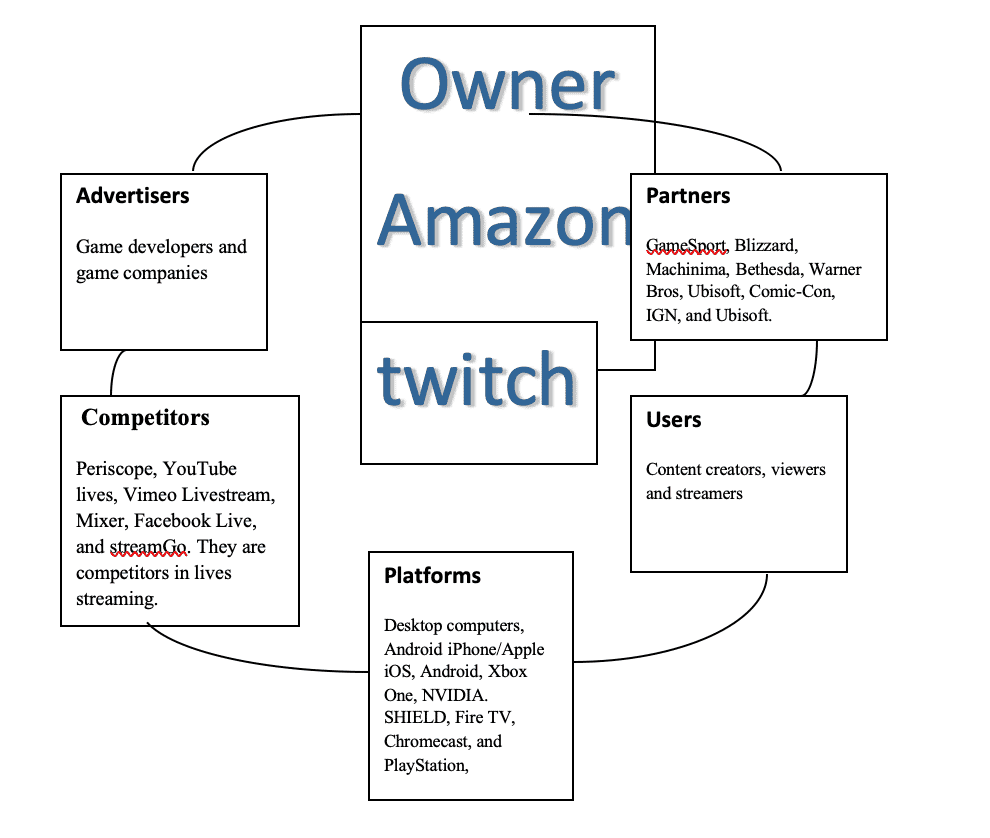 Image: Twitch ecology diagram
Moderators
For creators dealing with large viewers, the best way to regulate chatbox content is enlisting moderators, such as trusted users or friends. The moderators monitor the content creators' chatboxes during live streaming and remove offensive languages and spam, based on the streamer's rules.
Partnership Programs
Twitch partner programs involve partnership arrangements with popular broadcasters who stream regularly. To partner with Twitch, the broadcaster must have quality content as determined by Twitch, establish a regular streaming frequency, and possess average concurrent viewership. Twitch and its partners can monetize their viewership through advertisements, paid channel subscriptions, and merchandise (Johnson & Woodcock, 2018). The partners stream various contents, ranging from music, games, art, talk shows to anything they can imagine. These partners have access to multiple benefits, such as monetization through emotes and channel subscriptions, cheer bits, and ads. Moreover, partners also receive emotes for their audiences to utilize in chats, increasing the streams' community atmosphere.

Image: Twitch.tv creator Sereda! DMCA free playlist for streamers
Regulations
As an open platform, the challenge for maintaining Twitch's efficient running lies in regulating its content on a large scale. Content creators provide almost all the Twitch platform content, making it difficult for Twitch to control its platform's content. The company leaves much regulation responsibility to the individual creators, meaning that streamers set rules during live streams (Johnson & Woodcock, 2018). Notably, content creators regulate the way viewers behave or chat in their channels to avoid racism and bullying. Content creators can sensor viewers using vulgar language by putting blockers on their chat boxes to prevent them from interacting on their platforms (Zhang & Liu, 2020). Moreover, creators can remove violators from their chat box temporarily or ban them from viewing their contents permanently.
How Twitch Has Transformed the Understanding of the Internet
Twitch has transformed how individuals build a relationship online by creating shared experiences, participation, and community sense. A study by Hamilton et al. (2014) identified two critical reasons individuals enjoy watching live streams: One, people relish the inimitable content provided by specific streams. Two, individuals derive fun and enjoyment when interacting with streamers and chatting with other viewers. Similarly, a study by Kaytoue et al. (2012) shows that gamers prefer watching how other individuals play more than playing the video game. The aspect of living experience sensationally through other individuals' experiences is the critical success factor for Twitch. Viewers show interest in other gamers' conflicts, challenges, stories, and progressions. Interestingly, in-channel discussions sometimes digress to matters unrelated to games, allowing users to share news and discuss politics and trending issues. Therefore, just like Facebook, Twitch might turn into a "global redistributor of news" (Martin, 2019, p.91). Moreover, Twitch is a highly innovative platform with high-fidelity computer graphics methods and low-fidelity text-based communication videos (Johnson & Woodcock, 2017). These features enable Twitch to create and strengthen relationships between content creators and viewers, promoting community creation on the platform. These factors create shared adventures and build relationships in this platform, redefining the internet experience.
Conclusion
Despite the fierce competition in the live streaming and content creation industry, Twitch remains the world's leading live streaming platform for gamers on the web. This platform hosts various things ranging from the pro-gaming competition with thousands of viewers to small live streams with a few individuals. The site currently broadcasts to more than 15 million exclusive visitors daily, exhibiting its transformative impact on the internet. Various actors continue to play a critical role in this site's success, including competitors, partners, users, and advertisers. Twitch promotes the aspect of building communities by encouraging relationship formation between content creators and viewers. This content creates a shared experience, where audiences live sensationally through other gamers and chat with streamers and other viewers. In this respect, Twitch has played a vital role in transforming how people communicate and participate online, changing their cultural and social reality to promote video games and friendship building.
References
AWS. (2020). Twitch Alternatives & Competitors. Retrieved 16, November 2020, from https://www.g2.com/products/twitch/competitors/alternatives
Gehl, R. W. (2017). Nicholas A. John, The age of sharing. International Journal of Communication, 11, 3.
Hamilton, W., Garretson, O., & Kerne, A. (2014). Streaming on Twitch. Proceedings Of The 32Nd Annual ACM Conference On Human Factors In Computing Systems – CHI '14. DOI: 10.1145/2556288.2557048
Iqbal, M. (2020). Twitch Revenue and Usage Statistics (2020). Retrieved 16, November 2020, from https://www.businessofapps.com/data/twitch-statistics/
Johnson, M., & Woodcock, J. (2017). 'It's Like the Gold Rush': The Lives and Careers of Professional Video Game Streamers On Twitch.tv. Information, Communication & Society, 22(3), 336-351. DOI: 10.1080/1369118x.2017.1386229
Johnson, M., & Woodcock, J. (2018). The Impacts of Live Streaming and Twitch.Tv on the Video Game Industry. Media, Culture & Society, 41(5), 670-688. DOI: 10.1177/0163443718818363
Kaytoue, M., Silva, A., Cerf, L., Meira, W., & Raïssi, C. (2012). Watch Me Playing. I am a Professional. Proceedings Of The 21St International Conference Companion On World Wide Web – WWW '12 Companion. DOI: 10.1145/2187980.2188259
König, R., & Rasch, M. (2014). Society of the Query Reader: Reflections on Web Search. Institute of Network Cultures.
Martin, F. (2019). The Business of News Sharing. In Sharing News Online (pp. 91-127). Palgrave Macmillan, Cham.
Nawal, A. (2020). Twitch.tv Business Model: How Does Twitch Make Money?. Retrieved November 16, 2020, from https://www.feedough.com/twitch-tv-business-model-how-does-twitch-make-money/
Newcomer, E., & Efrati, A. (2020). Amazon to Acquire Twitch for $970 Million. Retrieved November 16, 2020, from https://www.theinformation.com/articles/amazon-nears-deal-to-acquire-twitch
Noble, S. (2018). A Society, Searching. In Algorithms of Oppression: How Search Engines Reinforce Racism (pp. 15-63). New York: NYU Press. doi:10.2307/j.ctt1pwt9w5.5
Pellicone, A. (2016). Performing Play. Proceedings Of The 2016 CHI Conference Extended Abstracts On Human Factors In Computing Systems – CHI EA '16. DOI: 10.1145/2851581.2859022
POTs and PANs. (2020). Regulating Online Video Content. Retrieved 16, November 2020, from https://potsandpansbyccg.com/2017/09/13/regulating-online-video-content/
Stream Scheme. (2020). What is Twitch? A Brief Overview and History – StreamScheme. Retrieved 16, November 2020, from https://www.streamscheme.com/twitch-a-brief-overview-and-history/
Twitch. (2020). Setting Up Moderation for Your Twitch Channel. Retrieved 16, November 2020, from https://help.twitch.tv/s/article/setting-up-moderation-for-your-twitch-channel?language=en_US
Twitch. (2020). Twitch Chatting Stream. Retrieved 16, November 2020, from https://www.twitch.tv/sereda
Twitch. (2020). Twitch.tv – Partners. Retrieved 16, November 2020, from https://www.twitch.tv/p/partners/
Twitch. (2020). Twitch: Downloads. Retrieved 16, November 2020, from https://www.twitch.tv/downloads/
TwitchTracker. (2020). Twitch Statistics & Charts. Retrieved 16, November 2020, from https://twitchtracker.com/statistics
Viktor. (2020). Twitch's Business Model – How Does Twitch Make Money?. Retrieved 16, November 2020, from https://productmint.com/twitch-business-model-how-does-twitch-make-money/
Winseck, D. (2017). The Geopolitical Economy of the Global Internet Infrastructure. Journal of Information Policy, 7, 228-267.
Willens, M. (2020). Once Dominant, Amazon-Owned Gaming Platform Twitch has More Competition and More Problems – Digiday. Retrieved 16, November 2020, from https://digiday.com/future-of-tv/dominant-amazon-owned-gaming-platform-twitch-competition/
Zhang, C., & Liu, J. (2020). On Crowd-Sourced Interactive Live Streaming: A Twitch.Tv-Based Measurement Study. Proceedings of the 25th ACM Workshop on Network and Operating Systems Support for Digital Audio and Video. 55-60. http://dx.doi.org/10.1145/2736084.2736091