Netflix has greatly revolutionized the way we watch television. With the COVID-19 pandemic ravaging the world since early 2020, forcing people to stay home on lockdowns, the movie streaming service has managed to increase the number of its paid subscribers worldwide to 195.2 million in Q3 2020, up 23.3 percent from 158.3 million in the same quarter last year (Schomer, 2020). With many competitors in the streaming service industry, Netflix remains the largest household name in streaming in the world, available in 190 countries.
This essay will critically examine Netflix and situate the company within its Internet ecosystem in the context of history, business, politics, and culture. It will start with a section explaining Netflix's operations, followed by its historical development and regulatory debates. The following sections will explore how Netflix thrives with its business model and Internet ecology, the latter of which will be presented in a flowchart. The last section will discuss the Netflix effect, and how the company has transformed the entertainment industry for the better.
What is Netflix?
Netflix is both producer and distributor of movie streaming content that allows its users to watch TV shows, movies, documentaries, and more digitally under a subscription model in that the latter are independent from a TV scheduling regimen and unbound to living room screens (Sim, 2016; Jenner, 2019). Netflix offers an unlimited time of content consumption and downloads without commercial interruptions and contractual obligations on any internet-connected devices (Netflix, 2020). In the grand scheme of things, Netflix's database technology and algorithms resonate with what John Battele (2005, as cited in Jarrett, 2014, p. 17) refers to as a "a database of intentions." In what has become the troubling aspects of tech giants, Netflix, with its millions of users, boasts an infrastructure that resembles like that of Google in which the company harvests vast amounts of its users' data, from their preferences and streaming behaviors, demographic information, time spent on watching movies on its platform, and even to which most devices they use (Jarrett, 2015; Bellanova & Fuster, 2018). On the one hand, this big data analytics gives Netflix competitive advantages to stay ahead of its competitors and to have a much bigger bargaining power in negotiations with its suppliers (Izquierdo-Castill0, 2015). On the other hand, it also raises the questions of increased surveillance and violations of user privacy.
Netflix: History
Netflix came into being in August 1997 in Scotts Valley, California, founded by two software engineers, Marc Randolph and Reed Hastings. Netflix was first created as a by-mail DVD-rental company to disrupt the business model of Blockbusters, then the leading provider of video rental services operating more than 9,000 rental stores across the United States (TV Junkies, 2016).
With an initial investment of $2.5 million provided by Hastings, Netflix made its debut in the market in April 1998, operating off a paper rental model in which people would rent DVDs through its website, receive, and return them via post in the envelopes provided. This early business model of Netflix was efficient and effective, making easier people living in areas where there were no rental stores to rent movies. Rental cost around $4 each, plus a $2 postage charge.
After significant growth, Netflix then introduced a subscription model in September 1999 and discontinued the paper rental model in 2000. In April 2004, Netflix wanted to extend the company into one focusing on digital video on demand; however, it was not until the year 2007 that idea was made real to the public, allowing users to watch television shows and movies on their personal computer based on the user's subscriber's plan (McFadden, 2020). Netflix believed that having DVDs would no longer be an option in the future, as streaming would soon take over the entertainment industry. In the end of 2007, Netflix saw a 20 percent increase in its subscribers, registering about 7.5 millions users into its streaming service.
In Australia, Netflix became the first foreign-based entity that faced little regulatory scrutiny over its operations and fiscality. Turner (2018) explains that the company managed to take advantage of the loopholes in the Australian regulations on transnational media companies in that Netflix fell under neither broadcast nor pay-TV service categories. Australian local free-to-air networks, which are Netflix's traditional rivals, are still facing constraints, such as requirements to produce local content and local ownership, from which Netflix is exempted. This situation has created a major shift in the country's television industry that Turner (2018, para. 2) describes as a radical disruption over "the state and… the future structure of Australian television."
Netflix: Business Model 
According to Teece (2020, as cited in Zott et al., 2011), business model entails the articulation of logic, data, and other evidence that make up a company's value proposition in the market, and it is used to generate revenues and calculate costs for the viability of that enterprise. In a much recent update on its definition, one that incorporates the role of technology and digitalization, business model is an integral element of innovation capturing value proposition and value creation (Chesbrough, 2007). Netflix's value proposition changed over time. In the past, the company beat Blockbuster through its subscription and by-mail models, offering its users convenience of ordering DVDs anytime, anywhere for a flat-rate monthly fee without additional late fees. In the 2000s, Netflix completely transformed its business model into a streaming service provider, which still continues even until today to show promise and growth.
Customers in the US can choose Netflix's streaming plans, comprising the Basic ($8.99), Standard ($13.99), and the Premium ($17.99). Each plan entails different features allowing users to watch Ultra HD videos or to stream on multiple screens simultaneously—the more expensive the plan, the better the features. Users can access Netflix not only at the comfort of their home via a Smart TV but also from any Internet-connected devices, either via a web browser or the Netflix app, both available in iOS and Android (Netflix, n.d). Essential to Netflix's business model are its machine learning capabilities and algorithms that give users content recommendations based on their viewing history, and that allows them to find a catalogue of films that they might have never chosen before (Lobato, 2019; Plummer, 2017)
Netflix's business model capturing the importance of value creation lies in its shift from a company that simply acted as a streaming service provider to one that prolifically generates its own content. This shift is vital because Netflix, with its Netflix Originals, has become a supplier of streaming movies itself, disrupting the landscape of the supply chain in not just the movie industry and cinema chains, but also that of TV networks (Samarajiva, 2019). Successful and award-winning Netflix Originals, such as House of Cards and Orange Is the New Black (though their productions were commissioned by Netflix to independent film production companies), were also aired on TV networks and other streaming platforms (Sandwell, 2017; Deadline, 2011).
Netflix: Internet Ecology
Lobato (2010) describes Netflix's Internet ecology as part of that of the Internet-distributed television, arguing that it constitutes multivarious services, parties, and practices in its operations. Netflix is currently the leading player in the streaming service industry, producing and licensing movie content to its users who are charged according to plans that differ on features and prices. As a prolific content producer, updating its library collection every month, Netflix has situated itself as a competitor against other film production houses.
Besides Netflix, other companies that vie for the streaming service industry's market pie, acting as Netflix's direct competitors, include Amazon Prime, HBO Now, Hulu, Disney+, Apple TV, and BBC iPlayer. All of these brands provide similar services to that of Netflix with its own specializations of produced content and licensing. Disney+, for instance, after its launch in 2019, is slated to become the sole licensor of Marvel blockbuster movies, which will consequently cut down the availability of such movies in Netflix. Other companies that have indirectly posed as Netflix competitors include local cable operators, TV channels, Cinema, theaters, and digital piracy. YouTube is also a notable entity in the movie and show industry (Biesen, 2019).
About 92 percent of Netflix's inventory is still being produced by its suppliers: 1) AT&T Inc.'s WarnerMedia, The Walt Disney Company, and Fox, all holding 19.6 percent of Netflix's content; 2) Viacom, CBS, Sony, BBC, MGM, and HBO, all owning 13.2 percent; 3) smaller production houses about 59.2 percent; and 4) Netflix's own production about 8 percent (Samarajiva, 2019). These suppliers have no obligations to create licensing agreements with Netflix or its competitors.

Below explains how Netflix's Internet ecology looks like:
Netflix: A Case of Transformation

The Netflix effect appears to stem from what Christensen et al. (2015) describes as disruptive innovation—a process by which new entrants disrupt existing markets through innovation, challenging the more dominant enterprises. Christensen et al. (2015, p. 5) identifies two characteristics of disruptive innovation: 1) it "originates in low-end or new-market footholds" and 2) it catches on with "mainstream customers until quality catches up to their standards." Price is also a determining factor in any disruptive innovation (Christensen et al, 2015). Netflix's first mail-in business model that outpaced Blockbuster enabled the company to tap into new-market footholds—customers living in areas where Blockbuster rental stores were hard to access. With competitive pricing, subscription model, and no additional late fees, Netflix was able to attract new customers or even lured Blockbuster's. Over the years, the advancements in Internet technologies, including the increased productions of Internet-connected mobile devices and fast broadband connections—these decisive developments have been capitalized on by Netflix to rebrand itself as a streaming service provider operating globally (Aricarlospena, 2018).
Netflix's growth in subscriptions and its current standing as the biggest player in the streaming business have pushed the company to think about its dominance and sustainability in the long run. One way to achieve this goal is by becoming a content producer itself, which entails a further expansion in the way Netflix conducts its business. Ted Sarandos, Netflix's Chief Content Officer, recognizes the importance of this new addition to the company's business model; that is, increasing its original productions and acquiring more licensed third-party content are vital to the company's global expansion (Mediaweek, 2015).
Last, Netflix's operations that largely depend on vast amounts of data traffic also allow the company to have the upper hand in the issue of net neutrality. With an established subscription model and millions of users, Netflix has more bargaining power over choosing its most suitable international service providers in countries it operates it. In Australia, for instance, Netflix has made a special arrangement with iiNet to ensure that its viewers would not be subject to a data cap when streaming its content (Qiu et al, 2020).
Netflix has revolutionized the home entertainment industry in that it has changed viewing habits of millions of people across the world. Netflix's strategy to release all episodes of a TV show in one go has given rise to the phenomenon of binge-watching (Matrix, 2014). Netflix has become an addiction for its largest demographic (18 to 34 year olds); the company released data in 2017 confirming this phenomenon, claiming that its 8.4 million subscribers were binge-racers who spent 13 consecutive hours revelling in a TV show (Vasileva, 2017). Now the term binge watching is tantamount to Netflix—thanks to the platform's commercial-free feature, high quality, and originality (Matrix, 2014).
Netflix, however, is not free from criticism, as many believe that it operates like other tech giants, such as Google and Facebook, building its empire on surveilling streaming behaviors of its users. Binge-watching is the product of the Netflix culture in which viewers' behaviors are monitored and analyzed to predict which kind/theme (of shows) that would sell in the future. Netflix is already a part of the cultural surveillance machinery that Jarrett (2015, p. 19) describes as a database of intention where "thoughts, activities," and behaviors are translated into "an alineable object" that gives value to capitalism. Jarrett's interpretation may hold some truth in the sense that Netflix reinforces the change in its viewers' behavior through its strategies and features to benefit only the master (Netflix itself).
Netflix has also brought about a cultural change in that with its strategy that allows its subscribers to binge-watch, it seems to be on a mission to dominate cultural conversations online and offline. Matrix (2014) highlights that the company has the power to build connection and community among its users. Emily in Paris, for instance, ignited cultural conversations on American imperialism and ignorance of how Americans act and are perceived when they live in a foreign country. This cultural change, as Matrix (2014) suggests, might have not been able to be located easily among users who watch scheduled shows on traditional TV networks. Other Netflix shows that shook up cultural discourses at least in the US included 13 Reasons Why (on suicide issues among teenagers), The Ted Bundy Tapes (on glorification of toxic masculinity), Orange Is the New Black (on white feminism and privilege), and more (Hughes, 2019).
A Final Note
In summary, Netflix has become a force to be reckoned with not just in the entertainment business but also in the tech industry. Its early business model as a by-mail DVD rental company, followed by its metamorphosis as a streaming service and content provider, all this have shaped our digital society, especially in ways people enjoy entertainment. From binge-watching Netflix shows anytime, anywhere to being part of cultural conversations involving Netflix Original titles, more and more people are drawn to the Netflix magic, which on the surface appears to be fun and entertaining. However, lest we forget that one needs to have a critical eye over the rise of new technologies that impact human behaviors, especially if such technologies are born out of capitalistic motivations.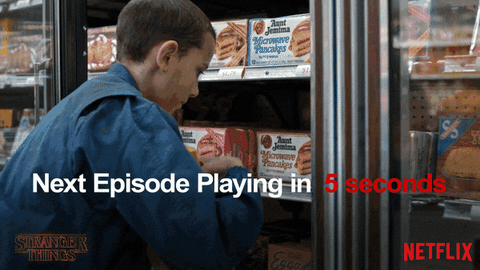 References
Aricarlospena. (2018). Netflix's growth alongside digital transformation. Harvard
Business School. Retrieved  from https://digital.hbs.edu/platform-digit/
submission/netflixs-growth-alongside-digital-transformation/.
Bellanova, R. and Fuster, G.G. (2018). No (big) data, no fiction? Thinking surveillance
with/against Netflix. In Saetnan, A. R., Schneider, I. & Green, N. (Eds.) The politics
and policies of big data: Big data big brother? London: Routledge.
Biesen, S.C. (2016). Binge-watching "Noir" at home: Reimagining cinematic reception
and distribution via Netflix. In K. McDonald & D. Smith-Rowsey (Eds.). The Netflix
effect: technology and entertainment in the 21st century (pp. 129-140). Bloomsbury
Publishing USA.
Chesbrough, H. (2007). Business model innovation: it's not just about technology
anymore. Strategy and Leadership (35)6. Pp. 12-17. Retrieved from
https://www.emerald.com/insight/content/doi/10.1108/10878570710833714
/full/pdf?casa_token=rmIwYwx8FaAAAAAA:CTUWKUv3hTLi4D71xVgL1W1
TDqC37p7PSEYtxW4iM9gbMTLVNJlYhuwyHFXPge5keNOfjxCVo
MnsnH3vzaW16WGkJAL8lrr_B9yupJqYVX-aPs-P87AQ.
Christensen, C.M., Raynor, M., & McDonald, R. (December 2015). What is disruptive
innovation? Harvard Business Review. Retrieved from https://www.innosight
.com/wp-content/uploads/2018/01/Innosight_HBR_What-is-Disruptive-
Innovation.pdf.
Deadline. (2019, September 05). Sony TV joins 'House of Cards' team. Retrieved from
Hughes, N. C. (2019, March 04). How Netflix is dominating the cultural conversation.
Retrieved from https://thenextweb.com/contributors/2019/02/04/netflix-
cultural-conversation/.
Izquierdo-Castillo, J. (2015). El nuevo negocio mediático liderado por
Netflix: estudio del modelo y proyección en el mercado español. El profesional
de la información, v. 24, n. 6, pp. 819-826. http://dx.doi.org/10.3145
/epi.2015.nov.14
Jarret, K. (2014). A database of intentions? In R. Konig & M. Rasch (Eds.). Society of the query reader: Reflections on web search. Amsterdam. Creative Commons.
Jenner, M. (2019). Netflix and the re-invention of television. Switzerland: Palgrave
MacMillan.
Lobato, R. (2019). Netflix nations: The geography of digital distribution. New York:
New York University Press.
Matrix, S. (2014). The Netflix effect: Teens, binge watching, and on-demand digital
media trends. Jeunese: Young People, Texts, Cultures 6(1). DOI:
10.1353/jeu.2014.0002.
McFadden, C. (2020, July 04). The fascinating history of Netflix. Retrieved
November 16, 2020, from https://interestingengineering.com/the-fascinating-
history-of-netflix.
Mediaweek. (2015, December 08). Netflix aims to be the largest content producer in
the world. Retrieved from https://www.mediaweek.com.au/netflix-largest-content-
producer-world/.
Plummer, L. (2017, August 21). This is how Netflix's top-secret recommendation
system works. Retrieved from https://www.wired.co.uk/article/how-do-netflixs-
algorithms-work-machine-learning-helps-to-predict-what-viewers-will-
like#:~:text=Netflix uses machine learning and,genres to make its predictions.
Qiu, L., Cho, S., & Bandyopadhyay, S. (2020, January 31). Net neutrality may be at
risk when companies like Netflix subsidize your data. Retrieved from
https://theconversation.com/net-neutrality-may-be-at-risk-when-companies-like-
netflix-subsidize-your-data-56049.
Samarajiva, I. (2019, July 28). Netflix has started a war with its suppliers. Medium.
Retrieved November 18, 2020, from https://medium.com/swlh/netflix-has-
started-a-war-with-its-suppliers-1cc8f43b7896
Sandwell, I. (2018, November 30). You can watch Orange is the New Black without
Netflix. Retrieved from https://www.digitalspy.com/tv/ustv/a824295/orange-is-
the-new-black-without-netflix-sony-channel-uk-broadcast/
Schomer, A. (2020, October 22). Netflix's subscriber gains slowed in Q3 after two
consecutive quarters of gangbuster growth. Business Insider. Retrieved from
https://www.businessinsider.com/netflix-q3-subscriber-growth-slows-content-
pipeline-remains-healthy-2020-10?r=US&IR=T#:~:text=Netflix now has 195.2
million,in 2018 (28.6 million).
Sim, G. (2016). Individual disruptors and economic gamechangers: Netflix, new
media, and neoliberalism. In K. McDonald & D. Smith-Rowsey (Eds.). The Netflix
effect: technology and entertainment in the 21st century (pp. 187-201). Bloomsbury
Publishing USA.
Turner, G. (2018). Netflix and the reconfiguration of the Australian television market.
Media Industries Journal, 5(2). doi:10.3998/mij.15031809.0005.208.
TV Junkie. (2016, March 04). YouTube. Retrieved November 16, 2020, from
https://youtu.be/Pa6-XsUek7o.
Unlimited movies, TV shows, and more. (2020). Netflix. Retrieved from
https://www.netflix.com/id-en/.