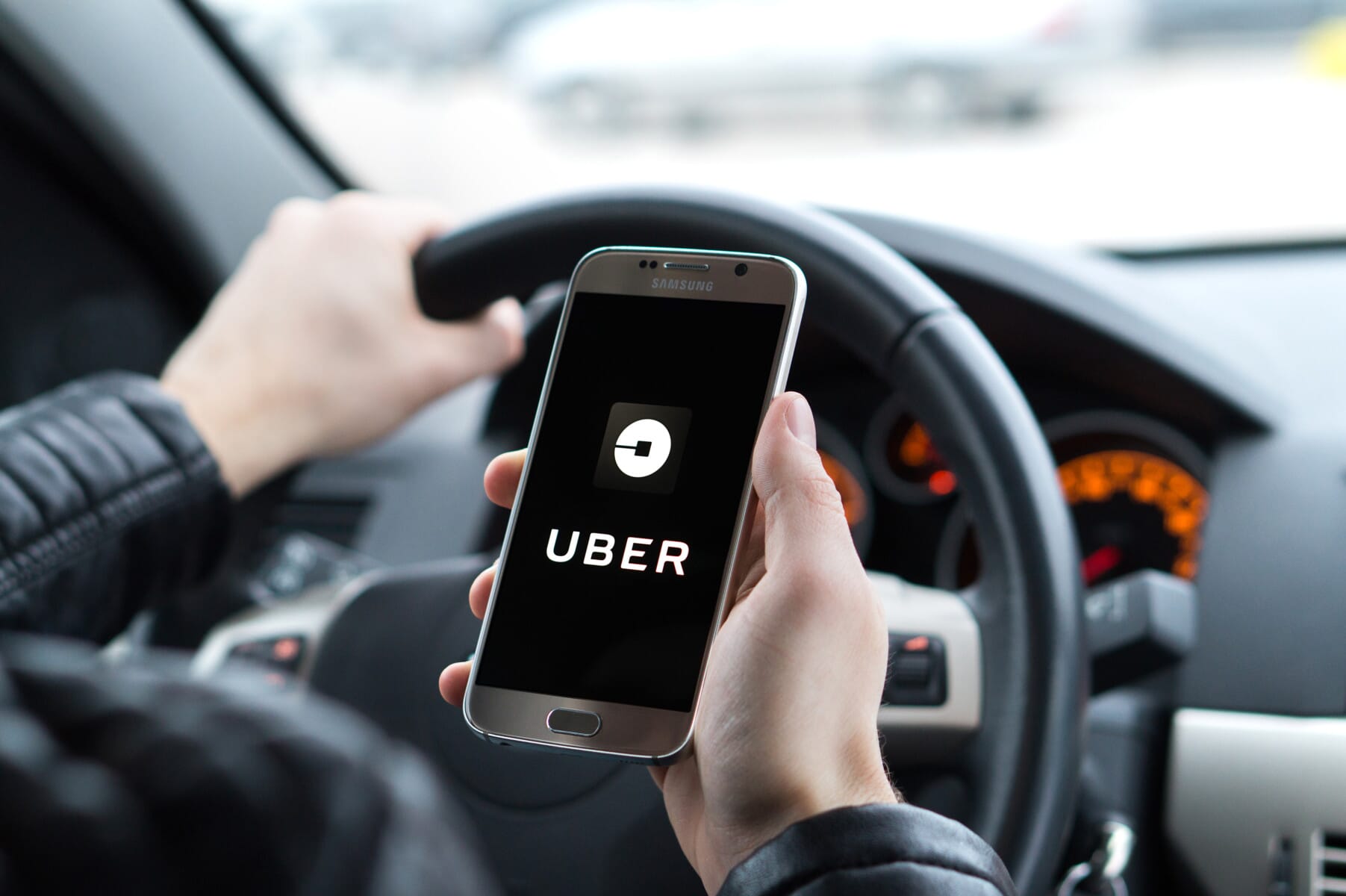 Picture showing Uber App
Image: Johnson, Forager, All rights reserved

Introduction
Uber has become a pioneer in innovation in the market by using the sharing in the network ecosystem to promote its global transportation services. A critical analysis will be conducted on how Uber uses network technology to contribute to society and its transformative impact on transportation services.This essay will mainly discuss the transportation part of Uber since Uber involves a wide range of businesses. The first part will briefly outline Uber's main operating characteristics, while the second part will introduce the company's historical development. Uber's business model and Internet ecology will also be studied in the following part, and finally exploring whether Uber is a disruptive Internet revolution.
What is Uber?
Uber is a leading company in the field of car sharing that uses Internet mobile technology to match passengers and drivers (Cramer & Krueger, 2016). Uber has created a platform to connect drivers who provide ride-hailing services to passengers seeking ride-hailing services online. Potential passengers only need to download an software, then taxi drivers can get accurate directions by allowing passengers to request the nearest available Uber car on their smartphones, taxi drivers can get accurate directions. This provides the world with what is called Uberization (Dudley, Banister, & Schwanen, 2017) as a independent operation concept. In terms of operation, the technology foundation combines the concept of "sharing economy", which defines itself as a technology platform, not a taxi company. It mainly means that the party with resources can provide its unused resources so as to achieve the purpose of effectively using resources in the society. In other words, Uber uses the management model of peer-to-peer collaborative consumption (Mohlmann, 2016) to promote operations.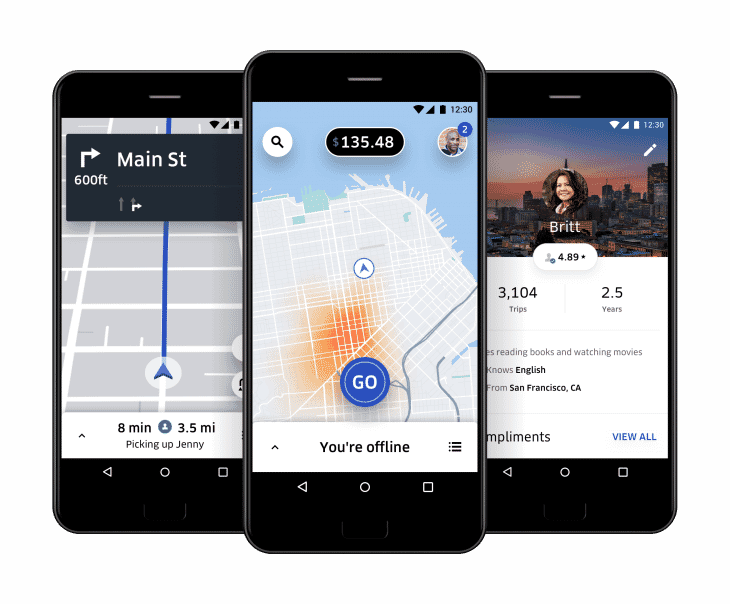 The historical overview of Uber

As a case study about Uber (Spott, 2018) describes, uber's historical narrative has always been misleading. On that snowy night in Paris in 2008, because of trouble calling a taxi, the simple idea of "press the button, you get a ride " has been applied before the establishment of the core idea of Uber when Camp and Kalanick went to Paris to participate in the Le Web conference, in addition, this is not a snowy night, but a blizzard, all vehicles were blown away, including taxis, the two had to walk from their hotel to the Eiffel Tower.
In a conversation, Kalaninick did put forward an idea, which later became the core support of Uber. However, this is not "click a button and hit a ride." Kalaninick was on the Eiffel Tower trying to persuade Camp to let him not need to buy a car, but to let the driver become a free agent, working with full flexibility (Lashinsky, as cited in Spott, 2017), this time the proposal provides Uber with the core operating concept and provides the foundation for its subsequent sharing economy model. He originally planned to let Uber have its own high-end fleet and luxury cars, but in the end he did not implement it, otherwise it would violate its essence as a platform rather than a taxi company. In March 2009, Travis Kalaninick and Garrett Camp founded Uber in San Francisco and became the most recognized alternative (Jaquet, 2018). Uber launched a ride-hailing service in San Francisco in June 2010, and the service currently covers 550 cities in 74 countries (Urbinati, et al, 2018). Since its establishment in 2009, Uber has almost achieved vertical growth. As of December 2014, Uber was valued at US$40 billion, twice the value of 6 months ago, and it has grown at a rate of approximately US$198,399 per minute (Gongloff, as cited in Isaac & Davis, 2014) , its revenue doubles every six months (Guidero, as cited in Isaac & Davis, 2014). Obviously, Uber's benefits during this time are considerable.
While this advanced economic model establishes social connections with citizens, it also interferes with the traditional taxi market. Its apps are often accused of unfair competition with traditional taxi companies (Jaquet, 2018). For example, Uber passengers are often offered low-cost services by non-commercial licensed drivers (Isaac & Davis, 2014). Fortunately, some countries have begun to implement regulations and transportation adjustments on shared cars. In France, the government has taken some measures to reduce the power and importance of American companies, such as driving on the A1 highway reserved for taxis between Charles de Gaulle Airport and Paris (Jaquet, 2018).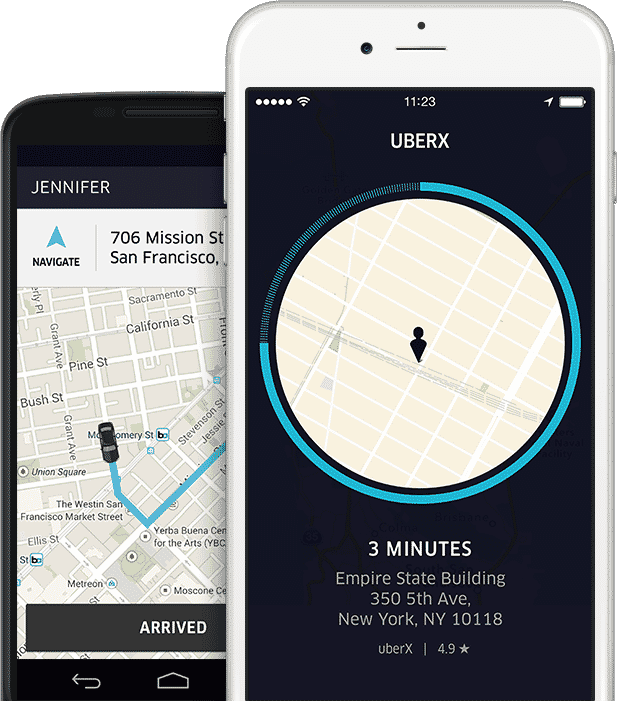 Uber's revolutionary business model
A suitable business model is the foundation of every successful breakthrough innovation (Sorescu, 2017). Due to the cumbersome regulatory system of the taxi industry, Uber realized that consumers were disappointed with the status quo of the taxi industry and used aggressive strategy to alleviate the chaotic situation, thus creating a historic and bold breakthrough, adopting "asking for forgiveness rather than asking for permission" (Cherry, 2017) strategy entered the market, they did not wait for the local government to approve their operations, because in their opinion this might hinder their development and accelerate Uber's on-demand concept (Grbesa, 2017). Uber is committed to the concept of using the market's idle capacity and consolidating the concept of the sharing economy to provide individuals with opportunities to share unused resources (Dillahunt & Malone, 2015).
As a transportation service company, Uber uses technology to integrate private cars as a resource. All drivers are like independent contractors of the company. First, the driver registers the vehicle on Uber. The company will conduct background checks on drivers to eliminate potential criminal attempts before putting their cars on the website. In addition, Uber uses multi-sided platforms to connect two or more products and services to generate value (Caillaud et al, 2003, as cited in Hein et al, 2016). For instance, the smartphone application is assimilated with Google Maps (Bashir., Yousaf., & Verma, 2016), so the customer can see how far the car is and set a meeting point. While the customer is waiting for the vehicle to arrive, the customer can also see the driver's information, including the previous customer's evaluation of the driver. In other words, Uber provides direct interactions with multiple customer groups through technology, products or services and benefits from them.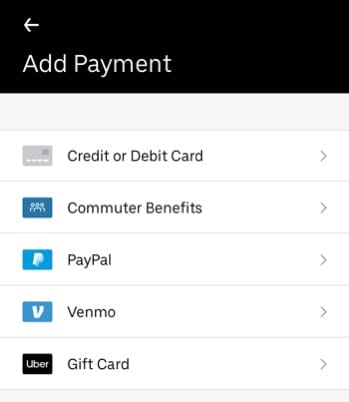 Another core advantage is that Uber conducts market segmentation based on passenger income levels and has launched a variety of taxi services to meet the different needs of different groups for taxi services. For example, for UberX, which is for low- and middle-income groups, in contrast, UberBlack is launched for high-income groups that pursue the characteristics of riding comfort and identity (van Kollem, 2016). The management of Uber's pricing calculation system is based on the functions of its different products, such as car model and size, and other characteristics to determine the degree of charging (Cohen et al, 2016).
Uber's Internet Ecology 
The Internet is an important part of our cognitive ecology. Cognitive ecology can be defined as a multi-dimensional context, which is usually collaborative, dynamic, rich and continuous interaction with our environment (Tribble & Sutton, 2011, as cited in Smart., Heersmink., & Clowes, 2017, p.94). Uber's aggressive business model enables it to proactively solve problems and maintain a competitive advantage in a rapidly changing environment, but its competitive advantage is still threatened by the traditional taxi industry and other car-sharing platforms.
Transport service platforms such as Lyft, DiDi, Ola, RelayRides, Drivemate can all be regarded as direct competitors of Uber because they all contribute similar functions as Uber in the form of peer to peer, providing passengers with more targeted transportation. service. In addition, Zipcar, Car2Go, Autolib and other companies operated by integrators (Sarasini&Langeland, 2017) will be considered as indirect competitors. Local traditional taxi companies and public transportation systems in various regions are also competitors that cannot be ignored as well.
Uber-a transformative disruptive innovation hatched from the internet?
Disruptive innovation can be described as a process in which low-end disruptors enter the market from the low-end, first gain a foothold in the existing value network, and then enter the high-end market (Christensen, Raynor, & McDonald, 2015). However, As a sharing economy platform, Uber conforms to the characteristics of the sharing economy following a competitive positioning (Wessel, Thies, & Benlian, 2017), but it contradicts the image of a low-end disruptor as Uber has radically used leading technology at the beginning of its listing. Therefore, Uber is not disruptive and maintaining its expansion as a disruptive innovator is a challenge for Uber (Dudley, 2017).
Uber provides benefits not only for passengers, it has increased the employment rate, developed more labor and achieved flexible working systems. Drivers only need to download the application software and register relevant personal information to get a chance to earn a living. However, the rise of the sharing economy has attracted a lot of critical attention (Scholz, 2016., & Slee, 2015, as cited in John, 2018). The sharing economy has nothing to do with sharing, but an unregulated and exploitative system (John, 2018). As Pointed out by Palley(2005), contemporary neoliberalism emphasizes the efficiency of market competition, the role of individuals in determining economic outcomes, and the freedom to be independent of government, while avoiding the concept of collective economy (Rowe, 2017).
Uber has its own software, which can be downloaded for free from the Internet. However, the App is not a profit channel for Uber, but a certain percentage of profits from the travel toll paid by passengers (Rogers, 2015). Because Uber drivers use their own cars, they have to bear the maintenance fees and wait for them. This puts Uber in a low operating cost but high profit advantage. Obviously, as a gig economy, Uber drivers have no right to speak in the labor market, and they all have the characteristics of lack of long-term job security and unstable income. Therefore, the radical operating style makes it directly skip the growth process that should be experienced as a low-end disruptor.
In terms of the safety of transportation services, the emergence of Uber has further ensured the personal safety of passengers. When the car-hailing order is generated and received, the information such as the distance and the cost is transparent, which eliminates passengers' concerns about the driver's moral existence and minimizes hidden crimes. In addition, in terms of time, because Uber's pricing algorithm follows the balance of supply and demand, which supervises the behavior of drivers (Hall, Horton, & Knoepfle, 2019, as cited in Insardi & Lorenzo, 2019), Uber's service time period is more accurate, and when it reaches the meeting point will also be displayed on the passenger's client, which is in sharp contrast to the random matching style of the traditional taxi industry. Ultimately, Uber's public evaluation system has consolidated the trust between drivers and passengers and regulated the behavior of drivers. It has also become an important basis for Uber's subsequent business system rectification.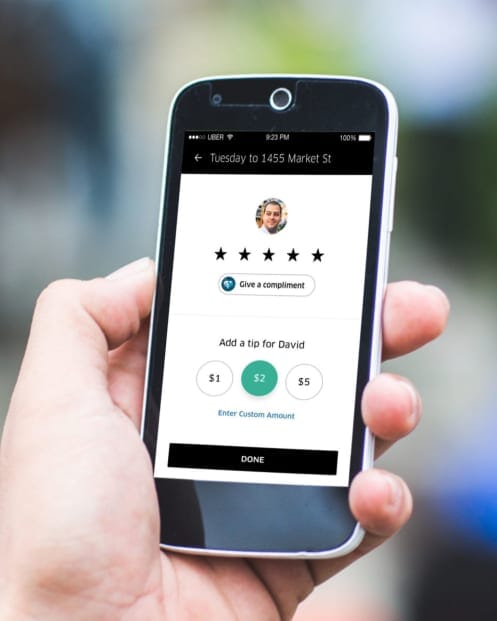 Conclusion
In concluding, radical operating methods do not mean that it is disruptive, although Uber has had important implications for the transformation of the Internet. It uses a radical online business model to gain a firm foothold in the market, mainly to make full use of the idle market as its operating philosophy, to some extent, to create well-being for people, and to accelerate the frequency of interaction between people in the network sharing ecosystem . In addition, it uses digital technology to make services transparent, thereby increasing trust among people.
Bashir, M., Yousaf, A., & Verma, R. (2016). Disruptive business model innovation: How a tech firm is changing the traditional taxi service industry. Indian Journal of Marketing, 46(4), 49-59.
Cherry, M. A. (2016). Are Uber and Transportation Network Companies the Future of Transportation (Law) and Employment (Law). Tex. A&M L. Rev., 4, 173.
Cramer, J., & Krueger, A. B. (2016). Disruptive change in the taxi business: The case of Uber. American Economic Review, 106(5), 177-82.
Christensen, C. M., Raynor, M. E., & McDonald, R. (2015). What is disruptive innovation. Harvard business review, 93(12), 44-53.
Dudley, G., Banister, D., & Schwanen, T. (2017). The rise of Uber and regulating the disruptive innovator. The political quarterly, 88(3), 492-499.
Dillahunt, T. R., & Malone, A. R. (2015, April). The promise of the sharing economy among disadvantaged communities. In Proceedings of the 33rd Annual ACM Conference on Human Factors in Computing Systems (pp. 2285-2294).
Grbeša, M. (2017). CASE OF ÜBER AS A NON-STATE TRANSNATIONAL MODEL OF PUBLIC DIPLOMACY.
Hein, A., Schreieck, M., Wiesche, M., & Krcmar, H. (2016). Multiple-case analysis on governance mechanisms of multi-sided platforms. In Multikonferenz Wirtschaftsinformatik (pp. 9-11).
Isaac, E., & Davis, U. C. (2014). Disruptive innovation: Risk-shifting and precarity in the age of Uber (p. 7). Berkeley Roundtable on the International Economy [University of California, Berkeley].
Insardi, A., & Lorenzo, R. O. (2019). Measuring accessibility: A big data perspective on Uber service waiting times. Revista de Administração de Empresas, 59(6), 402-414.
John, N. A. (2018). Sharing Economies. In The age of sharing (pp. 69-97). Polity. 
Jacquet, A. (2018). A power struggle in the taxi industry: a challenge for Uber and Lyft regarding their Service clauses. PM World Journal, 7(2), 1-16.
Möhlmann, M. (2016). Digital trust and peer-to-peer collaborative consumption platforms: a mediation analysis. Available at SSRN 2813367.
Rogers, B. (2015). The social costs of Uber. U. Chi. L. Rev. Dialogue, 82, 85.
Rowe, P. C. (2017). Beyond Uber and Airbnb: The social economy of collaborative consumption. Social Media+ Society, 3(2), 2056305117706784.
Spott, P. (2018). UBER: A Case Study in Strategy, Leadership and Change. 
Sorescu, A. (2017). Data‐driven business model innovation. Journal of Product Innovation Management, 34(5), 691-696.
Smart, P., Heersmink, R., & Clowes, R. W. (2017). The cognitive ecology of the Internet. In Cognition beyond the brain (pp. 251-282). Springer, Cham
Sarasini, S., & Langeland, O. (2017). Business model innovation for car sharing and sustainable urban mobility. Nordic Energy Research, 5.
Urbinati, A., Chiaroni, D., Chiesa, V., Franzò, S., & Frattini, F. (2018). An exploratory analysis on the contextual factors that influence disruptive innovation: the case of Uber. International journal of innovation and technology management, 15(03), 1850024.
van Kollem, J. A. (2016). The introduction of Uber: An institutional analysis of UberBlack and UberX services across the globe (Master's thesis).
Wessel, M., Thies, F., & Benlian, A. (2017, October). Competitive Positioning of Complementors on Digital Platforms: Evidence from the Sharing Economy. In ICIS.
Multimedia Reference List
Browergroup. (n.d.). Strategic Partnerships Fuel Uber's Road To Success. Retrieved from https://brower-group.com/strategic-partnerships-fuel-ubers-road-to-success/ 
Counts, R. (2016). Zipcar adds roof racks for nature loving urbanites. Retrieved from 
https://www.autoblog.com/2016/08/17/zipcar-yakima-roof-rack-car-sharing-official/ 
Canburak. (2017). Spotify-logo. Flickr. Retrieved from 
https://www.flickr.com/photos/canburak/32289794124/in/photolist-RckCQm-qvB7aX-5VjcDA-63quUU-7cZPA5-8P5RWr-76gUJu-9Prhve-71eBWb-5B3EdC-eKeP9x-arrsyy-5UMZau-6W78JB-9NLMH1-9NjVCt-2iAE9Za-5cSJJp-JPppgG-PEL9QL-GPfAPn-7MJ74J-Hj3UE9-2jJXdso-FNopiK-P7U1vq-GrfGqC-GczEK4-6YF4eB-HcuPbZ-7ixdZQ-FM6aQS-FPEnCW-GiYLDk-HQ3JTh-HQzavw-H2f15E-HK4sVL-GwF8qV-H77Ptb-GmpmcR-GvoZYt-H5ZD4M-FK5uAc-J9owje-FYcJVv-5RSLU9-FnqQ3G-HrKGSP-FnWCvJ 
Dough. (2019). Every Uber Payment Method, & How to Select Different Credit Cards. Retrieved from https://www.ridesharingdriver.com/uber-payment-options-select-different-credit-card/ 
Edel, S. (2011). Google map logo. Flickr. Retrieved from https://www.flickr.com/photos/findmycompany/5671575722/in/photolist-9DbiSj-5ekciF-JQ2agr-k6Zam-EK6y4-9D8pmg-2jSGpuZ-25DjViU-zQ8YW-WLaRjn-gd9LC-Jkcee-M3MYnV-5RiGL2-brsrVy-4vR6Dx-77WaNu-7RA3S-cVAFC-ayNh1Y-MnaMY-26EVifW-3sN72-26wpVo-KrzTjd-6hpXyN-25DjVfN-2jMXydC-eFdLAf-2hi4PQX-7raYQc-eF7Ef2-VwDSvz-eF7Egp-5aDu2T-9D8poi-eF7EgZ-NF58pc-eF7EhD-dopdg9-bHsdmK-8SLdfX-6aV3cG-WaQdgS-oiD7E-8SPgC1-4yrUMj-RHufg7-eFdLww-XGX9r 
Facebook enters transport business with Uber. (2015). Retrieved from https://www.bbc.com/news/business-35118639 
Johnson, S. (2020). The Value Case for Uber Technologies. Retrieved from https://foragerfunds.com/news/the-value-case-for-uber-technologies/  
Jao, N. (2020). Alipay releases annual individual user spending data. Retrieved from
https://technode.com/2020/01/06/alipay-releases-annual-individual-user-spending-data/ 
John, S. (2020). How to change your destination on Uber during a ride. Retrieved from https://www.businessinsider.com/how-to-change-destination-on-uber 
Khosrowshahi, D. (2018). A New App, Built For and With Drivers. Retrieved from https://www.uber.com/newsroom/new-driver-app/ 
Lyft, Uber, Zipcar profiled in Car Sharing Market to grow at 20% CAGR to 2024. By Top Players: Autolib, Car2Go, Getaround, Hertz Corporation. (2019). Retrieved from https://www.openpr.com/news/1574386/lyft-uber-zipcar-profiled-in-car-sharing-market-to-grow-at-20-cagr-to-2024-by-top-players-autolib-car2go-getaround-hertz-corporation.html  
Mejia, R. (2018). Lyft_Logo_Pink. Flickr. Retrieved from https://www.flickr.com/photos/154869810@N07/41772733955/in/photolist-23d8fcS-qAPX5B-gBJs4d-gqf2A8-gu75sH-ceQYxW-Sbni2S-RzcUha-DFAwhs-ifvnBV-2giSnkn-HcdJbD-FbsdkY-26DjbsX-Pv1gt9-YtcxJF-2gjqUzf-2jhax6J-2jhWTL6-2jhdoku-2ji27pt-2jghLYP-2gkC9eM-2ji26PF-2gjr89f-27CTSjm-27CTSKS-27CTS4S-2jghM6c-Wb3Mca-2jgCwGx-2jgCx4e-VgWH7C-2arEGCW-2hW93Qy-2hWpCzY-2hWrfsx-2hWrPp5-2jhWTy7 
Mascarenhas, N., & Wilhelm, A. (2019). Inside The Uber S-1: Who Owns What. Retrieved from https://news.crunchbase.com/news/inside-the-uber-s-1-who-owns-what/ 
Overblog. (2018). Download Uber Partner App For Blackberry. Retrieved from http://bulpatiwi.over-blog.com/2018/10/download-uber-partner-app-for-blackberry.html 
Requirements on the road. (n.d.). Retrieved from https://www.uber.com/au/en/drive/requirements/regulatory/ 
Thomas, L. (2016). Uber tech supplier Twilio set to test pubic markets. Retrieved from https://www.cnbc.com/2016/05/26/uber-tech-supplier-twilio-set-to-test-public-markets.html 
Top p2p car sharing Companies. (n.d.). Retrieved from https://www.ventureradar.com/keyword/p2p%20car%20sharing 
Tipping. (n.d.). Retrieved from https://www.uber.com/us/en/drive/driver-app/how-tips-work/ 
The Rideshare Hub. (2020). How Much I Made in ONE WEEK as an Uber Driver in 2020. Retrieved from https://www.youtube.com/watch?v=Qhoh4pXzXus