Even as the world digitally evolves at an astonishing rate, there is nothing that beats Facebook as one of the most recent innovations in digital technologies. The company, established as a social interaction site initially, has grown into a massive platform for various functions including advertising, communications and social interactions, among others. Thus, based on the influential role of the web 2.0 technologies, there is a critical analysis of Facebook and its transformative effects on online marketing, e-commerce and communications. Thus, this analysis features the historical and functional backgrounds of Facebook, including regulatory setbacks. Then there is the analysis of the brand's business model and internet ecology. Finally, there is a review of the unique transformative effects in the underlined capacities.
What is Facebook?
Facebook is a web 2.0 technology company that offers an interactive social networking platform for various activities, including interactions, communication, marketing and networking, among others (Moretti, 2012). Having started initially as a digital media brand that covered only a specific section of the Harvard University, the brand has progressed into global ranks as one of the leading digital companies in the world.
Headquartered in Menlo Park, California, United States, the entity has expanded among the top levels of the digital offering industry to provide various services across different other platforms such as Facebook App, Messenger, Whatsapp, Instagram, Oculus, Workplace, Portal and Novi. Facebook incorporates the necessary details to promote connected interactions across the world in the spirit of shared interactions (John, 2016). Facebook's CEO and founder, Mark Zuckerberg, have been pivotal in enhancing the digital transformative effects of the company across the internet society.
The Historical Background of Facebook
Facebook, as a brand, had humble beginnings. There are vast sources on the development of Facebook as a digital platform. Primarily, as Phillips writes for the Guardian on the brief history of Facebook, Mark Zuckerberg launched Facebook in 2004 as "The Facebook" gaining a rapid 1,200 users within its 24 hours of set-up in Harvard. Zuckerberg had substantial experience in the field of digital technologies and had already developed other social-networking platforms.
The "Facebook" buzz grew in prominence across Harvard and demanded beyond in other campuses such as Yale and Stanford wanted to join the trend (Brügger, 2015). The increasing demand compelled Zuckerberg into hard decisions. Upon its launch, then a psychology student at Harvard, Zuckerberg dropped out of college and moved to Silicon Valley to develop the platform (Croft, 2007). Since making this move, Facebook has systematically evolved and developed to enhance transformative digital components for the internet society across the world. From its inception, the digital app has gone through a series of evolutions to emerge as the most prominent social network worldwide based on the latest Statista's analysis.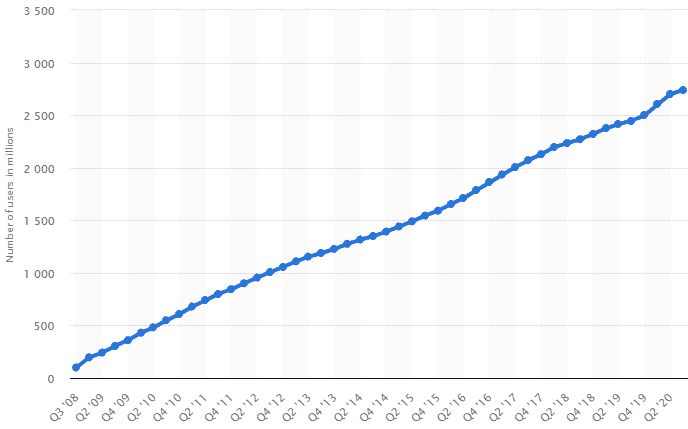 Nonetheless, as Facebook progressed, a series of regulatory setbacks became a reality. The platforms have gone through a series of evolutions to enhance the change of its digital features to suit the changing user needs (Kirmse, 2019). At the same time, the progress and success of the company have compelled its scrutiny, especially from its home country, the United States. Facebook has been embroiled in various cases of user data violations and a threat to the social wellbeing of the users.
As Carole Cadwalladr and Emma Graham-Harrison for the Guardian reveal, 50 million Facebook accounts were harvested in a major data breach incident by 2015. According to Byrd (2019), Facebook has faced criticism for handing unmitigated power in the hands of the few people. Thus, the company has faced increased regulatory watch recently from the US congress, independent regulatory watchdogs and international censorship from countries like China.
The company has tried to mitigate the setbacks through the introduction of such measures like user trustworthiness score (Coen, 2018). Conversely, breaking barriers in leading countries in internet usage such as China has been difficult (Wallis, 2011). The data breach has been the major undoing of the digital company.
Facebook's Enhanced Business Model
The central business model of Facebook depends on two major segments for the generation of revenue. Advertising is the company's largest revenue source, supported by other services such as payments. Owned by Facebook, Inc., Facebook's success has been mostly dependent on the application of an enhanced business model addressing its objectives and needs users' needs (Dolata, 2017). Facebook faces direct competition from enhanced organisations such as Amazon, Microsoft and Google as one of the market leaders in the provision of the services that Facebook harnesses its financial power.
Conversely, Facebook relies on an innovative approach to stay on the top of the pile in its sector. Its comprehensive platform provides creative means of addressing consumer needs. Its technological capacity has seen it retain top status in the technology area. Thus, Facebook's business model bases on the aspect of shared internet ecology that promotes interactive convergence of both private users and corporate organisations into a single environment for technological benefits (Zuckerberg, 2019). For this reason, the company ensures that it also addresses the needs of competing brands.
Recently Facebook has faced increased competitive threats from another similar web 2.0 platforms such as Twitter and the recent rise of China's TikTok. However, the competing brands do not possess a good base for dethroning Facebook's enhanced business sense (Weiner, 2010). Thus, the company targets advertisements and payments as the key segments in the generation of revenue. Furthermore, the brand's ability to leverage on the existing broad audiences has been instrumental in spearheading its business objectives.
Facebook's Internet Ecology
Internet ecology represents a wide range of technological innovations that wholesomely influence one another in its operations. The internet ecosystem directly impacts the cognitive levels of its users. Thus, the direct subjects of the internet ecology are the people who utilise its provisions (Smart, Heersmink, & Clowes, 2017). Facebook exists a vast internet ecology. The intertwined network of social platforms and organisations provide an enhanced ecosystem of mutual dependence as well as competition (Johnston, 2020).
Competition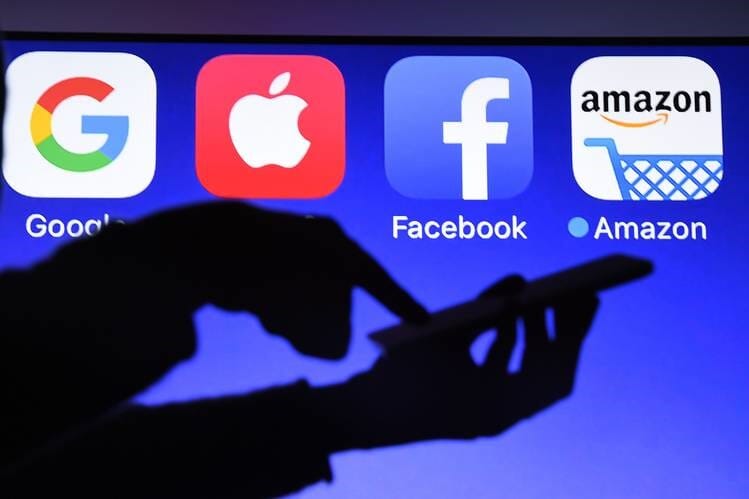 Facebook's internet ecology consists of the people two categories of technologies: those who pose a direct competition through the same interface and others that indirectly compete for the market revenue space. For instance, Twitter and TikTok provide similar interactive interfaces like Facebook, hence posing a direct competitive threat. On the other  hand, Google, Apple and Amazon indirectly compete with Facebook with different interfaces for the advertising market revenue share globally (Dolata, 2017). Generally, this relationship is typically mutual.
Interdependence
The interdependent internet ecological culture exists in various ways. For instance, Google is a direct competitor of Facebook, but its search domain provides access to Facebook on the internet. Apple and Amazon compete with Facebook for advertisement revenue, but Facebook hosts both Apple and Amazon official corporate pages on their sites.
Partners, Users and Suppliers
Facebook has various partners, including online payment systems such as PayPal and Mastercard. Another category of partners includes its social media subsidiaries such as WhatsApp and Instagram. Furthermore, the leading suppliers of Facebook entail the vast population of online users with individual profiles, who serve as the audience and publishers of user-generated contents and consume large amounts of advertisement messages. Besides, corporate organisations who utilise Facebook as an advertisement platform doubles up as significant users of Facebook's internet technology.
A diagram of Facebook's Internet Ecology: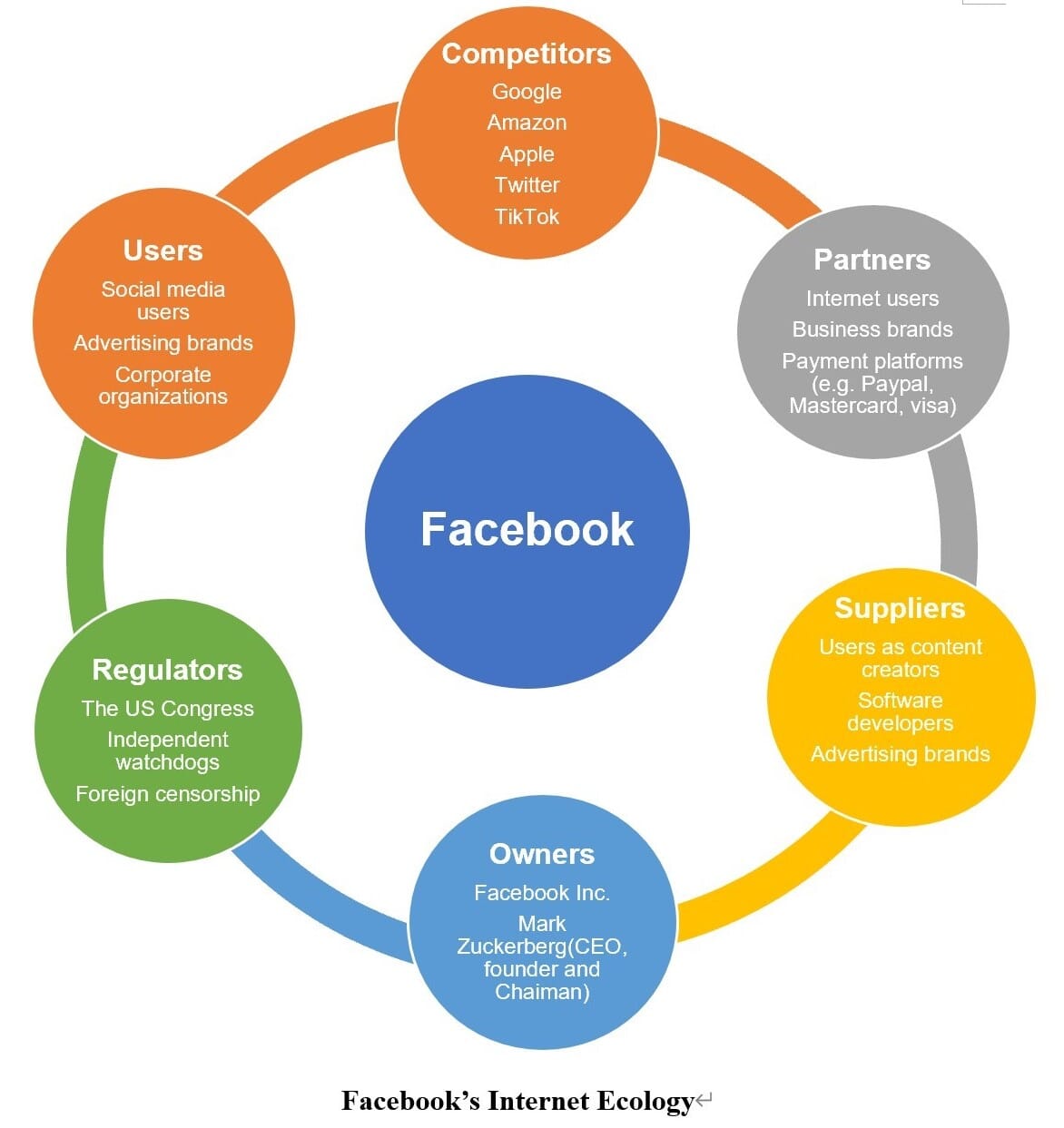 Facebook's Transformative Effects
Since its inception, Facebook has been hugely transformative effects. However, it is its remarkable transformations that have revolutionised business approaches in online marketing, e-commerce and communications (Deloitte, 2015). It has matched and ticked all the fundamental requirements of disruptive innovation (Christensen, McDonald, Altman, & Palmer, 2018). The economic impact of Facebook has been significant across the globe in aiding other companies, and brands reach their set market objectives in various ways. The central focus is on Facebook's marketing capacity, e-commerce and communications.
New ways of business model online
Facebook has heightened the marketing perception by taking it a notch higher and creating new forms of online business models. Traditionally, only established companies with large budgeting capacities were able to target the costly marketing media such as televisions and billboards (Sakas, Dimitrios, & Kavoura, 2015). However, Facebook has brought its own niche in online marketing (Ramsaran-Fowdar & Fowdar, 2013). Facebook leverages on a vast pool of users to create a suitable ground for the business and corporations that intend to reach mass audiences.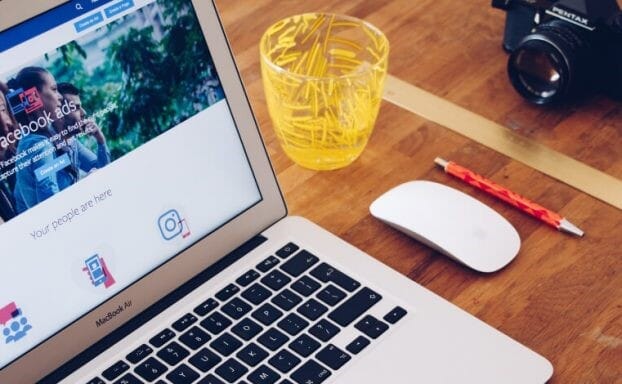 The over 1.3 billion active and connected users help in the identification of new products and services across local and international businesses (Deloitte, 2015). Facebook, targeting interconnected internet ecology, has optimised its user-interface that provides direct connections and interactions with popular and upcoming brands.
Facebook enables interactive exchanges between businesses and consumers, supports video sharing and targets its messages to specific user profiles that suit the product or service provision based on the available user data.
Thus, brands have largely benefited from this flexible strategy, which has seen Facebook emerge as a leading platform for promoting brand awareness (Sakas et al. 2015). Companies, both globally recognized brands as Coca-Cola to local brands such as Optus have all adopted Facebook's expansive platform.
Similarly, e-commerce has also been a substantial transformative aspect that Facebook has mostly influenced by creating new paths for various businesses. Even though leading conventional players like Amazon still dominate local markets in the US and globally, Facebook has provided a new avenue for companies. Facebook offers a display field for the various products that a seller sells online. According to Chard (2019), Facebook has a unique value proposition for businesses such that it generates curiosity and interests, which ultimately lead to the sales of their products.
While e-commerce has been on the rise across the world, Facebook has just provided its evolution into a unique transformative phase. Various brands in different sectors, such as Fashion and apparel products, have primarily benefited from Facebook's enhanced platform. This mutual sharing reflects an ecological interconnection on different levels and how it helps various players in the sharing ecosystem (John, 2016). For Facebook, this is possible because it focuses on a business model that allows other business to excel.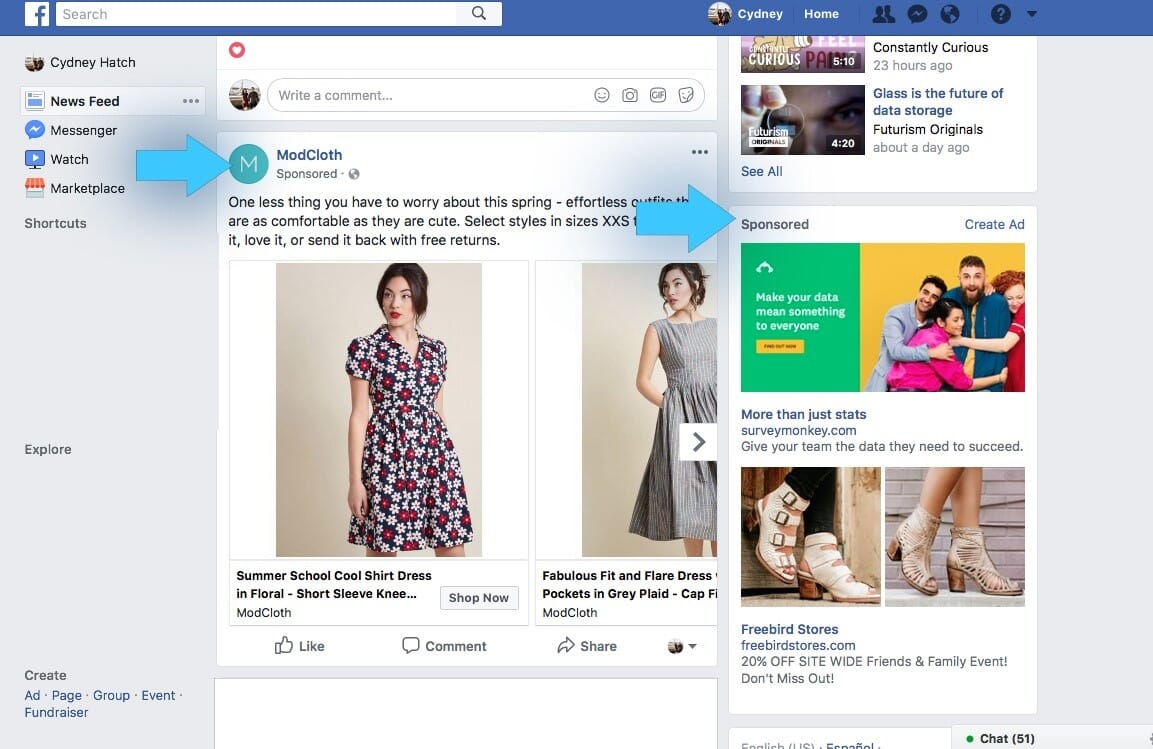 New ways of  communication
Facebook has also been revolutionary in transforming the way people communicate and enhanced how people relate socially. It is one vital area that the company has enhanced its transformative impact on the internet ecology. With its vast and connected audience, Facebook provides a communication hub of shared interactions, exchange of ideas, creation and sharing of new concepts and promotion of new products and services. As ascertained by Johnson (2016), the internet as a source of a culture of sharing promotes the social wellbeing of the users variedly.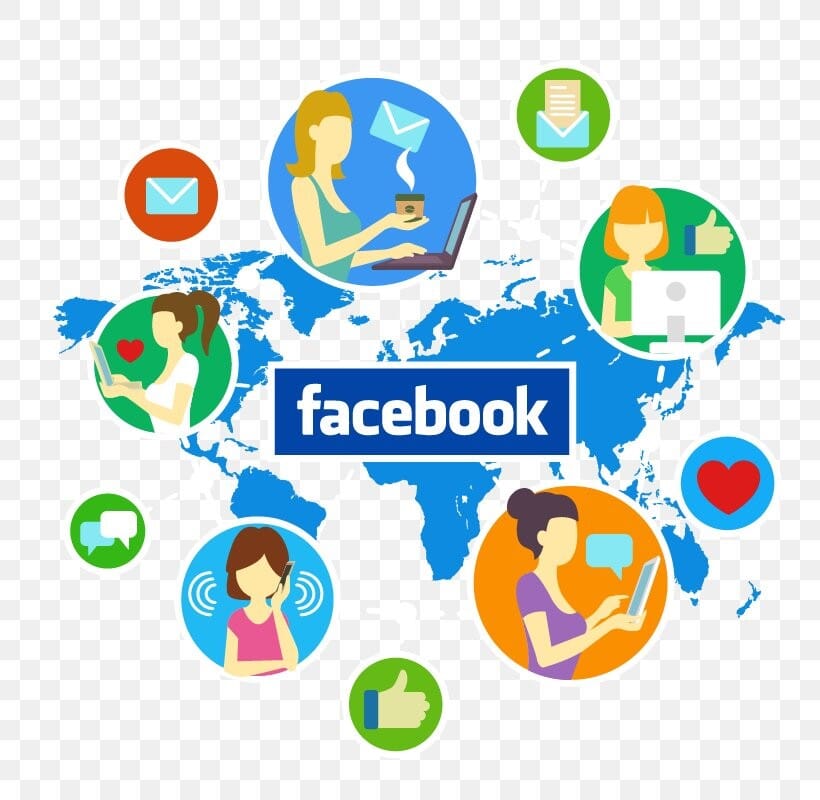 Sharing implies positive relations between individuals. Hence, Facebook banked on this concept to create an interactive ecology of sharing that promotes communicative exchanges variedly (Lofters, Slater, Angl & Leung, 2016). Facebook offers critical features that include direct messaging, commenting, and link sharing that are all instrumental for online marketing communications.
For the enhanced communicative ability and online presence, Facebook incorporates Instagram and WhatsApp support as its crucial subsidiary social media platforms.
The innovative communication plays a vital role in sustained relationships between brands and millions of users on Facebook's internet ecology.
Conclusion
Overall, Facebook has revolutionised the internet and business processes. Its impactful transformative influence has been widespread and beneficial. Companies and brands have leveraged on Facebook's features to advance their marketing and advertising needs, communications and engagement with consumers and e-commerce support. Nonetheless, these have mainly been possible through the aid of a shared internet ecology and connected Facebook communities. Thus, the internet ecological cooperation has been instrumental in aiding businesses to reach wider audiences via Facebook.
Reference List
Brügger, N. (2015). A brief history of Facebook as a media text: The development of an empty structure. First Monday, 20(5), pp.1-20.
Byrd, N. (2019). Facebook's Impact on Social & Emotional Wellbeing of Users: A Review. Master of Studies in Social Innovation, 1-20. DOI: 10.13140/RG.2.2.36647.29603.
Cadwalladr, C., & Graham-Harrison, E. (2018, March 17). Revealed: 50 million Facebook profiles harvested for Cambridge Analytica in major data breach. Retrieved from The Guardian: https://www.theguardian.com/news/2018/mar/17/cambridge-analytica-facebook-influence-us-election
Chard, T. (2019). Facebook Advertising for Ecommerce Entrepreneurs. Retrieved form: https://d1qmdf3vop2l07.cloudfront.net/grey-chinchilla1.cloudvent.net/compressed/5f4b5f1f81e691f986d6dab9b9745920.pdf
Christensen, C., McDonald, R., Altman, E., & Palmer, J. (2018). Disruptive Innovation: An Intellectual History and Directions for Future Research. Journal of Management Studies, 55(7), pp. 1-36. doi: 10.1111/joms .12349.
Clement, J. (2020, November 4). Facebook: number of monthly active users worldwide 2008-2020. Retrieved from Statista: https://www.statista.com/statistics/264810/number-of-monthly-active-facebook-users-worldwide/
Coen, S. (2018, August 28). Facebook has introduced a user trustworthiness score – here's why it should go further. Retrieved from The Conversation: https://theconversation.com/facebook-has-introduced-a-user-trustworthiness-score-heres-why-it-should-go-further-102060
Croft, C. (2008, December 18). A Brief History of The Facebook. Retrieved from https://charlenegagnon.files.wordpress.com/2008/02/a-brief-history-of-the-facebook.pdf
Deloitte. (2015, January). Facebook's Global Economic Impact. Retrieved from: https://www2.deloitte.com/content/dam/Deloitte/uk/Documents/technology-media-telecommunications/deloitte-uk-global-economic-impact-of-facebook.pdf
Dolata, U. (2017). Apple, Amazon, Google, Facebook, Microsoft. SOI Discussion Paper, 1-26. https://www.econstor.eu/bitstream/10419/152249/1/880328606.pdf.
ITV News. (2018, April 11). "I'm sorry," Mark Zuckerberg Tells US Congress Over Facebook Data Breach. Retrieved from YouTube: https://www.youtube.com/watch?v=O4TFXDniG9w
John, N. A. (2016). The age of sharing. Retrieved from ProQuest Ebook Central: https://ebookcentral-proquest-com.ezproxy1.library.usyd.edu.au
Johnston, M. (2020, November 5). How Facebook Makes Money. Retrieved from Investopedia: https://www.investopedia.com/ask/answers/120114/how-does-facebook-fb-make-money.asp
Kirmse, N. (2019, February 4). Facebook at 15: Key moments in the site's history. Retrieved from CTV News: https://www.ctvnews.ca/features/facebook-at-15-key-moments-in-the-site-s-history-1.4281876
Lofters, A., Slater, M., Angl, E., & Leung, F. (2016). Facebook as a tool for communication, collaboration, and informal knowledge exchange among members of a multisite family health team. Journal of Multidisciplinary Healthcare, 9, pp. 29-34. DOI: 10.2147/JMDH.S94676.
Moretti, M. (2012, July 3). The 10 Best Facebook Features Of All Time. Retrieved from Business Insider: https://www.businessinsider.com/best-facebook-features-2012-7?IR=T
Philips, S. (2007, July 25). A brief history of Facebook. Retrieved from The Guardian: https://www.theguardian.com/technology/2007/jul/25/media.newmedia#:~:text=In%20February%202004%20Mr%20Zuckerberg,undergraduate%20population%20had%20a%20profile.
Ramsaran-Fowdar, R., & Fowdar, S. (2013). The Implications of Facebook Marketing for Organisations. Contemporary Management Research, 9(1), pp.73-84. doi:10.7903/cmr.9710 .
Sakas, D., Dimitrios, N., & Kavoura, N. (2015). The Development of Facebook's Competitive Advantage for Brand Awareness. Procedia Economics and Finance, 24. pp. 589-597.
Smart, P., Heersmink, R., & Clowes, R. (2017). The Cognitive Ecology of the Internet. In S. Cowley, & F. Vallée-Tourangeau, Cognition Beyond the Brain, pp. 251-282. Springer International Publishing AG. DOI: 10.1007/978-3-319-49115-8_13
Wallis, C. (2011). New Media Practices in China: Youth Patterns, Processes, and Politics. International Journal of Communication, 5, pp. 406–436.
Weiner, N. (2010). Social Networks Evolving into Service Platforms – the Facebook-case from a Business Model Viewpoint. GI Jahrestagung, 527-532. https://subs.emis.de/LNI/Proceedings/Proceedings175/527.pdf.
Zuckerberg, M. (2019, January 24). Understanding Facebook's Business Model. Retrieved from Facebook: https://about.fb.com/news/2019/01/understanding-facebooks-business-model/