With the increasing need for socialising, the number of instant messaging software, represented by WhatsApp, Snapchat and WeChat, have proliferated during these years. Without a doubt, the most popular social networking software must be WeChat in China, not only for daily messaging, but also it covers almost every aspect of human life. Before, telephone numbers tied people's relationships closely. Nowadays, WeChat has dramatically transformed Chinese even worldwide people's lifestyle due to its innovation and convenience. The way people interacting, trading, participating in politics has experienced an incredible change on account of the emergence of WeChat.
This essay will firstly provide a brief introduction of WeChat and its historical background. Subsequently, WeChat's business model and ecosystem will be demonstrated and explained in detail. Therefore, how WeChat has gradually transformed us socially, politically and economically will be finally analysed respectively.
What is WeChat?
WeChat (also called "Weixin") is an instant messaging and calling application which is owned by Tencent, with 1206 million monthly active users in the second quarter of 2020 (Statistica, 2020). Besides the functions as a chatting tool, WeChat is also widely used for payment (QR code), posting photos (Moments), reading news (Subscriptions) (Tu, 2016). For instance, people can either click "Like" or respond to a certain post on "Moments" in order to interact with others (Wang et al., 2018). What is more, another two functions, making nearby friends and "sharing streaming content feeds" (Yang, Chen &Li, 2016) are also extensively used as the former is similar to Tinder. Forgetting about telephone numbers, just scanning the personal QR code, a lovely "chat travel" will begin. Therefore, WeChat has truly realised its slogan "WeChat is a lifestyle"(Sun, 2020).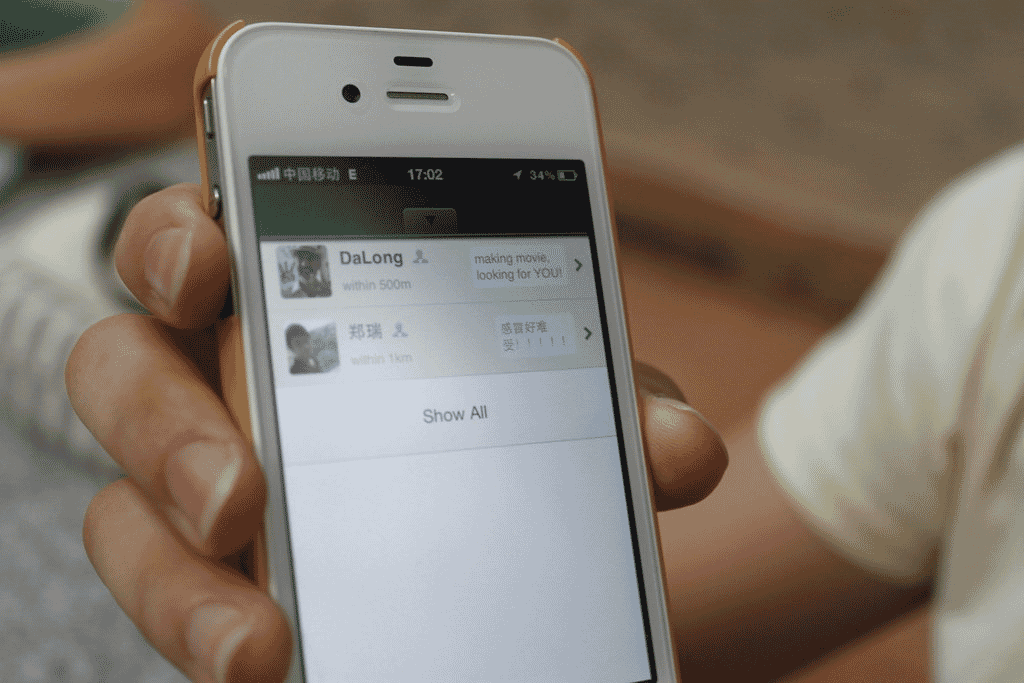 Figure 1: WeChat's People Nearby function by Philip McMaster PeacePlusOne_\!/ is licensed under CC BY-NC 2.0
Here is a two-minute video which vividly explaining what is WeChat.
The Historical Beginning of WeChat
Tracing back to the end of 2010, the Canadian company Kik launched a Kik Messenger and gain immediate success with 450 thousand downloads within 10 days (Harwit, 2017). A senior product manager from Tencent, Allen Zhang drew inspiration from the outstanding performance of Kik Messenger and proposed that they could imitate that and conduct a similar chatting application. Tencent Inc. founder, Huateng Ma approved Zhang's proposal and named "WeChat" for this project. As an innovative idea, the number of WeChat's team members gradually grew, and in January 2011 (Tencent, 2020), WeChat was finally launched on the iPhone, Android, and Symbian systems (Harwit, 2017).
The most attractive feature of WeChat initially, was free downloading and instant messaging. Users no longer paid to Chinese state-owned mobile phone companies. Instead, they downloaded WeChat for "text messaging, creating voice clips, and, sending photos" (Millward, 2018). In March 2012, the number of users of WeChat exceeded 100 million (Tencent, 2020). This tremendous data left all potential competitors including MiTalk (created by local mobile phone company Xiaomi) behind. With the introduction of WeChat Pay in August 2013, users experienced an exactly different payment method from before. It required users to bind their bank cards to WeChat, in order to achieve both online and cashless in-store payments (Millward, 2018).
According to Tencent's vision and mission,
"User value is our guiding principle, we strive to incorporate social responsibility into our products and services" (Tencent, 2020).
The design of WeChat is the best evidence since it is undoubtedly the most popular mobile application in China nowadays.
WeChat's Successful Business Model
In order to seek more opportunities and strengthen their marking position, many companies choose to apply new business models instead of conventional approaches. As Chesbrough and Rosenbloom (2002) mentioned, the business model was simply described as the method that companies used to generate revenue and sustain themselves. There are three dominant strategies that WeChat uses to consolidate its place:
1. The support from parent company Tencent (Lianghao, 2017)
QQ (Tencent's first chat software) was launched in 1999 (Cantale & Buche, 2019), depended on its huge user base, WeChat has accumulated a large number of QQ users at the begging of its launch. This is the reason why WeChat gained 100 million users in approximately one year.
2. Emphasize on sharing
John (2016) argued that sharing our emotions and ideas on social media was beneficial for interpersonal relationships. "Moments" (also known as "Friend circle") allows users to show their daily life, either pictures or plain text (Wang et al., 2018). Also, similar to Instagram and Twitter, young people actively participate in Moments sharing because of the function "Like". Montag, Becker and Gan (2018) found that the number of "Likes" people received was proportionate to the level of self-esteem. Thus, a growing number of users are willing to share their life attitude or just interlude of their lives. 
3. The online-to-offline (O2O) model
According to Mao, Song and Yu (2015), the O2O model combines online shopping and offline consumption together, consumers are allowed to purchase items online without geographical restriction.
"Nowadays, WeChat is the most popular social networking information platform in China; it is evolving to be a major commercial trading platform by virtue of the fusion of the mobile e-commerce, social relations and customer experience (Mao, Song & Yu, 2015)."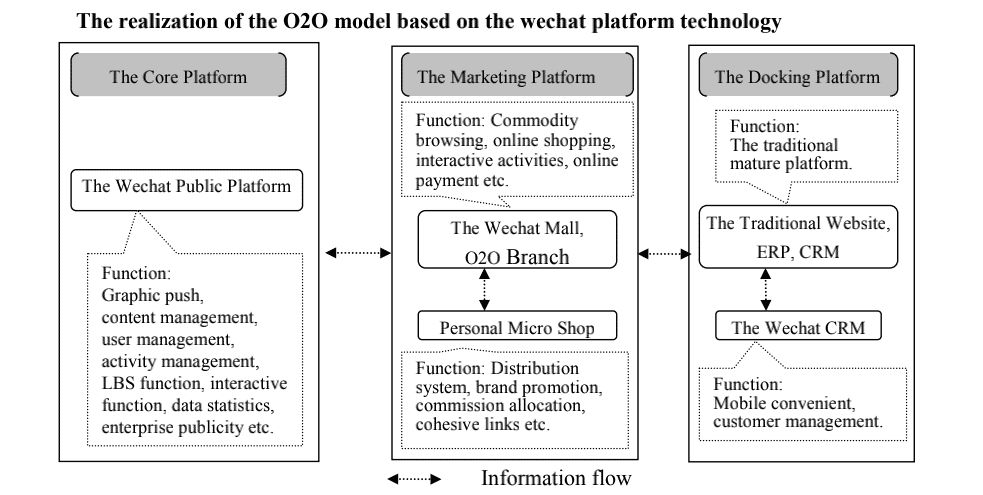 Figure 2: The Realization of the Wechat Platform System of O2O Model. Image: Mao, Song & Yu (2015). All Rights Reserved
QR code payment has covered most urban regions and some rural areas of  China. Therefore, relying on the O2O model, the mobile phone has become a digital wallet (Linghao, 2017).

WeChat's internet ecology
Owners
WeChat is owned by Tencent (CEO: Huateng Ma), developed and launched by Allen Zhang (Harwit, 2017).
Users
WeChat is designed to facilitate all age groups by providing a range of functions. Figure 3 exhibits that in 2019, everyone of all ages participated in WeChat, especially people under 24 years old (33.55%) and people between 25 to 30 years old (25%). However, the young generation didn't dominate the whole market since the number of users over the age of 41 occupied 19.1 percent. Therefore, WeChat is suitable for all age groups who are in need of socialising.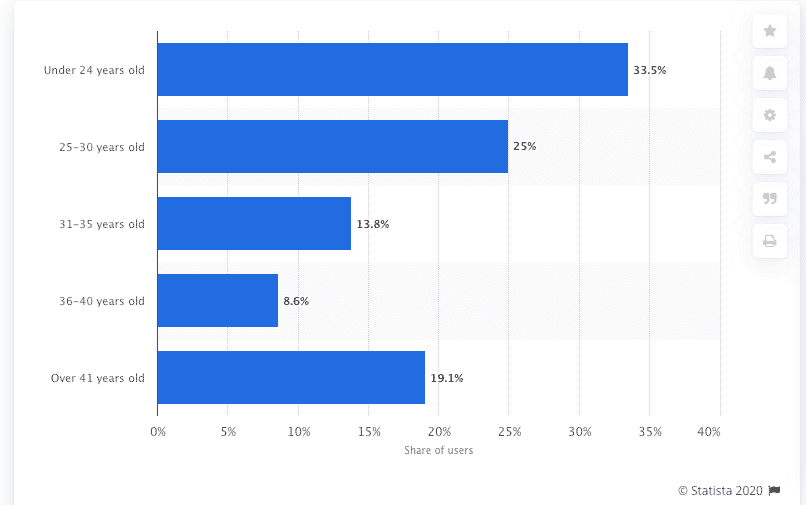 Figure 3: WeChat user age distribution in 2019. Image: Lai Lin Thomala. All Rights Reserved
Partners and Competitors
Tencent Video, QQ Music, Tencent Literature have a partnership with WeChat since they are all operated by Tencent. Besides, some restaurants brand such as Starbucks also cooperated with WeChat to boost revenues (Trefis, 2016). Additionally, some shopping, entertainment and taxi-hailing apps have collaborated with WeChat too.
In terms of competitors, it is undisputed that QQ possesses a parallel competitive relationship with WeChat as their market positioning is similar. However, other instant messaging platforms such as Line, Messenger and Whatsapp are direct competitors of WeChat in overseas markets. Moreover, WeChat operated WeChat Pay targeting directly with Alipay to dominate the Chinese market.Suppliers People are capable to download WeChat on the application store, for instance App Store for iPhone users, and Android Market for Android Phone users.RegulatorsChinese network supervision department and the Chinese Government take the role of regulators. In addition, WeChat users are also welcomed to offer suggestions and supervise the whole platform.
WeChat's ecosystem map is shown below: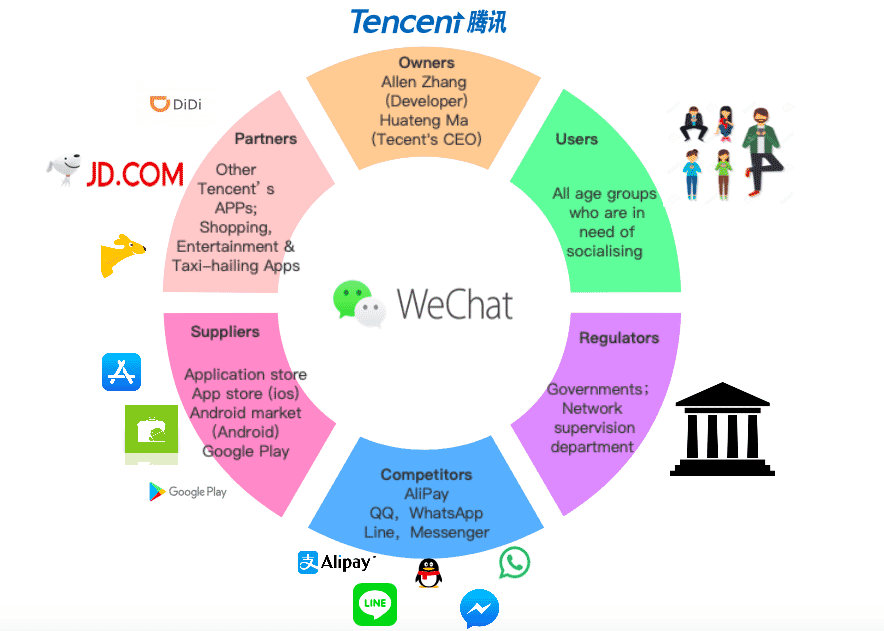 WeChat's transformative Effects
Socially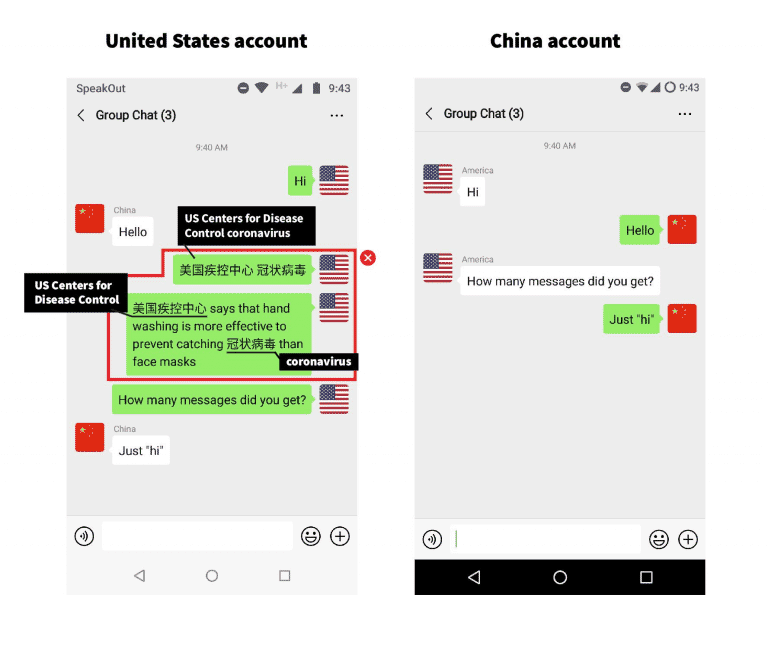 Figure 4: Censorship of COVID-19 keywords. Image: Miles Kenyon. All Rights Reserved.
However, the political information within WeChat stimulates uses' positive discussion towards the Chinese party (Yang & Men, 2019). Some government official accounts such as the People's Daily get to know how the public feels and listen to their thoughts via WeChat. Before the emergence of WeChat, people reflected on social issues by calling complaint hotlines or going to the local government. Nowadays, citizens can make complaints via WeChat, simply fill in personal information and type details of complaints. Therefore, most users hold positive views towards the Chinese Government.
Economically
Unlike the past, many businesses have begun to combine both "traditional e-business platforms (Taobao) and social networking communications (WeChat)" (Yang, Chen & Li, 2016) in order to foster good relationships with potential customers by commenting or "liking" their posts. In other words, WeChat provides a commercial platform for merchants to develop a new business model that concentrates on both business and friendship relationships (Yang, Chen & Li, 2016).
Moreover, WeChat Pay was launched as a mobile payment method in 2013 (Plantin & de Seta, 2019). In order to popularise WeChat Pay, WeChat cooperated with the Chinese Spring Festival Gala in 2015, and gained "200 million users bind their bank card with WeChat Pay" (Chen, 2019). This novel scheme combined Chinese traditional festivals with media platforms, led to an increasing number of WeChat Pay user base (Plantin & de Seta, 2019).
With the popularisation of QR codes, a cashless society is already here, not on the horizon. For WeChat users, the only thing to do is to scan the QR code, mobile payment is made successfully.
Conclusion  
To sum up, as one of the most popular applications in China, WeChat has positively transformed the way we live in the digital world. With regard to its novel business model, WeChat emphasises on users' sharing and online payment experience. Furthermore, in the social aspect, WeChat encourages users to interact actively and share content with others. In terms of the political dimension, government official accounts on WeChat are allowed users to make complaints conveniently. However, our message contents may be monitored due to Chinese censorship. Ultimately, sellers take advantage of WeChat to develop friendships with customers, and WeChat users are all enjoying the convenience of QR code payment.
Reference List
Cantale, S., Buche, I. (2018). How Tencent became the world's most valuable social network firm – with barely any advertising. Retrieved from https://theconversation.com/how-tencent-became-the-worlds- most-valuable-social-network-firm-with-barely-any-advertising-90334
Chen, T. (2017). A Super Bowl for Chinese tech companies- The Spring Festival Gala
Retrieved from https://walkthechat.com/a-super-bowl-for-chinese-tech-companies-the-spring-festival-gala/
Chesbrough, H., & Rosenbloom, R. (2002). The role of the business model in capturing value from innovation: evidence from Xerox Corporation's technology spin-off companies. Industrial And Corporate Change, 11(3), 529-555. doi: 10.1093/icc/11.3.529
Harwit, E. (2017). WeChat: social and political development of China's dominant messaging app. Chinese Journal of Communication, 10(3), 312–327. https://doi.org/10.1080/17544750.2016.1213757
John, N. A. (2016). The age of sharing. Malden, MA: Polity.
Kenyon, M. (2020). WeChat Surveillance Explained. Retrieved from https://citizenlab.cz/2020/05/wechat-survillinace-explained/
Lianghao. (2017). Business Model of Wechat and Its sucess factors. Retrieved from https://medium.com/@lianghao.gao/business-model-of-wechat-and-its-success-factors-ce72d0f550fa
Mao, A., Song, Y., & Yu, J. (2015). The Realization of the O2O Model in Mobile E-Commerce Based on the Technology of the Wechat Platform. Applied Mechanics And Materials, 743, 641-645. doi:10.4028/www.scientific.net/amm.743.641
Martin, F. (2019). The Business of News Sharing. In F. Martin & D. Tim (Eds.), Sharing News Online: Commendary Cultures and Social Media News Ecologies (pp. 91–127). Cham, Switzerland: Palgrave Macmillan.
Millwrad, S. (2018). 7 Years Of WeChat. Retrieved fromhttps://www.techinasia.com/history-of-wechat
Montag, C., Becker, B., & Gan, C. (2018). The Multipurpose Application WeChat: A Review on Recent Research. Frontiers In Psychology, 9. doi: 10.3389/fpsyg.2018.02247
Plantin, J., & de Seta, G. (2019). WeChat as infrastructure: the techno-nationalist shaping of Chinese digital platforms. Chinese Journal Of Communication, 12(3), 257-273. doi: 10.1080/17544750.2019.1572633
Statistica (2020). Number of active WeChat messenger accounts Q2 2011-Q2 2020. Retrieved from https://www.statista.com/statistics/255778/number-of-active- wechat-messenger-accounts/
Sun, Y. (2020). WeChat: A Life Style. Retrieved from:https://www.globalchinainsights.nl/articles/wechat-a-lifestyle
Tecent (2020). About Us. Retrieved from https://www.tencent.com/en-us/about.html#about-con-1
Trefis (2016). Here's How A Partnership With WeChat Can Drive.Revenues For Starbucks In China. Retrieved from https://www.forbes.com/sites/greatspeculations/2016/12/12/heres-how-a-partners hip-with-wechat-can-drive-revenues-for-starbucks-in-china/?sh=5ec67ad16df2
Tu, F. (2016). WeChat and civil society in China. Communication and the Public, 1(3), 343–350. https://doi.org/10.1177/2057047316667518
Wang, Y., Nie, R., Li, Z., & Zhou, N. (2018). WeChat Moments use and self-esteem among Chinese adults: The mediating roles of personal power and social acceptance and the moderating roles of gender an age. Personality And Individual Differences, 131, 31-37. doi: 10.1016/j.paid.2018.04.012
Yang, A., & Men, L. (2019). Political information use on WeChat and political discussion in China: toward a networked political discussion model. Chinese Journal Of Communication, 13(2), 129-147. doi: 10.1080/17544750.2019.1618354
Yang, S., Chen, S., Li,B. (2016). The Role of Business and Friendships on WeChat Business: An Emerging Business Model in China. Journal of Global Marketing, 29(4), 174–187. https://doi.org/10.1080/08911762.2016.1184363