Introduction:
Tiktok is a revolutionary social networking software as it has completely changed the way people consume videos.Although it is only 4 years old,it's expansion rate on user base and market share is staggering and unique.It has brought a brand new way of how people interact with each other.It's business model on brand marketing is also revolutionary.
However,Tiktok is criticized for it's failure to regulate hate speech and stealing private information of users.It also triggered political debate regarding to the recent ban of Tiktok in USA and other countries.I will discuss the reasons behind the rapid development of Tiktok and transformation it has brought to the internet.I will also discuss the political and societal debate arise about this revolutionary software.
What is Tiktok?
TikTok, known as Douyin in China, is a creative short video-sharing software owned by Bytedance which was originally launched in China in September 2016(Isaac, 2020) .Tiktok users create short video on music, lip-synching, dancing , outfit,comedy and talent between 3-15 seconds(Schwedel, 2018).Tiktok provides users with creative tools such as "stcikers", "GIF", "Filter", "augmented Reality", "Split Screen".In 2017, it stood out and became a dark horse from a host of short video app competitors(Hayes, C., Stott, K., Lamb, K., & Hurst, G. ,2020).
A brief History of Tiktok
Tiktok evolved from an app named Musical,ly invented by Alex Zhu and Luyu Yang in 2014 that allows users to post 15 second lip-sync of pop songs.
Firstly,Douyin was launched in the 2016 in China as a short video-sharing app and it rapidly captured East Asian market.On 9,Nov, 2017,ByteDance purchased Musical,ly for $1 billion dollars and entered the U.S market.
In 2018, American celebrities like Jimmy Fallon and Justin Bieber set up accounts on TikTok.In 2019 ,Tiktok surpasses YouTube ,Facebook and Instagram to become the most downloaded apps.(Mohsin, 2020).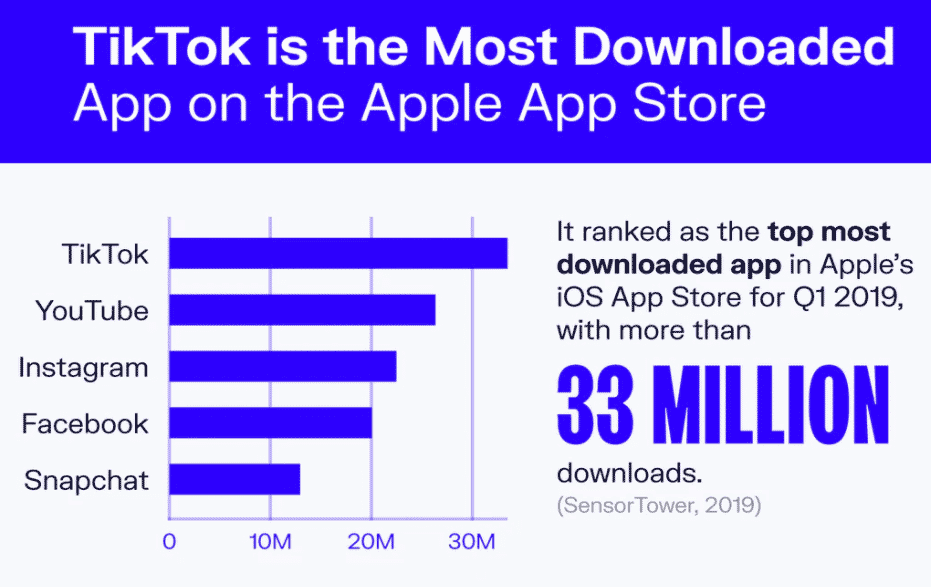 One of the most transformative aspect of Tiktok is that it has made thousands of ordinary teenagers to internet fame ,such as Charlie D 'Amelio .She began posting dance videos on TikTok in 2016.By July 2017,she has gained 71 million followers on TikTok which equals to the entire population of the United Kingdom.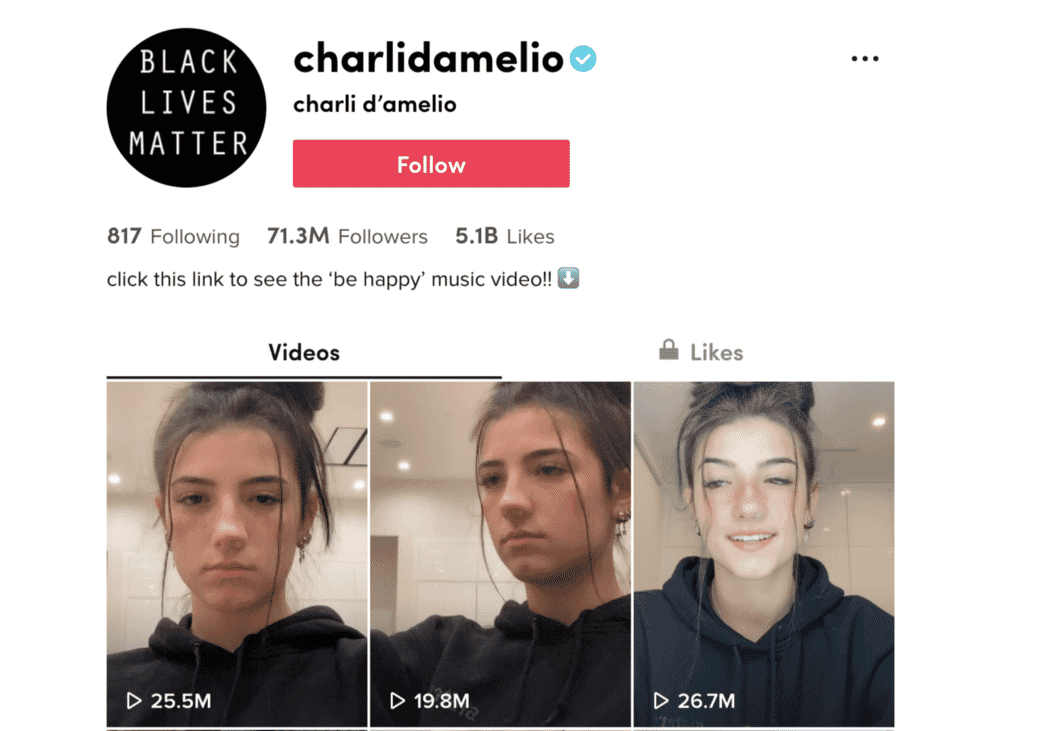 Influencer marketing -Tiktok's revolutionary business model
How brand marketing on Tiktok:
1.Brand acquisition advertising
When the users firstly open the TikTok app, a 5-second static or animated ad will appear.These brand acquisition ads direct users to the brand web page or TikTok account.This type of AD costs up to $50,000 /AD.
2.In-Feed Native video ads
The ads will be automatically played between videos of user-generated contents when users slide the page.These ads link users to landing pages or app stores similar to Instagram story ads.
 
3.Branded Hashtag challenge
Brand or business sponsored a promotion hashtag or challenge to attract users to create and engage around the tags.
4.Partnership with influencers
The biggest difference from Tiktok and other social media apps is that it has highly loyal and active audience.All the creators of Tiktok have very loyal followers and they will purchase almost any products and brands promoted by influencers they love.TikTok recorded its highest revenue in October because of an approximately 275% increase(=$3.5 million) in in-app purchases(Jennings, 2020).
In-app purchases are in the form of "COINS," which purchased by fans in real currency value to send virtual gifts to TikTok influencer they like when the influencers are doing live streaming (Jennings, 2020)Tiktok also launched a shopping cart feature, which allows popular users to create personal e-commerce pages that other TikTok users can browse and purchase through.In 2018, Bytedance teamed up with alibaba and added a "Shop Now" feature to Douyin that enables users to embed links to products in their videos and it has generated US $29 million revenue in a single day(Hale, 2020).
The Internet Ecology of Tiktok
Looi(2001) defines Internet ecology as the interaction between different agents in an organized online system.In innovative internet ecosystem,the boundary between users and enterprise partners keeps blurring and the openness of ecology increases(Ortiz, Ren, Li & Zhang, 2019).
*Competitors:
The main competitors Tiktok is facing are Likee,Triller,Dubsmash and Byte(Koetsier, 2020).Likee has more new app installs over the last six months than Triller, Dubsmash, and Byte.On 14 September,YouTube launched a new short- video feature called Shorts to compete with Tiktok(Perez, 2020).Instagram launched Reels, a short video feature designed to compete with the fast-growing TikTok on August 5(Bursztynsky, 2020).
Triller, Byte, Dubsmash and now Instagram — there's no shortage of rivals circling to grab a slice of troubled TikTok's teen-centric platform for short-form videos, but can any of them come out on tophttps://t.co/nrINr4khrg

— AFP News Agency (@AFP) August 12, 2020
*Users of Tiktok:
Tiktok has conquered teenagers around the world, with 13-24 years old accounting for 69% of Tiktok's user base.Brazil is the third largest and fastest growing market, with 8.6% of downloads(Bursztynsky, 2020).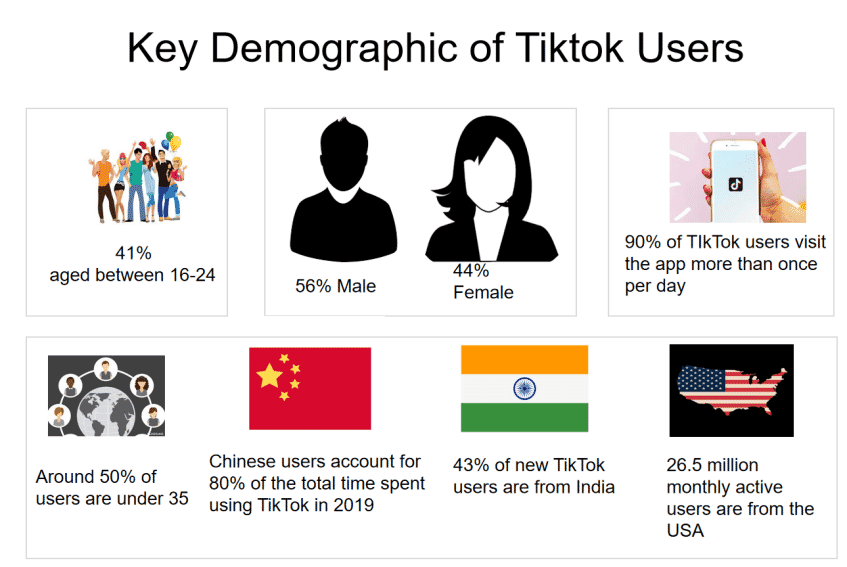 *Regulation body of Tiktok
Tiktok is self-regulated by its censorship mechanism that all contents of video will be reviewed manually before it is published.Meanwhile,Tiktok is under the supervision of regional regulation laws of government.Tiktok signed up to the EU code of practice against online hate speech in June(Bursztynsky, 2020).
Below is a news reporting on the sign up of Tiktok to EU Code of Conduct

*Ownership
Bytedance directly controls Tiktok and TikTok is indirectly related to other portfolio of platforms owned by bytedance.Bytedanc had announced a deal with Oracle and Walmart to prevent the Tiktok from shutdown in the US,composing a new US company called Tiktok Global.Oracle and Wal-Mart will own 20% and Bytedance will own 80%(Bursztynsky, 2020).
*Partnership
Brands do production promotion and influencer marketing on Tiktok. Douyin has a function that allow users directly linked to TaoBao(China's largest online shopping platform)by simply clicking on purchase links of products promoted in the video.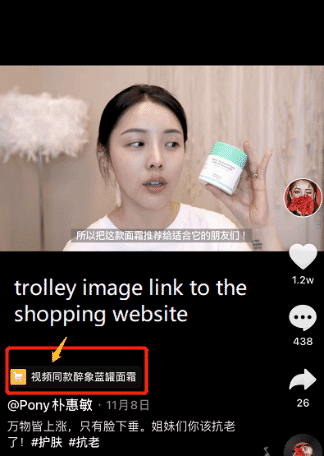 Below is a diagram illustrating internet ecology of Tiktok: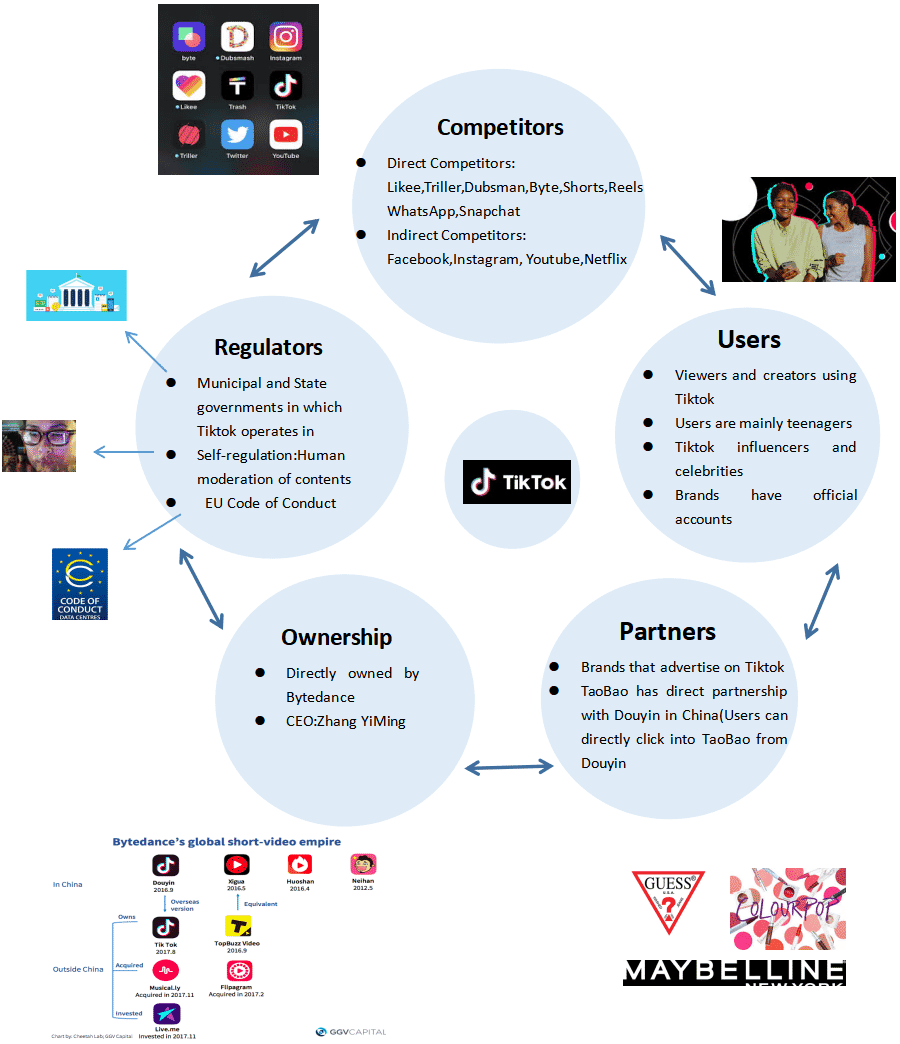 Tikok&Sharing ecology
John, n.d(2018) states that "this is an age of sharing because "sharing" represents the cutting edge of our digital media-saturated capitalist society and economy and the way we interact online."Sharing is the basic activity and primary self-marketing mean of social media.The establishment of the Tik Tok relies on sharing ecology theroy(Mancini & Hallin,2012).
Tiktok's slogan is "Record a good life "(Xu, Yan & Zhang, 2019)that encourages the users to share the highlight for their life (John, n.d,2018).
Tiktok allows interaction with users on other platforms through functions like ' Duet 'or' 'Stitch '(creators add themselves to others videos to make collabs, remixes, spoofs,etc) and' React '( film reaction to others video ).TikTok offers a 'live video' feature to enable social interaction between users and creators in real time.(Hayes, Stott, Lamb & Hurst, 2020).
Unlike some other phone apps (like Snapchat) , Tiktok allows content sharing across popular SNS platforms include Twitter, Instagram,WhatsApp, and Facebook Stories,etc.The sharing feature enhance global reach and public engagement and make videos available to people who don't have TikTok accounts(Hurst, 2018).
There's No Way my Smackalicious sauce came in the mail today 😳 #TheresNoWay #TikTok #Seafood #CookingWithCoach pic.twitter.com/aNEyqDPPq8

— Wes (@iamwesjordon) January 6, 2020
An example of the "Duet Video"on Twitter
AI Algorithm -You see what Tiktok wants you to see
The key factor in users' obsession with Tik Tok is that artificial intelligence technology.
Audience behavior is primarily determined by individual needs and interests(Yu, 2019).
The powerful big data mining of TikTok can analyze audience's income level,potential demands, consumption preference and behaviour.TikTok has personalized recommendation alogoritm to distribute video content that best matches users' interests and preferences(Yu, 2019). The "For You" page on TikTok is a perspnanlized video feed that make recommendations specially for 'you' depending on users activities on Tiktok(Wu,2017).By simply sliding the homepage,Tiktok will pop up the video you prefer.Contents on 'For You'are generated by artificial intelligence (AI) technology based on the type of content the user likes, interacts with, searches for and duration of watching that largely increase user frequency. Users can also add videos interest them to favorites or choose to block "not interested" videos on For You page.(Wu,2017)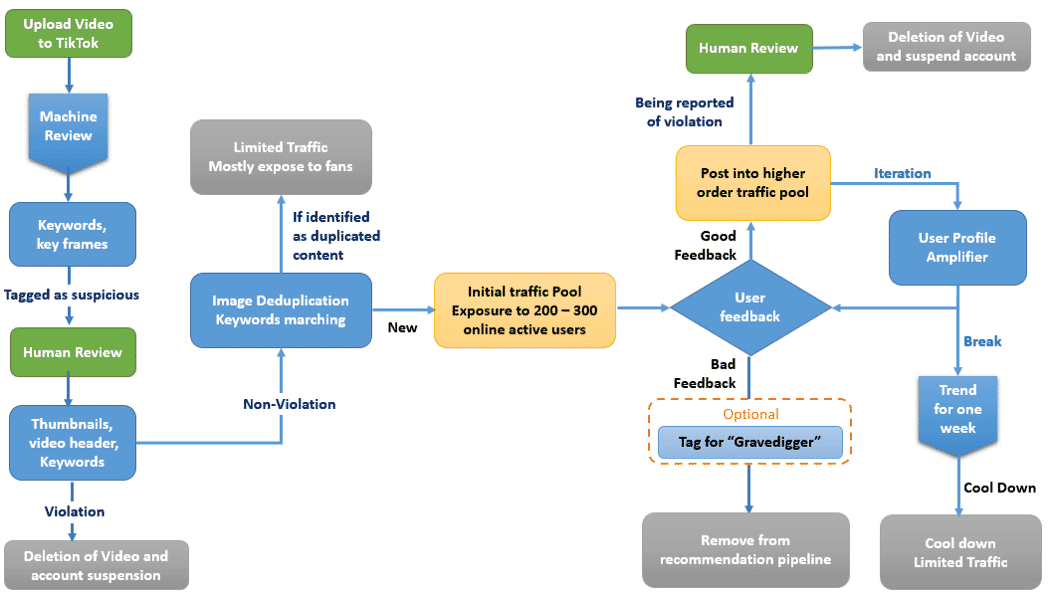 Recommendation Workflow of Tiktok— Created by Catherine Wang, All Rights Reserved
Privacy concern
On February 27, 2019, the U.S. Federal Trade Commission imposed a fine of US$5.7 million on Tiktok for violating the Children's Online Privacy Protection Act.Tiktok collected personal data from children under the age of 13 and let them sign up to Tiktok without parents allowance(Lieber, 2020).On 27 Nobvember, 2019, Tiktok was accused for "including Chinese surveillance software." by a group of Tiktok users in Califronia (Koch, 2020).The lawsuit alleged that Tiktok use facial recognition to collect biometric data (such as facial geometry)from videos uploaded without users' permission.In response to privacy concerns, Tiktok has imposed "view-only" restrictions on U.S. users under the age of 13, banning features such as sharing personal information, sharing videos, commenting on videos, leaving messages for users, maintaining profiles or fans.Tiktok's latest policy also states that only contents created by users over the age of 16 will appear on the "you" page(Blake & Abdollah, 2020).
Toxic environment
Toxic culture is widely spread because of the permeability and fluid nature of Internet(Massanari, 2016). Tiktok has been accused of the wide spread hate ideologies within the app including neo-Nazism and white supremacy(Shead, 2020).In July, the BBC crtisized that TikTok's algorithm was facilitating the use of anti-Semitic death camp memes.Although Tiktok removed all the related videos, a video containing a "disgusting" anti-Semitic song has garnered 6.5 million views(Shead, 2020).
Listen to the following audio to know more about the hate speech and national security issues on Tiktok

Tiktok's recommendation algorithm system favors slim and "pretty" creators, and block contents from users deemed 'too poor, ugly or disabled".This has led to the popularity of videos with unrealistic aesthetic standards.
Viewers feel shamed on their bodies because of the lack of physical and racial diversity of the content presented to them, while creators face guilty for confidently posting about themselves(Alkhawaja, 2020).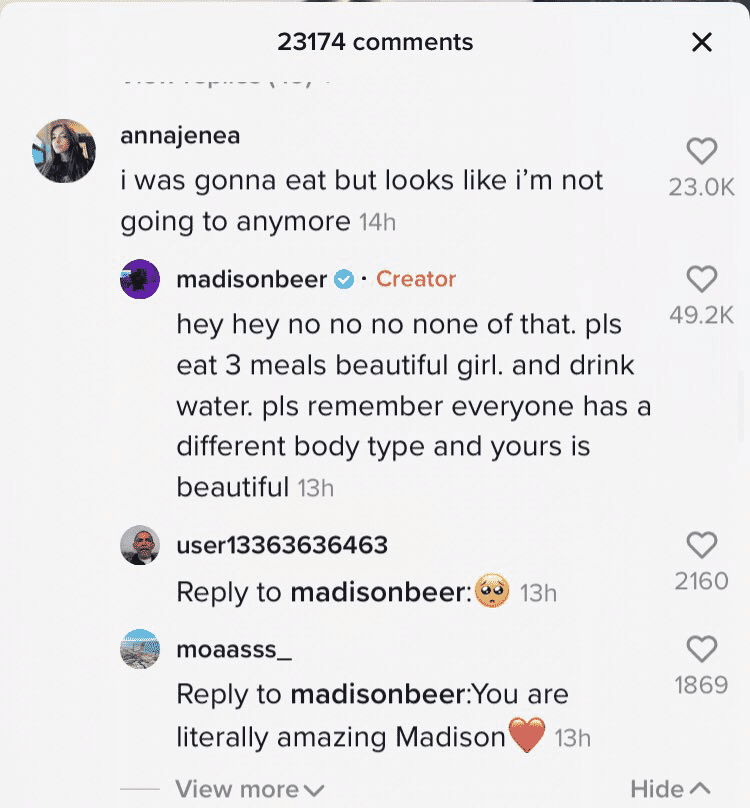 In June ,Tiktok signed up for the EU Code to tackling online speech which is positive action in in terms of regulation . However,I haven't found any analysis or data to show the effectiveness of this regulation on the moderation of Tiktok's hate speech.
It is worth noted that the significant rise of hate on TikTok during the pandemic. Unlike all other social media TikTok' s users are almost all young children and teenagers who are more naïve and gullible when it comes to malicious contents.#arin2610 @VeraJourova https://t.co/3s6NttpISP

— Esther Mao (@Esther480111308) November 15, 2020

Twitter created by Esther Mao on Twitter
Tiktok-A Chinese Spy?
Information is dangerous because it can act as a tool to promote coordination and protests which threats survival of political entities(Roberts, 2018).
Members of Congress have raised national security concerns about TikTok's rapid growing influence.On 29 June 2020, TikTok and 223 other Chinese applications were completely banned in India for "undermine India's sovereignty and integrity, defence and national security" (Jane, 2020).On 6 August , 2020, U.S. President Donald Trump signed an executive order to ban TikTok in U.S ,claiming the apps for "capture vast swaths of information from its users", which could allow "The Chinese Communist Party obtain personal information of Americans"(Tidy & Galer, 2020).
Notably, the countries that have announced a ban on Tiktok have strained relations with China. Relations between the US and China have been tense since the trade war, with Indian and Chinese troops border clashes and UK opposition to new security laws in Hong Kong (Tidy & Galer, 2020).
To find out more about the ban and political controversy on Tiktok,watch the video.
Conclusion
Despite all the debates arising about Tiktok,the transformation it has brought to the internet is undeniable.Tiktok gives every ordinary person a chance to become 'famous' and offer brands innovative way of influencer marketing.So far, no competitor has found the secret of mix of features, algorithms, influencers, creators and monetization which made TikTok a star.TikTok is the first China social media app to gain a major foothold on international basis and it has significantly impact popular culture internationally .The significance of its impact have been unimaginable in 10 or even 5 years ago.TikTok isn't just an app to impress Gen Z — it's the potential social media frontier of the future.