In the context of the prevalence of the Internet, capitalists have begun to have a broader stage to change the world, thereby changing all aspects of people's lives. Uber Technology, Inc is such a transformative company. As a market leader, it harnesses both internet and social sources to offer the best riding services to people globally. While Uber is gaining popularity among the mass public, a new Internet business model has gradually emerged, followed by many discussions about regulatory issues and social impacts. As such, this web essay will critically analyze how Uber transforms our society and how its success to gain large benefits through its highly efficient business model. 
What is Uber?
Uber is a San Francisco based digital platform company which offers on-demand transportation-like services for customers. By using the mobile app, individuals are allowed to make a request for rides from the private drivers who have cars, also other services such as food delivery, cargo shipping and so on (Uber, 2020). 
"Ride-sharing" as Uber's core business, emphasizes peer-to-peer innovative mode to maximizes the utilization of spare vehicles and improves transportation efficiency. However, I would argue that the term "sharing" here is not the natural and innate behavior of human beings "motivated by joy" (John, 2018: 74), although Uber makes vehicle sources available to everyone. Rather, a single transaction happened between customers and the driver, and it suggests what the technologies combined a new hidden crowd-based capitalism (Sundararajan, 2016: 19). That is, the sharing economy by using digital platforms to consume for "sharing purpose" (John, 2018: 76).
The Grown History of Uber
Uber was originally a platform built because two young people realized that they could not get a cab in a snowy night of Paris. In 2008, Travis Kalanick and Garrett Camp started their journey to fix the inconvenient problem, and they developed the first version of Uber platform which named Ubercab. The company's concept was raised by Camp: with the mobile app installed in the user's phone, a small tap of button on Ubercab can make a booking to get a ride, no matter where the user is, the GPS system will identify the location so that drivers can match the users (Business Insider, 2014). However, Ubercab abandoned traditional taxis and switched to hire private drivers who have comfortable and luxury cars, thereby improving customers' riding experiences.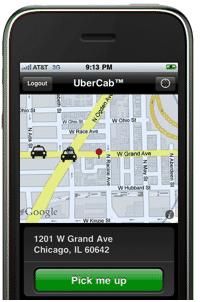 Picture showing Ubercab application
Image: Richard Read, The Car Connection, All Rights Reserved.
In the summer of 2010, Ubercab was launched in San Francisco, and it first became a mobile app that connects online users with physical world's drivers. The concept of Ubercab has rapidly obtained the wide attention of funders. In the same year, the company received their first $1.25 million seed money founding from Kalanick's friend Chris Sacca and later on they obtained $11 million in A series of funding rounds in 2011(Inc, 2015). Ubercab then gradually expanded its services globally, but the company was accused of being a taxi company due to the name "Ubercab" and thus should be completely controlled by the traffic department. In response, Kalanick deleted the "cab" from the company's name to avoid too many regulations. 
In 2012, Uber has expanded its service to provide cheaper riding options UberX for customers by using non-luxury cars, focusing on the convenience and cheapness of car-hailing. Unlike the traditional cab company, Uber hired a private driver for up to $800 at the beginning. In order to reduce costs, Camp proposed to borrow other people's property to split the cost to different people (Business Insider, 2014). This idea then has become the prototype of Uber's sharing economy business model. 
How Does Uber's Innovative Business Model Work?
1. The sharing economy between strangers.
Since users are enabled to gain short-term access to shared private transportation, Uber's innovative ride-sharing service is part of the "sharing economy". Under this business model, the behavior of sharing assets was given power by Uber's digital platform to form a new type of collaborative consumption. 
According to the definition of collaborative consumption given by Botsman and Rogers, It is any interaction of sharing idling assets that occur based on trust within a community (2011). Uber has taken this consumption model to its extreme by connecting users and drivers through the online platform which fully extending an individual's social relations from the surrounding communities to the entire online society. In the past, people traded or shared based on the credit of people they knew, while the collaborative consumption model allows the phenomenon of "stranger sharing" defined by Juliet Schor to occur by every single peer-to-peer riding transaction (2016). Also, customers and drivers rate each other, and the trust of them toward strangers is therefore established to allow Uber to obtain loyalty. Uber thus creates a new type of sharing market which allows private drivers to make income by maximum utilizing their cars efficiently.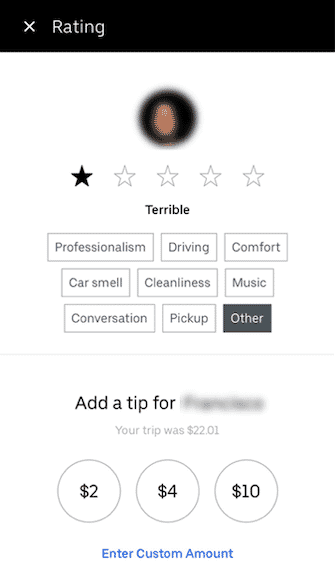 Picture showing Uber passenger's rating for the driver,
                             Image: Maxie Schmidt, Forrester, All Rights Reserved.
Peer to peer transactions, at another point, lower the cost of each Uber drivers and users because the value directly distributed to them and bypasses the middleman (Schor, 2016). Also, private resources are transformed into collective resources with more commercial values. The use of shared vehicles from private drivers thus build price advantages to brings strong competitiveness to Uber within the riding market.
2.  The dynamic pricing scheme in the on-demand economy
Uber has gained popularity in the market largely because of the convenience it provides to customers. Through the online platform, users contact drivers and book a ride in real-time, which reveals what scholars defined the on-demand economy, that is, "the economic activity that fulfills consumer's demand with immediate access to and convenient provisioning of goods and services"(Guda & Subramanian, 2019: 1). 
The technical means behind the platform calculate the demand for the future of 15 minutes to ensure the supply meets the demand in a timely manner. The unique dynamic pricing scheme in the platform's algorithm surges a higher price when the riding demand exceeds supply which gives drivers incentives to provide a ride, especially in bad weather. Research shows that the number of Uber rides on rainy days is 19 percent higher than the taxi rides due to Uber surges prices to adjust the supply (Brodeur, 2018: 2). Therefore, the dynamic pricing scheme makes Uber customers always can get a ride, which fulfills more people's needs than the traditional cab company.
Uber's Social Ecology
The penetration of Uber has added pressure to the traditional taxi company and the public transit. It broke the monopoly of the taxi industry thereby raising lots of ride-sharing competitors. These competitors include Lyft, another global ride-sourcing company, and other local TNCs such as Bolt in Europe and Didi in China. The Yellow Cab company, the biggest taxi company in the United States, is considered a competitor to Uber as a representative from the traditional taxi industry. Yet Uber as a platform is also regulated by both passengers and the local government. By rating the drivers, passengers play the role of the regulator to supervise drivers' behaviors. Also, the traffic supervision agency and statutory revenue collection agency from the government are responsible for regulating the license and collecting a tax on the Uber platform.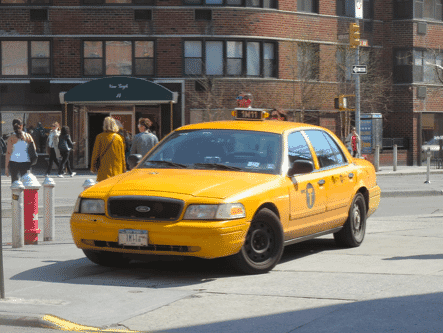 Picture showing the Yellow cab in New York.
Image: Jason Lawrence, Flicker, CC BY 2.0.
As Kenneth Button mentions that the transportation network company (TNC) itself is a digital platform responsible for connecting customers and contractors (2020), Uber is an outstanding TNC which does not hire drivers as employees but defines them as driver-partners who signed independent contracts with the platform. Uber's drivers thus become suppliers to provide riding services to customers with their own vehicles. Moreover, Uber has partnered with the nation's infrastructure body such as Infrastructure Partnerships Australia (IPA) to better understand communities and invest in the city's infrastructure effectively that is both beneficial for Uber and the government (IPA, 2016). Other Uber's partnership including PayPal, Alipay offer payment channels on the application.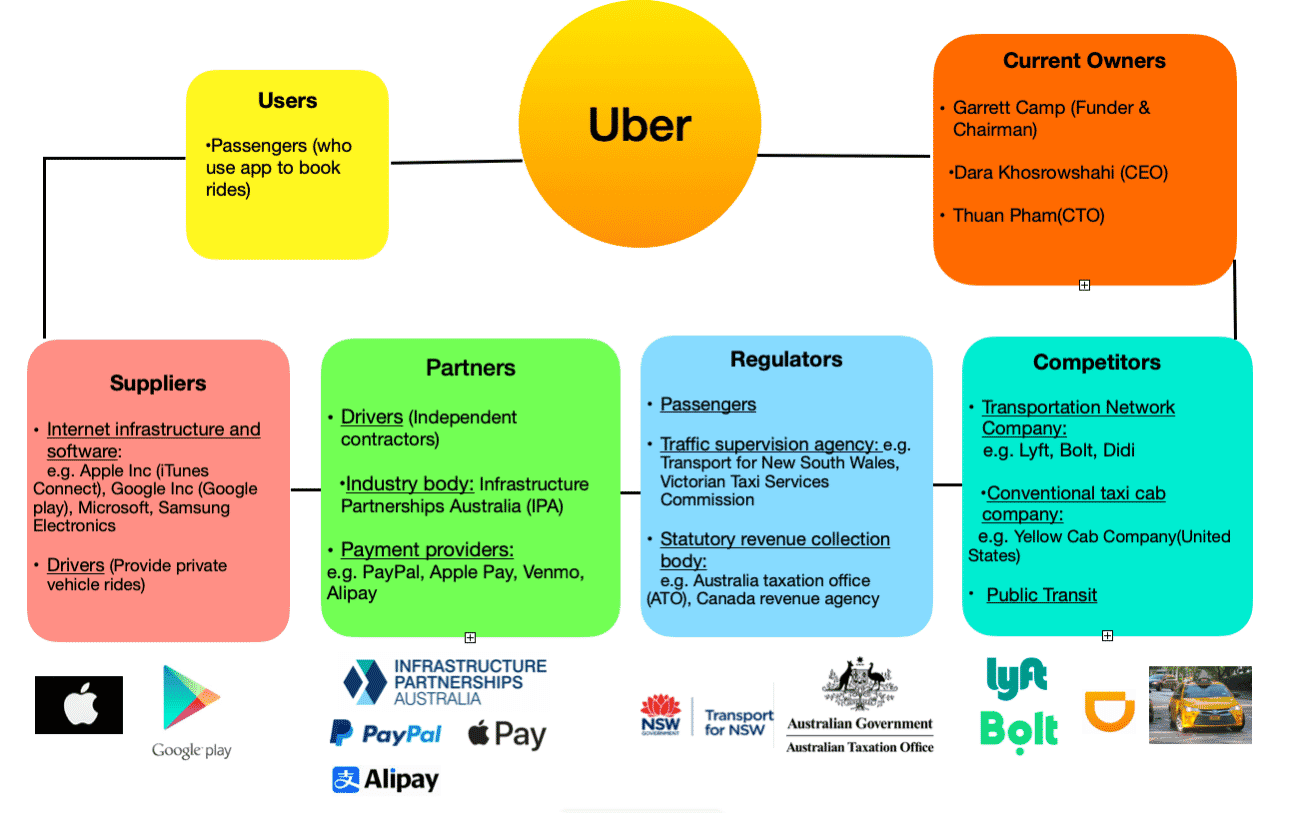 Uber—A disruptive Innovation Changed the World
A Formation of New Online Labor Markets
The innovative on-demand and sharing-based business model of Uber have brought a significant social transformative effect on the labor market. Research shows that the entry of Uber in ride markets has decreased the average income earnings of taxi drivers by 10 percent. The platform continually obtains passenger loyalty shifting to Uber's services which weakening the taxi markets, thereby encouraging more taxi workforce partnered with Uber (Berger, 2018: 198).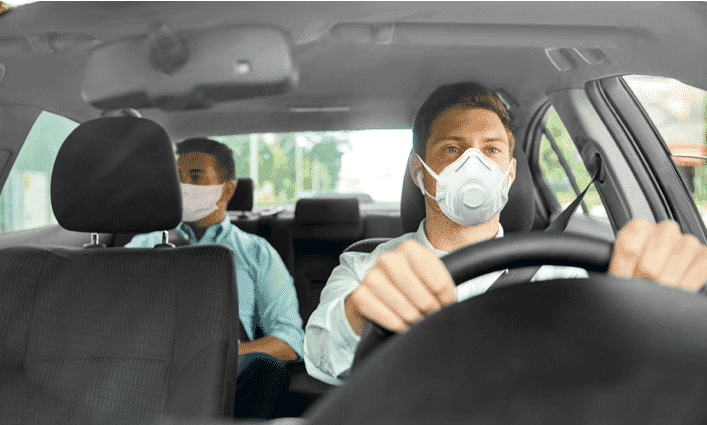 Picture showing Uber passenger and Uber driver.
Image: Sam Mehmet, Intelligent Transport, All Rights Reserved.
On the other hand, Uber's flexible work arrangement forms a new type of employment defined by scholars as gig work under the gig economy (Greenwood, 2017: 27). Taking advantage of the internet, Uber lower the barrier for drivers to enter the platform. Once drivers are qualified by Uber as independent contractors, they have the freedom to adjust work schedules or pursue other work opportunities depending on their own desires. Research shows that only 20 percent of drivers see Uber as their sole source of income, suggesting the flexibility of gig work nature (Hall, 2018: 712). Uber's work model thus attracts more driver-partners to participate in as their side jobs to earn more income and consider it as unemployment guarantees (Delgado, 2018, July 17). 
In the past, workers seek jobs based on the locations, while with the gig platform such as Uber enabled, new online jobs alternatives are varied (Huang et al, 2020: 432). At a deeper level, the gig platform which attributed to technology advantages has transformed the traditional offline labor status by creating more online-based flexible jobs, and it broke the geographical boundaries and opened up the part-time and self-employed labor market.
New Regulatory Challenges
Uber drivers work flexibly as independent contractors, their work time and wages are self-managed, while they lost many basic labor rights of being classified as the company's employees. The drawbacks of being a driver-partner are varied. Since Uber claims that they only offer technological services to drivers in order to contact passengers, the company does not offer training to drivers. Uber drivers are not protected by federal labor and employment laws, which means they lack legal unemployment insurance, compensation for retirement, injuries, overtime work and so on. Also, passengers are facing safety concerns including sexual assault and violent crimes due to the inadequate regulations of the platform. 
Thus, the government facing emerging regulatory challenges of solving the driver's classification issues (Harris, 2017: 269). Sharing economy companies like Uber blurring the line between entrepreneurs and employees, which requires the evolution of local government regulation and co-regulate with companies to better adapt and re-evaluate the emerging sharing markets. For example, California passed the assembly bills to regulate TNCs insurance requirements toward drivers. Align with the government regulations, Uber then creates policies and ride-share coalition to insure $1 million to drivers in coverage accidents that might happen (Cannon and Chung, 2014). As such, the laws and regulations of the government are continually improved and forms co-regulate schemes to protect and allocate markets efficiently.
Conclusion
Overall, with the innovative sharing economy business model, Uber has thus established a new collaborative consumption market, emphasizing peer to peer transactions that maximize utilization of the private vehicles, and creates a new form of online gig-labor market. It brings the convenience that improved our life qualities, changing our habits of hailing rides into booking online rather than call taxis on the streets. Furthermore, the cooperation between sharing economy companies and the local government becomes crucial, in response to create better regulation policies to protect both consumers and independent contractors' rights and interests.
Word count: 1900
Reference:
Berger, T. (2018). Drivers of disruption? Estimating the Uber effect. European Economic Review, 110, 197–210. https://doi.org/10.1016/j.euroecorev.2018.05.006
Botsman, R., & Rogers, R. (2011). What's mine is yours : the rise of collaborative consumption (1st ed.). HarperBusiness.
Brodeur, A. (2018). An empirical analysis of taxi, Lyft and Uber rides: Evidence from weather shocks in NYC.(Report). Journal of Economic Behavior & Organization, 152, 1–16. https://doi.org/10.1016/j.jebo.2018.06.004
Business Insider. (2014). All Hail The Uber Man! How Sharp-Elbowed Salesman Travis Kalanick Became Silicon Valley's Newest Star. Retrieved from https://www.businessinsider.com/uber-travis-kalanick-bio-2014-1.
Button, K. (2020). The "Ubernomics" of ridesourcing: the myths and the reality. Transport Reviews, 40(1), 76–94. https://doi.org/10.1080/01441647.2019.1687605
Cannon, B., & Chung, H. (2015, January). A framework for designing co-regulation models well-adapted to technology-facilitated sharing economies. Santa Clara High Technology Law Journal, 31(1), 23+. https://link.gale.com/apps/doc/A415109195/AONE?u=usyd&sid=AONE&xid=4c2abc08
Delgado.M,(2018, July 17). More than 1 in 3 Workers Participate in the Gig Economy, But Employers May Not Realize It. PR Newswire. Retrieved from http://search.proquest.com/docview/2070750124/
Greenwood, B. (2017). Unknowns of the gig-economy. Communications of the ACM, 60(7), 27–29. https://doi.org/10.1145/3097349
Guda, H., Subramanian, U. (2019). Your Uber Is Arriving: Managing On-Demand Workers Through Surge Pricing, Forecast Communication, and Worker Incentives. (n.d.). Management Science, 65(5), 1995–2014. https://doi.org/10.1287/mnsc.2018.3050
Hall, J. (2018). An Analysis of the Labor Market for Uber's Driver-Partners in the United States. Industrial & Labor Relations Review, 71(3), 705–732. https://doi.org/10.1177/0019793917717222
Harris, B. (2017). Uber, Lyft, and Regulating the Sharing Economy. Seattle University Law Review, 41(1). ISSN: 10781927. http://web.a.ebscohost.com.ezproxy1.library.usyd.edu.au/ehost/detail/detail?vid=0&sid=18133399-7775-47ea-a2e1-1050063bf1fd%40sessionmgr4008&bdata=JnNpdGU9ZWhvc3QtbGl2ZQ%3d%3d#AN=126148620&db=lgs
Huang, N. et al.(2020). Unemployment and Worker Participation in the Gig Economy: Evidence from an Online Labor Market. Information Systems Research, 31(2), pp.431–448. https://doi.org/10.1287/isre.2019.0896
Inc. (2015). How Uber Became the Most Valuable Startup in the World. Retrieved from https://www.inc.com/business-insider/how-uber-became-the-most-valuable-startup-in-the-world.html
Infrastructure Partnership Australia (IPA).(2016).DRIVING CHANGE: AUSTRALIA'S CITIES NEED A MEASURED RESPONSE. Retrieved from http://infrastructure.org.au/wp-content/uploads/2016/12/Uber-Policy-Paper-FINAL1.pdf
John, N. A. (2018). Sharing Economies. In The age of sharing (pp. 69–97). Polity.
Schor, J. (2016). Debating the sharing economy.(Essay). Journal of Self-Governance and Management Economics, 4(3), 7–22. Gale Academic OneFile, https://link.gale.com/apps/doc/A466616022/AONE?u=usyd&sid=AONE&xid=8840274c.
Sundararajan, A. (2016). The sharing economy : the end of employment and the rise of crowd-based capitalism. In Introduction(pp. 1-20).The MIT Press.
Uber. (2020). About Us. Retrieved Nov 17, 2020, from https://www.uber.com/hk/en/about/
Media & Hyperlink Reference:
Business Insider. (2019). The history of how Uber went from the most feared startup in the world to its massive IPO. Retrieved from https://www.businessinsider.com/ubers-history
Catalog, S. (2018). Uber. Flickr. Retrieved from https://www.flickr.com/photos/stockcatalog/40834812504/
Delgado.M,(2018, July 17). More than 1 in 3 Workers Participate in the Gig Economy, But Employers May Not Realize It. PR Newswire. Retrieved from http://search.proquest.com/docview/2070750124/
How Uber's dynamic pricing model works. Uber Blog. Retrieved from https://www.uber.com/en-GB/blog/uber-dynamic-pricing/
Lawrence, J.(2016). NYC Taxi Toyota Camry. Flickr. Retrieved from https://www.flickr.com/photos/27665395/
Mehmet, S. (2020). Uber announces new COVID-19 safety measures. Intelligent Transport. Retrieved from https://www.intelligenttransport.com/transport-news/98895/uber-announces-new-covid-19-safety-measures/
Read, R.(2010). UberCab Simplifies Urban Transit, But Will It Lead To Anarchy?. The Car Connection. Retrieved from https://www.thecarconnection.com/news/1050719_ubercab-simplifies-urban-transit-but-will-it-lead-to-anarchy
Schmidt, M.(2019). Don't Try To Be Uber! How To Modernize Customer Feedback Collection. Forrester. Retrieved from https://go.forrester.com/blogs/stop-trying-to-be-uber-in-feedback/
Top Uber's Competitors. (2020). Business Strategy Hub. Retrieved from https://bstrategyhub.com/top-ubers-competitors/
Uber. (2020). Retrieved from https://www.uber.com/hk/en/