The Great Hack: About the film
Prologue
The Great Hack was directed by Jehane Noujaim and Karim Amer. After cooperating for their first time in 'The Square' of 2013 about 'Egyptian Crisis', they decided to collaborate again to make a film about cyber crisis, which is a documentary film about Facebook and Cambridge Analytica data scandal tied to the Brexit campaign and Ted Cruz's campaign in U.S 2016 election, which was known as one of the factors causing Techlash. This film has included data exploitation, referendum manipulation, data weaponization, monetization of data, and revealing the dark side of gigantic tech-company and world's leading data-driven communications company.
Cast
Moreover, Digital Culture Professor, Mathematician, Digital Arm of Donald Trump's campaign (Project Alamo), Data rights solicitor, Ex-COO and CFO of the Cambridge Analytica/ SCL Group, journalists, and data consultant were mobilized to participate in this film shooting. The expertise perspective was brought to fulfill the audience's insight on these fields.
Background
The Great Hack premiered in early June and was released in late July of 2019, which is about 4 years after the first scandal of Cambridge Analytica's personal data exploitation. In this period, more than 4 reports from journals, news organizations, and magazines have been published to reveal and accuse Cambridge Analytica involving in the data harvesting of more than 87 million Facebook users. By this period, more Americans have started to concern their online personal privacy (Lee, 2018).
Film-shooting technique
This documentary focuses on Carole Cadwalladr who is the investigate journalist for the guardian working years on Cambridge Analytica, Brittany Kaiser who is the former director of business development of Cambridge Analytica, and David Carroll who is Associate Professor of Parsons School of Design, as the narrator.
The start of ignoring policy and terms agreement, the commencement of betraying yourself?
Cambridge-Analytica-Scandal-Digram.png. Sourced from WordPress media content.
At the beginning of The Great Hack, David Carroll mentioned how our online behavior has been accurately predicted, "the ads that seem uncannily accurate that have to be eavesdropping on us are more likely to be evidence that the targeting works", also like what Christopher Wylie testified, Facebook data was used to predict our behavior. For example, in 2016, Ted Cruz's campaign, which cooperated with Cambridge Analytica, allegedly used Facebook's likes to analyze the 'persuadable' in swing states, who had not yet decided about giving their vote to which candidate. In America, about 70,000 voters in three swing states decided the election. This turned severely serious as using data mining, this technology helps the campaign not only to know how they are but also to feed them a steady stream of content, information, news, and posts on Facebook which are all dedicated and built only seen for them. Americans' digital traces, like what kind of pages they follow, which post they pressed the like button, and the proportion of their friends' political stances, are all transferred and mined as data to make a trillion-dollar-a year work,
The algorithm, big data, and machine learning are designed to better understand their users and how to on-sell this information to sell advertising that would be more accurate and targeted than the traditional approach which requires the consumer and user to spend extra time (resulting in low participation rate) and bear the risk of an inaccurate attempt. This complementary innovative technological tactic involves the key insight that is able monetization of user data and observational data from users (Mansell and Steinmueller, 2020).
However, as the platform is an operation run by data, automatedly organized through algorithms and interfaces, formalized and driven under business contracted ownership relations, and most importantly, these are all run under user agreement (Van Dijck, Poell, and de Waal, 2018). Without user agreement, users' right of using the application will be limited or banned to prevent legal issues. In the film, David Carroll has questioned the reason why downloading applications that are free of charge will turn out that no one bothers to watch the terms and regulations. He also listed out things the media users must do is to scrutinize every privacy policy and says before installation.
It is believed that these tech companies like Facebook, Cambridge Analytica, and Google should bear all the responsibility, as the data management authority of users is extremely limited or otherwise unavailability of using such world-connecting devices. David Carroll also mentioned that Cambridge Analytica holds 5000 invisible data points, which is needed to send messages, to every American voter. It comes up with a question that in what way they made these invisible data to visible, and in contrasts to Mansell and Steinmueller (2020) 's claim on the challenge of digital platform companies that 'how to make money from information on a system designed to freely exchange information'- Greediness told.
Dark Side of The Tech giants and the Government
"3 debate presidencia hillary y trump" by rupertomiller@hotmail. 6672 6121 hijo 66852945 is marked with CC0 1. 
The internet is made up of individuals from different fields, like government and authorities, and the stakeholders may invest in the development and infrastructure of the internet (Mathiason, 2009). In this case, Alexander Nix, the CEO of Cambridge Analytica, mentioned SCL (Holding Company of Cambridge Analytica) has participated in "a fairly substantial defense business, like training the British Army, British Navy, the U.S Army, the CIA…..". This mysterious relationship explains that "cross-platform activities necessitate the implementation of global policy to confront all communication challenges and issues" (Picard and Pickard, 2017).
Implementation of policy always brings controversies about self-regulation versus multi-governance. Meanwhile, Google CEO Eric Schmidt (Zuboff, 2019) argues that the Tech company runs nine times faster than the government organization and self-regulation helps tech companies to run more efficiently, it is sometimes believed that the internet deserves the highest protection from government intrusion.
In the film, the director brought out a message that there were dark sides of national governments and tech giants. Unless there were whistleblowers, like Christopher Wylie and Brittany Kaiser (although being judged if she was taking the high position to protect herself) reveal the underlying truth of all those dirty works, it is too hard to understand how media users are exploited. For example, Channel 4 undercover video about Cambridge Analytica showed their executives, including their CEO boasted about the company's role in Trump's win, even talked about potential bribery and entrapment like "sending girls to the candidate's house".
Using handcuffs to connect the two 'o' to mean Clinton Hillary should belong behind bars. Retrieved from https://www.abc.net.au/news/2018-03-22/defeat-crooked-hillary/9576106?nw=0
Besides these, Cambridge Analytica admitted making number of different kinds of "creative phrases and terms like "Crooked Hillary" and put them online into the bloodstream to the internet. This stuff infiltrates the online community; they expand with no branding so it is unattributable and untraceable.
Sovereignty and Freedom – Time for change?
"GOVERNMENT" by Kevin H. is licensed under CC BY-NC-ND 2.0
Not only the 2016 U.S election, Carole Cadwalladr also accused Cambridge Analytica tied to the Brexit Campaign. According to Brittany Kaiser's testimony, they took receipt of United Kingdom's Independence Party data and the survey data by using the classification of psychographic to use these weapons-grade communication tactics against the United Kingdom population. On behalf of regulation, governance turns into the core of the issue.
It can be understood that why Christopher Kelty (2014) claimed the internet is associated with freedom much more than with other ideas, like justice, well-being, health, or happiness. About fake news, the algorithms of Facebook amplify the content that keeps users engaged -which may trigger outrage and fear (Baron Cohen, 2019). According to the film, there was evidence that Russian intelligence created fake Black lives Matter memes and sent them to such target adversary groups. Understanding precipice of evasion influences the sovereignty of one country, the fake news problems grow faster than those tech firms attempting to resolving them. Even those firms are increasingly regulating, monitoring, deleting content, or even restricting and blocking some users, these kinds of functions are highly related to editorial choices (Picard and Pickard, 2017). For example, Myanmar Protest (Ratcliffe, 2021) reflected Facebook cannot spontaneously stop the spreading of false messages and inappropriate content incite racial hatred and violence.
Conclusion
"Data Shield mug" by mahlness is licensed under CC BY-NC-ND 2.0
In a nutshell, just like Julian Wheatland (Ex COO of SCL) mentioned in the film, there will always be another 'Cambridge Analytica'. In other words, legislation and multi-governance prioritize everything when a "new regulatory field" emerges (Schlesinger, 2020). David's case encapsulates why data rights should be considered just fundamental rights, meanwhile, the challenges posed for our societies must be addressed in a multistakeholder fashion by governments, technologists, private sectors… to settle all these present or upcoming problems (Bray & Cerf, 2020).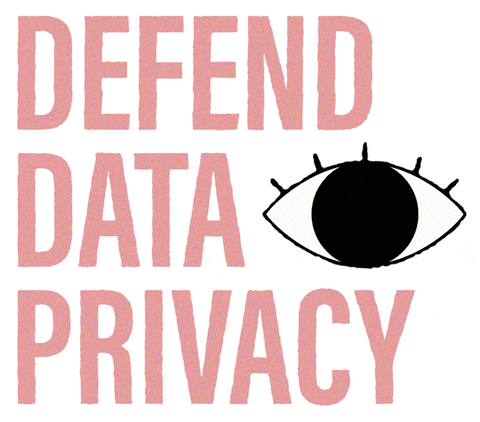 Gif Retrieved from https://giphy.com/gifs/MozillaFoundation-mozilla-internet-health-internethealth-FDJCbma0TdCh29GaNZ.
Reference list:
Baron Cohen, S. (2019). Never Is Now. Speech, ADL International Leadership Award Conference. Retrieved from https://www.youtube.com/watch?v=ymaWq5yZIYM&t=1151s.
Bray, D. & Cerf, V. (2020). The Unfinished Work of the Internet, In Graham, M. & Dutton, W.H. (Ed.). Society and The Internet: How Networks of Information and Communication are changing our lives. (pp,400-416). Oxford, United Kingdom: Oxford University Press.
Kelty, C. M. (2014). 'The Fog of Freedom'. In T. Gillespie, P. J. Boczkowski and K. A. Foot (Eds.) Media Technologies: Essays on Communication, Materiality, and Society. 196-220, Cambridge, MA: MIT Press.
Mansell, Robin, and Steinmueller, W. Edward (2020), Advanced Introduction to Platform Economics. Cheltenham, Edward Elgar, pp. 35-54.
Mathiason, J. (2009). Internet Governance: The New Frontier of Global Institutions. Londons ; New York: Routledge.
Lee, R. (2018, March 27). Americans' complicated feelings about social media in an era of privacy concerns. Pew Research Center. Retrieved from https://www.pewresearch.org/fact-tank/2018/03/27/americans-complicated-feelings-about-social-media-in-an-era-of-privacy-concerns/
Picard, R. G., & Pickard, V. (2017). Essential Principles for Contemporary Media and Communications Policymaking. Reuters Institute for the Study of Journalism: University of Oxford. https://reutersinstitute.politics.ox.ac.uk/our-research/essential-principles-contemporary-media-and-communications-policymaking (Links to an external site.).
Ratcliffe, R. (2021 June, 23). Myanmar: Facebook promotes content urging violence against coup protesters – study. The Guardian. Retrieved from https://www.theguardian.com/world/2021/jun/23/myanmar-facebook-promotes-content-urging-violence-against-coup-protesters-study
Schlesinger, P. (2020). After the post-public sphere. Media, Culture & Society, 42(7–8), 1545–1563. doi:10.1177/0163443720948003
Suzor, Nicolas P. (2019). How Copyright Shaped the Internet. In Lawless: the secret rules that govern our lives. Cambridge, UK: Cambridge University Press. pp. 59-78.
Van Dijck, J., Poell, T. & de Waal, M. (2018). The Platform Society. Oxford: Oxford University Press, pp. 5-32 ('The Platform Society as a Contested Concept').

This work is licensed under the Creative Commons Attribution-NonCommercial-NoDerivatives 4.0 International License. To view a copy of this license, visit
http://creativecommons.org/licenses/by-nc-nd/4.0/.