The lack of diversity issue is extended into social media and internet world
The image via welcomeaboard
With the digital revolution, people live in a time that most of us use a powerful computer (internet) in our pockets. The internet allows people to spread of their idea and concept more rapidly and freely, most user can easily to express a wide range of beliefs. Oxford Internet institute point out that only rich countries largely get to define themselves and poor countries largely get defined by others (The Digital Language Divide, n.d.). Indeed, when we consider that Wikipedia- the biggest online source in the world that it usually sharing English to other highly recommend language such as Chinese, Japanese, and so on. It is very serious issues that will affecting the future digital language culture because people will tend to use popular language and not take it serious on their own culture (Lewis, 2018).
The lack of diversity issues has been a hot-button problem. Educator Kyra Gaunt claims that the social media structure often presents white privilege, and people should be concerned about these issues. Interestingly, it has 36 percent of Latinos, and more than 33 percent of African Americans use social media, which is undoubtedly becoming the majority of the population in social media.
However, when we look at the fact that social media at higher rates are using 'Whites' even only 19 percent of Caucasians (Sheet, 2011). The statistical result can further prove that the lack of diversity in the field of the internet and its white concept indeed extend into social media life.  
The pervasiveness of the lack of diversity on the internet 
Social media – limitation of minority population
Social media still has fewer barriers and limits for part of the population, which is claimed by the second-year journalism student "Gladys Beya." She points out that as a black woman, she is not used to seeing herself on television or any social media platform. The lack of diversity issues is striking in mainstream media, and it also extends to art, tv, and even thought in the field of popular culture. There is no doubt that it seem like the most significant decision that affect the society climate still control and political world remains mainly from males; heterosexual and white people ("Social Media Has Fewer Barriers, but the Limits Are Still There for Us" – London Metropolitan University, n.d.).
The failure revolution of Facebook creates a diverse workforce.
 Facebook is one of the biggest social media apps in the world; it has nearly 3 billion monthly users globally. On the other hand, the controversy between Facebook and the lack of diversity issues is not stranger. Facebook's latest annual diversity report received an amount of criticism about the revolution. It is because the previous achievement is announced to double the minority female employment number. The result shows that it only increased from 36.3% in 2018 to 36.9% in 2019, while black and Hispanic workers combined from 8.4% to 9% (Gravier, 2020). The statistical outcome indeed reflects that it is a sizeable systemic issue that has long dominated the Silicon Valley scene. Lockhart (2018) point out that the population of Black American are frequent users of technology, and its minority group build social media like Facebook and Instagram into the top social media app globally. However, they do not have the same success position and economic benefits as white Americans. Its unbalanced social phenomena contribute to the low rate of black employment in the technology industry.
Instagram influencers popular rating can reflect the lack of diversity are existing getting worse than before

A soma influencer event via CNBC
One clothing chain called "Altar'd State" posted photos about the 'blogger adventure' events with a group of Instagram influencers. It receives a number of comments. Why is your Instagram account all skinny white girls? Already in 2019, many more diverse girls can choose different skin colors, body sizes, black hair, and so on (Graham, 2019). There is no doubt that discrimination impacts the fashion industry, and its situation restricts diversity development. Walker (2021) claims that Almost 90% of people surveyed for this report said that fashion industry images only present shiny bodies. It did not represent a spectrum of different bodies size and skin colors. Especially the survey also shows that 68% population had experienced or felt uncomfortable in the fashion industry due to outlook and body size. More than 73.4% population claim that based on their body image, are not fit the model size feeling uncomfortable and followed by ethnicity, age, disability, religious expression, and gender.
The secret shame of people cannot fit wearing Brandy Melville and its brand presenting the body shame on social media globally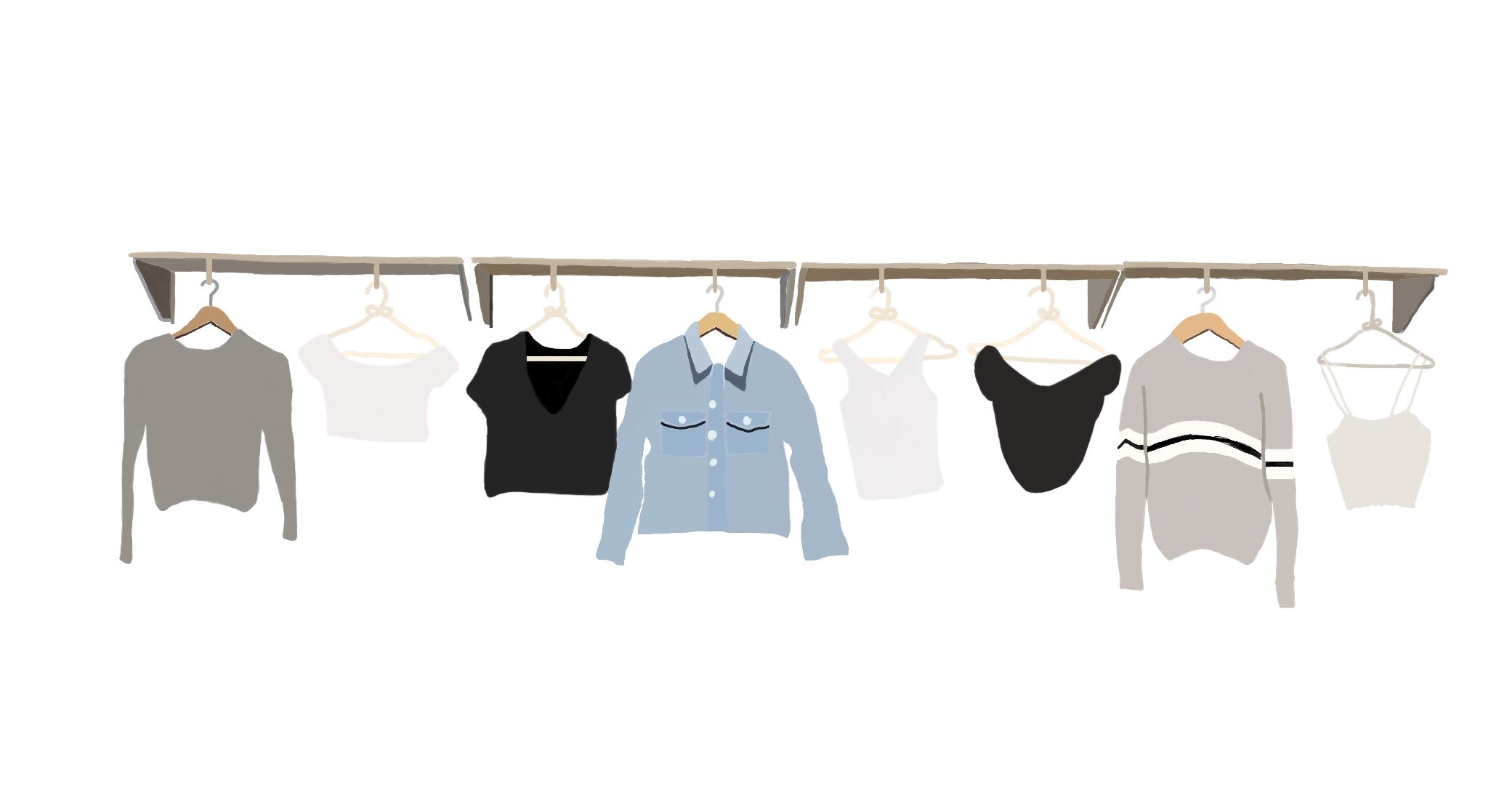 The image via the campanile
Brandy Melville has one famous slogan: 'One Size Fits All. They do not advertise or use professional models as the selling point; instead, their Instagram account has the full skinniest, most long-legged, and fancy teenage girls' hairstyles. Even though Brandy Melville has unethical practices, it was a privately held company that likely brought in around $300 million in 2018. In some cases, it can reflect that the lack of diversity issues is driving social media only have a so-call 'perfect' image and unity beauty concept (Schneider, 2019). Some customers are critical of Brandy Melville's one size fits all policy, and their model style lacks diversity because they attempt to create only one beauty standard. On the other hand, based on fancy brainwashing and social media promotion, Brandy Melville indeed has successful results in the fashion industry (XU, 2020).
How do lack of diversity will bring a negative impact on the society?
From the early stages of development and recent time, technology developers have reflected that the general of man dominate the technology world. The old gender and bias issues have remained and play a curial element in society internally and externally. For example, the techno-meritocratic' culture usually represented the primarily white male with well-educated people living in urban areas (Cardoso, 2006). Our daily human often impacts the lack of diversity problem; we cannot avoid that it is difficult to change the systemic problem. Especially the lack of various features within our daily such as white skin, skinny, long hair, and so on. Its unity phenomenon is fully presented on the internet. The minority group not only considers skin color but also body size, religion, and race. People cannot receive friendly comments and experiences on social media and its phenomena, contributing to the 'fringe' and 'single aesthetic'.
To sum up, the lack of diversity is a big issue that affects not only one country but also globally, economically, politically, and even the workplace. Since Westernization, the successful promotion of white culture and the new model society tend to isolate the different races, reflecting the early internet development. The successful feature can be related to the white male and skinny white girl, which creates one fake image that only white people can become the most successful group. Even though it still has a number of challenges for diversity issues, how can we increase and balance male and female employment? How do social media create a diverse aesthetic rather than driving people to one beauty idea? Those issues need to solve quickly, and the world systems should be changed from individual to popular.
Reference list
Cardoso, G. (2006, January). The Network Society From Knowledge to Policy. ResearchGate. Retrieved October 13, 2022, from https://www.researchgate.net/publication/301788885_The_Network_Society_From_Knowledge_to_Policy
The digital language divide. (n.d.). Retrieved October 13, 2022, from https://labs.theguardian.com/digital-language-divide/
Graham, M. (2019, August 29). Instagram influencers are often white, and now the brands that pay them are getting pushback. CNBC. Retrieved October 13, 2022, from https://www.cnbc.com/2019/08/29/instagram-influencers-are-often-white-leading-to-brand-criticism.html
Gravier, E. (2020, February 10). Facebook executive: We're trying to double our diverse workforce in 4 years, even if it doesn't work. CNBA. Retrieved October 13, 2022, from https://www.cnbc.com/2020/01/30/facebook-has-a-diversity-problem.html
JSTOR: Access Check. (n.d.). Retrieved October 13, 2022, from https://www.jstor.org/stable/4241406
Lewis, J. (2018, July 30). Is the internet killing our cultural diversity? Retrieved October 13, 2022, from https://www.linkedin.com/pulse/internet-killing-our-cultural-diversity-james-lewis/
Lockhart, P. R. (2018, May 4). State of Black America 2018 unpacks Silicon Valley's diversity problem. Vox. Retrieved October 13, 2022, from https://www.vox.com/technology/2018/5/4/17318522/state-of-black-america-2018-national-urban-league-silicon-valley-race
Schneider, K. (2019, October 3). The Secret Shame of Wearing Brandy Melville. The Cut. Retrieved October 13, 2022, from https://www.thecut.com/2019/10/the-secret-shame-of-wearing-brandy-melville.html
Sheet, S. (2011, May 11). Social Media's Diversity Problem. Social Media Today. Retrieved October 11, 2022, from https://www.socialmediatoday.com/content/social-medias-diversity-problem
"Social media has fewer barriers, but the limits are still there for us" – London Metropolitan University. (n.d.). Retrieved October 13, 2022, from https://www.londonmet.ac.uk/news/expert-commentary/2021/november/social-media-has-fewer-barriers-but-the-limits-are-still-there-for-us/
Walker, G. (2021, August 12). Fashion industry discrimination and lack of diversity exposed in new report. TheIndustry.Fashion. Retrieved October 13, 2022, from https://www.theindustry.fashion/fashion-industry-discrimination-and-lack-of-diversity-exposed-in-new-report/
XU, J. (2020, October 20). Brandy Melville's inclusivity dilemma: controversies surrounding one-size-fits-all and BLM. The Campanile. Retrieved October 13, 2022, from https://thecampanile.org/2020/10/20/brandy-melvilles-inclusivity-dilemma-controversies-surrounding-one-size-fits-all-and-blm/