Is it really a coincidence that all the videos you see on TikTok every day are of interest to you?
by Yuxin Liu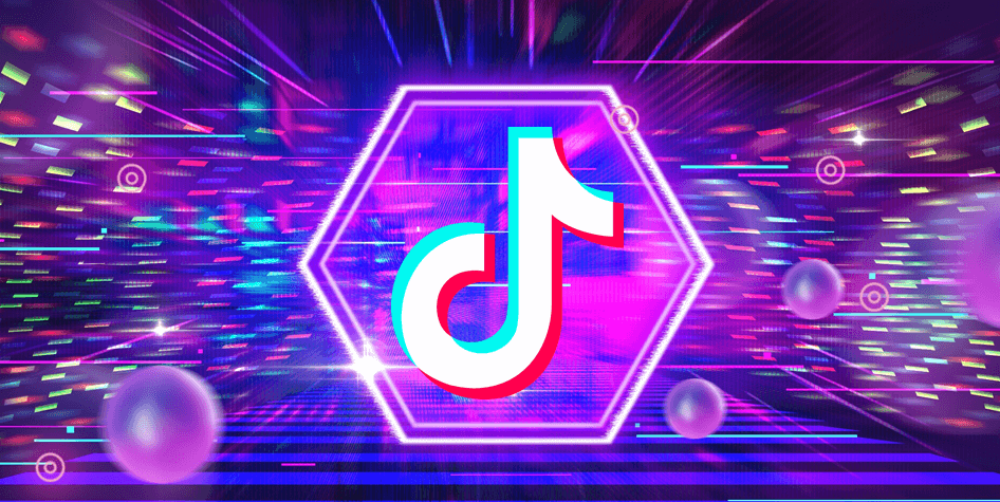 Introduction
In the modern online market where short video platforms compete with each other to capture users, TikTok, as a platform with a massive number of active users, has become a part of most people's lives. Gray (2021) believes that TikTok's success is largely attributed to its recommendation system, the platform uses algorithms to determine the videos and services it provides to users from the user's behavior mechanism.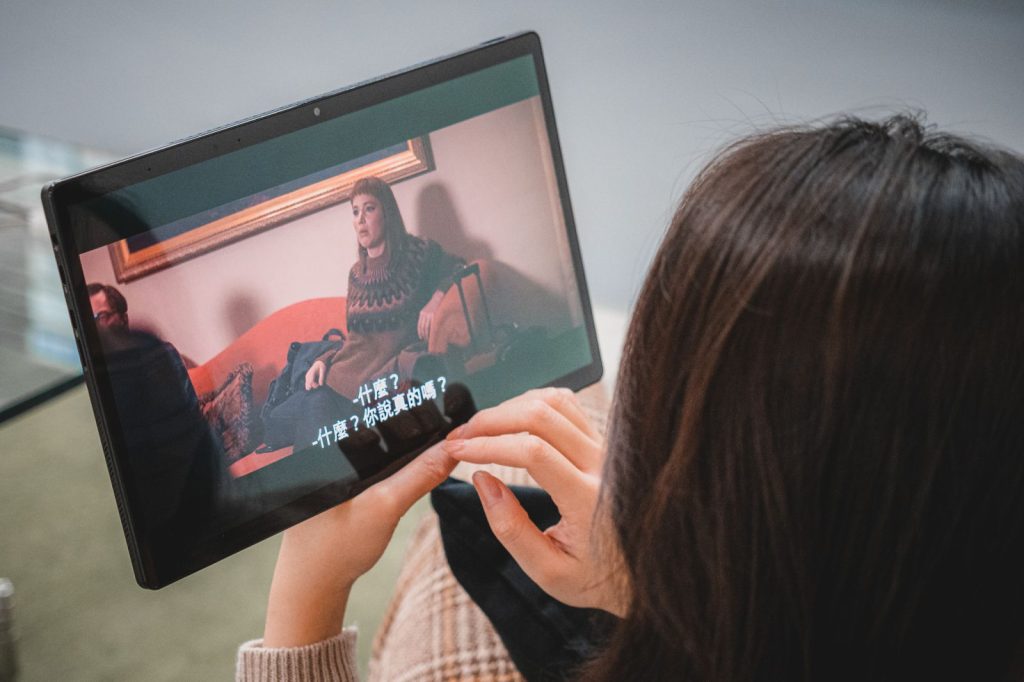 However, whether TikTok is using the recommendation system program for monitoring purposes has become the focus of debate. As pointed out by Kirtley (2019), in the 21st century, people have benefited from the convenience of information exchange brought about by the development of digital networks, while giving up control of this information to some extent. Some people think that TikTok's video recommendation service only involves their preferences for videos and video bloggers, which is different from the data monitoring that can lead to privacy leakage. Some people think that TikTok's data collection has cross-border behavior. There is evidence that according to Gray (2021), TikTok was accused of over-extracting and analyzing data, including unnecessarily copying data from the user's mobile phone and collecting information that can be used to identify and track the user's location. Therefore, in this essay, I will introduce the influence of TikTok, three key algorithms of TikTok, and discuss the definition of monitoring in the digital age. This essay will demonstrate that the Recommendation Engine Algorithm plays a monitoring role on TikTok from two angles: enterprise and government.
The influence of TikTok
TikTok has great influence …
TikTok is a short video social application for smartphones, which was founded and operated by Byte Dance Company. Its main function is to record short videos of 15 seconds to 10 minutes. In addition, TikTok provides creative, advertising, and live broadcast services.
 Look at the chart …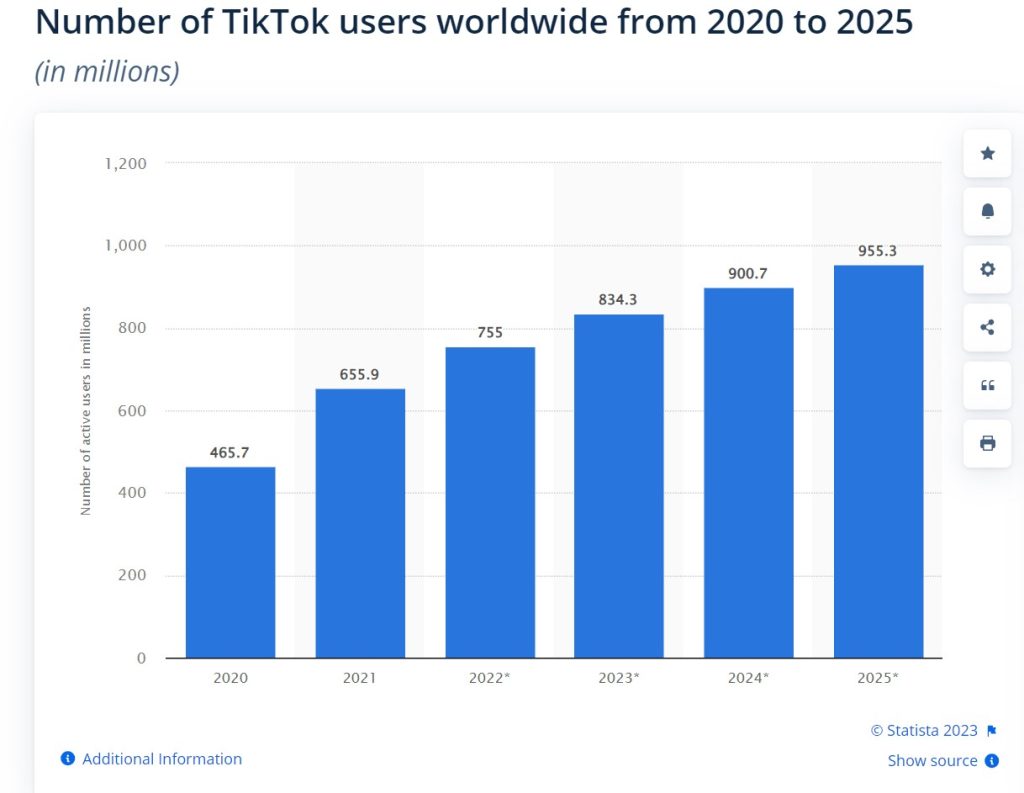 From: https://doi.org/10.24215/18524907e044
TikTok is one of the most influential media in today's society. It is popular with young people and has a large number of users. By 2023, TikTok have had 1.677 billion global users and 1.1 billion monthly active users. As shown in the table, in 2023, the number of Internet users accessing TikTok on any device every month reached 834.3 million. This data is expected to reach 955.3 million in 2025. This shows the great influence of TikTok.
The three key algorithms of TikTok
Customized services have created competitiveness for TikTok to stand out from many social media. This means that TikTok has an advantage in the market of the experience economy. As Quiroz (2020) pointed out, individuals can give TikTok a unique trend. The video feed named "For You" is the cause of the appearance of this personalized trend. Figliola (2020) stated that the app builds this feed through a 'recommendation engine' algorithm built on artificial intelligence (AI) technologies and data mining practices. TikTok uses three algorithms to serve the audience, a recommendation algorithm, a content classification algorithm, and a user profiling algorithm. The recommendation algorithm focuses on users' history and provides customized services to users according to their browsing preferences. Content classification algorithm, which classifies and marks the content clicked by users and is used to calculate the relevant content that users are interested in. The User profiling algorithm creates a profile for the user. As Kirtley (2019) pointed out, companies and governments monitor people's habits of using digital networks, with the purpose of knowing about their hobbies and even their ideas. Collecting people's data privacy helps this goal.
From the perspective of enterprises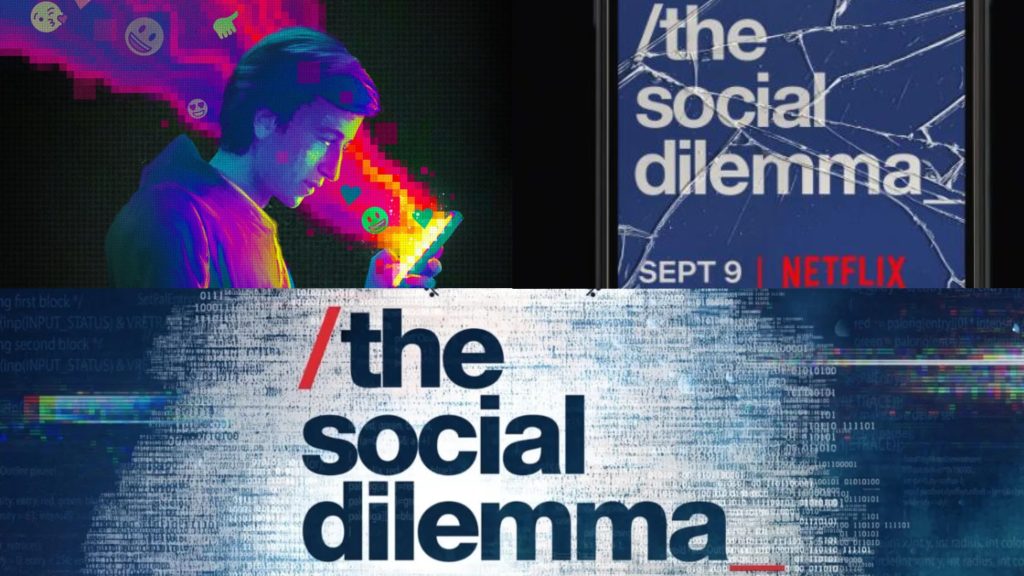 From the perspective of enterprises, TikTok's recommendation mechanism takes monitoring information as a means to promote soft advertisement and create entertainment hotspots. Internet platforms usually have two purposes for monitoring user information, namely, optimizing algorithms and investing in targeted advertisements. First, people's attention trends are monitored, and popular and entertainment hotspots are controlled by enterprises. In the movie The Social Dilemma released in 2020, director Jeff Orlowski mentioned that predicting people's behavior patterns is the purpose of commercial companies to monitor and collect people's data through social media platforms. Predict the popular trend, on the one hand, to attract advertisers to invest in the platform so that advertisers believe that their investment will be rewarded. On the other hand, the algorithm based on personal information can make people focus on the topics that the media wants the audience to pay attention to. Use heat to create income. Secondly, TikTok manufactures hidden soft advertisements through the recommendation system. Advertisements are targeted to individuals. "It is the gradual, slight, imperceptible change in your own behavior and perception that is the product."(The Social Dilemma, 2020) This line is the film's interpretation of the subtle influence that the Internet platform has brought to the audience through the recommendation system. Advertising is invisible in entertainment videos. The guiding result brought by this kind of data monitoring has brought a negative influence on consumers. Specifically, in the study of 100 short video cases by Li, Chow, and Cheong, (2022), they believe that in TikTok, consumers' decision-making power to buy goods is deprived by invisible advertisements, and entertainment resources are used to cover up advertising purposes, and consumer culture is shaped into a way beneficial to enterprises. This is contrary to the idea of free creation and self-expression advocated by TikTok.
From the perspective of the Chinese government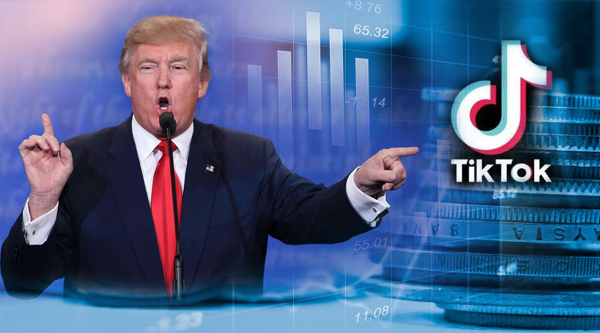 From the perspective of the Chinese government, TikTok's recommendation algorithm has the effect of monitoring, which is used to stabilize society and maintain network security. In 2020, Trump issued a ban on TikTok's business development in the United States. Some people think that this is aimed at reducing the impact of TikTok on social media platforms in the United States. In fact, this is a ban on geopolitics. First of all, the government of China stipulates that the government has the right to use any personal data on the platform. As Figliola (2020) pointed out, TikTok's distribution companies are under more and more scrutiny in the United States, because its existence poses a hidden danger to the privacy and safety of American citizens. The company is bound by the laws of China and must provide data when the government needs it. This means that people's privacy and browsing records can be checked by the government at any time. For non-China users, this may lead to the risk of disclosure of state and company secrets. Secondly, from a cultural point of view, China people generally lack the will to protect their privacy. Therefore, TikTok's monitoring clause has little resistance in China. As Kirtley (2019) pointed out, 46% of the population in China are willing to share private information in exchange for the services of the platform. This means that TikTok's monitoring purpose has cultural particularity. In addition, the government of China uses TikTok's data for monitoring, which contributes to government stability and network security. The transparent management of network data has increased the cost of people's speech to a certain extent and curbed some negative results of network violence and rumors.
In conclusion…
In conclusion, TikTok uses the recommendation system to monitor user data. From the point of view of enterprises and government, on the one hand, it has caused users a negative impact of being deprived of decision-making power, on the other hand, it has also built a digital world with high speech cost. As Gray (2021) pointed out, these disputes about data security and user privacy, which have been criticized by people, are not unique to TikTok. This is the contradiction between the management mode used by most modern short video platforms and users' personal privacy. Perhaps in the future, people will regard personal data as valuable property and establish more perfect relevant laws for its protection. But in fact, in today's digital age, people can no longer exist invisibly in the online world. Therefore, people should be sensitive to the use of personal information. In addition, in the face of the popularity of intelligent recommendation algorithms, people should pay attention to increasing their acceptance of information and collecting information more widely to prevent the formation of a knowledge cocoon.
Bibliography
Gray, J. E. (2021). The geopolitics of 'platforms': The TikTok challenge. Internet Policy Review, 10(2). https://doi.org/10.14763/2021.2.1557

Kirtley, J. (2019). Privacy rights in the digital age (J. Kirtley & M. Shalley-Jensen, Eds.; Second edition.). Grey House Publishing.

Quiroz, N. T. (2020). TikTok. Revista Argentina de Estudios de Juventud, 14, e044–. https://doi.org/10.24215/18524907e044

Statista. (2021). Number of global TikTok users from 2019 to 2023. Statista. https://www.statista.com/statistics/1327116/number-of-global-tiktok-users/

Figliola, P. M. (2020). TikTok: technology overview and issues ([Library of Congress public edition].). Congressional Research Service.

"The Social Dilemma" (2020). Documentary. Directed by Jeff Orlowski. Netflix.

Li, D., Chow, U. T., & Cheong, C. Y. M. (2022). A Critical Genre Analysis of Covert Advertising Through Short-Videos in Douyin: The Chinese Version of Tik-Tok. SAGE Open, 12(4), 215824402211346–. https://doi.org/10.1177/21582440221134608