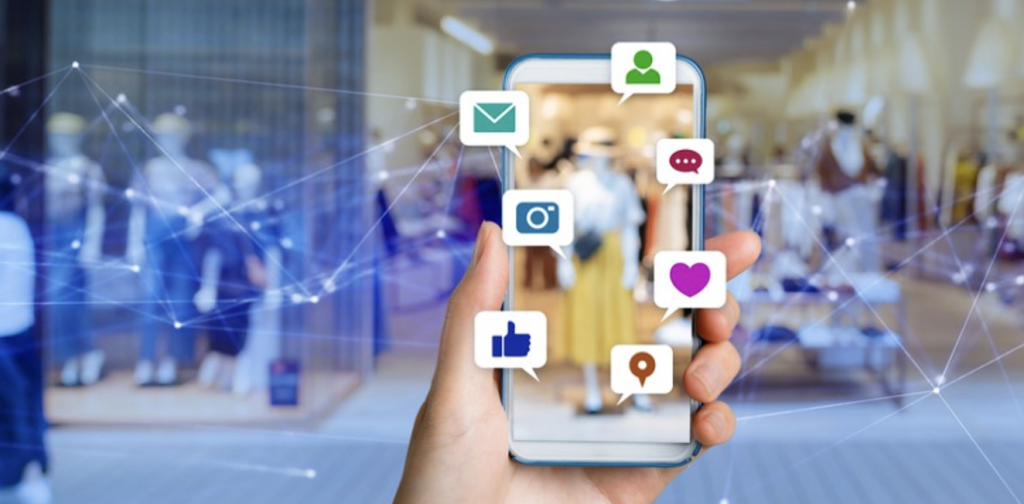 Introduction
The digital age presents a novel paradigm, influencing consumer behaviours and creating intricate intersections among social media, live ecommerce, the sharing economy, and fast fashion. With each digital evolution, industries are compelled to adapt, and consumers are prompted to recalibrate their behaviours.

The Symbiotic Relationship Between Social Media and Fast Fashion
Influencers as Catalysts:
The digital age has seen the meteoric rise of influencers, particularly on platforms like Instagram and TikTok.. These influencers, instrumental in setting and broadcasting fashion trends, serve as invaluable conduits between brands and extensive audiences. A mere post, story, or video from an influencer can instantly make a fashion trend resonate across millions. Recognising the profound impact of these digital fashion mavens, fast fashion brands are intensifying their collaborations with them. Partnering with influencers, through sponsorships and affiliate marketing, has become standard practice. Brands are meticulous in choosing influencers whose style and follower demographics align with their target audience. This careful alignment paves the way for swift product launches and targeted campaigns, designed to harness the influence of these digital fashion leaders. Data underscores this shift, revealing that 31% of social media users prefer discovering new products through influencers. Notably, this preference spikes to 43% among Gen Z users. Clearly, influencers have evolved from mere content creators to central figures in the modern product discovery journey. The image below, showcasing an Instagram content creator in her element, exemplifies the fusion of style and commerce. The 'shop' tag highlighted in the image is a testament to how influencers seamlessly blend content creation with direct product promotion, allowing followers to not just admire but also acquire the fashion they showcase.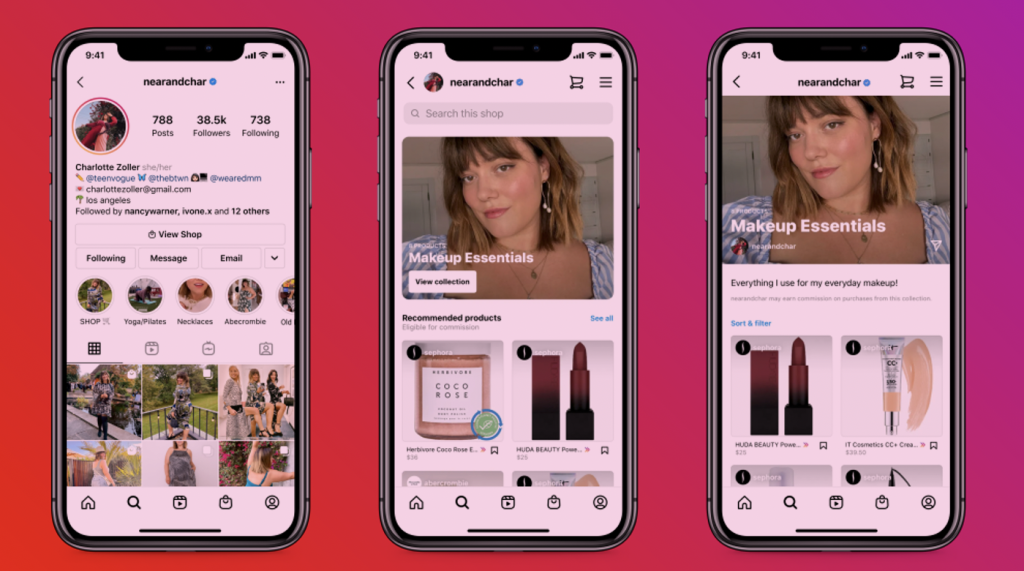 Lee, A. (2021, October 24). Instagram to Let Influencers Create Their Own Stores. WWD. https://wwd.com/feature/instagram-creators-stores-1234982441/


Instant Gratification and FOMO (Fear of Missing Out):
In today's hyper-connected world, consumers are continually bombarded with fashion updates. Every interaction with their devices—be it a scroll, swipe, or click exposes them to the latest styles and trends, often showcased by their favourite influencers or celebrities. A case in point is the overwhelming response to a popular $40 corset top sold by Glassons. When promoted by a TikTok influencer known as SophaDopha, thousands raced to the brand's website, causing it to crash. This frenzy was not merely due to the top's aesthetic appeal, made of lacy material with figure-hugging boning and lace-up back detail, but also because of its viral presence on platforms like Instagram and TikTok. The garment's desirability reached such heights that it was even resold on platforms like Depop for nearly four times its original price.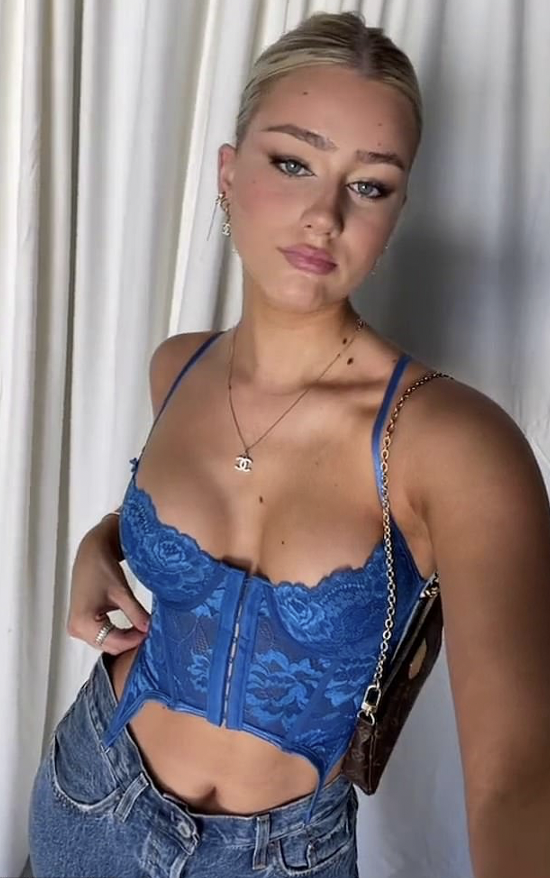 Allingham, L. (2022, January 4). Shoppers crash Glassons website as they race to buy one popular top. Mail Online. https://www.dailymail.co.uk/femail/article-10366133/Shoppers-sent-spin-crash-Glassons-website-race-buy-popular-blue-corset-top.html

In today's digital era, 86% of women use social media as a source of influence for their purchasing decisions. Such incidents underline the relentless exposure and urgency the digital age fosters, creating an environment of 'now or never', where the fear of missing out on the latest trend can be overpowering. This behavioural response is deeply anchored in the psychological phenomenon known as FOMO. A recent study emphasises the role of FOMO in driving consumers towards impulsive purchases, be it due to limited-time offers, trending products, or the mere aspiration to emulate a digital fashion icon. Fast fashion brands, acutely aware of this dynamic, are always on their toes, updating their collections to cater to ever-shifting consumer preferences. However, this relentless consumption cycle isn't without its pitfalls. The incessant urge to spend to avoid feeling "out of touch" or "dated" has been associated with negative mental health implications. Particularly susceptible are the young and impressionable, for whom the unending chase to stay current, propelled by the swift cadence of fast fashion and digital trends, can intensify feelings of inadequacy, anxiety, and depression.



Ososki, T. (2021, February 4). How much do influencers actually influence? The Rubicon. https://www.rubiconline.com/how-much-do-influencers-actually-influence/



Online relationship marketing
The digital age has ushered in a revolution in the world of marketing. No longer are campaigns solely about wide-reaching advertisements; they have evolved into more targeted, nuanced, and tailored strategies, particularly in the fast fashion domain.

Retargeting Ads:
Ever browsed a product online only to find its advertisement on a different website or social media platform later? That's retargeting at play. Recognising the power of recall, fast fashion brands use retargeting strategies to remind consumers of products they've shown interest in, nudging them towards making a purchase. Instagram, a platform heavily consumed by fashion enthusiasts, is a prime arena for these retargeting tactics. After browsing a product, users often find that same product or similar ones popping up in their Instagram feeds as sponsored ads. This not only keeps the product on top of the consumer's mind but also capitalises on the visual nature of Instagram, showcasing the product in various contexts and enticing users to revisit their decision and make the purchase. Furthermore, according to internal Instagram data, 50% of users become more engaged in a brand after the ad on Instagram, highlighting the platform's efficacy in influencing brand perceptions and purchase decisions.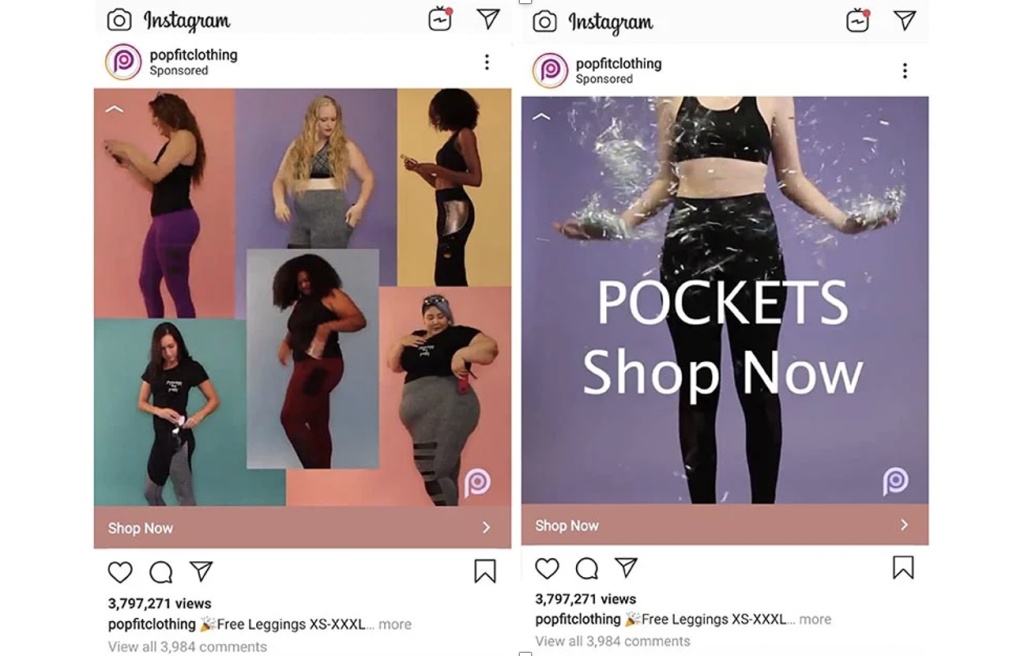 How Sponsored Clothing Ads On Instagram Produces Results. (2019, September 23). Unlimited Graphic Design Service. https://penji.co/instagram-sponsored-clothing-ads/


Sharing Economy's Role in Fast Fashion's Digital Revolution
The digital age, characterised by a culture of sharing and communal engagement, has given rise to fast fashion's exponential growth. This contemporary age, aptly described as 'The Age of Sharing', is deeply rooted in values of empathy, communication, openness, and equality, intertwining digital practices with emotional connections (John, 2016). Social media platforms, especially those like TikTok that embody the sharing economy, have emerged as significant catalysts. These platforms not only enable passive content consumption but also encourage users to be part of the fashion dialogue, creating and reshaping trends collaboratively.

Fast Fashion's Synergy with the Sharing Economy and Live Ecommerce
Fast fashion brands, recognising the transformative power of this sharing culture, have swiftly adapted to its principles of shared consumption and collaboration. Live ecommerce platforms like Tik-tok's Shop go beyond being mere shopping interfaces. They represent spaces of shared experiences where users collectively engage with, react to, and mould fashion trends. Furthermore, as Su (2023) highlighted, the versatility of short-video platforms in monetising content makes them particularly alluring for content creators. These creators forge deeper relationships with consumers by crafting and monetising unique content, leading to a robust community where consumers interact and collaborate extensively (Ren et al., 2021). However, the digital age brings with it complexities. In these evolving spaces, the term 'sharing' could sometimes veil commercial or exploitative undertones (John, 2016). Nevertheless, the act of purchasing in these digital domains transcends mere individual choice; it metamorphoses into a collective experience, profoundly influenced by the communal voice resonating across the platform.



Tier, C. (n.d.). Noor Store Tn on TikTok. TikTok. Retrieved October 5, 2023, from https://www.tiktok.com/@noorstore.tn/video/7277176269643533573?q=campeletier&t=1696506607089


Shared Consumer Behaviour in the Instant Fashion Era
Fast fashion brands, cognisant of the burgeoning sharing economy, have rapidly embraced the ethos of communal consumption and collaboration. Live ecommerce on platforms, notably TikTok's Shop, transcends the conventional boundaries of a mere shopping interface. Here, the emphasis is on communal shopping experiences, with users actively engaging, responding to, and even moulding prevailing fashion trends. Such interactions are accentuated when celebrity sales agents (CSAs) come into the picture, lending an extra layer of genuineness and significantly steering purchase inclinations (Ji et al., 2022).

Within these live ecommerce domains, the act of purchasing transcends individual whims. It morphs into a collective resolution, steered by current trends and further nuanced by perceived values—ranging from functional and aesthetic to societal considerations (Wu et al., 2023). Recent observations underscore this transformation, revealing that TikTok Shop's video-centric interface, where creators vend products while interacting with a global user base, has redefined the traditional shopping narrative. It's not merely about buying; it's about being part of a shared, interactive experience. Supporting this paradigm shift, data suggests that an impressive 71% of users are inclined to make purchases influenced by short video content. This intricate dance between communal influences and individual desires on platforms carves out a unique purchase behaviours trajectory.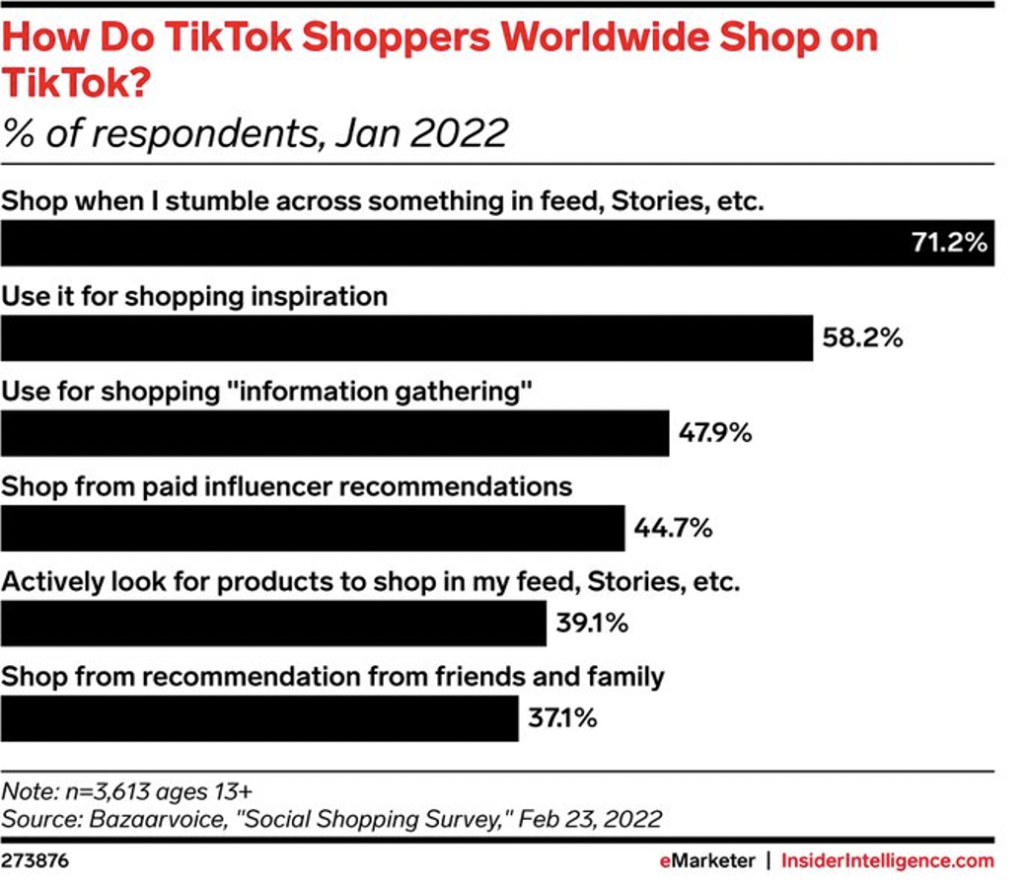 Conclusion:
The digital age has fundamentally transformed the fast fashion landscape, intertwining technology and consumer psychology in unprecedented ways. With influencers steering product discovery, live commerce reshaping shopping narratives, and the ever-persistent FOMO influencing purchases, the industry stands at a crossroads of innovation and responsibility. While the opportunities for engagement and personalization are vast, they come with inherent challenges, particularly for impressionable younger audiences. As the fusion of fast fashion and the digital realm continues, brands must prioritise genuine community engagement, ethical practices, and sustainable connections, ensuring that the future of fashion is not just technologically advanced but also socially conscious.

Reference
Allingham, L. (2022, January 4). Shoppers crash Glassons website as they race to buy one popular top. Mail Online. https://www.dailymail.co.uk/femail/article-10366133/Shoppers-sent-spin-crash-Glassons-website-race-buy-popular-blue-corset-top.html
Gillespie, T. (2018). All Platforms Moderate. Custodians of the Internet : Platforms, Content Moderation, and the Hidden Decisions That Shape Social Media (pp. 1–23). Yale University Press,. https://doi.org/10.12987/9780300235029
Instagram. (2021). Instagram Business. Instagram for Business. https://business.instagram.com/?locale=en_GB
Ji, G., Fu, T., Choi, T.-M., Kumar, A., & Tan, K. H. (2022). Price and Quality Strategy in Live Streaming E-Commerce With Consumers' Social Interaction and Celebrity Sales Agents. IEEE Transactions on Engineering Management, 1–13. https://doi.org/10.1109/TEM.2022.3227106
John, N. A. (2016). Sharing Economies. In The age of sharing (pp. lviii–lxxvii). Polity Press.
Wu, Y., & Huang, H. (2023). Influence of Perceived Value on Consumers' Continuous Purchase Intention in Live-Streaming E-Commerce—Mediated by Consumer Trust. Sustainability (Basel, Switzerland), 15(5), 4432–. https://doi.org/10.3390/su15054432
Karapinar, I., Eru, O., & Cop, R. (2019). The Effects of Consumers' FoMo Tendencies On Impulse Buying and The Effects of Impulse Buying on Post- Purchase Regret: An Investigation on Retail Stores*. BRAIN. Broad Research in Artificial Intelligence and Neuroscience, 10(3), 124–138. https://lumenpublishing.com/journals/index.php/brain/article/view/2189
Portors, C. (2022, August 19). Live-streaming e-commerce continues to grow. Www.barclaypearce.com.au. https://www.barclaypearce.com.au/blog/live-streaming-e-commerce-continues-to-grow
Ren, J., Yang, J., Zhu, M., & Majeed, S. (2021). Relationship between consumer participation behaviors and consumer stickiness on mobile short video social platform under the development of ICT: based on value co-creation theory perspective. Information Technology for Development, 27(4), 697–717. https://doi.org/10.1080/02681102.2021.1933882
Santora, J. (2023, January 11). Key Influencer Marketing Statistics You Need to Know for 2022. Influencer Marketing Hub. https://influencermarketinghub.com/influencer-marketing-statistics/
Schaffer, N. (2020). The age of influence : the power of influencers to elevate your brand. HarperCollins Leadership, an imprint of HarperCollins.
Solomon, A. B. (2023, September 26). How do People Shop on TikTok? Ecomhunt Blog | Free Tips and Resources for Dropshippers. https://blog.ecomhunt.com/2023/09/26/how-do-people-shop-on-tiktok/
Su, C. (2023). Contingency, Precarity and Short-Video Creativity: Platformization Based Analysis of Chinese Online Screen Industry. Television & New Media, 24(2), 173–189. https://doi.org/10.1177/15274764221087994
TikTok. (2023). TikTok. Tiktok.com; TikTok. https://www.tiktok.com/en/





Live Ecommerce: A New Paradigm in Consumer Engagement
The Power of Live Streams:
Conversion rates are vital indicators of ecommerce success. Interestingly, live stream significantly surpasses traditional ecommerce in conversion rates. While e-commerce conversion averages around 2.5%-3%, live commerce boasts a conversion rate that can be approximately ten times higher, occasionally soaring up to 30%. This enhanced conversion can be attributed to the genuine nature of live sales. Contrary to static images, which can be digitally enhanced, live streams provide a raw, unaltered visual combined with real-time engagement. This transparency coupled with instantaneous interactions signficantly resonates with modern consumers.


















































Reference
Allingham, L. (2022, January 4). Shoppers crash Glassons website as they race to buy one popular top. Mail Online. https://www.dailymail.co.uk/femail/article-10366133/Shoppers-sent-spin-crash-Glassons-website-race-buy-popular-blue-corset-top.html
Gillespie, T. (2018). All Platforms Moderate. Custodians of the Internet : Platforms, Content Moderation, and the Hidden Decisions That Shape Social Media (pp. 1–23). Yale University Press,. https://doi.org/10.12987/9780300235029
Instagram. (2021). Instagram Business. Instagram for Business. https://business.instagram.com/?locale=en_GB
Ji, G., Fu, T., Choi, T.-M., Kumar, A., & Tan, K. H. (2022). Price and Quality Strategy in Live Streaming E-Commerce With Consumers' Social Interaction and Celebrity Sales Agents. IEEE Transactions on Engineering Management, 1–13. https://doi.org/10.1109/TEM.2022.3227106
John, N. A. (2016). Sharing Economies. In The age of sharing (pp. lviii–lxxvii). Polity Press.
Wu, Y., & Huang, H. (2023). Influence of Perceived Value on Consumers' Continuous Purchase Intention in Live-Streaming E-Commerce—Mediated by Consumer Trust. Sustainability (Basel, Switzerland), 15(5), 4432–. https://doi.org/10.3390/su15054432
Karapinar, I., Eru, O., & Cop, R. (2019). The Effects of Consumers' FoMo Tendencies On Impulse Buying and The Effects of Impulse Buying on Post- Purchase Regret: An Investigation on Retail Stores*. BRAIN. Broad Research in Artificial Intelligence and Neuroscience, 10(3), 124–138. https://lumenpublishing.com/journals/index.php/brain/article/view/2189
Portors, C. (2022, August 19). Live-streaming e-commerce continues to grow. Www.barclaypearce.com.au. https://www.barclaypearce.com.au/blog/live-streaming-e-commerce-continues-to-grow
Ren, J., Yang, J., Zhu, M., & Majeed, S. (2021). Relationship between consumer participation behaviors and consumer stickiness on mobile short video social platform under the development of ICT: based on value co-creation theory perspective. Information Technology for Development, 27(4), 697–717. https://doi.org/10.1080/02681102.2021.1933882
Santora, J. (2023, January 11). Key Influencer Marketing Statistics You Need to Know for 2022. Influencer Marketing Hub. https://influencermarketinghub.com/influencer-marketing-statistics/
Schaffer, N. (2020). The age of influence : the power of influencers to elevate your brand. HarperCollins Leadership, an imprint of HarperCollins.
Solomon, A. B. (2023, September 26). How do People Shop on TikTok? Ecomhunt Blog | Free Tips and Resources for Dropshippers. https://blog.ecomhunt.com/2023/09/26/how-do-people-shop-on-tiktok/
Su, C. (2023). Contingency, Precarity and Short-Video Creativity: Platformization Based Analysis of Chinese Online Screen Industry. Television & New Media, 24(2), 173–189. https://doi.org/10.1177/15274764221087994
TikTok. (2023). TikTok. Tiktok.com; TikTok. https://www.tiktok.com/en/