The Rise of Live e-Commerce in China
---
Live streaming shopping is one of the new forms of e-commerce developed with the media technology, and also gained popularity with the emerging live streaming industry. Live e-commerce combines the features of broadcasting and online shopping, defined as a subset of e-commerce with realtime social interactivity and media.(Zhang & Chen, 2023) . In this business model, anchors and the products are the two most important factors to draw consumers' attention(Ji et al., 2023)
In live e-commerce, the anchor selects products and introduces them to viewers, providing a new space for consumers to choose products online. Compared to traditional online shopping, this pattern helps customers save time in browsing while presenting products in a more comprehensive and vivid way. 
In China, the live e-commerce industry developed rapidly in recent years, especially during the covid-19. The rapid rise of the live-streaming e-commerce industry has been reliying on China's relatively well-developed online shopping platforms, online payment method such as Alipay as well as supply chain and delivery systems, which support the giant number of ordering due to China'a huge population.()furthermore, this industry has also benefited from the popularity of short video platforms. For example, apart from the famous online shopping platform Taobao, the live streaming streaming show industry has also emerged on Douyin (Chinese TikTok) and Kuaishou. Datas shows that the total sales of the top 10 streamers on Taobao live streaming reached 292 million yuan( Au$62.12 ); Kuaishou e-commerce top ten total sales of 1.178 billion yuan( AU$250 million ); Tik Tok's top 10 e-commerce sales totalled 196 million yuan( AU$41.7 million ).(Sha et al., 2021)
Interesting chart on how Livestream platform taking over the ecommerce platforms in China.

As you can see, livestream shopping platforms such as Douyin and Kuaishou are gaining market share. In fact, Douyin (you might know as Tiktok) and Kuaishou are now the second and third… pic.twitter.com/87x92m30wT

— Domex Mandey (@hi_domex) October 5, 2023
The covid-19 restricted people from going out and thus made more time for online shopping, of which live streaming is a best way to get more knowledge about the products with efficiency, since the anchor would gather information and make presentation, and communicate with viewers and answer their questions immediately and effectively. In addition, the unique interaction of live broadcasting also makes it easier and more insteresting for viewers to watch it as a pastime and probably spend money under the persuasion of the anchor.
The Live e-Commerce that Relies on the Anchor
---
The specific commercial patterns of live e-commerce diverse in China, and the most common one is to rely on the anchor. Take the ' lipstick king' Austin Li( Li Jiaqi ) for example. He entered the e-commerce industry in 2015, and exploded onto the scene in late 2019. The business model of anchors such as Austin is to cooperate with brands and company and only act as sales person. In the live stream, Austin will try all of the products such as lipsticks and other makeup that he recommends, and offer a low price in limited quantity to encourage people to purchase in his channel. His good eloquence and professionality has saved him a good reputation, helped him to accumulate a large number of fans to become one of the top live streaming influencers. Therefore, as one of the most influential anchors in this industry, Austin could cooperate directly and deeply with a variety of suppliers and has given promise to his audiences to offer the lowest price of the same product among all the sellers. Making use of the scale effect, he benefited greatly.  
The total revenue of China's e-commerce livestream sector is projected to reach RMB 4.9 trillion (AU$1.04 trillion) in 2023, according to a 2021 iResearch report. This will account for 11.7 percent of total e-commerce sales in the country, injecting new impetus into the economy(Wu, 2022).the huge profits is attracting more than just professional anchors. Celebrities and influencers tend to join the industry and make use of fans' economies. 
In conclusion, in this pattern the anchor takes a more important role than the product itself in attracting the customer, since their fame and reputation could be taken advantage of in order to attract both products suppliers and customers, however, they do not in responsible for production themselves.
However, the combustion based on the trust of fame could also lead to severe danger. 
The Crisis of Reputation, and the Economy
---
'It's the same price for all those years. If a 79 yuan (AU$17) eyebrow liner is too expensive for you, then reflect why your salaries have not increased in years, said Austin Li in live stream, in response to one of his viewer's complaints about the price of products.
His comments sparked outrage and put himself under fire. He apologized in another live stream several days later, however disappointment and anger from his customers has spread unstoppably, causing him to lose over 1 millions of followers. Some of his viewers think that his inappropriate comments are an sign of betraying, since he became popular partially because of his offering low price products, while others considered that he did nothing wrong but revealed the truth.
The world's economy experienced a severe downward crisis during the pandemic , and in China the situation is even worse since the lock-down as well as covid-zero policy  have made the economic rival slower than in other countries around the world. The emerging of live e-commerce reveals of pressure on the economical issues of individual life in this country, and the business pattern that relies on sellers' reputation and low price rather than the quality of the product itself could lead to a bunch of problems. 
Approaching to Better Products: Rural Live e-Commerce
---
Here is one other model of the live e-commerce in China, which is led by farmers in rural areas. Through live stream, famers could show and sell their fresh products directly to the viewers, saving money from complex supply chain and distributors, as well as advertising fees. The e-commerce in rural area is encouraged by the Chinese government's 'Poverty Alleviation Campaign', and has succeeded in increasing GDPs.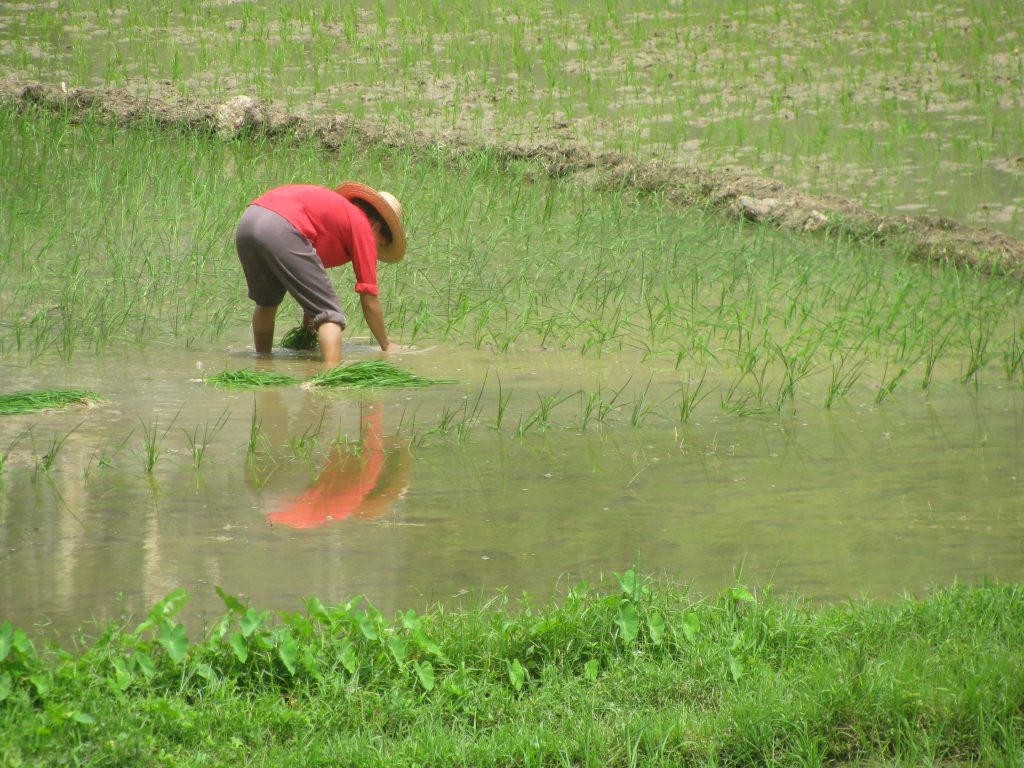 More than just selling, the live e-commerce is beneficial to creating good images of farmers and theirs vilages, contributes to the travel industry in rural area, and furthermore spreading unique culture in rural village. The key aspect of rural live e-commerce is the product itself, while the seller also works hard to make their products attractive. The workforce in the process of production is also an important part of the whole industry, creating new jobs for people in poverty.
However, the use of media platforms could be problematic for rural Chinese residents, and professional anchors and marketing people are still in need. The development of the whole industry needs more experience to support.
Conclusion
---
As a subset of the e-commerce industry, The live e-commerce relies on the rapidly expanding Internet platform and has grown alongside the fan economy. The convenience brought to consumers of  the industry and its contribution to economy makes it indispensable to grow further. The two patterns of live e-commerce mentioned show the power of anchors and products separately, and solutions to their problems could be found by learning from each other. By improving quality of products and making the most of platforms, as well as encouraging anchors to be better sellers, products with good quality, reasonable price, and remarkable sales tactics are expected, along with more job opportunity in the industry and contribution to economies in this new era. 
References
---
References
Chen, H., Dou, Y., & Xiao, Y. (2023). Understanding the Role of Live Streamers in Live-Streaming E-Commerce. Electronic Commerce Research and Applications, 101266. https://doi.org/10.1016/j.elerap.2023.101266
Duan, S., Lin, J., & van Dijck, J. (2023). Producing new farmers in Chinese rural live E-commerce: platformization, labor, and live E-commerce sellers in Huaiyang. Chinese Journal of Communication, 1–17. https://doi.org/10.1080/17544750.2023.2203939
How China made its COVID-19 lockdown work. (2020, April 7). East Asia Forum. https://www.eastasiaforum.org/2020/04/07/how-china-made-its-covid-19-lockdown-work/
Ji, M., Liu, Y., & Chen, X. (2023). An eye-tracking study on the role of attractiveness on consumers' purchase intentions in e-commerce live streaming. Electronic Commerce Research. https://doi.org/10.1007/s10660-023-09738-w
Li Jiaqi (beauty influencer). (2022, July 14). Wikipedia. https://en.wikipedia.org/wiki/Li_Jiaqi_(beauty_influencer)
Sha, Z., Huang, Y., & Jin, Y. (2021). Psychological Analysis of Li JiaQi's Live-Streaming Consumers During the Spring Festival under the Epidemic. International Journal of Frontiers in Sociology, 3(14). https://doi.org/10.25236/ijfs.2021.031405
VOA News. (2022, November 28). What Is China's "Zero-COVID" Policy? VOA. https://www.voanews.com/a/what-is-china-s-zero-covid-policy-/6854291.html
Why "Lipstick King" Li Jiaqi's US$11 eyebrow pencil comment sparked uproar. (2023, September 14). South China Morning Post. https://www.scmp.com/magazines/style/people/icons-influencers/article/3234517/why-lipstick-kings-us11-product-comment-sparked-uproar-top-china-beauty-influencer-li-jiaqi-dissed
Wu, Y. (2022, September 1). China's Livestream Industry: Impact on Market and Business Strategy. China Briefing News. https://www.china-briefing.com/news/chinas-livestream-industry-market-growth-regulation-enabling-technology-and-business-strategies/
Zhang, R., & Chen, M. (2023). Predicting Online Shopping Intention: the Theory of Planned Behavior and Live E-Commerce. SHS Web of Conferences, 155, 02008. https://doi.org/10.1051/shsconf/202315502008