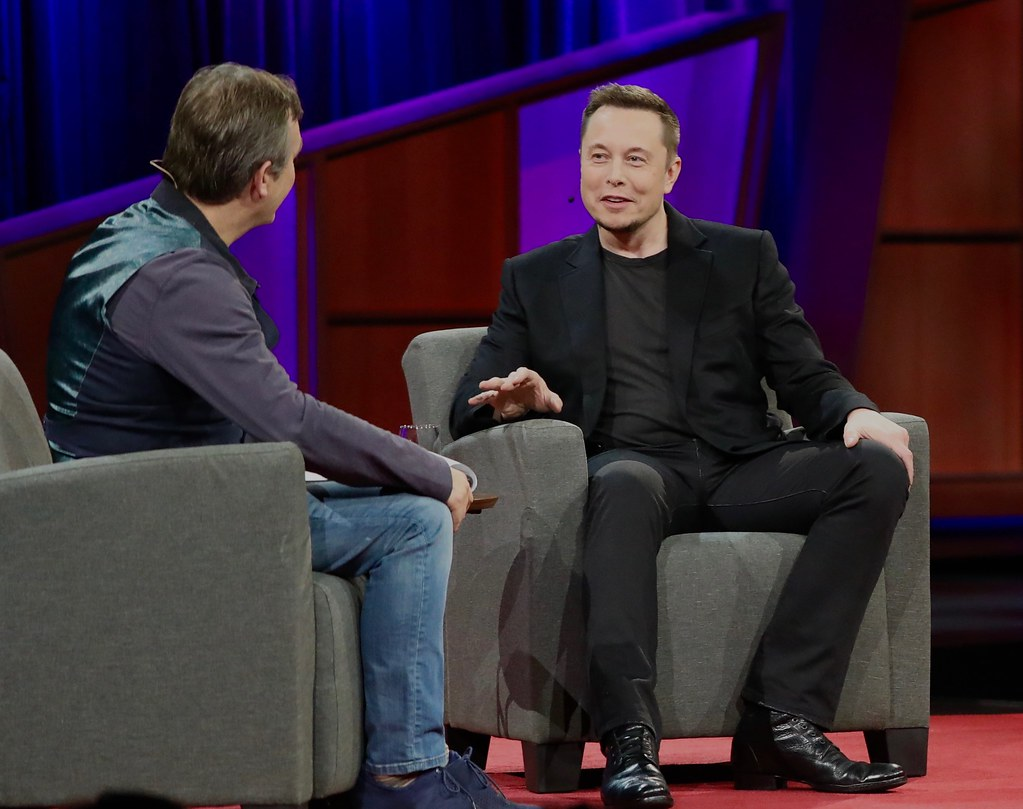 "Elon Musk at TED 2017" by jurvetson is licensed under CC BY 2.0.
The entrepreneur acquired Twitter in late 2023 with his solid claims for making the platform a better social media. Many people are questioning Musk's motive of commercialized user services and then expand the sources of income. But ever since the full acquisition, the platform not only shows poor appeal to attract new users but also sees many users leaving their online homes for another one. Is the entrepreneur harboring some bigger plans or is this the consequence of the unapologetic make-over of the system?
Laying off out of the blue – Employees were "ousted" from the Bluebird
Right after Elon Musk purchased enough percent of shares to make him the chairman, Musk made an absolute change within the system. He tweeted that "the bird is freed" followed by "let the good time roll" (Paul & Milmo, 2022). Not sure whether or not the time ahead is going to be "free" and "good" as Musk claimed but many Twitter insiders have already experienced something different. The first thing Musk did to the office was cut down on employees. In an interview with BBC, Musk admitted that he had made the change in Twitter's workforce. At the time of his acquisition, there were 8,000 members and after four months, the number went down to only 1,500 members of employees which is adequate for 80 percent of staff reduction (Toh & Liu, 2023). This is not to mention Musk has also fired some senior figures of the company: Parag Agrawal, Twitter's CEO; Bret Taylor, Twitter's chairman; Ned Segal, the chief financial officer; and Vijaya Gadde, the head of legal policy, trust, and safety (Clayton & Hoskins, 2022).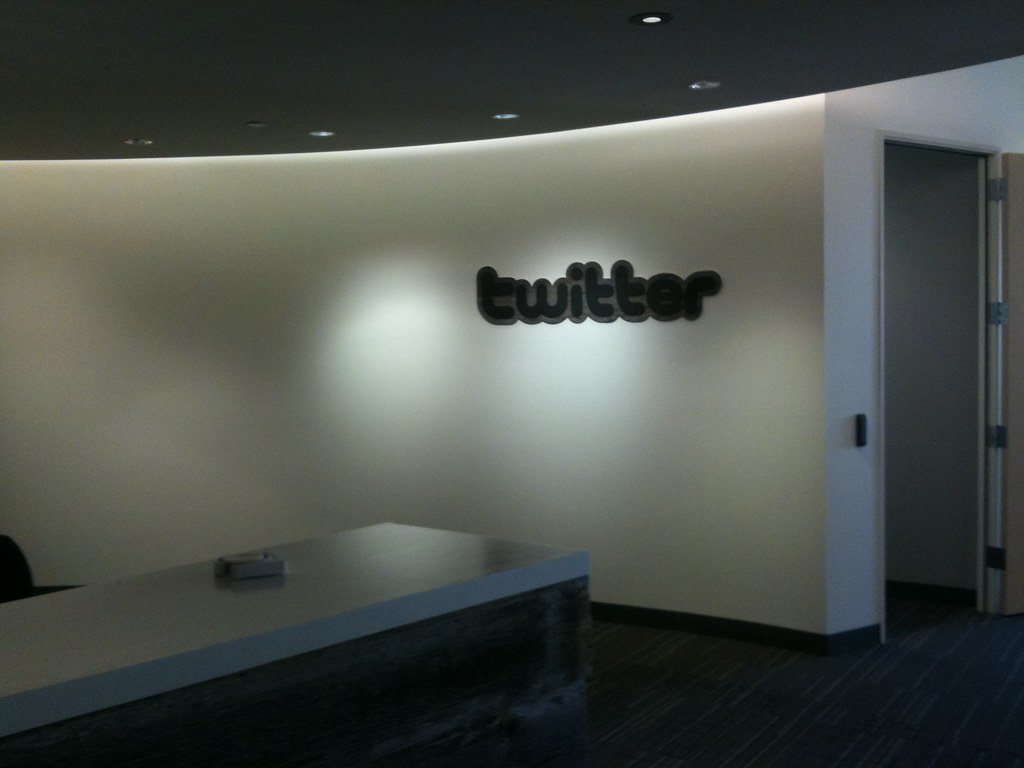 "Twitter Office 3.0" by netik is licensed under CC BY-NC 2.0.
The first outrage and somewhat ironic reaction came from within the office itself. Many staff shared on Twitter their experience of working with Twitter and showed appreciation to other fellow staff. Some others show a more ironic reaction after receiving the laid-off emails. One called the email 'dehumanizing' and how much they would have missed their old workplace. Others posted pictures taken with their colleagues and bluebird merchandise as a farewell to their sudden leave of work (Dean, 2022). It is understandable how Twitter employees react with bitterness because the decision arrived so unexpectedly and unreasonably. A lot of employees even regard this decision as if they are not losing their jobs but rather the Bluebird platform is losing its identity.
People can blame Elon Musk's decision for being heartless or "dehumanizing" but Musk has his own worries about making such an act. In terms of the financial situation, Twitter is dealing with "a 3 billion dollar negative cash flow". To cut off any further financial burden, Musk decided to minimize the workforce. According to him, "This is not a caring or uncaring situation. If the whole ship sinks, nobody's got a job" (Toh & Liu, 2023). As the new chief of the company, keeping the company survives is Musk's priority to secure what he paid for, despite being criticized for the unapologetic staff reduction during the post-pandemic recruitment difficulties.
What comes after the cutdown of Twitter employees?
The shock in the cut down of employees is just the beginning of Elon Musk's era at Twitter, he has also made some structural modifications within the operation of the system. Musk made some appearance and user experience changes to the platform. The foremost change is the name and the icon of the app. Twitter is no longer using its name but, instead, Musk renamed it "X" as the effort to rebrand and introduce his new approach. The iconic bluebird on the app is now replaced by the bold letter "X".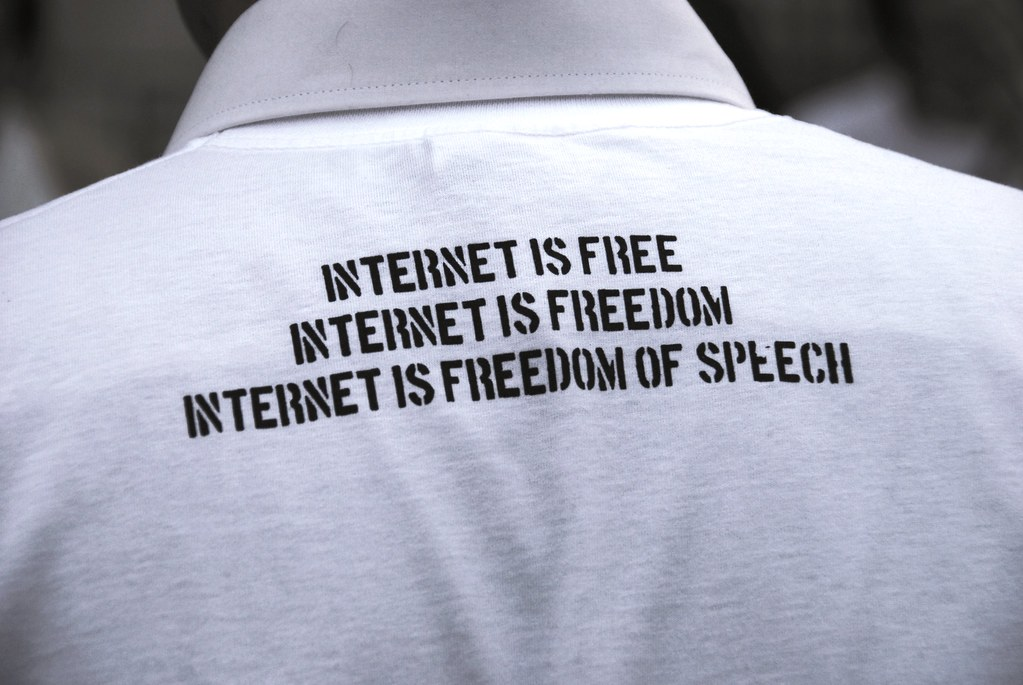 "internet is freedom of speech" by BEE FREE – PGrandicelli [the social bee] is licensed under CC BY-NC-SA 2.0.
"X" is now becoming more commercialized in the platform services. Accounts that already had check marks will be charged $8 per month in order to maintain the sign of verification. Those accounts with check marks will get boosted by the platform's algorithm onto the "For You" feeds. The purpose of this, according to Musk, is to prevent spam accounts from getting to the top of the feed and causing disturbance to users. At the same time, the new tweet system now comes with metrics showing the number of views and bookmarks a tweet gets (Conger, 2023). Elon Musk recently suggested that he would charge all users an access fee to enter the platform (Milmo, 2023). These additions of features provide transparency for content display and slowly diminish the old identity of the platform into something different.
Why do users keep leaving Twitter?
Despite Musk making a public announcement on improving the online experience, the reality does not seem to demonstrate positive results. Before taking action, Musk once claimed to make Twitter the "future of civilization is to have a common digital town square, where a wide range of beliefs can be debated in a healthy manner" (Milmo & Bhuiyan, 2022). The strategy includes restoring banned accounts to the platform again. Presumably, the idea is to allow more people to raise their opinions in a safe and debatable online environment. However, the proposed welfare of users does not seem to hold on to the existing users, not to mention the poor appeal to attract new users.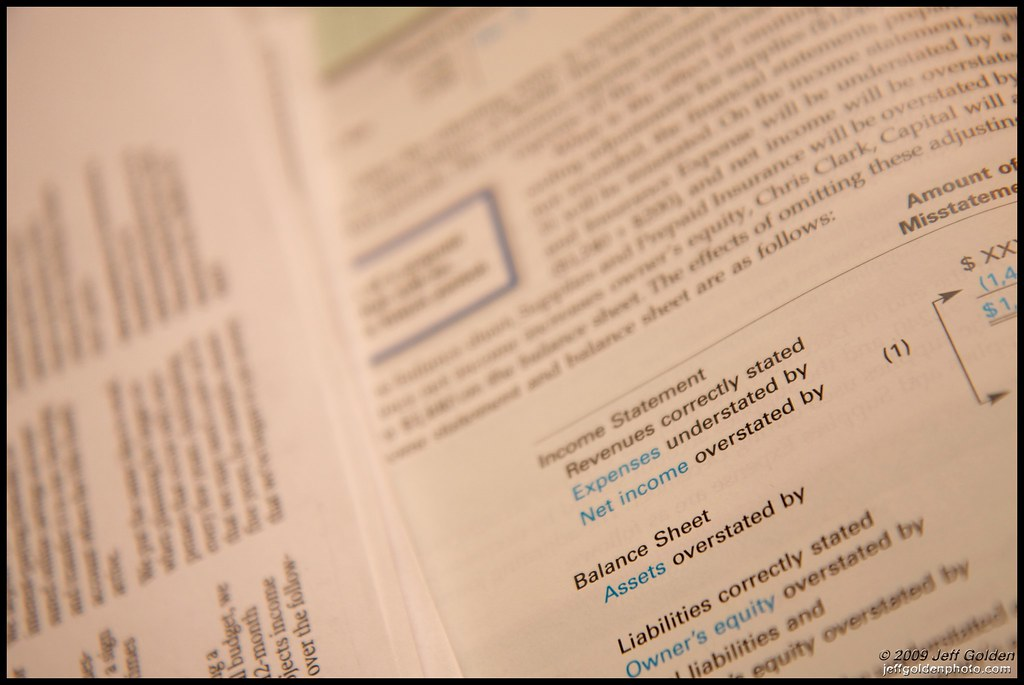 "On Account of Procrastination" by jeff_golden is licensed under CC BY-SA 2.0.
According to a report conducted by the Insider Intelligence Journal, Twitter is predicted to lose 4 percent of its users in 2023 and subsequently lose 5 percent in 2024. This percentage seems like a small portion but by the end of 2024, Twitter would possibly see 32 million users worldwide leaving the platform. In the United States, it is predicted that the number of users will fall from 58.7 million in 2022 to only 50.5 million at the end of 2024 (Bhaimiya, 2022). The gradual withdrawal of online participants indicates that the reasons might come from existing unresolved issues like technical problems, and hateful and inappropriate content. It seems like Musk's administration is still not able to get this problem solved as he promised.
How will Twitter make money?
Most of the profits earned from social media platforms come from digital advertising revenue. However, many companies like Audi, Volkswagen, and Pfizer have stopped having their advertising campaigns on Twitter as they are concerned over Musk's moderation strategies on the platforms (Bhaimiya, 2022). Since the profit of the platform mostly comes from displaying advertisements of other businesses, the cancellation of this activity of companies put Twitter in a continuous financial crisis.
In July 2023, Musk said that the ad revenue of X/Twitter had gone down 50 percent since his purchase. The continuous decline of cash flow puts Twitter in heavy debt (Spangler, 2023). Twitter's income from users' subscriptions could not balance out the loss from advertisement services.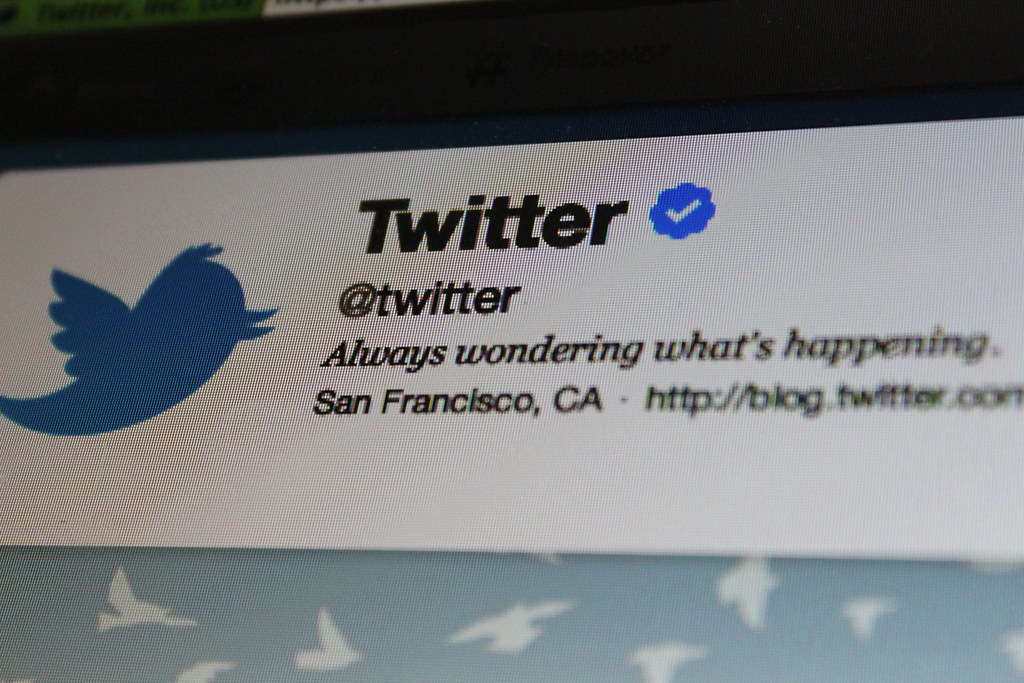 "Twitter" by chriscorneschi is licensed under CC BY-SA 2.0.
Even though Elon Musk proposed to commercialize online services to users in exchange for a better experience, the result is on the opposite side. According to Castells (2001), the culture of entrepreneurs is the new area of technology experiments which entrepreneurs can turn ideas into practice and hence earning monetary values. But Elon Musk's acquisition of Twitter is a case study for the inefficiency of his idea of the extremistic approach of content moderation and unnecessary fee charging. Instead of warding off clone accounts and irrelevant content, Twitter is unconsciously losing its users and even advertising business with brands where the main source of income comes from. In less than a year in office, Elon Musk's attempt to commercialize the platform has not only failed to prove its efficiency but also worsened its financial performance.
Reference
Bhaimiya, S. (2022, December 15). Twitter will lose over 32 million users by 2024 as Elon Musk's takeover causes more hate speech and technical problems, report says. Business Insider. https://www.businessinsider.com/twitter-lose-32-million-2-years-after-elon-musks-takeover-2022-12
Castells, M. (2001). The Culture of the Internet. In The Internet galaxy : reflections on the Internet, business, and society. Oxford University Press. https://doi.org/10.1093/acprof:oso/9780199255771.001.0001
Clayton, J., & Hoskins, P. (2022, October 28). Elon Musk Completes $44bn Twitter Takeover. BBC News. https://www.bbc.com/news/technology-63402338
Conger, K. (2023, April 7). How Elon Musk Is Changing the Twitter Experience. The New York Times. https://www.nytimes.com/2023/04/07/technology/elon-musk-twitter-changes.html
Dean, G. (2022). Twitter Employees Are Flocking to Social Media to Share News That They Have Been Laid off, Posting Tributes to staff, Pictures of colleagues, and Some Critiques of Elon Musk. Business Insider. https://www.businessinsider.com/elon-musk-twitter-employees-layoffs-tweet-job-employment-respond-react-2022-11#:~:text=Dozens%20of%20employees%20posted%20on
Di Stefano, M. (2022, November 13). Why Did Elon Musk (really) Buy Twitter? Australian Financial Review. https://www.afr.com/companies/media-and-marketing/why-did-elon-musk-really-buy-twitter-20221108-p5bwei
Milmo, D. (2023). Elon Musk says Twitter, now X, could charge all users subscription fees. The Guardian. https://www.theguardian.com/technology/2023/sep/19/elon-musk-twitter-x-subscription-fees-users-posts#:~:text=Elon%20Musk%20has%20indicated%20that
Milmo, D., & Bhuiyan, J. (2022, October 28). What Elon Musk might do with Twitter after his takeover is complete. The Guardian. https://www.theguardian.com/technology/2022/oct/28/elon-musk-twitter-takeover-complete-what-he-might-do-happens-next-deal-free-speech-private-bots
Paul, K., & Milmo, D. (2022, October 28). Elon Musk Completes Twitter Takeover And "Fires Top Executives." The Guardian. https://www.theguardian.com/technology/2022/oct/27/elon-musk-completes-twitter-takeover
Spangler, T. (2023, September 18). Elon Musk Suggests He Will Charge All X/Twitter Users A Fee To Be On The Platform. Variety. https://variety.com/2023/digital/news/elon-musk-charge-all-x-twitter-users-fee-1235726693/
Toh, M., & Liu, J. (2023, April 12). Elon Musk Says he's Cut about 80% of Twitter's Staff | CNN Business. CNN. https://edition.cnn.com/2023/04/12/tech/elon-musk-bbc-interview-twitter-intl-hnk/index.html
By Ann Truong
This work is licensed under a Creative Commons Attribution-NonCommercial-NoDerivatives 4.0 International License.