Information Architecture

Kejun LIU (Kimberley) 02/10/2023 SYD
TikTok is an online platform for creating small-length videos known as reels which mainly attract a narrow age demographic comprising teenagers and young adults who have significant implications for the content of the platform, social impact, and user behaviour. The significance of a narrow age demographic is much evident from the rapid growth of TikTok in the past few years, which included billions of users globally in a very short time (Zulkifli, 2022). TikTok boasts a diverse array of content starting from dance challenges to educational tutorials, however, the main driving base of TikTok is the continuous addition of reels primarily shared by teenagers and young adults. Due to TikTok, several young teenagers have gained popularity overnight, which indirectly contributed to their social and economic benefits through the viral videos as massively uploaded and shared on other social media platforms like Facebook, WhatsApp, and YouTube. Despite having various positive impacts, TikTok has some negative social impacts like prioritizing online interaction over face-to-face interaction, obsession over fame, and many more psychological issues that are argued by researchers (Azpeitia, 2021). This particular essay highlights the impact of the narrow age demographic of TikTok on social, economic, and other different aspects. The structure of this essay contains the impact of TikTok's narrow age demographic on attractive content creation, its influence on the behaviour of users, and its contribution towards both positive and negative social outcomes.
Content creation and trends
Figure 1: Proportion of people advertised by TikTok in different age groups
TikTok also has a significant contribution towards massive content creation to carry forward the latest trends. This is supported by the demographic of the platform, which consists primarily of individuals between age 18 and 24 contributing towards content creation as shown in Figure 1 (McLachlan, 2023). The different trends, challenges, and viral videos are mostly cherished by the interests of this particular age group including popular dance crazes and discussions about pop culture. Thus, creators curate their content to associate themselves with this demographic that contributes towards wealth generation in this segment of youth-centric content. There are also some counterarguments to these as some believe that content in TikTok is merely a reflection of the interests of users and does not represent the overall population of the narrow age demographic. Hence, this limited focus mostly excluded the older population and reduced the potential of the platform to create informative and educational content that will benefit society in scientific, commercial, and artistic advancements in the long run (Ekoh et al., 2021). However, the above argument can be refuted from the perspective that TikTok is only dedicated to small and easy entertainment particularly for young age people as there are many other platforms like Facebook, and YouTube contributing towards the educational and informative growth of society. Hence, TikTok has a predominant focus on the youthful demographic which certainly played a pivotal role in massive content creation and promotion of the latest trends.
User Behaviour and Engagement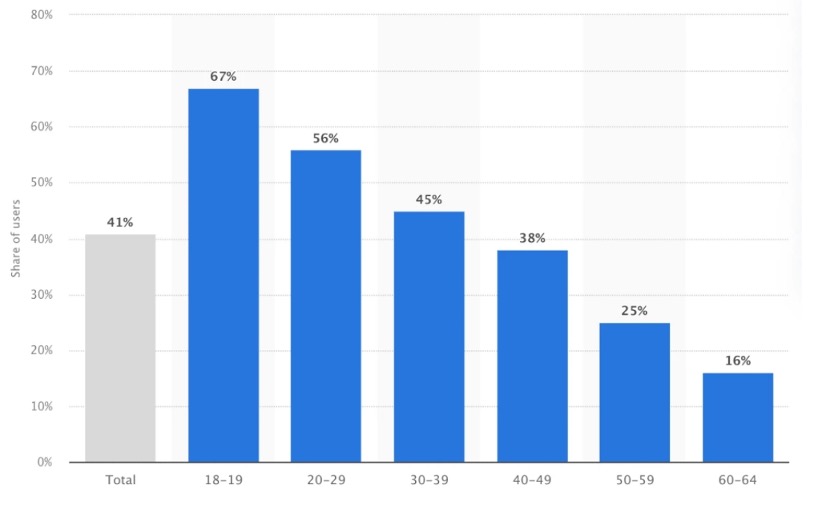 Figure 2: Percentage share of users in different age groups in TikTok
User behaviour is spontaneous and community engagement is even higher, especially for the young age people in TikTok. This can be supported by the fact that the demographic of TikTok mainly consists of users from the young generation and thus plays a pivotal role in shaping user behaviour and engagement as indicated by Figure 2 (Aslam, 2023). The young users try to be more active in the platform and thus invest a significant amount of time in the platform which mainly drives the higher engagement rates. TikTok specialised Thinktank, is also aware of this fact and thus regularly modifies the algorithm on the platform to make it more addictive by tailoring individual preferences that increase the popularity of the users. Hence, as an effect, the population of TikTok stay glued to the screens of their smartphones, which results in the daily usage of smartphone hours being significantly higher than normal. It can be argued that the addictive nature of TikTok is not only because of the young age demographic but also the influence of the app's design and the continuous updates in the algorithm aiming for better engagement and reach. The age demographic surely contributes to engagement, but it is not the sole factor responsible for the prolonged smartphone usage time of users (Schellewald, 2021). One might counter the assertion by observing that if indeed the platform's design and algorithm were the predominant factors luring users, then TikTok should resonate with users spanning all age brackets. Yet, in its current state, the platform seems to predominantly engage a particular age demographic. Thus, spontaneous user behaviour and community engagement of young age people are surely the main drivers for the popularity of the platform.
TikTok surely has various positive aspects to society even though it was created for short and easy entertainment. This can be supported by different positive social impacts of TikTok which include creating an outlet for young individuals to express their interests and fashion and thus fostering a sense of community, which in turn provides an opportunity to hear marginalized voices (Dahliana et al., 2022). There are also some artistic contents frequently promoted through TikTok like dance lessons, drawing skills, yoga lessons, and more, which have a positive impact on society and proved to be effective in disseminating information on various subjects (Oktarini et al., 2022). However, few critics argue that even though TikTok has positive impacts, its demographic focus can result in the exclusion of older individuals from modern entertainment, which may result in a generational gap in media consumption and content creation (Garcia, 2023). These critics can be refuted from the perspective that other social media apps have a significant population consisting of comparatively old age demographic, while TikTok is primarily focused towards young age people. Hence, there will always remain sufficient scope for online entertainment for the old population in the future, while TikTok can continue to add positive societal impact by enhancing the experience regarding fashion, trends, and fun for young age people.
There also exists some negative societal repercussions for the young age demographic of TikTok. This can be supported by some cases of criticism regarding the negative impact of society faced by TikTok like promoting unrealistic beauty standards and encouraging a culture of competitiveness between young individuals in terms of staying up to the modern trend (Qureshi, 2022). This fierce competition to get overnight fame and become trendy sometimes caused adverse effects as failing to do so implicated depression among many individuals. Furthermore, there is a potential concern for cyberbullying through harmful content, which is a matter of concern for this age demographic. TikTok advocates can argue on this matter that the content policies and community guidelines are strong enough to address these types of concerns and the negative impact is not only because of the age demographic but is rather a general issue for all social media platforms (Zeng & Kaye, 2022). However, this can be refuted by the fact that the tendency to get quick fame and wealth is mostly with the young generation making TikTok more vulnerable to these types of issues than other social media platforms. Thus, even if the young age demographic of TikTok adds value to the platform, there exist some negative impacts concerning issues like cyberbullying, the promotion of unrealistic beauty standards, and the effects of competitiveness.
The research highlighted that while the platform has made considerable strides in fostering content innovation, boosting user interaction, and effecting positive societal shifts, it is not devoid of certain adverse implications. The young audience that majorly frequents TikTok presents a dual-edged sword: on one hand, it serves as a channel for increased representation, while on the other, it can inadvertently endorse unattainable beauty ideals and escalate cyber harassment threats. It is worth noting that this study predominantly zoomed in on the younger segment, which might have inadvertently overshadowed the platform's broader societal impacts. Even as TikTok stands as a potent tool for youthful self-expression and connection, addressing its inherent challenges is paramount to sculpt a more protective online sphere for all users.
Aslam, S. (2023, February 27). Tiktok by the numbers (2023): Stats, Demographics & Fun Facts. Omnicore Agency. https://www.omnicoreagency.com/tiktok-statistics/
Azpeitia, J. (2021). Social media marketing and its effects on TikTok users. https://urn.fi/URN:NBN:fi:amk-202104205240
Dahliana, D., Supriatin, A., & Septiana, N. (2022, July). Literature study: the impact of the use of tik tok application on education in indonesia. In Proceeding International Conference on Islam and Education (ICONIE) (Vol. 2, No. 1). https://proceeding.uingusdur.ac.id/index.php/iconie/article/view/685
Ekoh, P. C., George, E. O., & Ezulike, C. D. (2021). Digital and physical social exclusion of older people in rural Nigeria in the time of COVID-19. Journal of Gerontological Social Work, 64(6), 629-642. https://doi.org/10.1080/01634372.2021.1907496
Garcia, S. (2023). Benefits and Drawbacks of Social Media on Adolescents and Young Adults. http://hdl.handle.net/20.500.12648/10517
McLachlan, S. (2023, April 13). 50+ important TikTok stats marketers need to know in 2023. Social Media Marketing & Management Dashboard. https://blog.hootsuite.com/tiktok-stats/
Oktarini, N. P. U., Dewi, N. P. K., Putra, M. R. A. K., Ataupah, J. H. A., & Oktarini, N. L. D. D. (2022). Analysis of the Positive and Negative Impacts of Using Tiktok For Generation Z During Pandemic. Journal of Digital Law and Policy, 1(2), 97-102. https://doi.org/10.58982/jdlp.v1i2.167
Qureshi, A. (2022). Impact of TIKTOK And snackvideo Apps on Social, Psychological, Educational State And on Moral and Ethical Values Among Teenagers and Youth in Pakistan. International Journal of Innovation and Applied Studies, 35(2), 436-441. https://www.proquest.com/openview/e77d2686ee0e0e9bb2302b2051baea3f/1?pq-origsite=gscholar&cbl=2031961
Schellewald, A. (2021). On getting carried away by the TikTok algorithm. AoIR Selected Papers of Internet Research. https://doi.org/10.5210/spir.v2021i0.12039
Zeng, J., & Kaye, D. B. V. (2022). From content moderation to visibility moderation: A case study of platform governance on TikTok. Policy & Internet, 14(1), 79-95. https://doi.org/10.1002/poi3.287
Zulkifli, A. (2022). TikTok in 2022: revisiting data and privacy. Computer, 55(6), 77-80. https://doi.org/10.1109/MC.2022.3164226