"Close-Up Shot of a TikTok App on a Phone" by Solen Feyissa is licensed.
Introduction
The difference between Douyin and TikTok in content censorship is indeed a topic of great concern. As a social media platform headquartered in China, Douyin is subject to regulatory and regulatory constraints from the Chinese government. But TikTok's target audience is overseas users, but they don't need to be heavily scrutinized. Why? Is it because overseas users have an open mindset?
Terms of services in Douyin & TikTok
Douyin:
According to Douyin's user service agreement, Douyin implements a strict content review mechanism in the Chinese market. It will review user generated video content to ensure that the content conforms to China's domestic regulations and values. Censorship typically covers political, religious, gender, violence, obscenity, and other sensitive content. Douyin will use AI keyword filtering technology to identify and block videos containing sensitive words or illegal content. Once users release similar content, they will be immediately deleted by AI, which helps prevent the spread of inappropriate content. Douyin cooperates with the Chinese government to regularly report the content of violations on the platform, and also complies with the regulatory requirements of Chinese laws and regulations. This cooperation includes providing user data to investigate criminal behavior, as well as deleting specific content according to government requirements.
In order to protect minor users and respond to the government's policies, Douyin has provided and implemented a youth model, which restricts young people under the age of 14, including the possibility of imposing restrictions on specific periods of time to ensure that inappropriate content will not be played within a specific period of time.
In addition, Douyin requires users to register with their real names, which means that users must provide personal identity information, such as name and ID card number. This real name policy helps to ensure that users' identities are traceable, while also helping to address illegal behavior and content violations.
TikTok:
According to Tiktok's terms of service, users are not allowed to promote explicit pornography, violence, or sensitive content based on race, gender, religion, nationality, disability, sexual orientation, or age discrimination. Although the service terms clearly state that similar sensitive content cannot be uploaded, TikTok does frequently display the above sensitive content, even with nudity and blood. These contents may have some negative impacts on people, such as attracting users to engage in sexual and drug transactions through TikTok.
Real-World Examples
Through the seemingly normal agreement mentioned above, people may believe that regulation is not strict. Let's take a look at this real case on Douyin (Xiang baba de jia xin li zi xun, 2021):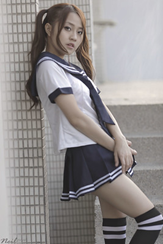 "_MG_2532" by Neil Photo Studio is licensed under CC BY-NC-ND 2.0.
(The user is dressing similar to this picture)
The female user wore a school style dress and uploaded a video to Douyin but was told that the review failed because the video content was suspected of being pornographic and vulgar. The review results were incomprehensible and left the video author very puzzled. Subsequently, she appealed against this result, but it was unsuccessful. This means that Douyin unilaterally confirmed the existence of pornography and vulgarity in the video, but this is not the case. Many users on the platform have uploaded more explicit videos, but they have not been deleted, which has caused dissatisfaction among the author and many others. The author later conducted an experiment with confusion and found that even through reporting more exposed videos and manual review, most of those videos would not be deleted. Therefore, her conclusion is that Douyin's content review standards are different, management is very chaotic, and there may be corruption issues, which means that users can reduce censorship by paying more.
There are some real-world examples occur on TikTok (Schofield, 2021) (note that there is no discrimination against sex workers here, but it is not intended to have a negative impact on younger users):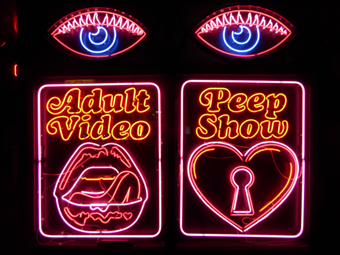 "Adult Video Peep Show" by duncan is licensed under CC BY-NC 2.0.
Due to the popularity of TikTok's cross dressing videos and challenges, they have become a tool for sex workers to generate income. Sam, a 28-year-old sex worker from San Francisco, also uses TikTok's editing function. She feels excited about changing clothes suddenly or going from wearing clothes to being naked at a strip club, it is also easier to be popular on TikTok.
In this case, the governance on TikTok is not strict, and this type of sensitive content will not be cancelled by platform immediately, which indicated that the examiners in TikTok are unavailable, besides that, the contents in the terms of service are look impressive but lack real worth.
Evaluation:
Through these two real examples, people might think "why are Douyin and TikTok extremely different?" and "Are Douyin and TikTok belong to the same operation?" A lot of social media users feel confused, particularly in users of Douyin.
However, all these doubts can be explained by government intervention. As is well known, Douyin/TikTok is very popular worldwide and has become an influential social media that can lead trends or viewpoints, and quickly spread positive and negative news to people (Dilon, 2020). This indicates that the Chinese government can spread their ideologies and values through Douyin. They call the content led by such values "positive energy", while some pornographic, violent and other vulgar content is "negative energy". These negative energy content and accounts are usually deleted quickly by Douyin and other popular platforms. As of June 2018, more than 500 Chinese government accounts have been established on Douyin, including news, sports, finance, and so on, with 1.6 billion views, and the purpose of spreading positive energy through social media (Chen et.al, 2020). This is why Douyin reviews and deletes certain types of content more frequently to ensure that it is consistent with local regulations and culture.
In contrast, TikTok operates in the international market and attracts users from different countries and cultural backgrounds. It must adapt to different regulations and cultures in different countries, so it may show more flexibility in content review. Although TikTok has a set of community guidelines worldwide, these guidelines may be adjusted according to local regulations and cultural differences, such as in order to comply with the EU Digital Services Act, personalized advertising will not be promoted to teenagers. TikTok's content review strategy is usually more adaptable to diversity, in order to provide content that complies with regulations and cultural backgrounds in different countries and regions.
Audit and regulatory differences have a direct impact on user experience. The strict review of Douyin in Chinese domestic market may cause some users to feel limited because some sensitive content cannot be shared on the platform. On the contrary, TikTok may be more attractive to creators and users in the international market because it has relatively loose censorship of content, allowing for more diverse and innovative content.
However, lenient censorship may also lead to issues, such as allowing inappropriate content or violations to spread on the platform. This may trigger controversy among public opinion and users, they have a negative impact on the platform's reputation. Therefore, TikTok must balance the freedom of user creative expression with the responsibility of content management. For example, the dissemination of strip dance videos on TikTok, as I mentioned, may lead to teenagers having desires for female bodies, which may lead to crime.
Conclusion
To sum up, although Douyin and TikTok are owned by the same company, they have obvious differences in content review and supervision due to different regulations, user needs and cultural backgrounds in different regions. These differences reflect the need for social media platforms to address the challenges of diversity and complexity globally to meet the expectations and regulatory requirements of users in different regions. Regardless, both platforms actively take measures to maintain the security and legality of their content environment, ensuring that users can enjoy a positive and interesting interactive experience. Understanding these differences helps users better understand the operation of social media platforms and securely share and interact with them based on their own needs.
Reference List:
Chen, X., Kaye, D. B., & Zeng, J. (2020). #PositiveEnergy Douyin: Constructing "Playful Patriotism" in a Chinese Short-Video Application. Chinese Journal of Communication, 14(1). 97-117. https://doi.org/10.1080/17544750.2020.1761848
Dilon, C. (2020). Tiktok Influences on Teenagers and Young Adults Students: The Common Usages of The Application Tiktok. American Scientific Research Journal for Engineering, Technology, and Sciences, 68(1). 132-142. https://www.researchgate.net/publication/341616421_Tiktok_Influences_on_Teenagers_and_Young_Adults_Students_The_Common_Usages_of_The_Application_Tiktok
Douyin. (2023, September 8). "Douyin" User Service Agreement. https://www.douyin.com/draft/douyin_agreement/douyin_agreement_user.html?id=6773906068725565448
European Commission. (n.d.). The Digital Services Act: ensuring a safe and accountable online environment. https://commission.europa.eu/strategy-and-policy/priorities-2019-2024/europe-fit-digital-age/digital-services-act-ensuring-safe-and-accountable-online-environment_en
Schofield, D. (2021, March 1st). TikTok has accidentally conquered the porn industry. Wired. https://www.wired.co.uk/article/tiktok-nsfw
TikTok. (2021, February). Terms of Service. https://www.tiktok.com/legal/page/row/terms-of-service/zh-Hant
Xiang baba de jia xin li zi xun. (2021, January 21). Have you found that the Tiktok audit system is very problematic? Recently uploaded videos will be rejected without any reason. I gave up on this platform.?. Zhihu. https://www.zhihu.com/question/403084116/answer/2319293283
This work is licensed under CC BY 4.0