By Jingyi Ren
"The algorithms these platforms depend on deliberately amplify the type of content that keeps users engaged – stories that appeal to our baser instincts and that trigger outrage and fear" (Pulver, 2019). As Pulver said here, the environment of social platforms is troubling. There must be some governance for it. Therefore, we are going to discuss the Social Media Council (SMC). The goal of SMCs is to "… address content moderation issues on social media platforms on the basis of international human rights standards" (2021). "These councils would be a new type of institution, a forum to bring together platforms and civil society, potentially with government oversight" (Tworek, 2019). In this article, we will discuss the consequences that the SMC system will bring to our daily lives.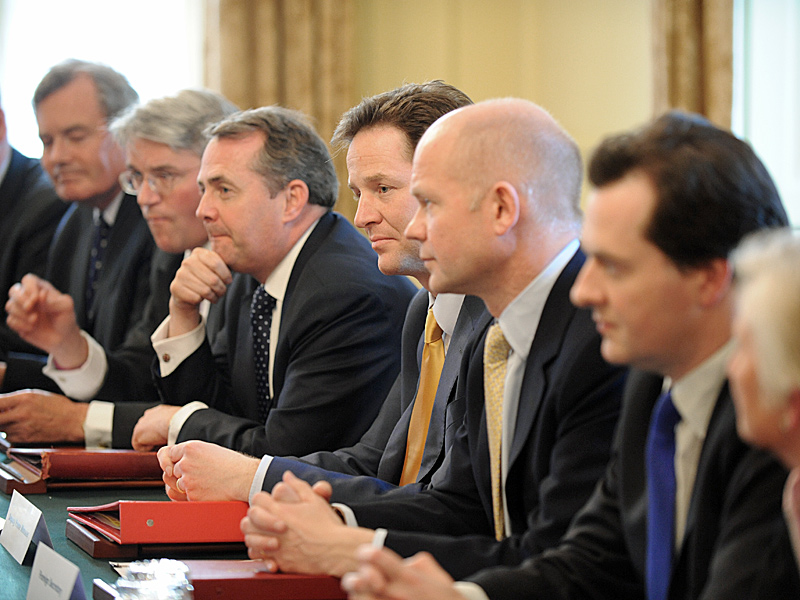 "National Security Council" by UK Prime Minister is licensed under CC BY-NC-ND 2.0.
Firstly, scholars like David Wong and Luciano Floridi believe that SMCs will bring some benefits to our lives. Here is what they think: Transparency of Content Moderation can point out the ambiguities or inadequacies of the social platform's rules and policies (Wong & Floridi, 2023). For example, "The Oversight Board (OB) overturned the removal of a post quoting Joseph Goebbels, Minister of Propaganda for the Nazi Party in Germany" (Patel & Hecht-Felella, 2021). SMCs have significant power to overrule social media platforms. "Looking at existing cases as of September 22, 2022, out of the OB's 27 decisions issued in 2021, the OB overturned Meta's content moderation decision in 20 cases (74 percent of cases) and upheld Meta's decision in 7 cases (26 percent)" (Wong & Floridi, 2023). This case shows that Meta's OB has the ability to resist it.
However, they cannot address the problem very efficiently. One reason is the loopholes in membership requirements. For example, the members of the OB of Meta are mostly from the USA and Europe, even though many severe challenges regarding content moderation are in Global South regions, such as Africa and Asia. Jenny Domino, writing in 2020, criticized the OB for having only one out of 20 members (5 percent) from Southeast Asia (Wong & Floridi, 2023). This directly leads to inefficiency in addressing issues and a lack of creativity due to their limited familiarity with the backgrounds of most events (South Africa, Asia, etc.). However, this also allows them to approach problems with a certain detachment and objectivity.
Another reason is the differing developmental speeds of technology. The construction of the SMC has led to a slowdown in technological progress. For example, the Oversight Board (OB) is composed of three main components: academic (like Yale Law School Professor Robert Post), legal (Lawyer Nighat Dad), and official parts (Kristina Arriaga – Chairman of the US Commission on International Religious Freedom). Throughout history, individual and commercial forces have driven technological development more rapidly than regulatory authorities. For instance, "The earliest robots as we know them were created in the early 1950s by George C. Devol, an inventor from Louisville, Kentucky" (Pa, Robotics: A brief history). Google CEO Eric Schmidt argued, "High tech runs three times faster than normal businesses. And the government runs three times slower than normal businesses. We have a nine-times gap…" (Zuboff, 2019, p. 104). SMCs, exemplified by the time it took the OB to address a case of violence (Newton, 2023), risk slowing down the process of identifying and dealing with problems.
Furthermore, another problem arising from loopholes in membership requirements is Tech Lobbying. Tech elites use lobbying to advocate for their interests. For example, Nicole Wong, the former chief technology officer who worked as an executive at Google and Twitter (Dayen, 2016). Lobbying often leads to negative consequences, as "corporate lobbying always deprioritizes the public interest in favour of commercial interests" (Pawel, 2018). For example, Amazon compromised privacy protection in recent years, including some data from Alexa. For instance, "more than 90,000 recordings Alexa devices made of the reporter's family members since 2017. In some, young children are heard asking questions about sexual anatomy, including: 'Alexa, what is a vagina?'" (DASTIN et al., 2021). It is evident that user's personal information was leaked due to its high commercial value, "consumer data that has fuelled its explosive online-retailing growth and provided an advantage in emerging technologies, according to the Amazon documents and former employees" (DASTIN et al., 2021).
Big technology companies like Google and Amazon often focus on lobbying due to the substantial commercial benefits it can bring. For instance, here is a graph illustrating "lobbying spend."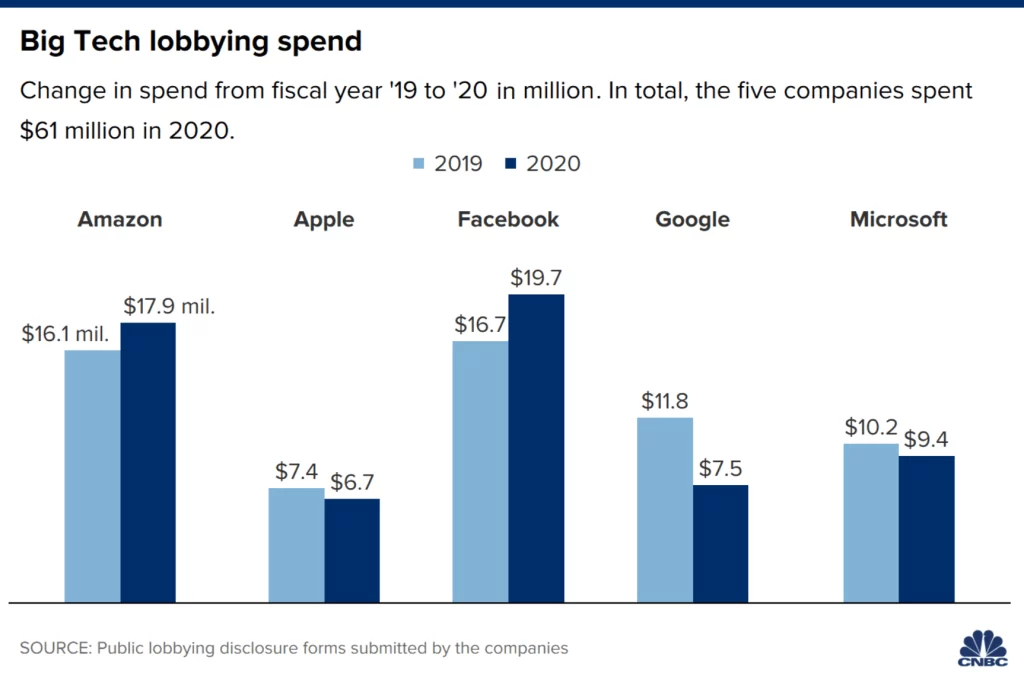 (Big Tech lobbying spend)
What we can gather from this graph is that Big Tech spends a significant amount of money on lobbying. It's not difficult to assume that Tech elites can exert similar influence on SMCs for their commercial interests. To sum up, the SMC is a susceptible environment for lobbying due to its lack of strict membership requirements, and this can result in irreversible consequences.
In conclusion, there are numerous challenges that SMCs need to address. However, their effectiveness faces significant challenges. Gaps in membership requirements, such as the geographic makeup of members, may hinder their ability to effectively and creatively address content moderation issues. Additionally, Tech Lobbying within SMCs could lead to wrong judgments with far-reaching consequences. Furthermore, SMC involvement may slow technological progress compared to individual or commercial technology development. The development of SMCs also faces many issues, such as authority and ownership problems, which require further discussion. However, SMCs can bring some benefits to our lives. Scholars who support SMCs, such as David Wong, believe that SMCs can not only make content moderation transparent but also use this transparency effectively to identify and correct loopholes in platform rules and policies. They can also act as a counterbalance to their corresponding platforms, as seen in the Oversight Board's overturning of Meta's content review decision and other cases that prove this point.
References:
Big Tech lobbying spend. (n.d.). photograph.
DASTIN, J., KIRKHAM, C., & KALRA, A. (2021, November 19). The Amazon lobbyists who kill U.S. consumer privacy protections. Reuters. https://www.reuters.com/investigates/special-report/amazon-privacy-lobbying/
Dayen, D. (2016, April 22). Google's remarkably close relationship with the Obama White House, in two charts. The Intercept. Retrieved from https://theintercept.com/2016/04/22/googles-remarkably-close-relationship-with-theobama-white-house-in-two-charts/
Phan, H. (2022). Surveillance Capitalism: An Overview. https://phanthh.github.io/static/surveillance-capitalism-overview.pdf
Meet the Board. Oversight Board. (n.d.). https://oversightboard.com/meet-the-board/
Newton, C. (2023, August 30). Meta's oversight board is too slow to matter. The Verge. https://www.theverge.com/23852016/meta-facebook-oversight-board-too-slow-cambodia
Pa, W. (n.d.). Robotics: A brief history. https://cs.stanford.edu/people/eroberts/courses/soco/projects/1998-99/robotics/history.html
Pawel Popiel, The Tech Lobby: Tracing the Contours of New Media Elite Lobbying Power, Communication, Culture and Critique, Volume 11, Issue 4, December 2018, Pages 566–585, https://doi.org/10.1093/ccc/tcy027
Pulver, A. (2019, November 22). Sacha Baron Cohen: Facebook would have let Hitler buy ads for "Final solution." The Guardian. https://www.theguardian.com/film/2019/nov/22/sacha-baron-cohen-facebook-would-have-sold-final-solution-ads-to-hitler
Social Media Councils: One piece in the puzzle of content moderation. ARTICLE 19. (2021, October 19). https://www.article19.org/resources/social-media-councils-moderation/
Tworek, H. (2019, October 28). Social Media Councils. Centre for International Governance Innovation. https://www.cigionline.org/articles/social-media-councils/
Wong, D., & Floridi, L. (2023). Meta's oversight board: A review and critical assessment. Minds and Machines, 33(2), 261-284.
https://link.springer.com/article/10.1007/s11023-022-09613-x#Sec9