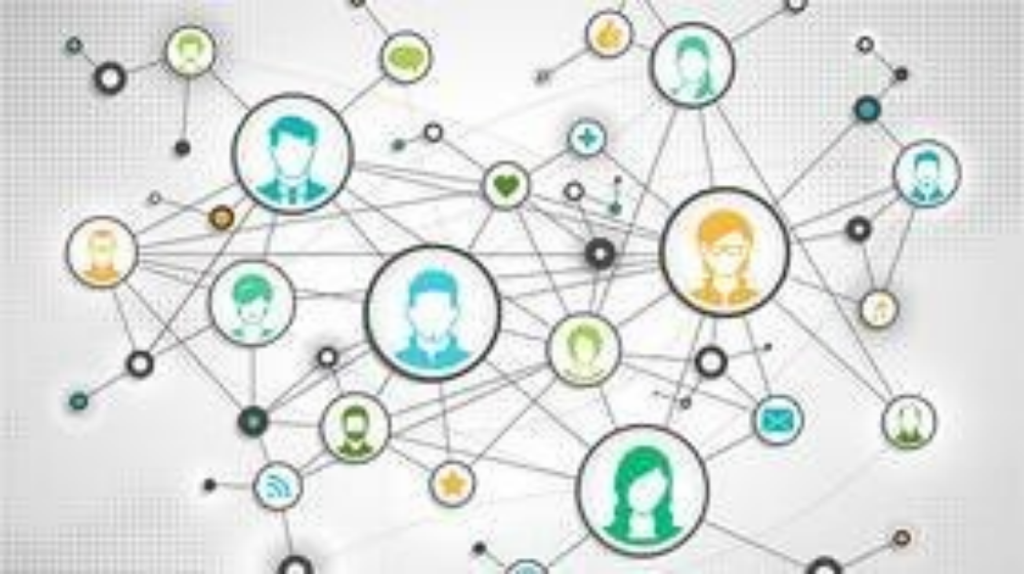 "Automotive Social Media Marketing" by socialautomotiveis licensed under CC BY 2.0.
Background
The internet has made it possible for people to connect in various ways and reasons (Internet Society, 2014). The internet is a combination of systems and protocols that make digital communication possible (O'hara & Hall, 2018). Just like in the physical world, people have the human need to seek a sense of belonging and acceptance and in the digital world they fulfil this need by connecting with other people through digital platforms (Castells, 2002). Based on this human functionality, these platforms can be categorized into social networks and online communities. Social networking is defined as a web-based service where people can create public profiles in a system where they can connect with other people and interact on the basis of these connections (Onwuchekwa, 2015). Online communities, on the other hand, are groups of people who also connect on web-based platforms but their connections are based on similar interests and they may share similar characteristics. The following paper will evaluate the differences between social networks and online communities and their significance.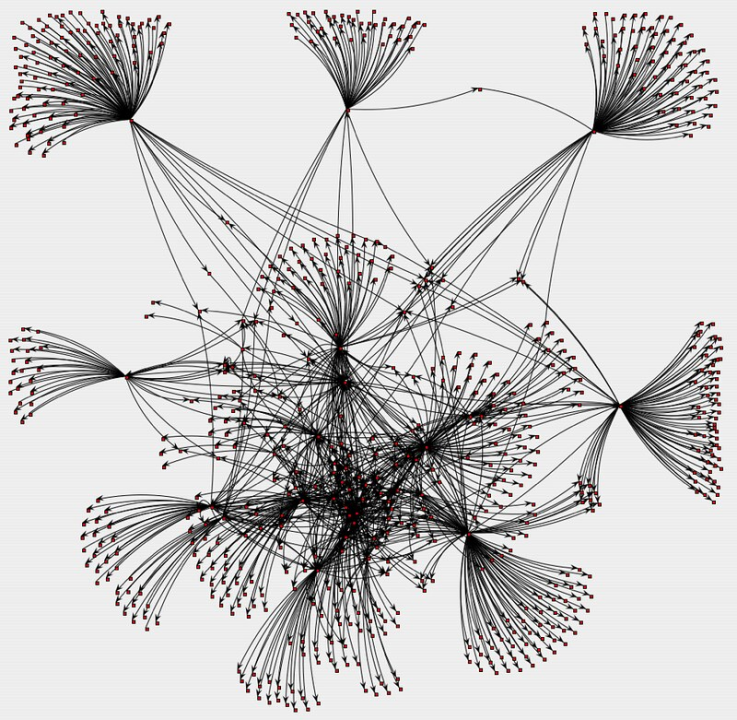 "My Twitter Social Ego Networks" by David Sousa-Rodriguesis licensed under CC BY-NC-SA 2.0.
Social Networks
Generally, social networks are made up of actors who can be people or organizations and relations among these actors. This network structure can be represented as a graph whereby the vertices are the actors and the edge show the existence of a relationship between actors (Brandes, Freeman & Wagner, 2013). Social networks also represent different levels of relationships including family, friends, coworkers, friends or friends and people with similar interests. There are various social networking sites like Facebook, X and Instagram. Leach (2021) explains that there are certain characteristics that define social networks. Social networks can represent the existence of relationships between people and when represented in a graph network every actor has a single network but people can have varying social graphs which is dependent on their relationship. Bandgar (2014) explains that social networking platforms have created new channels for people to highlight who they are and also share with others their opinions or certain aspects of their lives. Social media is the umbrella term that is often used to describe the multiple activities that are completed when in these platforms ranging from content creation to social interactions.
Impact of Social Networks
The use and significance of social networks has risen over the years and have to organizations also establishing public profile for their brands. Organization have noted the significance of having an online presence and a means to directly interact with their clients. Another significance of social networks is the distribution of information and the spread of opinions. Burbach et al. (2020) has likened the spread of information on these online platforms to be similar to the spread of disease in contact networks. Information spread much faster here than in traditional social networks since online platforms allow people to share information with thousands and millions of people at the same time. This is different from spread of opinions since opinions are not factual and are dependent on people's influence and attitudes. Social networks have opinion leaders whose opinion is influential to their followers and the scale of influence determines their impact. For instance, Elon Musk CEO of Tesla has influenced stock prices by sharing his opinion on X formerly known as Twitter. In 2021, for example, Elon shared a tweet about GameStop that caused their stock prices to increase by more than 60 percent (Li & Picker, 2022 and Bursztynsky, 2021).
While social networks have allowed for people to express their opinions, there has been a downside to this since certain opinions have been taken as truthful due to the people sharing them despite them being misleading. This has created a space for fake news which is misleading and incorrect information which uses media forms similar to those used by legitimate media channels (Lazer et al., 2018 and Jaster & Lanius, 2018). This was a major issue in 2016 during the American Presidential election and is said to have influenced people's voting opinions. Personal information that people share in their social networks was used to convert their opinions through the dissemination of targeted, biased and deceptive information (Gündüç, 2020). More detailed information how this was carried out here.
CBS News. (2017, September 22). How did Facebook Impact the 2016 Presidential Election [Video]. YouTube. https://www.youtube.com/watch?v=tlyb0BASsEs 
As people build social networks, there are not only exposed to different people and opinions but they also likely to be influenced by said people or opinions. In an earlier TED talk, James Surowiecki explained the dangers of this exposure and how people should navigate social networking on online sites to ensure they maintain their individual thinking despite exposure to a wide network of opinions and people.
"Build an authentic, valuable online community" by opensourceway is licensed under CC BY-SA 2.0.
Online Communities
Online communities also exist on digital platforms, however, members of these communities share common interests and even though some may have prior interpersonal relationships, others may not and purely join these communities due to their shared interests. Leach (2021) explains the different elements of community that exist in online communities. Membership is a key element and it refers to the sense of belonging that people in these communities feel and their shared sense of relatedness. Another element is influence which is the ideas that individuals matter to each other and that the community as a whole can also have influence to other external matters. People in online communities also reinforce each other needs and they feel that some of their needs can be met by the group's resources and in some cases the membership alone fulfils this need. These groups also create a space for emotional connection where people with shared values, beliefs or experiences commune for an aligned goal or purpose.
Impact of Online Communities
There has been research on why people join and participate in online communities and Hwang & Foote (2021) has classified this in two perspectives: user and community manager. There are various social psychology theories that can explain an individual's need to be part of a community. For instance, people want to build a social identity by participating in social groups that align with their individual identities. Certain aspects about the online communities interactions add to the creation of this social identity and these include interpersonal interactions where people feel connected and understood and social bonds that draw people of similar interests to the community. Additionally, the uses and gratifications theory can also be used to explain people's participation in online communities. According to the uses and gratifications theory, people tend to seek media that fulfils specific needs and as such people can be part of various online communities for varied reasons (Hwang & Foote, 2021). This also means that people in the same communities may have conflicting motivations and that an individual can have more than one motivation. For instance, people can participate out of habit and not because of active decision making. On the other hand, there are participants that who do not actively participate and only consume the content and are referred to as lurkers. Due to the differing individual motivations, some active participants engage deeply with community subjects and may even take up roles like administrators while others do not post and simply lurk. It is also possible to look at people's participation from a community manager's perspective which refers to the community-level elements that influence member's participation (Hwang & Foote, 2021). For instance, research shows that the information quality in a community influences members' continuous participation. Also, community culture and norms such as how they integrate new members also determine the attraction of retention of new members.  
Reddit is an example of an online platform which hosts many online communities. Here we see an example of how communities' rules can be enforced and how they may differ from each other based on the community interests and goals. A research done by Weld, Zhang & Althoff (2021) showed that subreddit communities have different norms and cultures. Also, people can participate in different communities and their participation can vary based on their individual motivation. However despite these differences, the aforementioned community elements are still applicable in these communities. Additionally, online community members enjoy various benefits based on the motivation for participation and these include getting access to new information, enjoying social connections and having a space to share and discuss their opinions.
Conclusion
In conclusion, the difference between social networks and online communities is in the manner of interaction. Social networks sometimes include networking with people with whom pre-existing relationships exist and also strangers whose opinions or interest are valued. Social networks on digital platforms can be best highlighted as graph networks. On the other hand, online communities are those where people with share interest but varying individual motivations come together for different purposes. A distinguishing part of online communities is the membership element, a person has to join the community. Social media sites today have both social networking and online community aspects such as Facebook that allows people to have individual profiles and links to their networks and also allows people to form and join Facebook groups where they have different discussions. People in an individual's social network may not even be in the online communities since these are separate activities on such platforms.
Bibliography
Bandgar, B. M. (2014). Role of Social Network in Recent Era. International Journal of Research in Computer Science and Management, 1(1), 21-26.
Brandes, U., Freeman, L. C., & Wagner, D. (2013). Social networks. (pp. 805-839). https://doi.org/10.1007/978-1-4614-6170-8_110091
Burbach, L., Halbach, P., Ziefle, M., & Calero Valdez, A. (2020). Opinion formation on the internet: The influence of personality, network structure, and content on sharing messages online. Frontiers in Artificial Intelligence, 3, 45. https://doi.org/10.3389/frai.2020.00045
Bursztynsky, J. (2021). GameStop jumps after hours as Elon Musk tweets out Reddit board that's hyping stock. CNBC. Retrieved from https://www.cnbc.com/2021/01/26/gamestop-jumps-as-elon-musk-tweets-out-reddit-board-thats-hyping-stock.html#:~:text=Shares%20of%20GameStop%20were%20up,Tesla%20CEO%20tweeted%20%E2%80%9CGamestonk!!%E2%80%9D
Castells, M. (2002). The Internet galaxy: Reflections on the Internet, business, and society. Oxford University Press, USA. https://doi.org/10.1093/acprof:oso/9780199255771.001.0001
CBS News. (2017, September 22). How did Facebook Impact the 2016 Presidential Election [Video]. YouTube. https://www.youtube.com/watch?v=tlyb0BASsEs
Gündüç, S. (2020). The effect of social media on shaping individuals opinion formation. In Complex Networks and Their Applications VIII: Volume 2 Proceedings of the Eighth International Conference on Complex Networks and Their Applications COMPLEX NETWORKS 2019 8 (pp. 376-386). Springer International Publishing. https://doi.org/10.1007/978-3-030-36683-4_31
Hwang, S., & Foote, J. D. (2021). Why do people participate in small online communities?. Proceedings of the ACM on Human-Computer Interaction, 5(CSCW2), 1-25. . https://doi.org/10.1145/3479606
Internet Society. (2014). Who Makes the Internet Work: The Internet Ecosystem. Retrieved from https://www.internetsociety.org/internet/who-makes-it-work/
Jaster, R., & Lanius, D. (2018). What is fake news?. Versus, 47(2), 207-224.
Lazer, D. M., Baum, M. A., Benkler, Y., Berinsky, A. J., Greenhill, K. M., Menczer, F., … & Zittrain, J. L. (2018). The science of fake news. Science, 359(6380), 1094-1096. https://doi.org/10.1126/science.aao2998
Leach, A. (2021). Social Networks and Online Communities. Humans R Social Media, Winter 2022 Open Textbook Edition. Retrieved from https://opentextbooks.library.arizona.edu/hrsmwinter2022/chapter/special-topics-from-networks-to-online-communities/
Li, Y. & Picker, L. (2022). The fund that made $700 million on GameStop knew it was time to sell after an Elon Musk tweet. CNBC. Retrieved from https://www.cnbc.com/2022/01/27/the-fund-that-made-700-million-on-gamestop-knew-it-was-time-to-sell-after-an-elon-musk-tweet.html
O'hara, K., & Hall, W. (2018). Four internets: The geopolitics of digital governance.
Onwuchekwa, E. O. (2015). The Role of social media and social networking in information service provision: a practical view. In Social Media Strategies for Dynamic Library Service Development (pp. 126-139). IGI Global. https://doi.org/10.4018/978-1-4666-7415-8.ch007
TED. (2008, November 5). James Surowiecki: The power and the danger of online crowds [Video]. YouTube. https://www.youtube.com/watch?v=h-Xm4ufnoxY
Weld, G., Zhang, A. X., & Althoff, T. (2021). Making Online Communities' Better': A Taxonomy of Community Values on Reddit. arXiv preprint arXiv:2109.05152. https://doi.org/10.48550/arXiv.2109.05152