The power of online communities
An essential element for business success and the facilitator for world-wide connectivity, online communities are defined as a gathering of entities, individuals, or organisations that unite around a shared topic or problem space via electronic means (Plant, 2004). Since the deregulation of the internet in 1995, individuals have engaged in a revolution advocating freedom of speech, allowing them to share their innovations and ideas on various global social and cultural matters (Castells, 2022). These networked ecosystems provided everyday citizens social, commercial, intellectual, and political leverage at no expense (Rheingold, 2000). 
This article delves into the compelling significance of online communities, shedding light on how these virtual spaces, particularly communities centred around a brand, have redefined the way people connect, share ideas, and learn. Central to this transformation are social media platforms, such as TikTok, Instagram, Twitter, and Facebook, which play a pivotal role in securing and amplifying these communities. Investigation into the benefits, challenges, and true potential of these communities, will highlight the fundamental role they play in establishing successful businesses and connectivity around global social and cultural movements.
The types and benefits of online communities
The commonality of the internet and the human desire for connection, belonging, and knowledge are the driving force for establishing this new social phenomenon (Plant, 2004). Hagel and Armstrong broadly partitioned online communities into four categories that meet consumer needs: Communities of interest, e.g., the popularity of conversation surrounding a celebrity or particular hobby, Communities of relationship, e.g., certain personal life experiences such as an illness, Communities of fantasy, e.g., the creativity of new environments, personalities, or stories through games, and Communities of transaction, e.g., the buying and selling of goods and services (Armstrong & Hagel, 1996). 
Despite the distinct consumer needs for each ecosystem, these categories are not mutually exclusive. It is important for businesses to exploit this and develop a multi-faceted approach to establishing their own community. For example, many consumers would appreciate some advice or assistance before making a purchase, therefore, combining the needs met by communities of interest with communities of transaction. Businesses can build new and deeper relationships with customers once they provide these interaction capabilities. Through its marketing channels, businesses will be able to build customer loyalty and, in turn, generate strong economic returns (Armstrong & Hagel, 1996). Further benefits of branded communities include improved customer retention, the creation of new business leads, increase in sales, increase in brand search engine optimisation (SEO), increased website traffic, improved product and service offerings, and an improved customer experience (Robinson-Yu, 2020).
Social media as the facilitator for online communities
According to the Global Web Index, 76% of internet users are participants of online communities (Beer, 2020). More often than not, these online communities are fostered through the various social media platforms. Investigating social media trends is central to targeting and capturing your directed audience. WYZOWL's Video Marketing Report 2023 illustrates that 89% of people say that watching a video has convinced them to buy a product or service (WYZOWL, 2023). Whilst YouTube is the most widely used video marketing platform, there has been a surgency for short-form video, with 90% of vertical videos having a higher watch completion rate than horizontal (Movsisyan, A). TikTok is the pioneer of short-form video content, with over 1.7 billion monthly active users in 2023 (Business of Apps, 2023). Affirmed by the recent popularity of Instagram Reels, it is essential that businesses create content of this style that is engaging and community building.
TikTok's unique format enables users to show their unfiltered and genuine selves, unlike the polished and curated nature of Instagram. Branded TikTok accounts are encouraged to do the same, such that they show the ins and outs of their offerings and connect with consumers on a more personal level through a fun and creative lens. Duolingo and Ryanair are two prominent examples creating strong online communities through creative initiatives. 
Duolingo 
Duolingo has become the world's most popular language-learning app by leveraging social media and viral marketing to capture a personalised and engaged audience (Brand Vision, 2023). Duolingo's TikTok platform has accumulated 7.7 million followers with over 168 million likes. The introduction of the brand mascot, Duo the Owl, personified the brand image, providing a humorous tone to their videos.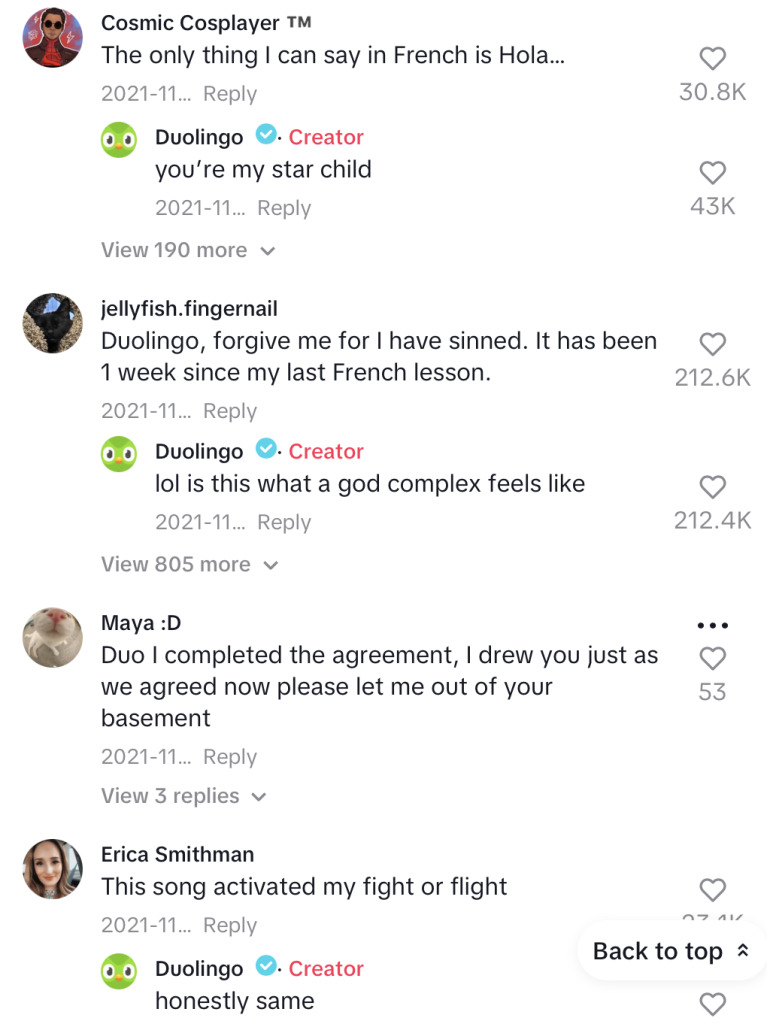 Along with this, Duolingo's TikTok marketing strategy involves engaging in the comment section of videos, such as responding with witty or provocative replies on its own video's, such as the examples to the right, or commenting on other brands' trending videos. As well as this Duolingo has established relationships with various brands and content creators through creative partnerships. Duolingo's Shareholder Letter Q2 2023 showcased an astounding 44% growth in revenue, revealing the corresponding relationship of its business success with its recent online popularity (Shareholder Letter, 2023). 
Ryanair
Not only has Duolingo taken the stage for creativity in TikTok marketing strategies, Ryanair has also developed a unique social media strategy for capturing its audience. Ryanair's target market consists of price-sensitive consumers. Ryanair has tapped into the demographics of TikTok and engaged a new range of customers that involves the younger, more spontaneous travellers who prioritise affordability. Instead of taking the same approach as Duolingo with a mascot, Ryanair utilised a popular TikTok filter to personify their aircrafts, creating relatable, engaging content with a distinct voice.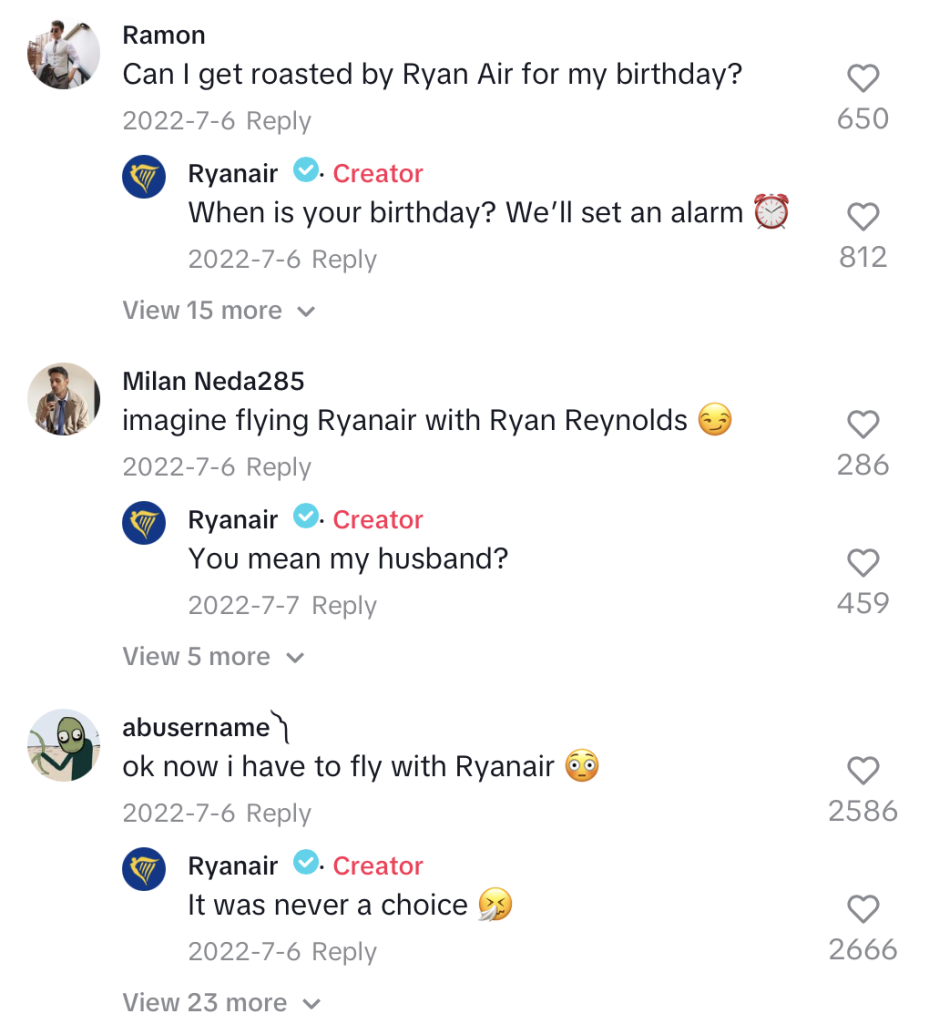 Along with this, they also endeavour to regularly comment on their videos, as well as other trending videos, as shown here. This interactive behaviour whereby brands engage with other creators content, such as through commenting, duetting, or tagging, increases brand awareness and establishes connections with creators for potential future paid partnerships. Ryanair's Head of Social Media Michael Corcoran pressed the importance of "being reactive and timing" in delivering its content, stating that the beauty of TikTok is the "simplicity" of the production and consumption of content (Sensi, 2023). Ryanair's unique social media strategy saw the success of an increase of over 20 million impressions per week in the past year, growing from an average weekly reach of five to 10 million users (Sensi, 2023). Therefore, Corcoran pressed the need for brands to start identifying their problems, and finding ways social media can address those concerns, through a genuine tone of voice that resonates with their audience.  
These impressive examples depict the true nature of how brands can leverage the internet's unique capabilities to foster strong online communities via social media. This in turn, can generate exponential growth for the brand in terms of audience engagement and loyalty, as well as revenue and profitability. Whilst online communities can present adverse effects such as the loss of ownership or control of content, the balancing of professionalism and freedom of speech, the implications of 'fake news', misrepresentation, and cyber-crime (Dwivedi at al, 2018) , it is therefore, essential that brands understand the requirements and competitive, regulatory, and strategic implications (Plant, 2004) of social media to ensure their content does not cause offence or harm reputations.
Online communities can become a valuable asset for organisations. As trends suggest, establishing a smaller but highly interactive audience, over a large but passive following, can generate loyal customers that engage more thoroughly with your offerings, enhancing competitiveness and creating business value . Therefore, as businesses navigate these implications and trends of the digital world, one thing remains abundantly clear: social media isn't just a tool; it's an expressive medium where the art of community-building and business success ultimately align. The key is to capitalise on its capabilities.
References
Armstrong, A., & Hagel, J. (1996, May). The Real Value of On-Line Communities. Harvard Business Review. https://hbr.org/1996/05/the-real-value-of-on-line-communities
Beer, C. (2020, January 7). The Rise of Online Communities – GWI. GWI. https://blog.gwi.com/chart-of-the-week/online-communities/
Castells, M. (2002). The Internet Galaxy- Chapter 2: The Culture of the Internet.https://doi.org/10.1093/acprof:oso/9780199255771.001.0001
Duolingo's Amazing TikTok Strategy: A Unique Marketing Success Story | Brand Vision. (2023). Brandvm.com. https://www.brandvm.com/post/duolingos-tiktok-strategy#:~:text=Duolingo%27s%20marketing%20strategy%20involves%20using,the%20popularity%20of%20its%20product.
Dwivedi, Y. K., Kelly, G., Janssen, M., Rana, N. P., Slade, E., & Clement, M. (2018). Social Media: The Good, the Bad, and the Ugly. Information Systems Frontiers, 20(3), 419–423. https://doi.org/10.1007/s10796-018-9848-5
‌Movsisyan, A. Vertical Video Statistics – The New King on Social Media. Www.yansmedia.com. https://www.yansmedia.com/blog/vertical-video-statistics
Plant, R. (2004). Online communities. Technology in Society, 26(1), 51–65.
https://doi.org/10.1016/j.techsoc.2003.10.005
Rheingold, H. (2000, October 23). The Virtual Community: Homesteading on the Electronic Frontier. Sydney.edu.au. https://ebookcentral-proquest-com.ezproxy.library.sydney.edu.au/lib/usyd/reader.action?docID=5340013
‌Robinson-Yu, S. (2020, February 12). 20 Stats About the Benefits of Online Community Forums – Higher Logic. Higher Logic. https://www.higherlogic.com/blog/20-stats-about-the-benefits-of-online-community-forums/
Sensi, J. (2023, January 5). Ryanair's head of social on TikTok, Twitter and flying up the ranks of online marketing. Marketing Beat. https://www.marketing-beat.co.uk/2023/01/05/ryanair-social-media-tiktok/
‌Shareholder Letter Q2 2023 | Duolingo, Inc. (2023). Duolingo, Inc. https://investors.duolingo.com/static-files/b9352776-f83b-4544-907e-90cd307aca80
TikTok Revenue and Usage Statistics (2023). (2023, October 2). Business of Apps. https://www.businessofapps.com/data/tik-tok-statistics/
‌WYZOWL. (2023). The State of Video Marketing 2023. https://wyzowl.s3.eu-west-2.amazonaws.com/pdfs/Wyzowl-Video-Survey-2023.pdf