Is Elon Musk the saviour or destroyer of Twitter?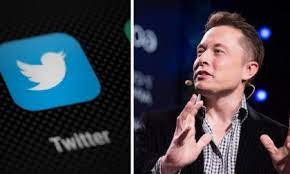 "New CEO of Twitter, Elon Musk" by Susan Benesch is licensed under CC BY-NC 3.0
Twitter's History
(Figure 1. "Twitter" by Esther Vargas is licenced under CC BY-SA 2.0)
Twitter is a social media platform that was created on March 21, 2006, by Jack Dorsey, Noah Glass, Biz Stone, and Evan Williams, and launched on July 15, 2006. It has gone through numerous changes throughout the years; its biggest yet most intriguing change happened in 2022, when Elon Musk, known as the richest man in the world, bought the company and made a tremendous alteration to the platform. Since the acquisition, Musk has changed the Twitter logo and name to X. Its future is filled with uncertainty and controversy. To gain a more comprehensive understanding of Twitter, one must delve deeper into its history and crucial phases.
Twitter emerges as a web 2.0 that utilises big data and algorithmic processing; it focuses on social sharing and user-created content. In its early days, this innovative social media platform attracted the attention of people across the world as it enabled users to post, share, like, and reply to short messages, known as "tweets". Twitter has gained popularity and grew immensely from five thousand tweets per day in 2007 to more than one billion tweets per day at its peak. Users have shown a creative way of sharing their tweets, starting from sharing their personal lives and feelings to a more serious conversation, such as discussing politics. Additionally, as a free open-source platform, companies are able to join Twitter and become a part of their community. Furthermore, companies can use their tweets as opportunities to create advertisements that utilise current trends to gather attention and connect with users across the world.
The Rise of Twitter & Hashtags Trends

(Figure 2. "Concept of hashtag usage on social media platforms stock photo" by Grinvalds is licenced under CC BY 2.0)
The substantial growth of Twitter in the number of users and popularity has resulted in a spike in the number of tweets, which causes unorganised tweets. In 2009, Twitter developed an automated search function that enabled users to search the site for tweets on a specific topic through the use of "#" or "hashtags" (Huddleston Jr., 2020). This new feature has gained a spotlight from users; it has become a global phenomenon. Hashtags became the new trend, which often reflect viral trends, memes, or current events, for example "#IceBucketChallenge, #FlappyBird, and #Foods". Most companies use the opportunity of trending hashtags to jump into conversations and connect with consumers while also getting attention and recognition. Subsequently, Twitter took advantage of this to create a promoted trend in which the advertisers had to pay for the "hashtags" to appear at the top of Twitter's Trending Topics list (Godin, 2023). Moreover, the invention of hashtags has gathered a lot of publicity, resulting in numerous social media platforms such as Instagram and Facebook implementing this search engine tool for their own platforms.
Twitter's Acquisition
As the company continues to grow, Twitter decided to register as an IPO in 2013 under the stock code "TWTR." On the first day of its IPO, the stock price was set at $26 per share; in a matter of seconds, the stock skyrocketed and closed at $44.90 per share, which is equivalent to a 73% increase (Popper, 2013). In 2013, Twitter's IPO was considered a huge success, making it a milestone as it managed to raise $1.8 billion, making it one of the biggest social media IPOs in 2013. However, not all went well for Twitter as new competitors such as Facebook, Instagram, and Snapchat rose and Twitter lacked new innovative ideas, henceforth making Twitter gradually lose public interest, resulting in TWTR stock gradually declining every year.
Noticing this, as the biggest stakeholder and the richest man in the world, Elon Musk decided to acquire Twitter to conduct a huge alteration to its platform by performing a hostile takeover and offered $44 billion dollars for the acquisition (Di Stefano, 2022). On April 25, 2022, Twitter accepted Musk's offer and once again became a private company (Abbruzzese & Wile, 2022). Since the acquisition, Musk has integrated tremendous alterations for Twitter. One of the notable transformations is the name and logo of Twitter. This has enraged numerous people, as they consider Musk to have just killed the bird and that Twitter is officially dead (Vaidhyanathan, 2023). Aside from the name and logo change, Musk has also fired 80% of Twitter employees, including several executives, leaving Twitter with approximately 1500 employees (D'Cruze, 2023). Moreover, Musk introduced Twitter blue or X premium which is a paid subscription that gives users a blue checkmark for $8 per month (X Corp, 2023).
These implementations have caused Twitter to receive numerous complaints and criticisms from the media. The rebranding caused people to lack the cognitive ability of brand recognition and lose 25% of current users due to brand loyalty (Dinesh & Odabaş, 2023). Furthermore, critics argue that the introduction of Twitter Blue is a poor decision due to a significant increase in fake accounts that have wracked havoc on the platform. These fake accounts often impersonate public figures, world leaders, and businesses; their fake tweets cause an effect on the real world, as in several cases, fake accounts that pose as legitimate companies can publish a tweet that ultimately influences the stock market (Paul, 2023).
The Rise of a Super App?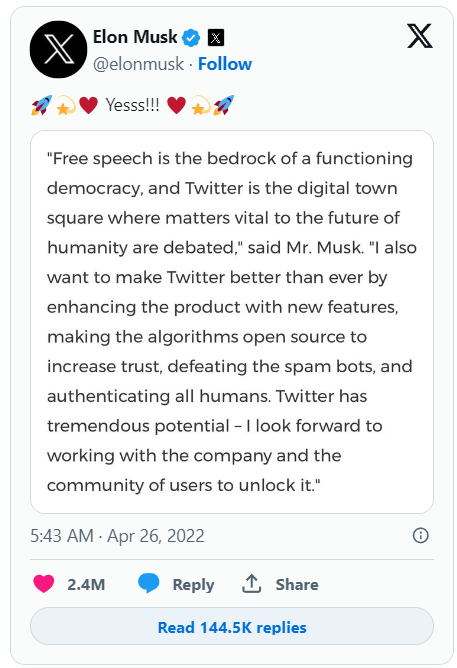 (Figure 3. "Free Speech" tweeted by Elon Musk)
These new implementations caused big brand damage to Twitter. However, through this implementation, Musk has been able to eliminate 90% of bots that are harmful to the app which cause scams and viruses (Needleman, 2023). Furthermore, Musk is determined to transform Twitter into a super app, thus encouraging free speech that emphasises democracy and making Twitter the digital town square.
The idea of creating a super app is not far from reality; however, it does entail a highly complicated process, as China is the only country that is able to achieve this in the form of WeChat. Consequently, Musk has received numerous critiques, though many aren't aware of his strategic methods, which are necessary for this venture. For example, his method of firing 80% of the original Twitter employees enables him to better control Twitter, as large groups are often ineffective. This also saves the company from excessive employee salaries, thus encouraging the development of new ideas. Musk's brilliance is unquestionable, given his achievements in founding SpaceX, PayPal, and Tesla. Musk is developing X, aiming to connect users globally and unlock unlimited interactivity to establish a global marketplace for ideas and opportunities centred around audio, video, messaging, and banking systems. In the hands of Musk, Twitter shows a promising future, as Musk is known for his innovative thinking. Musk's strategic methods will subsequently lead Twitter to achieve groundbreaking features that have not been seen before.
Conclusion
Twitter has grown in popularity since its launch in 2006. The most remarkable achievement of Twitter is the invention of hashtags, which led to several inventions such as promoted trends that generated revenue for Twitter. However, it gradually began to fade as it lacked a competitive advantage over competitors. On the verge of bankruptcy, Elon Musk bought Twitter in the hope of saving it and creating a super app. Since the acquisition, Twitter has received numerous complaints; however, with the help of Musk, the platform has progressed to a promising future. The future of Twitter, now known as X, is still ambiguous yet promising, as it is the first app brave enough to take the first step in becoming a super app on the verge of bankruptcy.
Reference
Abbruzzese, J., & Wile, R. (2022, April 26). Elon Musk reaches deal to buy Twitter for $44 billion. NBC News. https://www.nbcnews.com/tech/tech-news/elon-musk-reaches-deal-buy-twitter-rcna25806
D'Cruze, D. (2023, April 12). Elon Musk confirms he has fired over 80% of Twitter employees so far. Business Today. https://www.businesstoday.in/technology/news/story/elon-musk-confirms-he-has-fired-over-80-of-twitter-employees-so-far-377045-2023-04-12
Dinesh, S., & Odabaş, M. (2023, July 26). 8 facts about Americans and Twitter as it rebrands to X. Pew Research Center. https://www.pewresearch.org/short-reads/2023/07/26/8-facts-about-americans-and-twitter-as-it-rebrands-to-x/
Di Stefano, M. (2022, November 14). Why did Elon Musk (really) Buy Twitter? Financial Review. https://www.afr.com/companies/media-and-marketing/why-did-elon-musk-really-buy-twitter-20221108-p5bwei
Elon Musk (@elonmusk) tweeted about "Free Speech" on April 26, 2022 (Musk, 2022). https://twitter.com/elonmusk/status/1518677066325053441?ref_src=twsrc%5Etfw%7Ctwcamp%5Etweetembed%7Ctwterm%5E1518677066325053441%7Ctwgr%5E8f9aabcadb1623ff7db82f02945a74ed5340dfaf%7Ctwcon%5Es1_&ref_url=https%3A%2F%2Fiframe.nbcnews.com%2FQkoNu37%3F_showcaption%3Dtrueapp%3D1
Godin, S. (2023). Promoted Trends. Instapage. https://instapage.com/marketing-dictionary/promoted-trends/#:~:text=Promoted%20Trends%20are%20hashtags%20that,conversation%20about%20a%20branded%20topic.
Huddleston Jr, T. (2020, January 9). This Twitter user 'invented' the hashtag in 2007 – but the company thought it was 'too nerdy'. CNBC. https://www.cnbc.com/2020/01/09/how-chris-messina-got-twitter-to-use-the-hashtag.html
Internet Live Stats. (2013). Twitter Usage Statistics. https://www.internetlivestats.com/twitter-statistics/
Needleman, S. E. (2023, June 12). Elon Musk's Twitter vs. Bad Bots: The Battle Goes On. The Wall Street Journal. https://www.wsj.com/articles/elon-musks-twitter-vs-bad-bots-the-battle-goes-on-d25ce0ab
Paul, K. (2023, April 22). Fake accounts, chaos and few sign-ups: the first day of Twitter Blue was messy. The Guardian. https://www.theguardian.com/technology/2023/apr/21/elon-musk-twitter-blue-rollout
Popper, B. (2013, November 8). Twitter's stock closes at $44.90 a share, up 73 percent on its first day. The Verge. https://www.theverge.com/2013/11/7/5076484/twitter-ipo-twtr-public-offering-stock
Vaidhyanathan, S. (2023, July 5). Twitter was Locked in a Chaotic Doom Loop. Now It's on the verge of collapse. The Guardian. https://www.theguardian.com/commentisfree/2023/jul/05/twitter-elon-musk-verge-of-collapse
X Corp. (2023). About X Premium. https://help.twitter.com/en/using-x/x-premium