Group members: Elio Chen, Amelia Ryder, Leela Bagga, Laney, Carlos Zhang
What is the Sharing Economy?
The sharing economy model, also known as collaborative consumption or peer-to-peer sharing, is an economic model that leverages the ability of individuals to rent/borrow goods and services rather than buying/owning them. This exists primarily as an urban phenomenon, since it is the density of cities that creates opportunities for underused goods and services to be available and within easy reach of matching demand. With no need for large, upfront financial investments and only requiring access to information technology to take part, proponents of this economic model envisaged it would bring substantial benefits, including extra incomes for the users of such services, better allocation and utilisation and new economic activities (Quattrone et al, 2022).
Ultimately, the sharing economy model has changed the way in which people engage in a variety of activities, including travelling, trading, working and lending/borrowing money (Quattrone et al, 2022). According to Statista, the sharing economy is an industry in a rapid upward cycle. About 66% of people around the world are willing to play the role of asset owner or tenant in the sharing economy, and this figure reaches about 80% in Asia.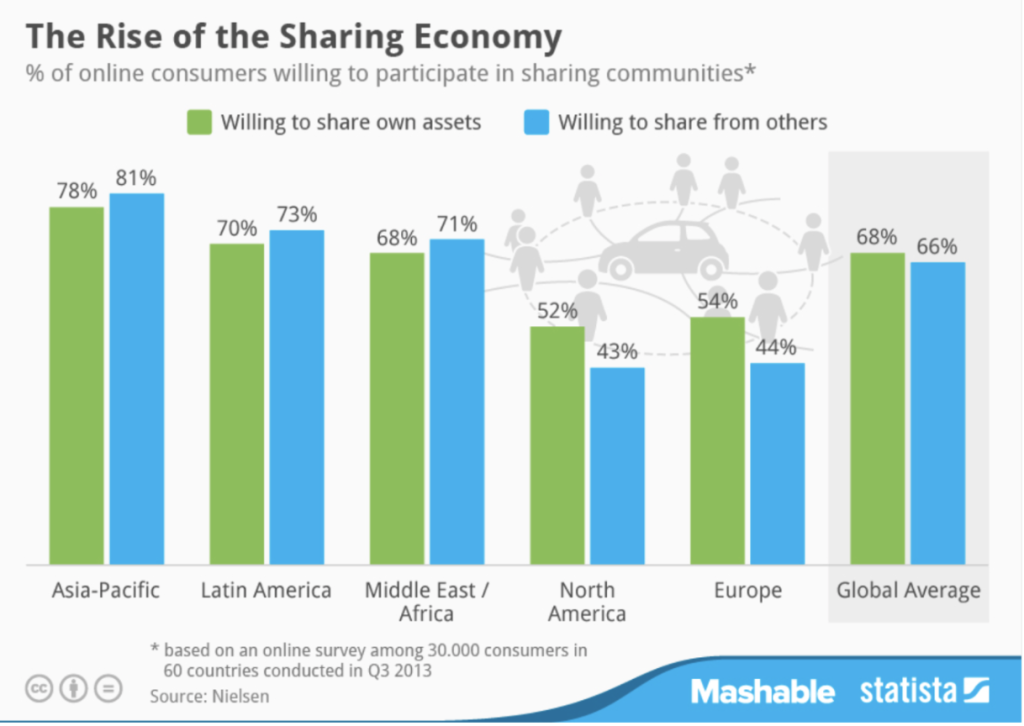 Examples of the Sharing Economy:
AIRBNB:
Beginning in 2008 when two designers who had space to share and hosted three travellers looking for a place to stay, Airbnb has now grown into a business model that represents the rapid expansion of the sharing economy into digital environment (Kabadayi et al, 2022). From cosy cottages to elegant penthouses, hosts are happy to share their places and whether its a work trip, weekend getaway, family holiday or a longer stay, there are millions of amazing places for guests to visit. 
So what is Airbnb? Airbnb is an online marketplace which works to connect people who want to rent out their homes with people looking for accommodations in specific locales. Hence, this platform is positioned as a disruptive innovation in the tourism sector and is a serious competitor for that industry providing both challenges for other businesses in the sector and the opportunities for those in the related destinations by acting as a source of income and employment (Kabadayi et al, 2022). This platform has more than 7 million listings covering over 100,000 cities and towns in more than 220 countries and regions worldwide.
How does Airbnb make money? Airbnb's business model therefore capitalises on the 'sharing economy', making money renting out property that it doesn't own. Everytime someone books a stay, Airbnb takes a cut. When customers click on a property, they'll see a breakdown of the fees- as mentioned, guest fees typically max out at 14.2%, while hosts generally pay about 3% of the amount they take in.

Advantages and disadvantages: In terms of the advantages of Airbnb, the pros include a wide selection, free listings, hosts can set their own price, customisable searches are made possible and easy. However, in terms of cons, taxes, added fees and potential damages all are harsh realities of using the platform (Floger, 2023)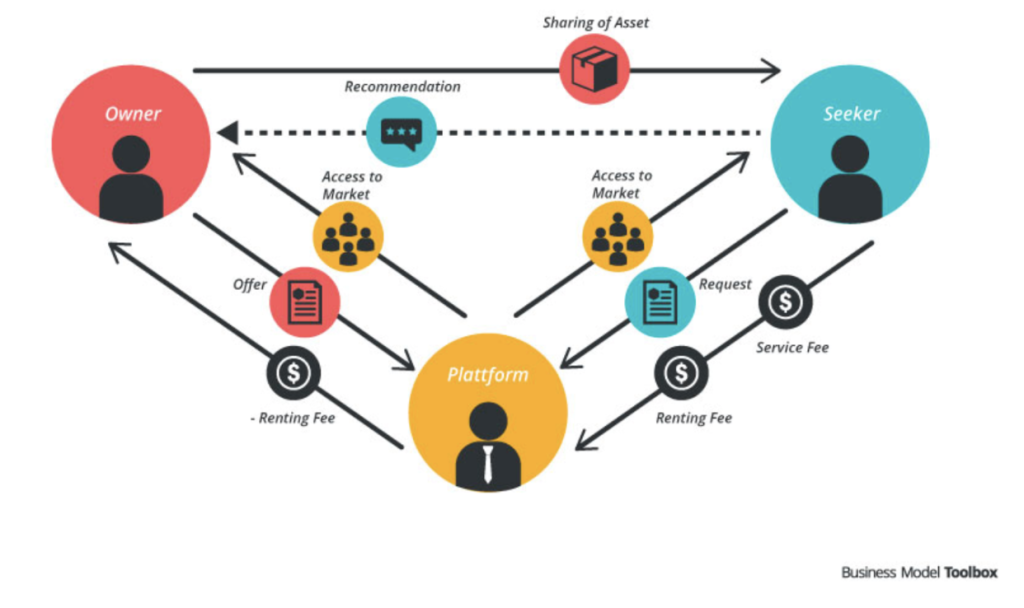 UBER
About Uber:
Uber exemplifies the central tenets of the sharing economy by subverting the conventional modes of transportation and fostering an alternate means of mutual cooperation and partnerships between service providers and customers.When a passenger launches the Uber app and specifies their destination, they are seamlessly paired with an Uber driver—an autonomous contractor responsible for ferrying the passenger to their chosen endpoint. In return for this service, passengers remunerate the Uber driver with a base fare, which may also encompass a gratuity. The business model of the sharing economy has facilitated  this exchange by allowing peers to "offer and purchase goods and services from each other through an online platform" (Cannon & Summers, 2014). 
Advantages of Uber
Potentially lower prices for goods and services: Sharing resources can potentially translate to lower costs for consumers. For example, spending $20 each week on shared rides could be less expensive than owning, insuring, and maintaining a vehicle.
Gig work can provide extra income: One in three Americans has at least one side hustle, and many of them work in the sharing economy. Gig work can provide extra income if you experience a pay cut or if stagnating wages make it hard for you to keep up with a rising cost of living.
Increased access to goods and services: The sharing economy can make it easier to obtain goods or services. This kind of convenience is a hallmark of the sharing economy.
Disadvantages of Uber 
Safety concerns for both workers and customers: Performing gig work or hiring a gig worker can pose safety risks. An Uber safety report released in 2019, for instance, revealed nearly 6,000 sexual assaults and 19 deaths involving drivers and riders during 2017 and 2018.6
Lack of regulation can be problematic: Changing regulations can bring uncertainty for both gig workers and consumers who use sharing economy platforms. 
Data and privacy risks may exist: Cybersecurity is also a concern for people who use sharing economy platforms. Sharing information with an app can be risky if it's not properly encrypted.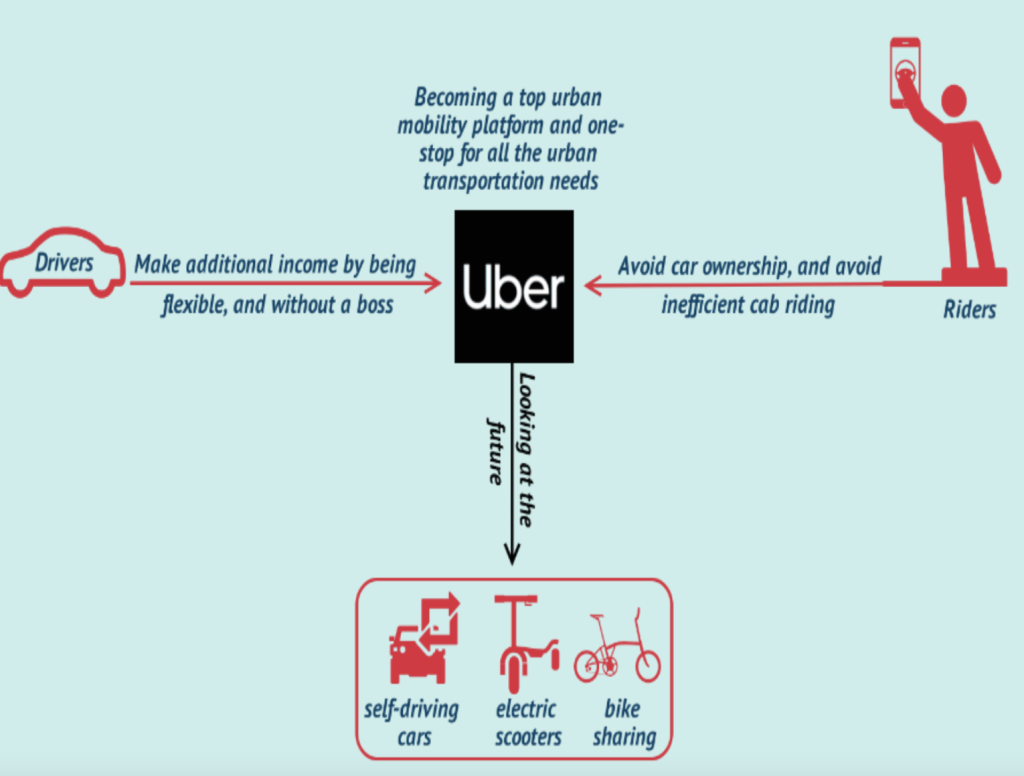 LIME BIKE
About Lime Bike
Another strong example of the sharing economy is bike-sharing companies, such as Lime Bike. Bike-sharing is a new phenomenon that is now used "in over two hundred cities worldwide with many investors valuing these companies in the billions of dollars" (McKenzie, 2022). Within bike-sharing, individuals can scan a QR code on a bike, which unlocks the bike and tracks payment by the minute. The "typical charge for use of an e-vehicle is $1 USD to unlock and $0.15-$0.30 per minute of use" (McKenzie, 2022). Bike-sharing provides individuals with a cost-effective alternative to driving, public transportation, or taxis. Furthermore, bike-sharing is often more efficient when there is heavy traffic in urban locations. Bike sharing decongests city streets, benefiting the city and its residents, while also providing a "low cost alternative transportation options for short, urban travel" (McKenzie, 2022).
Advantages
Can be more time-effective during rush hour than automobiles
Is a cheaper alternative to using platforms like Uber
Is a more environmentally-sustainable option, compared to automobiles
Disadvantages 
Lack of legislation on how to navigate injuries caused by bike-sharing bikes
Hard to regulate use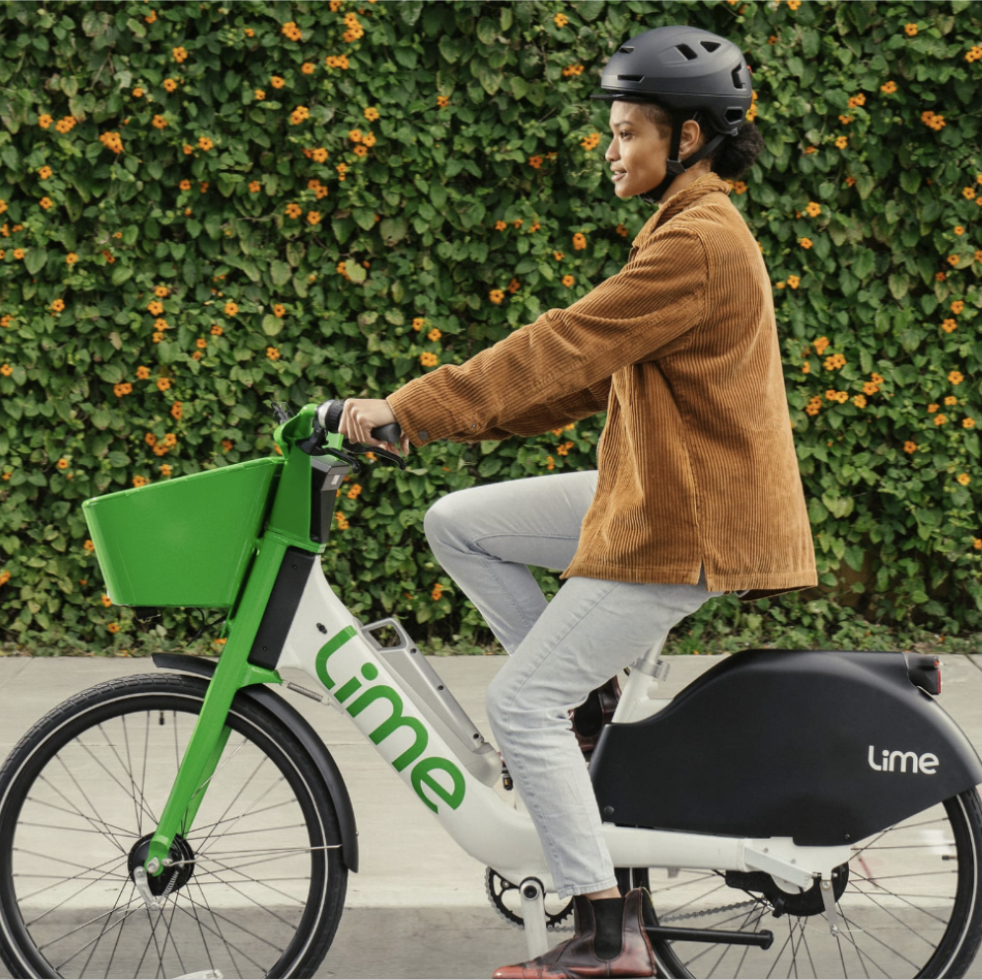 REFERENCES:
About Airbnb: What it is and how it works – Airbnb Help Centre. (n.d.). Airbnb. Retrieved September 13, 2023, from https://www.airbnb.com.au/help/article/2503
Cannon, S., & Summers, L. H. (2014, October 13). How Uber and the Sharing Economy Can Win Over Regulators. Harvard Business Review. https://hbr.org/2014/10/how-uber-and-the-sharing-economy-can-win-over-regulators
Folger, J. (n.d.). How Airbnb Works—For Hosts, Guests, and the Company Itself. Investopedia. Retrieved September 13, 2023, from https://www.investopedia.com/articles/personal-finance/032814/pros-and-cons-using-airbnb.asp
McKenzie, G. (n.d.). Urban mobility in the sharing economy: A spatiotemporal comparison of shared mobility services. Escholarship.mcgill.ca. https://escholarship.mcgill.ca/concern/articles/7s75dj289
Quattrone, G., Kusek, N., & Capra, L. (2022). A global-scale analysis of the sharing economy model – an AirBnB case study. EPJ Data Science, 11(1), Article 1. https://doi.org/10.1140/epjds/s13688-022-00349-3
Tumer Kabadayi, E., Cavdar Aksoy, N., Yazici, N., & Kocak Alan, A. (2022). Airbnb as a sharing economy-enabled digital service platform: The power of motivational factors and the moderating role of experience. Tourism Economics, 28(3), 748–771. https://doi.org/10.1177/13548166211044606
A new framework to better understand sharing economy business models: ESCP Business School. ESCP Europe – Business School. (n.d.). https://escp.eu/news/new-framework-better-understand-sharing-economy-business-models
Richter, F. (2014, June 3). Infographic: The rise of the sharing economy. Statista Daily Data. https://www.statista.com/chart/2323/the-rise-of-the-sharing-economy/
Sharing economy. Business Model Toolbox. (2021, March 23). https://bmtoolbox.net/patterns/sharing-economy/
E-scooter & E-bike Sharing. Lime Micromobility. (n.d.). https://www.li.me/