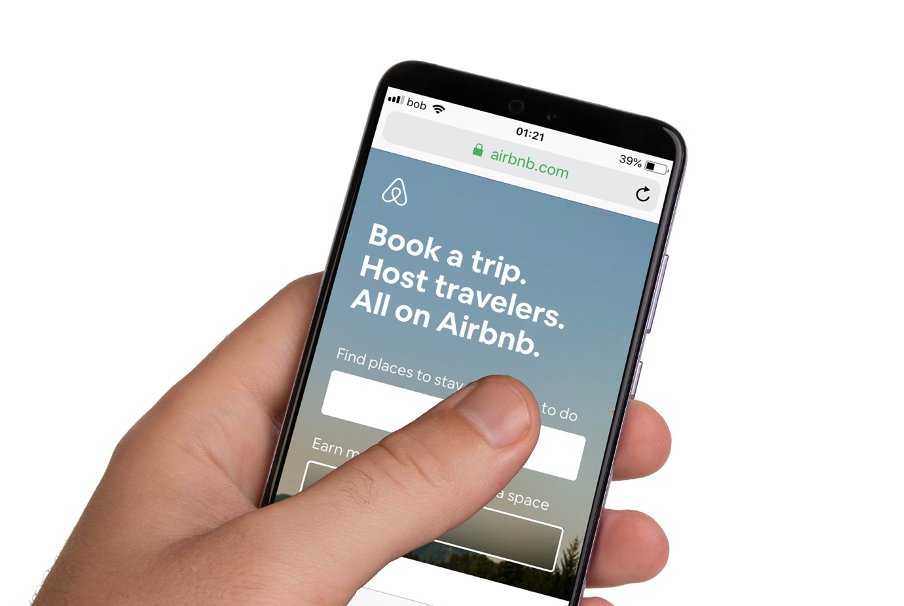 "Male hands holding smartphone with an open Airbnb application" by wuestenigel is licensed under CC BY 2.0.
Airbnb, since its launch in 2007, quickly rose to prominence as the leading online accommodation marketplace, with a global market capitalisation of USD $73.34 billion in 2023 (Statista, 2023). As an intermediary facilitator of peer-to-peer property rentals, the platform does not own any properties itself yet generates billions of dollars in revenue through commissions from users. Its global revenue has been steadily growing over the past six years, with the platform demonstrating resilience to the impacts of the pandemic on the travel and accommodation industry, recovering a fall in revenue to USD $3.38 billion in 2020 back to USD $5.99 billion by 2021 and reaching a record high USD $8.4 billion in 2022. Through its unique business model and the sharing economy it has created, Airbnb has undeniably disrupted and is continuing to revolutionise the accommodation industry. But how was this possible and what does this imply for the future of traditional hotels?
'Trust' as a driver of success in sharing economies
The sharing economy created by Airbnb has 'widen[ed] public access…to the private', (John, 2016) by enabling monetised property sharing with strangers. 'Trust' has been long recognised as a critical ingredient of the sharing economy and is particularly significant in the context of Airbnb where both parties face high stakes in the exchange. For the hosts, the sharing of a private space with strangers involves risk of stolen or damaged possessions and violations of predetermined 'house rules' (Wang et al, 2020). In contrast, guests risk their privacy and safety during their stay in a property privately owned and controlled by a complete stranger. Airbnb, as an intermediary platform, provides a safety net between the parties, through their strict privacy policy and information protection mechanisms. Further, their 'Host Guarantee' which offers up to USD $1,000,000 for property damage and advanced technology implemented for fraud prevention provide added confidence to hosts. On top of this, its stringent screening process which assesses both hosts and guests in respect of 'regulatory, terrorist, and sanctions watch lists', (Airbnb) ensures safe participation in the sharing economy. All prospective hosts and guests have access to reviews left by users from previous bookings and such transparency facilitates informed booking decisions, adding another layer of trust on the platform.
The success of Airbnb has demonstrated that trust can be fostered online, contrary to widespread belief that peer-to-peer sharing and exchange of property involve higher risk and lack of trust, as the online amateur landlords do not face the same extent of corporate responsibility as multinational hotel networks. Hosts themselves, through the moderating roles they play, contribute greatly to user trust – they are the 'service facilitator, educator, tour guide…relationship builder' (Zhu et al, 2023). While trust is important, a limitation may be that 'trust' in a particular host does not necessarily translate to 'trust' in other property listings on Airbnb. Further, studies have found that users are more likely to make recommendations to friends based on 'how much fun they had' and whether their goal such as an 'escapist experience' was achieved through the stay, regardless of their experiences with hosts (Zhu et al, 2023). However, in the context of sharing economies, trust between users is a double-edged sword – when it is undermined, it causes detriment to the whole platform. For instance, a negative experience with an unresponsive host or cancellation issues has led to users attacking the entire platform, as opposed to the specific host. Numerous reviews of Airbnb on Trustpilot evidence this phenomenon, with users redirecting their frustration with hosts to the platform. This affirms the importance of 'trust' for the lasting success of Airbnb and its sharing economy, on both user to platform and user to user levels.

A win-win situation but to what extent?
With platforms like Airbnb leading the way, technology has become 'a driver of the sharing economy', whereby access to the sharing economy is now largely 'mediated by websites and apps' (John, 2016). The enhanced convenience and accessibility through digital platforms to 'trade, swap, rent or barter goods, skills, services or expertise' (John, 2016) across a global network have generated economic opportunities worth billions of dollars. In particular, Airbnb's sharing economy has offered added financial security to Australians, unlocking a potential to rent out the 13 million spare rooms across the country that would have otherwise remained in disuse. Many property owners are now using the platform to subsidise their retirement or to support family income and lifestyle. From a guest perspective, with an average booking price of $100 per night, Airbnb offers a highly affordable and local alternative to traditional hotels. However, due to the nascency of such platforms and the cross-jurisdictional nature of its transactions, concerns have been raised in respect of its lack of prescriptive regulation and legal guidance. For instance, in the news clip, tax experts warn that amateur landlords looking to list their properties for rent should be aware of the tax implications such as entitlements to deductions and liability for income tax. Hence, to reap the benefits of Airbnb's sharing economy while steering clear of problems, both hosts and guests are recommended to familiarise with the platform's guidelines and potential legal and tax implications of using Airbnb. Airbnb also assures that 'negative incidents are extremely rare', with only 0.004% of the 49 million trips in 2017 resulting in a 'significant property damage claim' (Airbnb).
Moreover, early research suggested that Airbnb's ability to disrupt the traditional accommodation industries is largely limited to 'budget hotels/motels' and will not extend to 'upscale hotels' (Guttentag & Smith, 2017). This was likely due to the underlying assumption that luxury hotels and Airbnbs do not target the same demographic, due to the platform's positioning and recognition as a budget substitute to expensive hotels. However, a comparative analysis of Airbnb users with traditional hotel users revealed that the former attracted a 'younger, better educated' demographic 'with higher incomes' (Quirós et al, 2023). This finding communicates that the users of Airbnb are not necessarily price-sensitive and may well be potential clients of luxury hotels, who have made informed decisions to book through Airbnb after consideration of its unique value offerings.
Accommodation as a taste of culture and beyond
The expansion of Airbnb's services to 'experiences' which captures a variety of travel, cultural and local activities ranging from surf lessons to historical tours, showcases the platform's ambition to disrupt not only the accommodation industry but the broader tourism industry through its all-in-one service. These services have been described as a 'human-centric experience', with hosts capable of 'high human relations building capacity' (Zhu et al, 2023). In light of the shifting global demands for a more personalised and authentic accommodation experience, it is only natural that the cultural and experience-oriented Airbnb is being preferred over uniform amenities and rigid services offered by traditional hotels.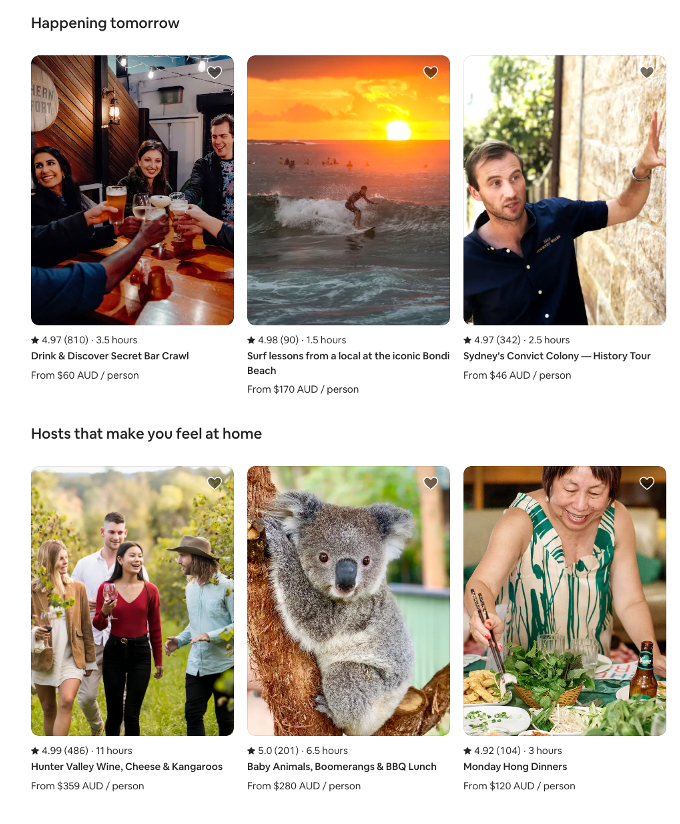 Screenshot of Airbnb Experiences
The findings ultimately highlight the dangers of remaining stagnant while the rest of the industry innovates to cater for changing market demands. Hence, in order for traditional accommodations to coexist amidst the growing Airbnb listings and services, they will have to find their own competitive advantage and innovate, to prevent being entirely displaced by industry disruptors.
Reference list
Guttentag, D., and S. Smith. (2017). "Assessing Airbnb as a Disruptive Innovation Relative to Hotels: Substitution and Comparative Performance Expectations." International Journal of Hospitality Management 64: 1–10. https://doi.org/10.1016/j.ijhm.2017.02.003.
John, N. A. (2016). Sharing Economies. In The Age of Sharing (pp. lviii–lxxvii) (1st ed.). Wiley.
Quirós, C., Riveros, K., & Erazo, R.-F. (2023). Airbnb vs booking: determinants of the use of collaborative and traditional online accommodations. Applied Economics Letters, 30(10), 1369–1373. https://doi.org/10.1080/13504851.2022.2055737
Wang, Y., Asaad, Y., & Filieri, R. (2020). What Makes Hosts Trust Airbnb? Antecedents of Hosts' Trust toward Airbnb and Its Impact on Continuance Intention. Journal of Travel Research, 59(4), 686–703. https://doi.org/10.1177/004728751985513
Zhu, J., Cheng, M., & Wang, Y. (2023). What makes people recommend Airbnb Online Experiences: the moderating effect of host. Current Issues in Tourism, ahead-of-print (ahead-of-print), 1–18. https://doi.org/10.1080/13683500.2023.2224958