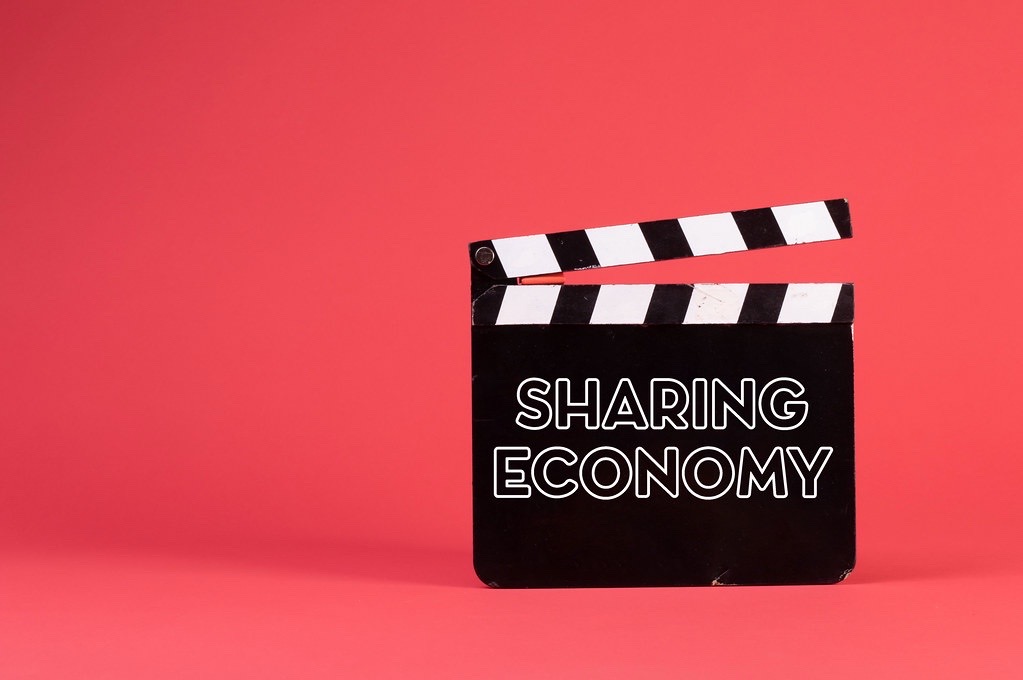 "Movie clapper with Sharing Economy text on red background" by focusonmore.com is licensed under CC BY 2.0.
Introduction
The term "sharing economy" has started gaining traction in the digital media era. It is a socioeconomic system where customers may share products and services thanks to an economic model. This economic paradigm, which typically takes place on digital platforms, makes it simpler to distribute, share, and reuse commodities and services that have excess capacity(John, 2016). However, it has a wide-ranging influence, particularly in traditional industries like hotels and taxis. What changes is the sharing economy making to traditional business models as platforms like Uber and Airbnb expand quickly? This article will discuss how established sectors like hotels and taxis' business models are evolving as a result of the sharing economy.
Impact on Hotel Industry
The conventional hotel business has been impacted by Airbnb's explosive rise. The information indicates that Airbnb has listings in more than 220 nations and regions. Additionally, it offers 7 million listings globally. This demonstrates that Airbnb has a comparable worldwide effect to that of conventional hotels.
"Airbnb Office" by Open Grid Scheduler / Grid Engine is marked with CC0 1.0.
First, compared to traditional hotels, Airbnb makes it simpler for visitors to blend into the neighborhood. The most hospitable hosts on Airbnb in the U.S. treat their guests like family and friends while making money so that they may enjoy the regional distinctive culture. Additionally, some hosts may introduce their guests to nearby tourist spots. As a result, an increasing number of travelers are choosing Airbnb over hotels. These tourists seek for more genuine experiences. They might become more used to the local way of life.
A second benefit is that Airbnb costs less than conventional hotels. Although Airbnb has both high and cheap prices, they are often less expensive than hotels. Long-term visitors and groups of travelers are better suited to Airbnb. The study found that an average Airbnb stay of seven nights is 32% less expensive per night than a stay of only one. Airbnb is less expensive than hotels for travelers travelling in groups. reserving six Airbnb's on average saves you 33% compared to reserving three hotel rooms. However, a two-person Airbnb is 29% more expensive on average than a hotel. Overall, Airbnb is a bit more affordable than conventional hotels.
However, there are also some drawbacks to using Airbnb. Firstly, Airbnb cannot guarantee travels 'security. There are some transaction risks since the sharing economy frequently entails non-standardized service transactions between vague parties that do not take place in person (Kim, 2019). In a regular hotel, a group of travelers may get assistance from the front desk when they run into issues, but at Airbnb, no one is available to aid with the issue. According to the study, there are numerous instances of harassment, violence, and unlawful video recording that jeopardise the safety of women. The fact that Airbnb hasn't always thoroughly screened hosts or even confirmed every listing means that it has occasionally been utilized for activities that are unlawful and could be harmful to or uncomfortable for female travelers (Bloom, n.d.). In addition, most commenters on Reddit advise women travelers to book hotels rather than Airbnb because they believe hotels can keep guests secure. Hotels will also offer assistance and cleaning services. While charging a cleaning charge, Airbnb will request that the tenant clean the accommodation.
However, due to its rapid growth, Airbnb has put in place a variety of safeguards to safeguard consumers' rights. First, Airbnb eliminated approximately 59,000 bogus listings in 2023 by using artificial intelligence to attack them. Additionally, it has tightened the standards for listing approval, turning down 157,000 applications. In addition, Users' suggested cleaning fees have been modified by the Airbnb platform, and the majority of hosts have either deleted or reduced their cleaning fees. As a result, Airbnb has partially displaced the conventional hotel business.
Impact on Taxi Industry
"uber" by stockcatalog is licensed under CC BY 2.0.
Online ridesharing services like Didi and Uber have started to ingratiate themselves into people's lives as a result of the expansion of internet platforms. First and foremost, door-to-door services that let consumers avoid waiting around for cars are among the advantages of using an online taxi service (Aguilera-García et al., 2022). The study prIedicts that 130 million individuals would use the Uber app at least once every month by 2023. This illustrates how more people are beginning to use Uber. Online taxi platforms, in contrast to traditional cabs, give customers a simple and quick method to book and pay for journeys using mobile applications, doing away with the need for physical calls to cab firms or cash transactions.
Secondly, conventional cabs have volatility and consumers cannot forecast the cost, however,the majority of taxi apps offer pricing estimates before booking so that passengers can have a sense of the expected cost. Additionally, customers may examine the best routes on online taxi platforms.
In addition, online taxi platform also provide greater work prospects. These platforms provide opportunities for drivers who want to work as full- or part-time drivers, enabling them to make money according to their own schedules. Drivers may use their own resources—their cars—to make money, and the platform facilitates resource sharing. For instance, a car owner who is prepared to leave work can make additional money without using up resources by signing up as a driver and accepting orders for the trip between his workplace and home.
Online taxi systems are not flawless. First, regulators carefully control the taxi business while tolerating the platforms, which aids in the development of an unfavorable market. DiDi, a platform for online taxis, controlled the entire market in China. Didi was removed from the app store by the Chinese authorities because it exposed a lot of consumer information. Second, traditional taxis frequently find themselves unable to compete on price and convenience since taxi platforms are frequently more reasonably priced.
As platform firms are somewhat helpful to the growth of the economy, government agencies have been slack in their regulation of online taxi platforms. However, since platform issuessurfaced and the platforms were frequently questioned, Didi has improved the measures, such as the complete recording feature.
Opportunities and challenges
The sharing economy increases employment options. The ability of property owners to create revenue from their holdings and the ability of automobile owners to do the same shows how the nature of traditional work is changing. Consumers now have a huge range of options thanks to platforms like Airbnb and Uber, which results in competitive pricing and improved services—even for conventional sector workers. The sharing economy provides customers with a wide range of options. In addition to creating competitive costs, this has also pushed established firms to up their game and enhance their services overall.
Conclusion
The sharing economy has clearly altered the face of established sectors by emphasizing sharing of resources. First and foremost, the sharing economy enhances work prospects when it comes to benefits. Second, it makes people's life easier. The sharing economy does have drawbacks, including a lack of regulation and safety. Although it expands consumer choice, engagement, and new models, it also creates issues with regulation, employment security, and market stability. For this economic system to grow sustainably and fairly as it changes, a balanced strategy is necessary.
Reference
Aguilera-García, Á., Gomez, J., Velázquez, G., & Vassallo, J. M. (2022). Ridesourcing vs. traditional taxi services: Understanding users' choices and preferences in Spain. Transportation Research Part A: Policy and Practice, 155, 161–178. https://doi.org/10.1016/j.tra.2021.11.002
Airbnb cracking down on fake listings. (n.d.). Www.youtube.com. Retrieved October 7, 2023, from https://www.youtube.com/watch?v=vOENIwhP-IE
‌ Airbnb cracks down on fake listings. (2023, September 21). The Sentinel Record. https://www.hotsr.com/news/2023/sep/21/airbnb-cracks-down-on-fake-listings/
‌ Bloom, L. B. (n.d.). Is Airbnb Safe? New Report Exposes Scams, Bug Infestations, Discrimination. Forbes. Retrieved October 7, 2023, from https://www.forbes.com/sites/laurabegleybloom/2021/10/11/is-airbnb-safe-new-report-exposes-scams-bug-infestations-and-more/?sh=1c26fd5f493b
This work is licensed under CC BY 4.0