Topic:
Brief introduction
As of 2023, TikTok has more than 1.677 billion users around the world, including 1.1 billion monthly active users, which is an extremely large number, and TikTok has users in 160 countries, including 150 million users in the United States. (Daniel 2023)
TikTok was originally launched in China in 2016 with the program software (douyin) in 2In 017, TikTok's parent company, ByteDance, chose to withdraw the app from China and use it in other countries. In the early days of TikTok, you'll see a steady stream of music-based content, including the infamous Gangnam Style and more viral dance moves, and singing impressions that rival your personal shower performance. (Jeremy 2023The meteoric opportunity for TikTok to emerge is the global pandemic, which increased social media usage by 20% to 65 minutes per day during the two-and-a-half-year lockdown. The dramatic increase in screen time has made TikTok much faster, with a 75 per cent increase in usage. From October 2019:442.9 minutes to March 2020:858 minutes (Daniel 2023So the number of people using TikTok around the world is becoming stickier. TikTok's short videos capture people's fragmented time and make very long videos short so that people are more easily attracted TikTok will be based on the huge one algorithmicComing out what videos people want to watch can firmly grasp everyone's inner needs and make people more easily attracted.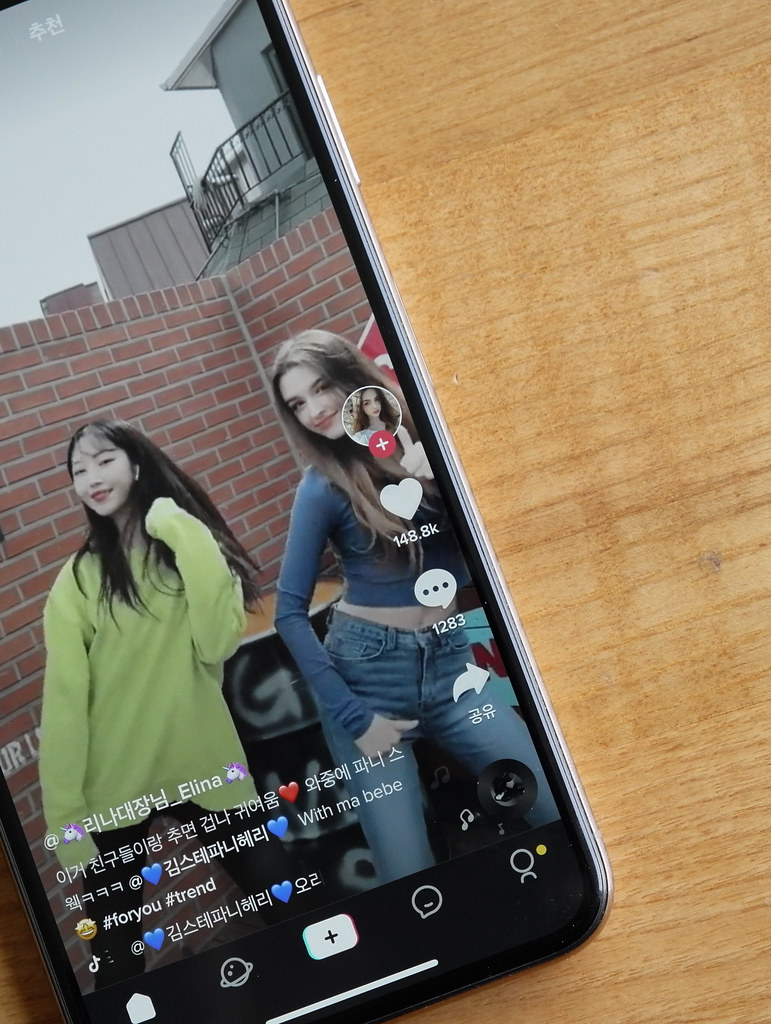 HS You TikTok | TikTok | HS You | Flickr (CC BY-SA 2.0)
Live streaming on TikTok
Because TikTok has a huge number of users, its impact on the entire Internet economy is huge, among which emerging practitioners on TikTok are anchors with goods. There are many traditional brands promoted and applied on Douyin, and these anchors themselves have a lot of fan groups, so it is easier to monetize through fan groups. And more and more brands are following this model, using Douyin to complete the purpose of selling goods, which is more commonly known as e-commerce. Many brands choose to set up multiple dedicated Douyin accounts to livestream. In the case of Adidas, they have more than 4 live streaming accounts to cater to different target audiences: flagship stores, women, children, and dealer stores. This strategy helps brands to more precisely target and engage different audiences. (TingYi 2023) As a result, Douyin's annual merchandise gross merchandise (GMV) is expected to reach 800 billion yuan (US$126 billion) in 2021. In the year before, many emerging brands achieved rapid growth in the Douyin e-commerce field. They efficiently connect and relate to potential consumers through a variety of methods, such as short videos and live streaming. According to official data from Douyin, from January to November 2021, The monthly transaction size of Douyin's emerging e-commerce brands has been growing steadily, with an average month-on-month growth rate of more than 24%.
Screen recording of China Douyin Adidas live broadcast room
TikTok influences music and movies
A lot of the videos on TikTok come with BGM, so due to the huge user base, TikTok's impact on billboard rankings is unmatched, and it also plays a crucial role in song rankings. Here's how TikTok drove a song's popularity: According to MRC data, 67% of users who have listened to a song on TikTok are more likely to search for it on a music streaming service such as Spotify or Apple Music. More than 175 songs hit TikTok, and many of them topped the Billboard Hot 100. This number doubles compared to the statistics of 2020. (Rohit 2023Just like that The Fleetwood Mac song "Dreams" was first released in 1977。 However, with the song's sudden popularity on TikTok, it re-entered the Billboard charts in 2020. It's worth noting that 67% of TikTok's users are teenagers, and the app has allowed them to rediscover classic hits from the 70s of the 20th century. (Rohit 2023This shows that the influence of music on TikTok is significant, and the first thing many musicians do when they make a song is to post it on TikTok because it can promote the new song as much as possible, hoping that more and more people will hear the song and support it.
For film companies, pre-film publicity is significant, more and more companies are investing more and more money in streaming promotion, TikTok's user base continues to proliferate, and studios have come to see it as an important addition to Twitter, Instagram and other social and digital platforms. Sony cleverly capitalized on TikTok in the promotional campaign for Spider-Man: No Way Home, and despite the pandemic, the film managed to overcome challenges to become one of the highest-grossing blockbusters of all time. (Dade 2022) Although it is impossible to directly explain that TikTok is the main reason for the movie's popularity, promoting through TikTok is also one of the means used by more and more companies.
How TikTok promotes Sony's new movie
TikTok's changed online sales environment
On traditional Chinese e-commerce platforms such as Taobao and JD.com, sales formats are often supermarket-style displays, with goods displayed on shelves. The main way to buy a product is to find what you are looking for through active search with clear purchase intent. However, Douyin is a short video social platform where users can share various video content. In terms of the nature of transactions, unlike traditional e-commerce platforms, purchases on Douyin are often more unconscious or passive. Users may be inadvertently attracted to short video content or product recommendations from key opinion leaders, which can stimulate purchase interest. Unlike traditional e-commerce platforms, Douyin's shopping experience is more entertaining and social. (Azoya 2022) And relying on powerful algorithms and big data, on TikTok, you can find customers for goods, instead of usually you have to go to shopping websites to pick your favourite items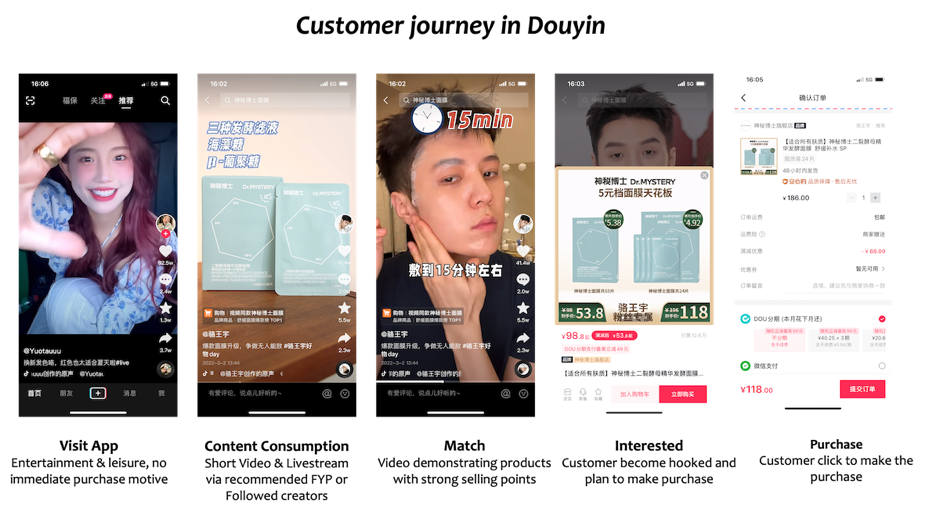 Source: Douyin. Screenshots of Douyin (Chinese TikTok)
This has changed the entire Internet sales environment, and every sales platform in China is imitating TikTok's sales methods.
summary
TikTok has changed the entire international market to a great extent, and its e-commerce integration has helped to promote Chinese consumer culture to the world, making the app the main channel for non-Chinese consumers to learn about Chinese products and trends. This has facilitated the spread of Chinese consumer culture on the international stage, so many brands are actively using Douyin to open up new markets. But this are also pros and cons, now more and more people are addicted to Douyin, less and less time is invested in real life the number of such people is slowly increasing, and the goods sold in Douyin are not entirely good, and many anchors sell inferior products. It is necessary to look at every emerging thing correctly, but it also proves that the emergence of TikTok has changed people's consumption concepts and living habits today.
References
Chen, T. (2023a, February 11). Douyin live-streaming and case studies: A brand marketing guide. WalktheChat. https://walkthechat.com/douyin-live-streaming-how-brands-are-using-live-shopping-to-drive-direct-sales/
Cheng, D. (2022a, August 3). Chinese tiktok douyin e-commerce: A new playground for brands. Daxue Consulting – Market Research and Consulting China. https://daxueconsulting.com/china-tiktok-douyin-ecommerce/
Douyin statistics and trends shaping China's social ecommerce market. Marketing China. (2023a, September 8). https://marketingtochina.com/douyin-statistics-and-trends/
Douyin: The rise of chinese video app – media scope group. Media Scope Group – We connect and empower people and brands. (2023a, March 10). https://mediascope.group/douyin-the-rise-of-chinese-viral-video-app/
Tanjung, J., & (Amy Tan (author); Wayne Wang (director)). (2021a, June 30). How Tiktok's viral dance challenges taught me more moves than my dancing instructor. Diggit Magazine. https://www.diggitmagazine.com/articles/how-tiktok-s-viral-dance-challenges-taught-me-more-moves-my-dancing-instructor
Ruby, D. (2023a, September 27). 45+ Tiktok Statistics in 2023 (users, Revenue & Trends). DemandSage. https://www.demandsage.com/tiktok-user-statistics/
Shewale, R. (2023a, August 28). Tiktok Music Statistics 2023 (availability, cost & market share). DemandSage. https://www.demandsage.com/tiktok-music-statistics/
Hayes, D., & Hayes, D. (2022, January 9). How TikTok Is Fueling Hollywood Marketing Campaigns Like Sony's Epic Pitch For "Spider Man: No Way Home." Deadline. https://deadline.com/2022/01/how-tiktok-is-fueling-hollywood-marketing-campaigns-sony-spider-man-no-way-home-1234906545/