The way companies run and engage with their consumers has been completely transformed by the internet. In recent years, a brand-new phenomenon known as "Internet+" has appeared. It comprises a range of commercial practices that rely on online platforms. Technology like mobile internet, cloud computing, big data, etc., are disseminated across the whole business and society through Internet+ (Han & Liu, 2022). Businesses employ a vast network of platforms and technologies together known as the Internet+. This patchwork of technologies completely changes how businesses function in the digital age. The primary conduit connecting companies to customers and markets is the internet. This paradigm shift has been made possible by the widespread availability of high-speed internet connection, which has made global data interchange and communication effortless.
The Internet+ Ecosystem
Businesses utilize the intricate web as a network to streamline operations. It has cloud software, mobile applications, social media marketing tools, and e-commerce. These resources are now essential for businesses of all sizes. Businesses may interact with consumers, optimize their operations, and gain a competitive advantage thanks to the Internet+ ecosystem (Cao, 2019). It brought us a new age of connection and digitization, which altered how businesses operate.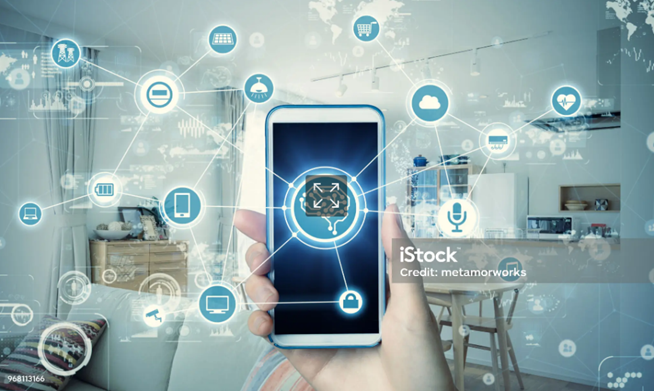 A photo about Internet+ Ecosystem. By Istock is licensed under CC BY NC 968113166
Transforming Retail: E-commerce
The e-commerce industry is a great example of the Internet+ phenomena. Traditional physical stores have forced to adopt internet retailing in order to stay up with the changing marketplace. Customers may enjoy a simple and easy purchasing experience from the comfort of their own homes thanks to e-commerce platforms. The degree of convenience has significantly altered customer behavior (Gou, 2021). Nowadays, customers need a wide range of goods, affordable prices, and efficient delivery. Businesses who did not live up to these expectations risk being left behind in the digital age.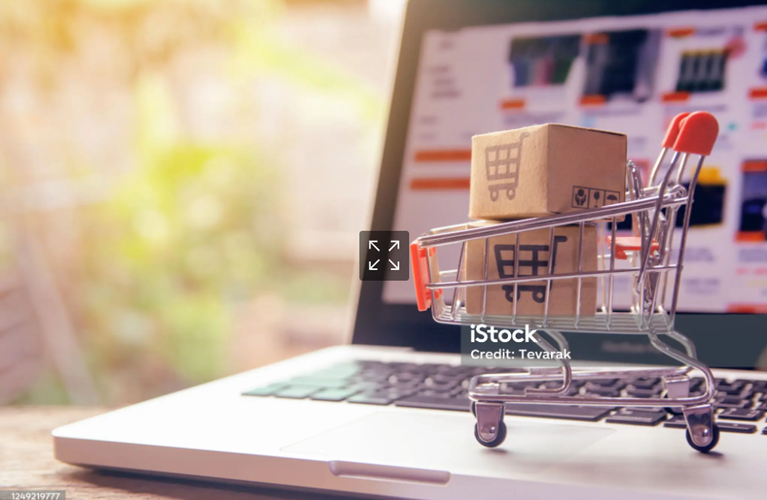 A photo showing the Shopping online concept – Parcel or Paper cartons with a shopping cart logo in a trolley on a laptop keyboard. By Istock is licensed under CC BY NC 1249219777
The landscape of shopping has been fundamentally altered by the growth of e-commerce. Online markets are increasingly complementing traditional brick-and-mortar retailers and even displacing them. With this change, customers may simply buy from home or while on the road. In order to meet the demands of tech-savvy clients, companies have had to adapt by building solid online platforms, assuring safe payment procedures, and streamlining their supply chains (Cai & Yao, 2019).
The global trend of internet purchasing was accelerated by the COVID-19 pandemic in 2020. Numerous businesses that mostly ran physical shops were forced to swiftly adjust or face going out of business forever (Li et al., 2023). Li et al. (2023) explains that several businesses used creative strategies to make the switch to online buying, such developing curbside pickup services and providing virtual shopping experiences. Learn more about the impact of e-commerce on traditional retail by exploring the article Breaking Down Walls: E-Commerce and the Future of Retail.
Empowering Small Businesses: social media
Social media platforms have proven to be useful tools for small businesses in communicating with their target audiences and advertising their goods and services. For companies looking to build an online presence, websites like Instagram, Facebook, and Twitter are essential. With the use of social media, businesses and consumers may interact directly, share information, and conduct targeted advertising campaigns (Han & Liu, 2022). Social media offers a low-cost option for small companies with limited marketing expenditures to reach a large audience.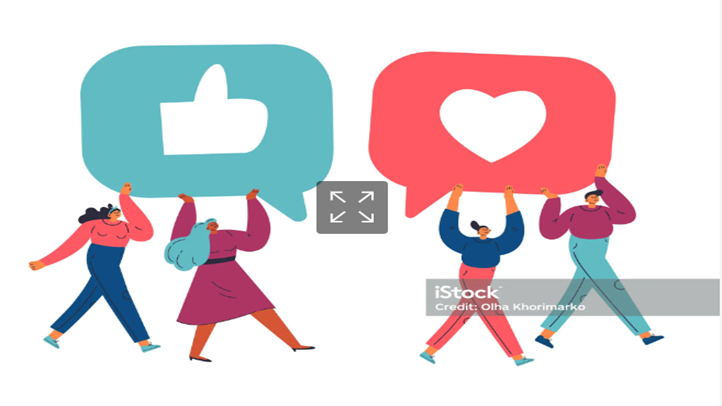 Showing how social media links small business and their customers By Istock is licensed under CC BY NC 1199084540
Online firms often communicate with clients using mobile applications. Using a mobile app to order meals, get a taxi, or handle money is simple. Businesses invest a lot of money in app development to connect with consumers' digital lives (Gou, 2021). Social media is crucial for increasing brand recognition and connecting with customers. On websites like Twitter, Instagram, and Facebook, companies may communicate with their customers. They may solicit input, run advertisements, and distribute information.
Discover the process of using social media leveraged growth it's in this article
Data-Driven Decision Making: Big Data
The use of big data technology has become an integral part of the Internet+. Insights into consumer behavior, market trends, and operational efficiency may be gained via the use of these technologies, which allow for the collection and analysis of massive volumes of data. The analysis of large amounts of data gives firms the ability to make better choices. Through data mining and analysis, businesses may better understand their clientele's wants and requirements and adjust their operations accordingly (Cao, 2019).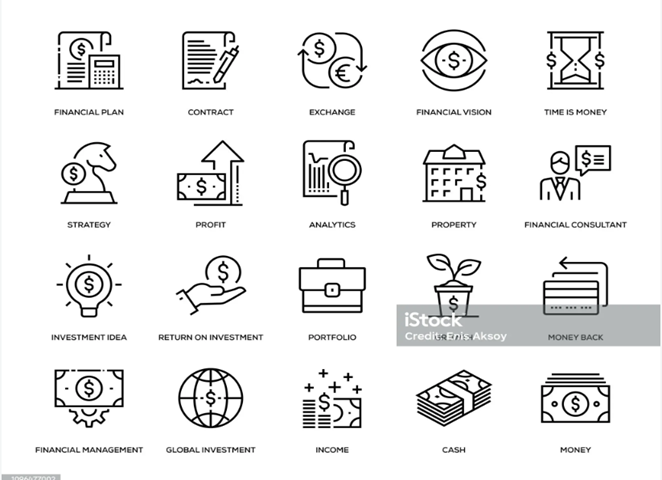 A photo showing the benefits of data-driven decision making for businesses. By Istock is licensed under CC BY NC 1096477002
The ecosystem is complete with the addition of big data analytics, which makes data-driven decisions possible. Nowadays, businesses gather and analyze massive volumes of data to better understand customer preferences, market trends, and internal processes (Cai & Yao, 2019). This data-driven strategy improves competitiveness and enables businesses to adapt quickly to changing market conditions.
Consider the instance of Netflix as an example of the value of big data. The streaming behemoth uses big data extensively to provide viewers with tailored content suggestions. Netflix's advanced algorithms assess users' historical choices and watching behaviors to recommend content that is more likely to appeal to each user.
Netflix uses big data to personalize content recommendations in this article How Netflix used big data and analytics to generate billions
The Future of Work: Remote Collaboration
A new age of distant collaboration has been ushered in by cloud computing and collaboration technologies, which have revolutionized the way we operate. Teams may collaborate easily using these tools from any location. The Internet+ age has seen a rise in remote work, which enables businesses to access a worldwide talent pool and save operating expenses related to physical offices. The contemporary office has included collaboration technologies like Zoom, Slack, and Google Workspace (Gou, 2021). Whether they were ready for it or not, the COVID-19 epidemic prompted many businesses to implement remote work methods. This abrupt change brought both possibilities and problems. While some organizations found it difficult to change, others learned the advantages of remote employment, including higher productivity and shorter commuting times.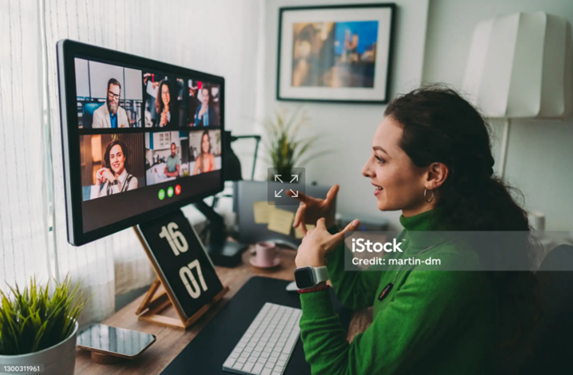 A photo showing an employee working remotely and having a meeting with colleagues showcasing the future of remote work and how collaboration is evolving. By Istock is licensed under CC BY NC 1300311961
Learn more about how remote work has impacted businesses and employees in this Forbes news article; The Future of Global Remote Work: Navigating A New Landscape
互联网+的挑战
Although Internet+ has many advantages, it also creates difficulties that companies must overcome. Cybersecurity risks, data privacy issues, and the digital divide are a few of these difficulties. As organizations increasingly depend on digital technology, cybersecurity risks have evolved. It is crucial to safeguard private information and make sure internet transactions are secure. Businesses must also manage complicated data privacy requirements, including the General Data Protection Regulation (GDPR) in Europe (Han & Liu, 2022). Another important problem is the digital divide. Although Internet+ has the ability to link individuals and organizations on a global scale, not everyone has access to these tools. Governments, companies, and communities must all work together to address the social and economic challenge of closing the digital gap (Han & Liu, 2022).
To delve deeper into the challenges of Internet+, let's explore a comprehensive report that highlights the cybersecurity risks and data privacy concerns associated with the digital transformation.
Conclusion
Businesses must traverse the complicated Internet+ environment to succeed in this linked digital world. Companies may exceed client expectations while also innovating and adapting to a constantly shifting business environment by adopting these technologies and techniques. The Internet+ ecosystem is more than just a set of tools; it is a revolutionary force reshaping how companies will do business and interact with customers in the future. Internet+ is a disruptive force that has altered how companies do business, interact with consumers, and make choices. The internet has become a crucial component of contemporary corporate tactics, from e-commerce to big data analytics. Business should keep up with Internet+ trends and technologies are crucial for any organization trying to prosper in the digital era as the digital environment continues to change.
References
Cai, L., & Yao, S. (2019). The Current Situation and Future Trend of Network Technology under the Background of" Internet+.
https://webofproceedings.org/proceedings_series/ESSP/IWEDSS%202019/IWEDSS19203.pdf
Cao, J. (2019). Training scheme of information technology ability for applied undergraduate accounting talents under the background of Internet+ accounting. In International Conference on Reform, Technology, Psychology in Education (ICRTPE 2019) (pp. 520-528).
https://webofproceedings.org/proceedings_series/ESSP/ICRTPE%202019/ICRTPE107.pdf
Gou, T. (2021). Big Data Technology and "Internet+ Sports Health" Industry Development. In 2020 International Conference on Applications and Techniques in Cyber Intelligence: Applications and Techniques in Cyber Intelligence (ATCI 2020) (pp. 527-534). Springer International Publishing.
https://doi.org/10.1007/978-3-030-53980-1_78
Han, R., & Liu, J. (2022). Empirical Analysis of News Dissemination Effect Based on Energy Data in the Internet+ Era. Mathematical Problems in Engineering, 2022.
https://doi.org/10.1155/2022/5983829
Li, Z. W., & Li, Y. Z. (2023, March). Internet of things model for martial arts training based on big data. In Second International Conference on Statistics, Applied Mathematics, and Computing Science (CSAMCS 2022) (Vol. 12597, pp. 600-608). SPIE.
https://www.spiedigitallibrary.org/conference-proceedings-of-spie/12597/125972E/Internet-of-things-model-for-martial-arts-training-based-on/10.1117/12.2672264.full?SSO=1