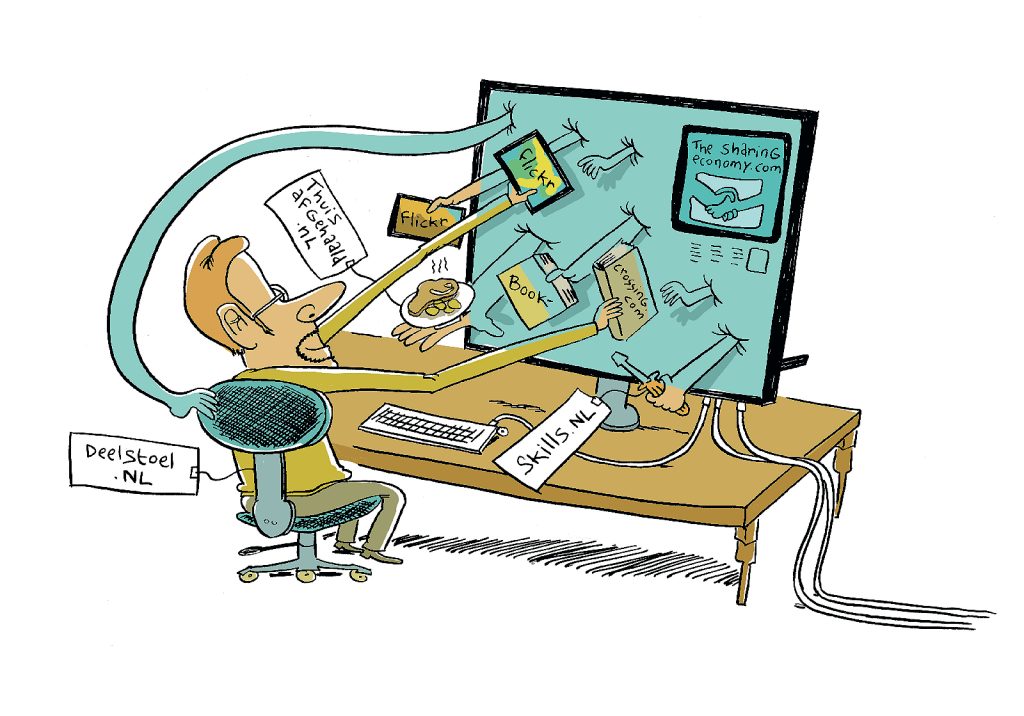 "The Sharing Economy" by Waag | technology & society is licensed under CC BY-NC-SA 2.0.
With the rapid development of network information technology and the Internet, sharing economy, as a new economic form emerging in the information age, is showing its potential to people. The rise of the sharing economy is undoubtedly changing our way of life and business models. This emerging concept has spread rapidly around the world, not only having a profound impact on traditional industries, but also bringing about many innovative upsurges. In summary, the sharing economy has become one of the focal point of media attention, and the general public is gradually gaining an understanding of this emerging economic model.
In this article, we will explore the definition of the sharing economy, its rise, and how it is bringing innovation and transformation to traditional industries. We will delve into the relationship between sharing economy platforms and traditional industries. Topics such as competition, sustainability, and the innovation brought about by the sharing economy, to fully understand the impact of this revolutionary business model on our society and economy. As the sharing economy continues to evolve and develop, we must deeply understand its nature and impact to better adapt to this change and actively participate in shaping our future.
The rise of the sharing economy
Sharing economy is a new business model that connects individuals and resources through online platforms to achieve resource sharing and mutual assistance. Botsman and rogers (2010) define the sharing economy as an economy based on the use, rather than ownership, of physical or human assets such as time, space, and skills. We can think of the sharing economy as "using rather than owning."
Now, the sharing economy has been fully integrated into People's Daily lives. Some sharing economy platforms such as uber and Airbnb have brought convenience to people's lives.
1. Uber is a mobility service platform that connects drivers and passengers and provides convenient transportation solutions. uber has not only changed the taxi industry, but also promoted the development of shared travel.
2. Airbnb: Airbnb is an accommodation sharing platform that allows individuals to rent out their homes or rooms, providing more accommodation options for travelers while also creating additional income opportunities for homeowners.
Innovation in the sharing economy
Why can the sharing economy break the tradition and change the traditional industry? Let's start by looking at the difference between the two.
First, people can act as merchants or consumers in the sharing economy, while in traditional industries, enterprises usually provide products and services(THENEWECONOMY, n.d.). This disintermediation of sharing economy platforms that connect merchants and consumers directly can reduce transaction costs and improve market efficiency. At the same time, it also gives merchants more autonomy.
Secondly, the operation of the sharing economy platform mainly carries out online communication and operation through the Internet (Sanasi et al., 2020). This is more convenient than the offline channels of traditional industries.
Third, the sharing economy has improved the efficiency of resource allocation. Unlike the huge fixed input and maintenance costs of traditional industries, the sharing economy improves the utilization rate of idle resources through online sharing platforms.
Challenges and cooperation in the sharing economy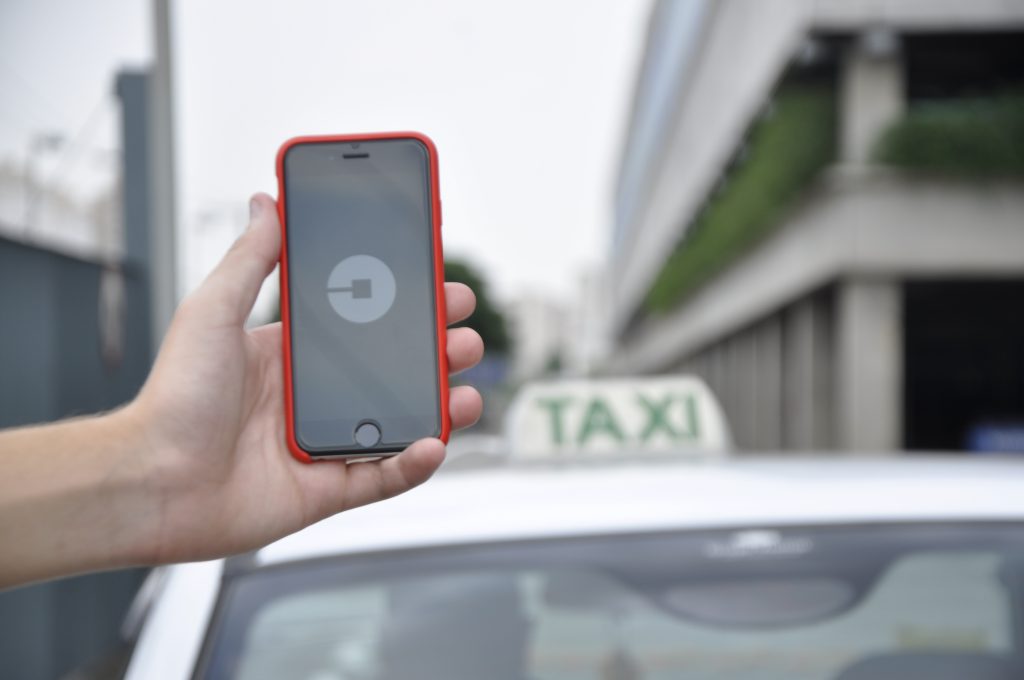 "Uber e táxis em São Paulo" by nuclimeditorial is licensed under CC BY 2.0.
These differences are why the sharing economy can make breakthroughs. In modern society, the sharing economy has already had an impact on traditional industries. The effects brought about by the sharing economy have both advantages and disadvantages for traditional industries. Taking the transportation industry as an example, sharing mobility platforms like Uber and Lyft have disrupted traditional taxi services with innovative models that utilize internet and mobile technology to match passengers with drivers. This has led to significant competitive pressures on the traditional taxi industry.
Over the past decade, Uber and traditional taxi industry have been in a competitive state. In 2014, The San Francisco Chronicle reported that the average monthly trips for taxis had dropped by nearly 65% from 1,424 trips in 2012 to 504 trips. By the end of 2015, the number of Uber and Lyft drivers in the United States was approximately half of that of traditional taxi drivers (Cramer & Krueger, 2016).
The increase in the number of rideshare drivers is attributed to the higher utilization brought about by this new model:
Uber employs more efficient passenger matching technology, which allows drivers to save a significant amount of time searching for passengers(Cramer & Krueger, 2016).
Uber has a flexible labor supply model and surge pricing, enabling a closer match between supply and demand throughout the day(Cramer & Krueger, 2016).
The large-scale of the Uber platform provides them with advanced information technology to support faster passenger matching speeds(Cramer & Krueger, 2016).
Despite the intense competition between Uber and the traditional taxi industry, a new trend is emerging: collaboration. There are signs that more taxi drivers are choosing to form partnerships with uber. The impact of the COVID-19 pandemic led to the loss of many drivers for both ridesharing and taxi services. As a result, when lockdowns were relaxed, Uber struggled to have a sufficient number of drivers to meet the demand of customers(Hawkins, 2021). This prompted Uber to spend hundreds of millions of dollars on driver incentive programs to encourage more drivers to join. The partnership between Uber's platform and the traditional taxi industry has brought uber more drivers to meet the demand during peak hours, while also reducing a range of costs for the platform(Hawkins, 2023). Not only will the partnership bring a lot of benefits to Uber's platform, but taxi drivers will also benefit. The partnership offers a new money-making opportunity, with taxi drivers being able to pick up orders more efficiently and transfer more money through their apps. Uber's popularity and large number of users also provide more opportunities for taxis.
Resource utilization and sustainable development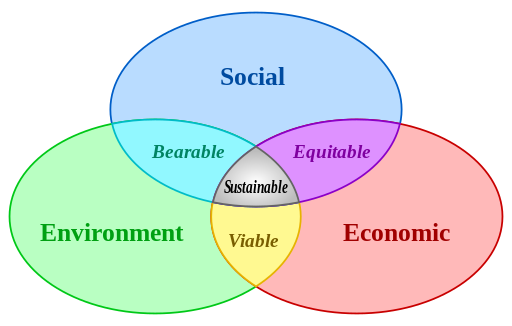 "Sustainable development" by original: nojhan (talk · contribs) translation: Pro bug catcher (talk · contribs) is licensed under CC BY-SA 3.0.
The survey found that beyond socioeconomic, social experience and quality of life, one of the top reasons customers use sharing economy platforms is sustainability (Albinsson et al., 2019). Users in the United States and India believe that the sharing economy is environmentally friendly because it not only saves natural resources but also is a sustainable way to consume (Albinsson et al., 2019).
Forms of the sharing economy allow the use of underutilized resources in order to increase resource utilization and reduce consumption. This helps to reduce environmental pollution and resource depletion. For example, sharing cars and bicycles contributes to easier use of public transport, reducing vehicle ownership to reduce congestion (Albinsson et al., 2019).
Conclusion
The sharing economy has become an important part of today's economy, and it has changed the way we live and business models. This economic model has had a profound impact on traditional industries. Sharing economy platforms bring a more convenient way for people to live, and promote sustainability while optimizing resource utilization. This article discusses the topic by introducing the rise of the sharing economy, analyzing relevant cases (Uber's impact on traditional industries), and introducing the sharing economy and sustainability. We found that the rise of the sharing economy has not only changed the competitive landscape of traditional industries, but also had a positive impact on sustainable development. At the same time, the sharing economy also faces challenges, such as the relationship and competition with traditional industries.
In the future, in order to the sustainable development of the sharing economy, we should actively promote the reform of the industry management system. Without stifling innovation in the sharing model, it also provides minimum legal requirements to provide open rules for future sharing economy development (Ranchordás, 2015).
---
References:
Albinsson, P. A., Perera, B. Y., Nafees, L., & Burman, B. (2019). Collaborative consumption usage in the US and India: an exploratory study. The Journal of Marketing Theory and Practice, 27(4), 390–412. https://doi.org/10.1080/10696679.2019.1644956
Botsman, R., & Rogers, R. (2010). What's mine is yours: The Rise of Collaborative Consumption. Harper Collins.
Hawkins, A. J. (2021, April 7). Uber and Lyft have a driver shortage problem, and it's costing them a lot of money. The Verge. https://www.theverge.com/2021/4/7/22371850/uber-lyft-driver-shortage-covid-bonus-stimulus
Hawkins, A. J. (2023, September 26). How Uber learned to stop fighting and play nice with taxis. The Verge. https://www.theverge.com/2023/9/26/23888950/uber-taxi-driver-referral-third-party-los-angeles
Ranchordás, S. (2015). Innovation experimentalism in the age of the sharing economy. Social Science Research Network. https://autopapers.ssrn.com/sol3/papers.cfm?abstract_id=2638406
Sanasi, S., Ghezzi, A., Cavallo, A., & Rangone, A. (2020). Making sense of the sharing economy: a business model innovation perspective. Technology Analysis & Strategic Management, 32(8), 895–909. https://doi.org/10.1080/09537325.2020.1719058
SF cab companies brace for winter. (2014, September 29). San Francisco examiner, https://www.sfexaminer.com/news/sf-cab-companies-brace-for-winter/article_51a42cd9-ebba-5237-9cd7-830ced16090a.html
The Federalist Society. (2017, January 5). The rise of the sharing economy [Video]. YouTube. https://www.youtube.com/watch?v=Dm3ZDnT9Zag
THENEWECONOMY.(n.d.). Sharing economy shakes up traditional business models. https://www.theneweconomy.com/business/the-sharing-economy-shakes-up-traditional-business-models