Feminism is a course mandatory for girls in this era. While we do learn it at school, we learn it most from the Internet, and social media in particular. TikTok is one of the most-loved platforms for female users in Australia, and Weibo is popular among Chinese young women. As a user of both TikTok and Weibo, I found some interesting differences between the feminist content on both platforms. My reading of Yurong Cui's article "Comparative Research of Feminist Content on TikTok and Weibo" confirms and enriches my observations. In this article, I will explore how Feminism is similar and different on TikTok and Weibo.
Feminism and Social Media
Feminism, as defined by Wikipedia, is "a range of socio-political movements and ideologies that aim to define and establish the political, economic, personal, and social equality of the sexes" (Wikipedia contributors, 2023b). In plain words, feminism is about advocating for equal rights and opportunities for all genders, with the understanding that women are historically underrepresented due to traditional societies' practice that is male-dominated.
Emerging in the late 18th century and rapidly growing in the two hundred years that followed, feminism gained a new form of expression entering the early 21st century.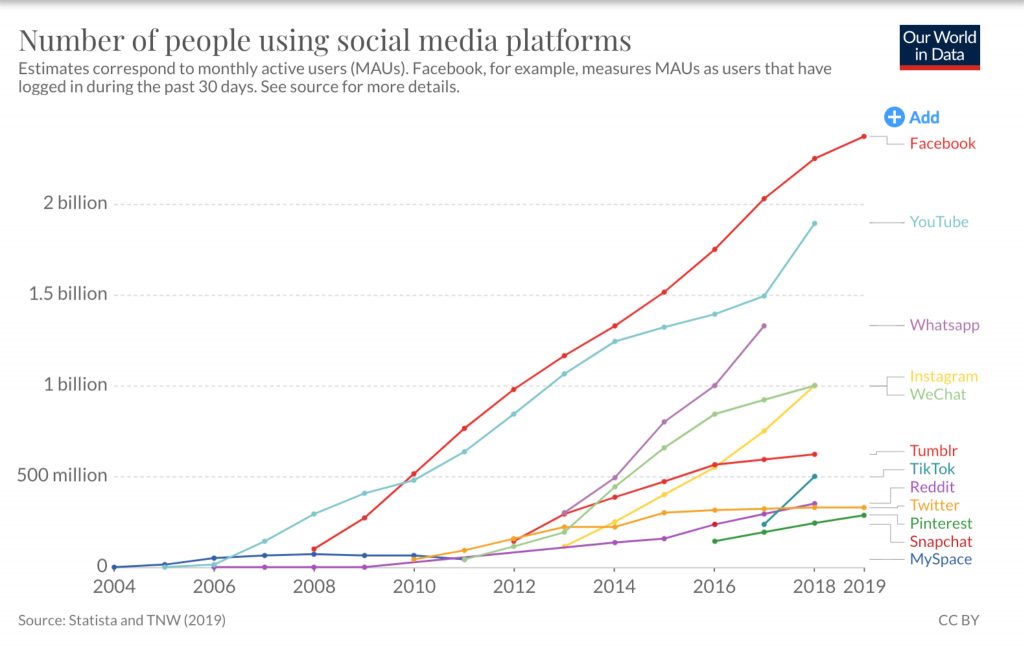 The rapid development of social media has revolutionized human communication. Internet-based telecommunications makes it possible for quick dissemination of and easy access to information, enabling countless users to share experiences and exchange ideas (Al-Quran, 2022).
The "speaking" culture of social media brings feminist activism to a new level. Women engage in conversations about gender bias, violence against women, and other cases of gender abuse and inequalities. (Flores et al., 2020).
Feminism on TikTok and Weibo
Originally designed in China as an international version of "Douyin," TikTok has become one of the most popular social media platforms after making its way into the global market.
It is estimated that the app has gained an estimated user base of 834 million in 2023(Statista, 2023). 57% of TikTok's active users are female, while male users comprise only 43% of the user base. This female-dominated demographics may explain the popularity of feminist content on TikTok. 69.1% of the users are under 40 (Statista, 2023), indicating that users engaging in feminist content creation and consumption are probably mostly young women.
According to Rebecca and Stefanie(2021), the platform's "distinct algorithms and labeled media distribution" have enabled fourth-wave feminism to reach a wide audience. Among content creators with significant followers, the most prominent ones include @thedebralea, @manishajhingoer, and @rovi-wade. (Cui, 2022b)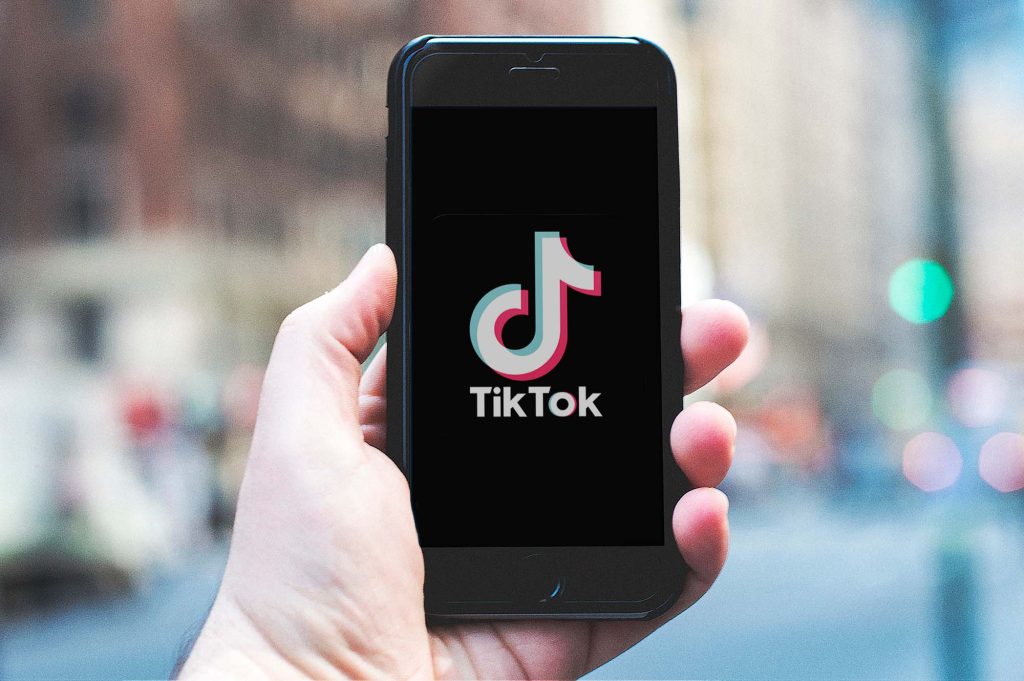 Weibo, with its users mainly based in China, is known as "the Chinese Twitter." It is estimated to have 599 million active users in 2023, among them 80% are under 30(Statista, 2023a), which is significantly younger than TikTok's user base, where only 47.4% of the users are below 30. The gender distribution of Weibo is more even than TikTok, with female users slightly fewer than male.
Since its launch in 2009, the platform has grown into a platform for Chinese women to engage in feminist discussion as well as call for positive changes that promote gender equality in society. It offers a "bottom-up activism approach" (Lixian, 2015) that gives Chinese feminist expression energy and momentum. @Xingbieshuibot,@Takaniiiher, and @SoniaWangs are among the most popular voices influencing feminist discussions on Weibo (Cui, 2022b).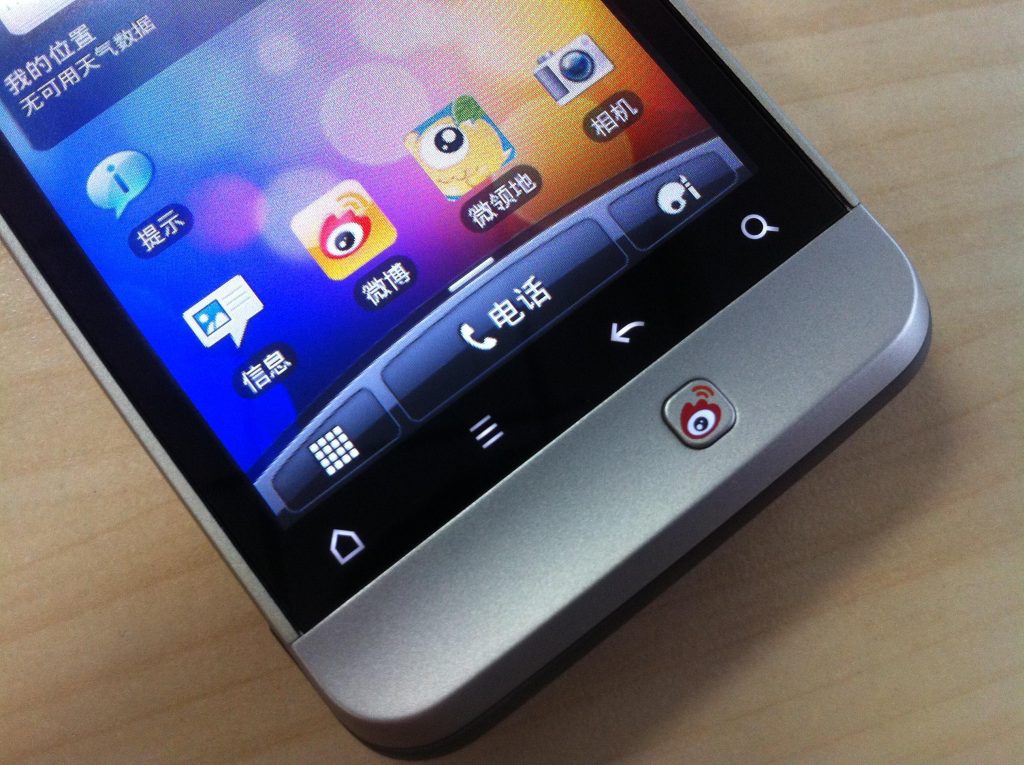 How are Feminist Contents Similar on TikTok and Weibo?
According to Cui(2022b), both TikTok and Weibo feminist content cover the main topics of feminist discourse, such as masculinity, patriarchy, domestic duties, and work. Cui analyzed the posts of two of the most popular content creators – @thedebralea on Tiktok and @SoniaWangs on Weibo – and found that there are no "statistically significant" differences in terms of content type.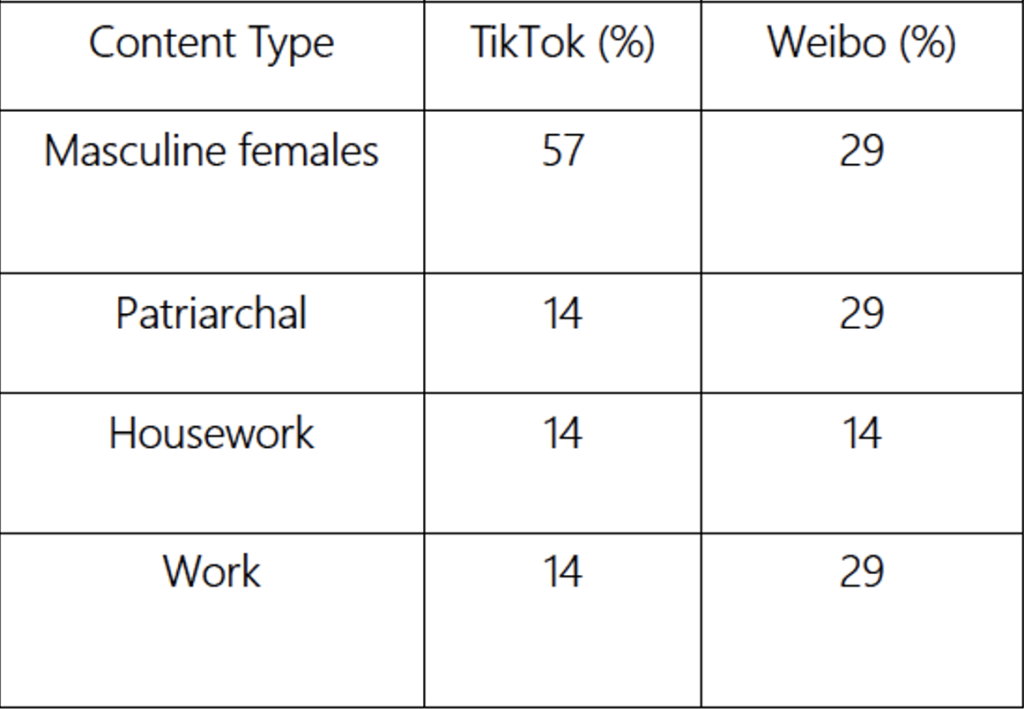 Cui identifies another similarity between feminist content on both platforms, which is the rejection of extreme feminists. One of @thedebralea's most "liked" and commented post is "My opinion on contemporary feminism," criticizing extreme feminism. @SoniaWangs frequently responds to radical feminist content on Weibo. Moreover, both accounts show respect for women who stay at home to take care of families. They both criticize women for intentionally imitating men. 
How are Feminist Contents Different on TikTok and Weibo?
Despite the similarities, there are interesting differences between the two platforms in dealing with certain feminist issues. The first distinction is related to their differentiating preference in articulating moderate feminism (Cui, 2022b).
Moderate feminism, as its name suggests, calls for a reasonable approach to promoting gender equality; its opposite is "radical feminism", calling for reorganizing society to eliminate male supremacy (Wikipedia contributors, 2001), sometimes criticized as "going too far."
To uphold moderate feminism and criticize radical feminism, TikTok users tend to articulate their disapproval of radical feministic behavior. Comments such as "Today's women do not desire equality, but rather to be men." are common under some of @thedebralea's posts showing a radical feminist perspective. In contrast, Weibo users care more about appealing to equal rights as a way to uphold moderate feminism (Cui, 2022b).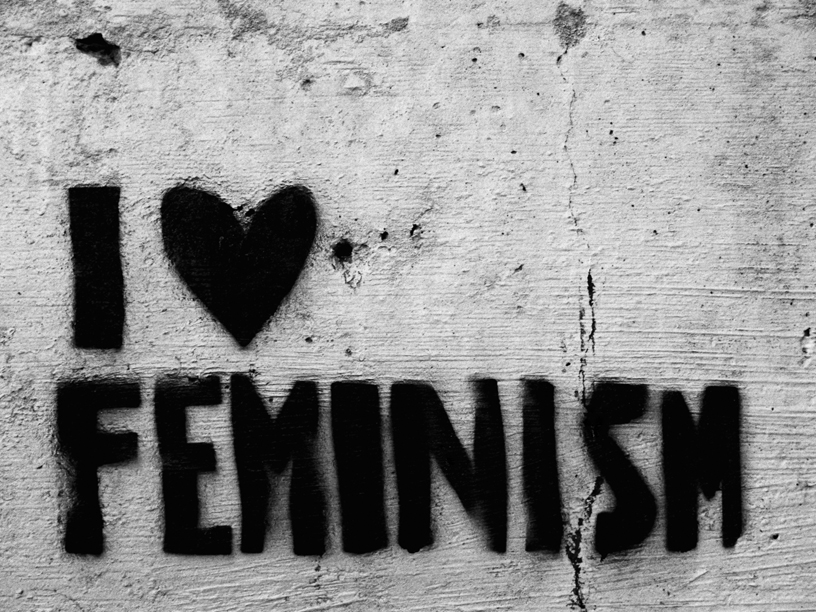 In addition, Cui identifies broad anti-male sentiments as being a distinctive character on Weibo. According to her research, 43% of Weibo's feminist comments contain "sexist insults directed at males". Cui's observation is consistent with Mao (2020), who calls this hatred-filled attitude "pastoral/rural feminism." TikTok, in contrast, contains significantly less content of women showing an antagonistic attitude to men, with only 3% comments conveying such a message.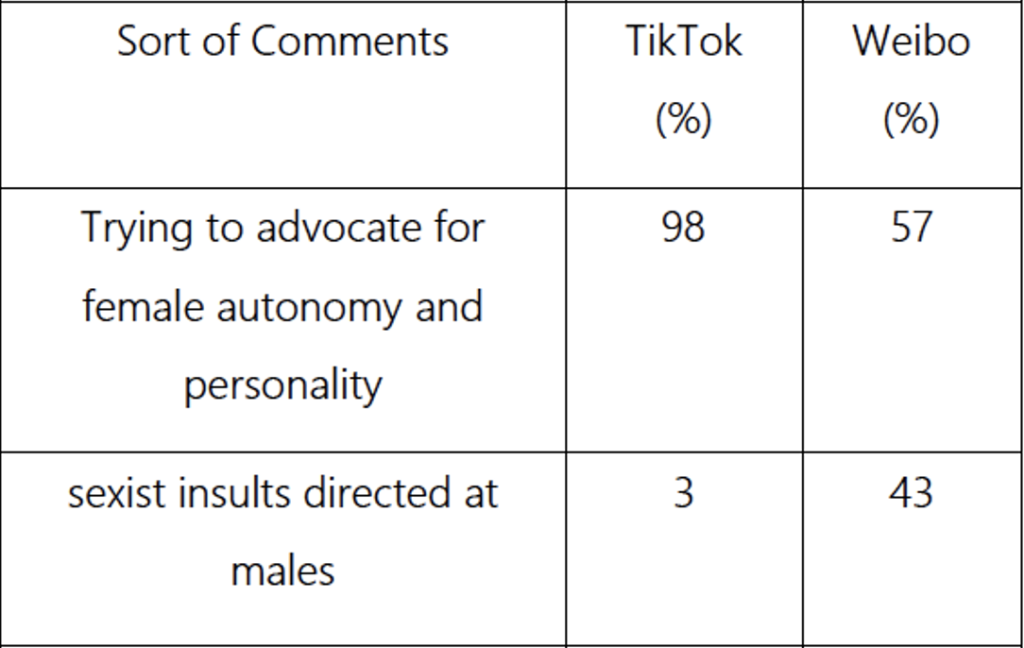 What May Have Caused the Differences?
The similarities of feministic topics on TikTok and Weibo reflect the common concerns of feminists in this era. The disparities between the two platforms, however, indicate that feminism in China does not necessarily go hand-in-hand with mainstream feminist ideology in the West.
The Western feminist study has gone through steady progress. Yuemin (2008) refers to this progress as "from discipline revolution to contemporary cultural studies, to mainstream media science." This comprehensive theoretical foundation provides more sophisticated resources for TikTok users to discuss feminism – it is easier for them to articulate their disapproval of radical feminism, rather than vaguely calling for gender equality as is manifested by Weibo users.
Chinese feminism, in contrast, was somewhat isolated from Western feminist discourse. Developed when China was actively "embrac[ing] consumer culture," Chinese feminism was oversimplified, even shallowly interpreted as "aligning with males and requiring women to work" (Yuemin, 2008). The lack of a sophisticated theoretical framework may explain why Weibo users resort to male-oriented sexist insults as a way to express their discontent towards gender inequality.
Takeaway
With the rapid development of telecommunications technology, social media sites are playing a more and more prominent role in encouraging discussions of feminism. As two major social media sites, TikTok and Weibo are important forces shaping feminist discourse among their respective users.
TikTok and Weibo demonstrate similarities in feminist topics, showing that feminists have common grounds despite differences in culture and feminist tradition. However, TikTok and Weibo show interesting disparities. One is their approaches to advocating moderate feminism. The sophisticated theoretical framework of Western feminists shows more competence in articulating criticism towards radical feminism. Another distinction is their use of male-oriented sexist insults, which is more prevalent among Weibo users.
In conclusion, the similarities and differences of feminist content on TikTok and Weibo shed light on the landscape of feminist discourse in the early 21st century. As feminism continues to develop, it is likely that these two platforms will show new features of feminist contents in decades to come.
Reference
Al-Quran, M. W. M. (2022). Traditional media versus social media: challenges and opportunities. Technium, 4(10), 145–160. https://doi.org/10.47577/technium.v4i10.8012
Cui, Y. (2022b). Comparative Research of feminist content on Tiktok and Weibo. Advances in Social Science, Education and Humanities Research. https://doi.org/10.2991/assehr.k.220105.073
Debra Lea on TikTok. (n.d.). TikTok. https://www.tiktok.com/@debra.lea/video/7168967227738410286
Flores, P., Gómez, N. R., Roa, A. F., & Whitson, R. (2020). Reviving feminism through social media: from the classroom to online and offline public spaces. Gender and Education, 32(6), 751–766. https://doi.org/10.1080/09540253.2018.1513454
Rebecca, N.G. & Stefanie M.S. (2021). Retrieved 24 October 2021, from https://projekter.aau.dk/projekter/files/421099026/master_thesis_2021_final.pdf.
Statista. (2023a, August 28). Weibo's MAUs Q2 2015-Q2 2023. https://www.statista.com/statistics/795303/china-mau-of-sina-weibo/#:~:text=In%20June%202023%2C%20Weibo%20Corporation,quarter%20in%20the%20previous%20year.
Statista. (2023, August 29). TikTok: number of global users 2020-2025. https://www.statista.com/statistics/1327116/number-of-global-tiktok-users/
Wikipedia contributors. (2001). Radical feminism. Wikipedia. https://en.wikipedia.org/wiki/Radical_feminism
Wikipedia contributors. (2023b). Feminism. Wikipedia. https://en.wikipedia.org/wiki/Feminism
Yuemin, W. (2008). Deconstructing Feminist Media Criticism in a Cross-cultural Context. Humanities and Social Sciences Edition (Journal of Zhejiang University), 2008, 38(4): 109-.