As the Internet continues to grow, people use social media platforms to post about their daily lives. The platform realizes the "datatization" and "commercialization" of all social relations through the collection, algorithmic processing and circulation of user data (de Kloet et al., 2019). In this blog, I will use Douyin as an example to discuss whether online platforms should be strictly regulated. This is because Douyin has a very large user base globally. In China, Douyin has become a popular social media platform for most people to share their creativity and express themselves. Therefore, issues such as user privacy and security as well as content auditing are also particularly important.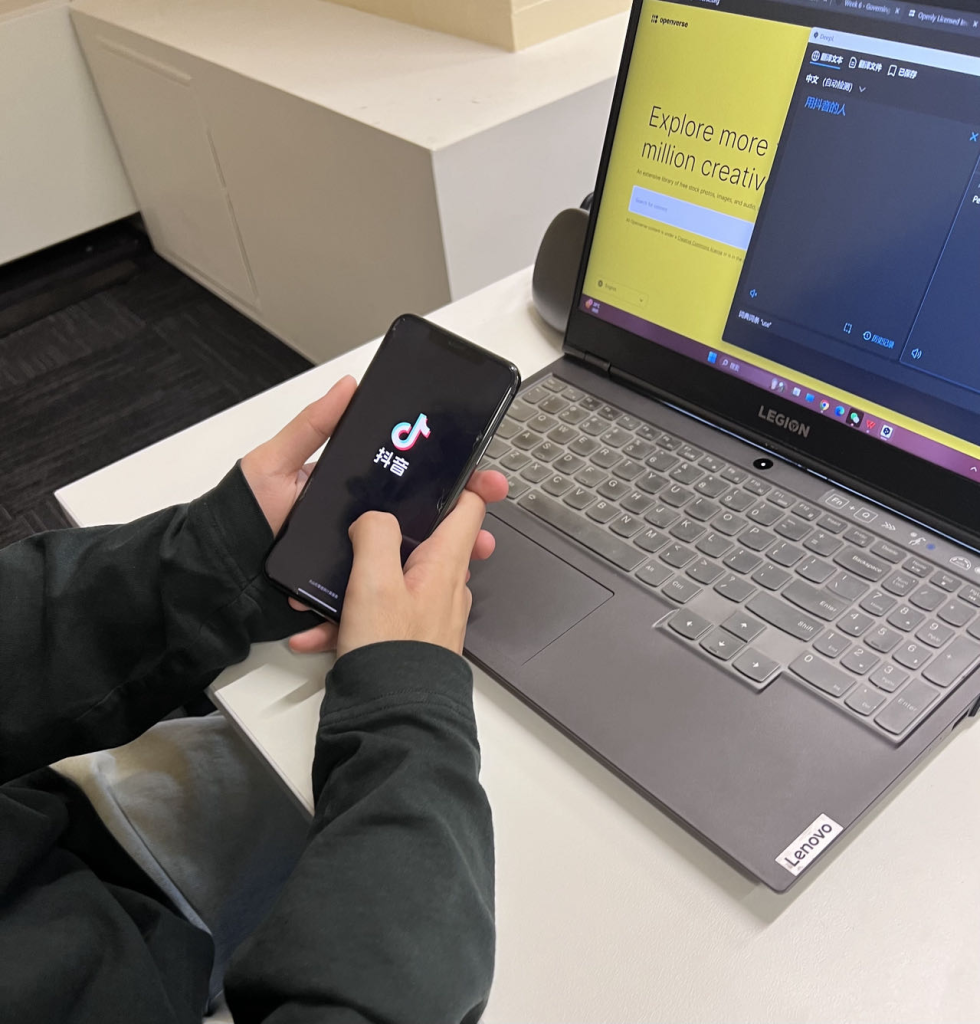 "Douyin user" by XIAOTINGWANG is licensed under CC BY-SA 4.0.
The user experience and fun that Douyin brings
Douyin uses a full-screen approach to presenting the video in a way that largely enhances the user's viewing experience. It's worth noting that Douyin is different from other social media platforms in that users don't have to choose what they watch next, so this can give users a different experience and a sense of surprise (How Douyin (TikTok) Succeeds with User Experience and Product Development | Centific, n.d.). As we can see from the recording below, while users can't predict what the next video will be, Douyin pushes similar content and the occasional novelty according to user preferences.
Who is using Douyin
Douyin is a short-form video app launched in China in 2016 by tech company ByteDance specifically for Chinese residents (Inc, 2021). Both old, young and kids use Douyin to share their lives or watch videos posted by others. This has led many brands to capitalize on the traffic from Douyin for live streaming bandwagons as well. Chinese consumers are supportive of e-commerce. After surveys have shown that Douyin users between the ages of 24 and 45 have strong purchasing power, which has led many luxury brands to utilize Douyin for brand promotion as well. This shows that the user group of Douyin also includes producers and consumers. In addition, some state departments also use Douyin to post daily news and activities to publicize.
Reasons why Douyin is strictly regulated
As the boom in short video consumption continues, Douyin has become the most downloaded application (Su & Valdovinos Kaye, 2023). The government has strictly censored Douyin in order to prevent some harmful remarks and videos from causing harmful guidance. Censorship in China represents a system for regulating online and digital media spaces. Whereas in democracies media tends to be less censored, in China the speech that everyone posts on social media is regulated (Su & Valdovinos Kaye, 2023). Regulation and control of the Internet has long been seen as a key feature that distinguishes China's Internet from the "liberal Internet" of Western liberal democracies (Xu & Yu, 2022). However, as we can see from a post made by a user on Twitter, China has banned all speech that is not in line with the values of communism, except for censorship of content such as violence and pornography (Https://Twitter.com/Krislabert/Status/1428851380802961413, n.d.). Twitter is a social media platform created in the U.S. It fully demonstrates the freedom of speech that the U.S. believes in, while China's social media platform indirectly restricts the masses from expressing their different voices. What is more, strict regulation of Douyin is necessary in some areas. In the past few years, some children would imitate adults on Douyin wearing heavy makeup and dancing in overly mature ways, and would even imitate behaviors such as drinking and swearing(Parents Call for More Strict Regulation on Short Video Platform Douyin, n.d.). When more and more parents reported this problem, Douyin created a teen mode. This mode not only limits the amount of time teenagers can use Douyin, but it also filters out content that is not suitable for underage viewing.

What regulatory measures have been taken by Douyin
Douyin has upgraded its strict live-streaming regulation, which makes it impossible for minors under the age of 16 to start a live-stream or give virtual gifts to other anchors through purchases. Meanwhile, some live streams that are excessively physically revealing and violent can be subject to blocking for violating live streaming regulations (China Enacts Strict Livestreaming Regulation to Protect Minors, n.d.). However, sometimes this regulation is excessive. Some female users who simply wore some sexy dresses would be viewed by Douyin as being scantily clad and their videos would be deleted by Douyin's censors. In addition, Douyin may use some technical methods, such as keyword filtering and image recognition, to block some offending content. Douyin will also check the video content uploaded by users through manual review. This is to prevent some users from applying misspelling some words to pass the AI review.
China's New Internet Censorship Rules Outline Direction For Content © 2020 by Rebecca Davis is licensed under CC BY-NC 4.0
Public perceptions of regulation
Chinese consumers can use Douyin to defend their legal interests, as most of the merchants in Douyin are in a regulated state. Consumers can complain to the relevant authorities if they have purchased some products of substandard quality (Yu, 2023). At the same time, reasonable regulation will allow Douyin merchants to improve the quality of their products. This is because the Internet spreads quickly, and if a consumer posts a video complaining about their merchandise, this can cause the business to lose a lot of potential consumers. Nevertheless, Douyin's regulation is sometimes too harsh. As we have mentioned above, Douyin can indirectly restrict women's freedom to dress. In addition, there is feedback from a number of anchors that they cannot talk about issues related to epidemics and national policies in their live broadcasts and posted videos, or else they will risk being blocked. It can be seen that excessive regulation can lead to users losing the right to express their views on the Internet.
Conclusion
Regulating social media platforms such as Douyin, which has a large user base, is very difficult and complex. This is because all platforms in China must strictly comply with government regulations to prevent the spread of speech that could jeopardize social harmony (Yu et al., 2023). At the same time, there is also a large group of minors among the users of Douyin, so Douyin should prevent some videos with negative orientation from being widely distributed on the platform. Additionally, Douyin needs to take into account the user experience as much as possible. Douyin has a responsibility to create a peaceful and healthy platform environment for its users. However, the process of regulation should also respect users' freedom of speech. If the users didn't make some overly radical remarks, Douyin doesn't have the right to delete comments. In conclusion, the regulation of Douyin should be a three-way joint effort between the government, the platform and the users to create a beneficial social platform.
References
China enacts strict livestreaming regulation to protect minors. (n.d.). SHINE. Retrieved October 6, 2023, from https://www.shine.cn/news/in-focus/2205095369/
de Kloet, J., Poell, T., Guohua, Z., & Yiu Fai, C. (2019). The plaformization of Chinese Society: infrastructure, governance, and practice. Chinese Journal of Communication, 12(3), 249–256. https://doi.org/10.1080/17544750.2019.1644008
https://twitter.com/krislabert/status/1428851380802961413. (n.d.). X (Formerly Twitter). Retrieved October 6, 2023, from https://twitter.com/krislabert/status/1428851380802961413
How Douyin (TikTok) Succeeds with User Experience and Product Development | Centific. (n.d.). Www.centific.com. Retrieved October 6, 2023, from https://www.centific.com/how-douyin-tiktok-succeeds-user-experience-and-product-development
Inc, R. (2021, October 22). Understanding Douyin Marketing & Audience Insights. Www.repustate.com. https://www.repustate.com/blog/douyin-marketing-platform/
Parents call for more strict regulation on short video platform Douyin. (n.d.). News.cgtn.com. Retrieved October 6, 2023, from https://news.cgtn.com/news/3d3d674e35457a4e79457a6333566d54/index.html
Su, C., & Valdovinos Kaye, B. (2023). Borderline practices on Douyin/TikTok: Content transfer and algorithmic manipulation. Media, Culture & Society, 016344372311683. https://doi.org/10.1177/01634437231168308
Xu, J., & Yu, H. (2022). Regulating and governing China's internet and digital media in the Xi Jinping era. Media International Australia, 1329878X2211164. https://doi.org/10.1177/1329878×221116402
Yu, Z. (2023, March 23). China: the rise of TikTok sister app Douyin as a powerful consumer tool. The Conversation. https://theconversation.com/china-the-rise-of-tiktok-sister-app-douyin-as-a-powerful-consumer-tool-201058
Yu, Z., Hou, J., & Zhou, O. T. (2023). Short Video Activism With and on Douyin: An Innovative Repertoire of Contention for Chinese Consumers. Social Media + Society, 9(1), 205630512311576. https://doi.org/10.1177/20563051231157603
‌